By

California.com
November 12, 2020
As California mitigates health risks during the COVID-19 pandemic, some travel restrictions may remain in certain communities. Call the local and regional tourism offices to learn more about the restrictions in your intended destination. Thank you for reading, and stay safe.
Is bowling right up your alley? It's time to rock and bowl at the coolest bowling alleys the Golden State has to offer. Although the game requires some calculation and skill, the family-friendly activity is a fun and leisurely sport enjoyed by people of all ages. It's one of the few games where everyone gets to play, leaving no one on the bench. Even if you've never bowled in your life, just try it—strike until no pin is left standing. A classic pastime, bowling is always a good way to bring friends and family closer together during a night out, so get ready to roll with the crew at California's coolest bowling alleys.
California's most unique bowling alleys

1. Bowlero Murrieta
Location: 40440 California Oaks Road, Murrieta
Bowlero Murrieta is where you spend an epic night with your friends. Featuring 40 bowling lanes, an arcade, a pool table, an on-site pro shop, and classic comfort foods, this bowling alley promises nothing but fun. Once you win your first game, take a break and head over to the arcade to play your favorites such as Mario Kart and Pac-Man. Always a pleasure to visit, Bowlero Murrieta guarantees a good time for everyone.
2. AMF Southwest Lanes
Location: 3610 Wible Road, Bakersfield
Another unique bowling alley is AMF Southwest Lanes. This Central Valley hot spot provides the ultimate bowling experience. Offering state-of-art equipment and amenities for every kind of bowler, AMF Southwest Lanes has everything you need—bumpers, lightweight balls, and competitive oil patterns. Enjoy a date night here and teach your crush how to properly roll a bowling ball.

3. Shasta Lanes Bowling Alley
Location: 11093 Black Marble Way, Redding
Perfect for couples, friends, and family members, Shasta Lanes Bowling Alley is Redding's largest and coolest bowling alley. People of all ages and all skill levels are welcome to join in on the fun. The family-friendly locale has 24 modern lanes, an on-site pro shop, and a variety of bowling leagues. The family-owned and operated bowling alley also has an arcade room where kids can play classic games after winning a round or two of bowling.
4. Cal Bowl
Location: 2500 East Carson Street, Lakewood
Gather your friends and family for a friendly game of bowling at Cal Bowl. The 68-lane unique bowling alley offers plenty of leagues, open play, cosmic bowling, birthday parties, and everything else in between. Bowling isn't the only fun activity here; pick your favorite song and sing your heart out on karaoke nights. Don't forget to hit up the arcade before you leave—awesome video and other redemption-based games will keep you entertained, and you'll find yourself winning tickets in no time.

5. Presidio Bowling Center
Location: 93 Moraga Avenue, San Francisco
Located in the heart of the Presidio of San Francisco, Presidio Bowling Center is one of the coolest bowling alleys in the City by the Bay. Featuring 12 bowling lanes and an outstanding grill, this is where you rock and bowl. You don't need an occasion to have fun at the Presidio Bowling Center—whether you're hosting your kid's party, planning a corporate outing, or just enjoying a night with friends, a good time is always guaranteed. The unique bowling alley isn't just for rolling balls, either: A foosball table and video games are also at your disposal.
6. Gardena Bowling Center
Location: 15707 Vermont Avenue, Gardena
Gardena Bowling Center has been bringing family-friendly fun to the South Bay since 1948. Offering different kinds of leagues with various scoring methods and prizes, Gardena is the best place to spend your spare time with friends, co-workers, or family. Don't end the night with bowling—stick around to play billiards with your friends or relive your childhood in the arcade room.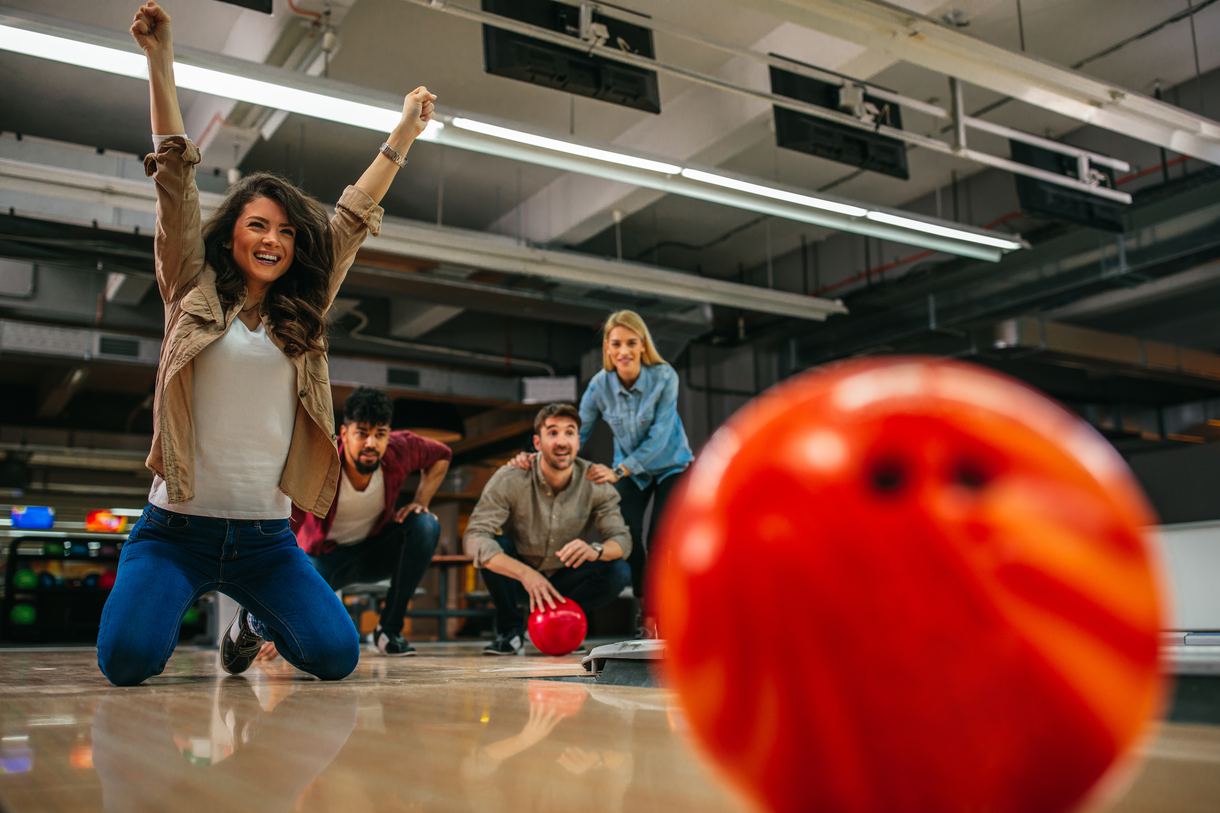 7. Bowling Barn
Location: 40625 Big Bear Boulevard, Big Bear Lake
Planning a Big Bear Lake getaway? Don't just chill at the ski resort. It's always a good idea to roll a ball or two at the Bowling Barn—found in the heart of the mountain community. You'll always have a good time at this cool bowling alley in Big Bear Lake. Serving up the best burgers in the area, the unique bowling alley also boasts 16 lanes, an arcade room, and even a laser maze. Once you visit this place, you'll find yourself returning every time you come to Big Bear.
8. Gage Bowl
Location: 3477 East Gage Avenue, Huntington Park
The fun never stops at Gage Bowl. Los Angeles County's entertainment center and coolest bowling alley has been providing Californians with a good time since 1960. The bowling destination attracts every generation and offers nostalgic fun for people of all ages. Improve your skills and make new friends by joining a league at this unique bowling alley. Or, simply visit to relax and enjoy yourself after work. It's not how you bowl, it's how you roll.