By

California.com
January 01, 2021
As California mitigates health risks during the COVID-19 pandemic, some travel restrictions may remain in certain communities. Call the local and regional tourism offices to learn more about the restrictions in your intended destination. Thank you for reading, and stay safe.
Kayaking; stand-up paddleboarding; taking a winter hike; exploring historical landmarks—there are endless activities to keep you and your pup entertained on a South Lake Tahoe getaway. But where do you go to enjoy a relaxing day under the sun? The beach, of course. Dog-friendly beaches are heaven on earth for our furry friends, and since sandy paws equal happy pups, we found the best dog beaches in Lake Tahoe where canines can enjoy running in the sand, feeling the sun on their faces, and splashing in the water.
General rules to keep in mind when visiting Beaches in Lake Tahoe
Always have a leash with you. Most places in and around Tahoe City require dogs to be leashed in order to keep the area clean and the wildlife safe.

Have pet waste bags handy. Although many

dog-friendly beaches in Lake Tahoe

provide visitors with these plastic waste bags, it's advisable to have some on you to keep the natural landscapes in tiptop shape.

Make sure your dog has the latest vaccinations before taking him/her out to interact with other dogs and people.

Check the latest updates before heading to a

dog beach. Due to the uncertainty of the pandemic, many beaches and parks are frequently changing their rules and regulations to keep locals and visitors safe.

Dog Beaches Around Lake Tahoe to Visit Next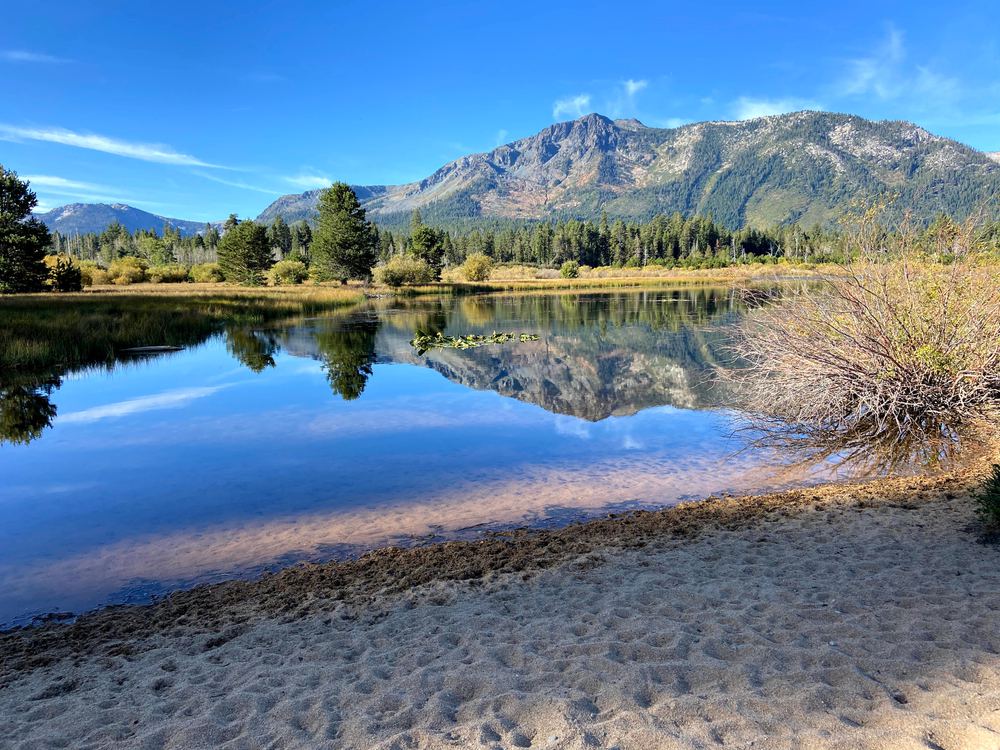 Kiva Beach
Location: 35 Visitor Center Road, South Lake Tahoe
Kiva Beach is a favorite spot among South Lake Tahoe residents with pets. Located along the lakeshore, on the west side of the Tallac Historic Site and east of the mouth of Taylor Creek, this dog-friendly beach is a must-visit destination for travelers with pups. You'll find a scenic trail leading to the Tallac Historic Site, complete with views of the lake and interpretive panels aimed to educate visitors on the rich history of the area.
Portable toilets are available on-site, too, and most visitors report having no issues finding parking spaces near the dog-friendly beach in South Lake Tahoe. Don't leave your leash at home when visiting Kiva Beach; all dogs must be on-leash per El Dorado County laws.
Thomas F. Regan Memorial Beach
Location: 3199 Sacramento Avenue, South Lake Tahoe
Thomas F. Regan Memorial Beach is South Lake Tahoe's oldest beach. On the northern end, you'll find a pet-friendly stretch of shoreline where you can enjoy beautiful views, shallow water for swimming, free parking, picnic tables, a playground, and a campsite (open under normal circumstances). The beach is a little more secluded than the nearby El Dorado Beach, offering more privacy and a calmer vibe. Keep in mind that this dog beach isn't leash-free, and all dogs must remain close to their owners in order to protect the wildlife.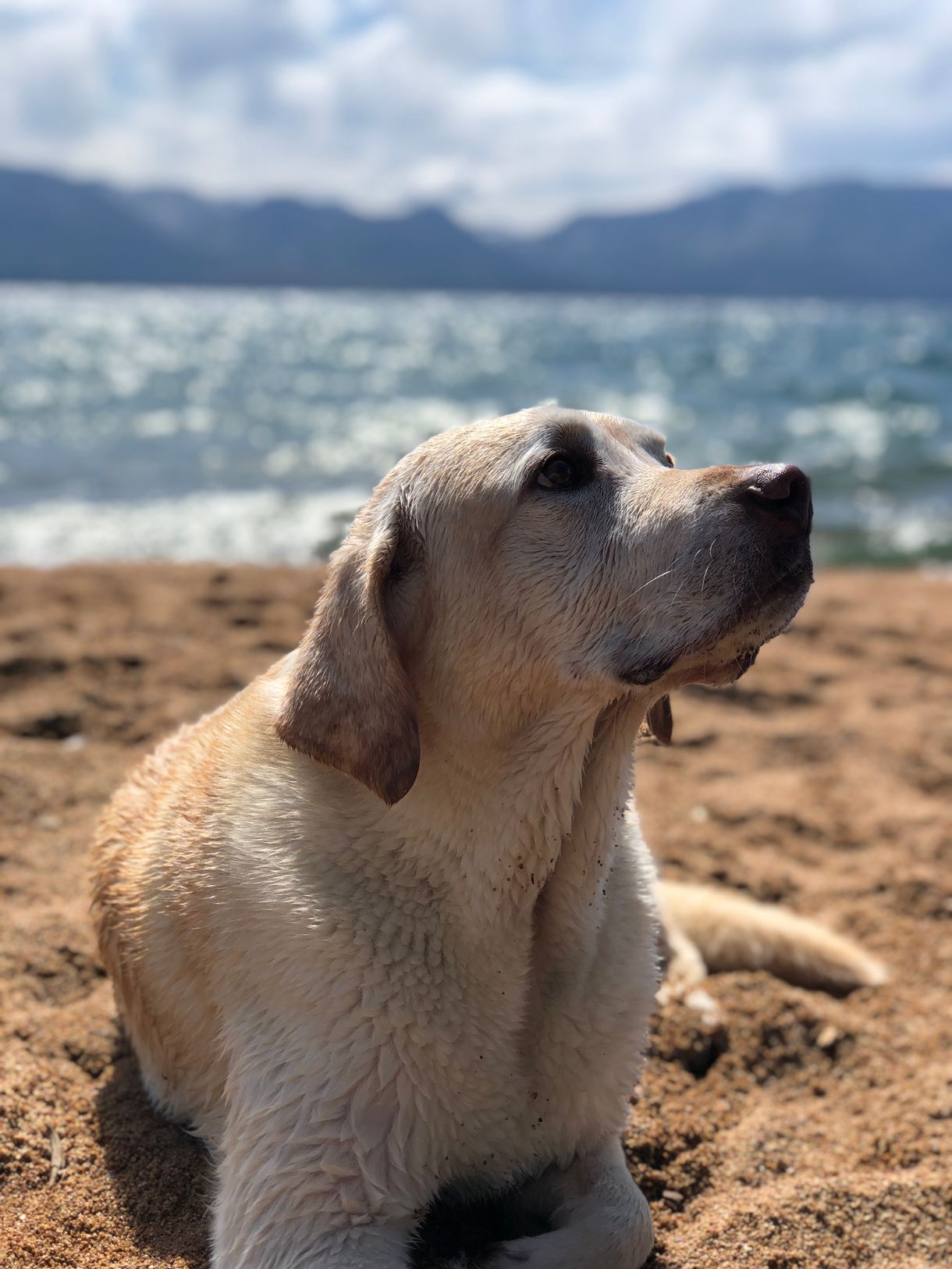 64 Acres Beach
Location: Left off West Lake Boulevard, Tahoe Rim Trail, Tahoe City
For a dog-friendly weekend getaway not too far from downtown Tahoe City, head to the popular 64 Acres Beach. The dog-friendly beach extends across State Route 89 and provides access to the Truckee River (might we suggest you continue your trip with a weekend in Truckee?). There are two pathways you can take to reach the dog-friendly 64 Acres Beach. You can either meander through the small parking area and walkway leading to the beach or take the paved road leading to the river's edge. You'll also find picnic tables, public bathrooms, and public transit near this dog-friendly beach in Lake Tahoe.
Carnelian West Beach
Location: 5074 North Lake Boulevard, Carnelian Bay
Park for free and head on down to enjoy the 530 feet of public beaches at Carnelian West Bay. The dog-friendly site includes a lakefront boulevard, benches, picnic tables, barbecues, and restrooms. This wide, flat beach welcomes you and your leashed dog year-round as long as you stay in the designated areas and pick up after your furry friend. As one of the best lakes in California, Carnelian West is also well-known for being a great boating spot. The nearby Sierra Boat Company is a popular choice among locals looking to rent boats.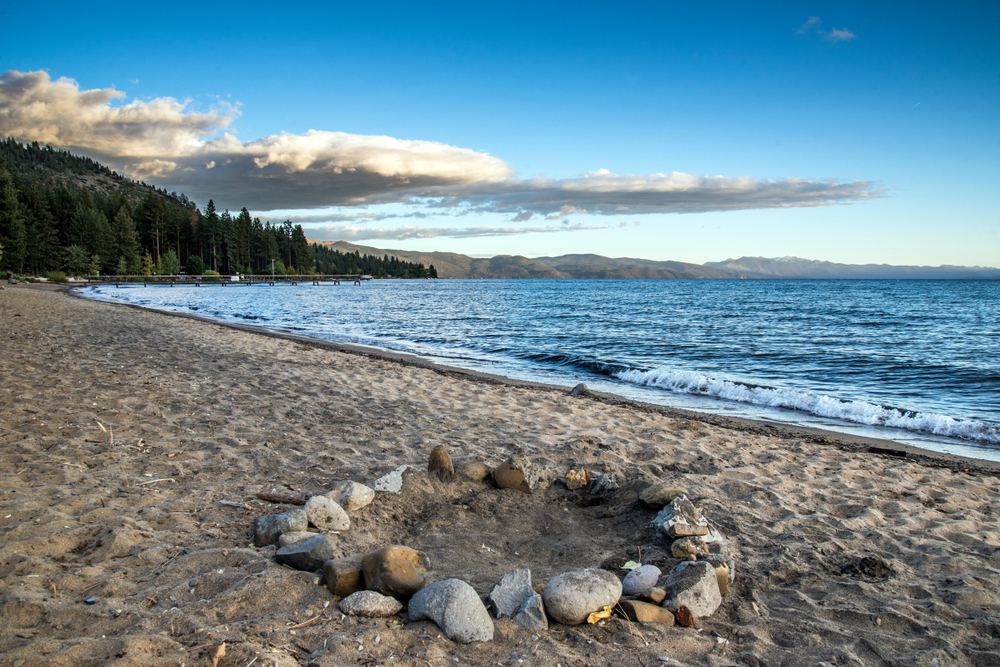 Kings Beach
Location: Bear Street, Kings Beach, Placer County
Boasting 979 feet of stunning shoreline, the majestic Kings Beach State Recreation Area is found along the northern shores of Lake Tahoe. The dog-friendly section of Kings Beach—Coon Street Dog Beach—is located on the east end. On-site amenities include public restrooms, picnic areas with grills, and a boat launch. Whether you're sunbathing or enjoying an outdoor lunch under the evergreens with Fido, make sure you keep your dog on a leash and stay in the designated areas to avoid breaking any of this dog beach's rules.
Pebble Beach
Location: CA Highway 89, Tahoe City
The fact that Pebble Beach is also commonly known as Dog Beach (and less commonly known as Elizabeth Williams Beach) should be enough indication of its dog-friendly nature. This dog-friendly beach doesn't offer conventional sandy shores, and—as the name suggests—is rather rocky. Nevertheless, this park-like beach is a great spot to take Fido (on-leash) to enjoy the fresh air, warm sun, and cool Lake Tahoe waters. The water gets deep quickly on this side of the shore, so be cautious if you have a small dog.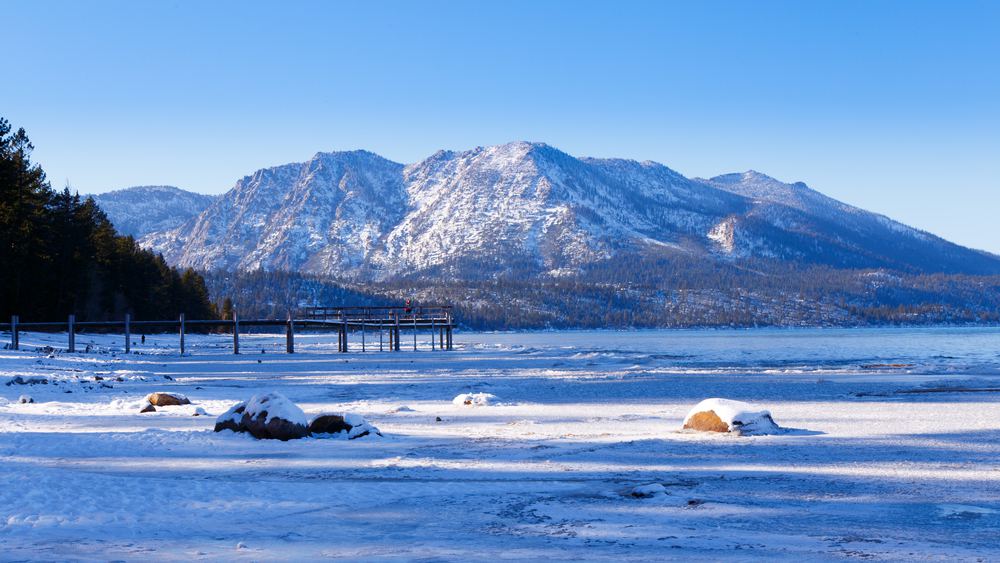 Camp Richardson Resort Beach
Location: 1902-3098 Jameson Beach Road, South Lake Tahoe
Offering majestic views of Cave Rock, Heavenly Ski Resort, and the East Shore, this dog-friendly beach in South Lake Tahoe provides a quarter-mile of scenic shores. The sandy portion of this beautiful beach does not welcome four-legged guests, but the picnic area bordering the shore is a great spot to enjoy lunch outdoors with your pooch. You'll find picnic tables, volleyball courts, boat and kayak rentals, concession stands, parking, and campsites nearby (open under normal circumstances). Also adjacent to the beach is the historic Valhalla Tahoe, which offers music, theater, and art events during the summer months.