By

California.com
December 14, 2020
As California mitigates health risks during the COVID-19 pandemic, some travel restrictions may remain in certain communities. Call the local and regional tourism offices to learn more about the restrictions in your intended destination. Thank you for reading, and stay safe.
We might be a bit biased, but we're pretty sure the best lakes are found right here in the Golden State. While miles and miles of coastline steal the spotlight when it comes to bodies of water in California, the state's beautiful lakes and reservoirs provide views and adventures just as worthy of attention. Whether you're looking to go camping near a lake, fishing, boating, or sightseeing, there's a beautiful lake in California that'll take your breath away.
Beautiful lakes in California to add to your bucket list
There are over 3,000 lakes and reservoirs in the Golden State, so it can be tough to narrow down the best lakes in California to just a handful. But to help those who can't decide where to go, we've compiled a list of our 13 favorites. These beautiful lakes are bound to satisfy your wanderlust.
Stunning Southern California lakes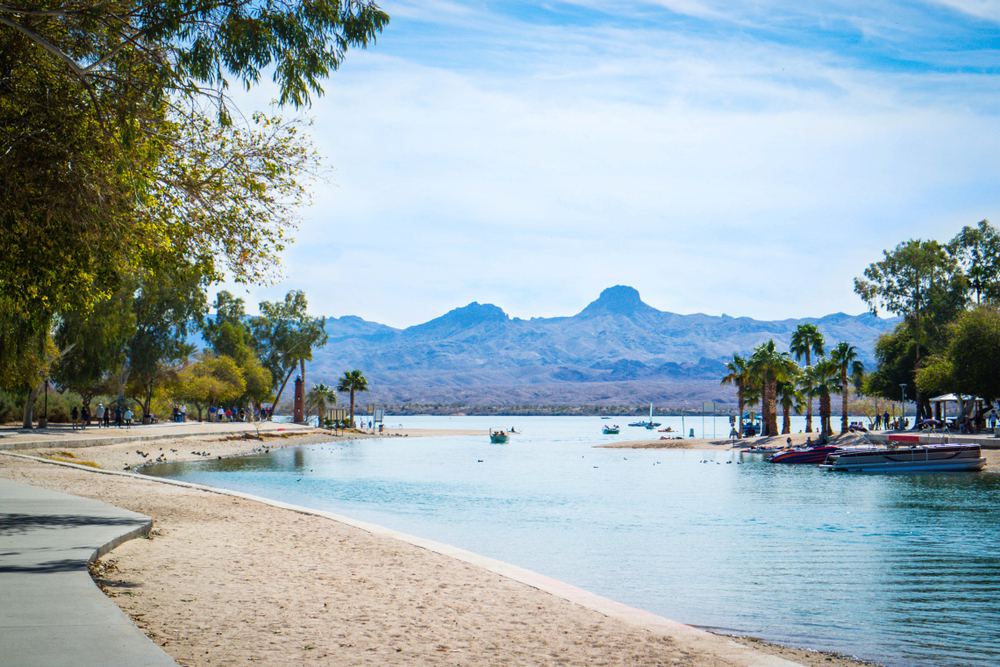 1. Havasu Lake
Location: San Bernardino County
Named after the Mojave word for the color blue, Havasu Lake boasts miles of shoreline and stunning blue water views. Straddling the Arizona and California border, this Southern California lake is popular among boaters, fishers, and swimmers alike. There are also numerous campgrounds located near the eastern shoreline of the lake, many of which accommodate RVs if you're searching for new places to go RV camping in California.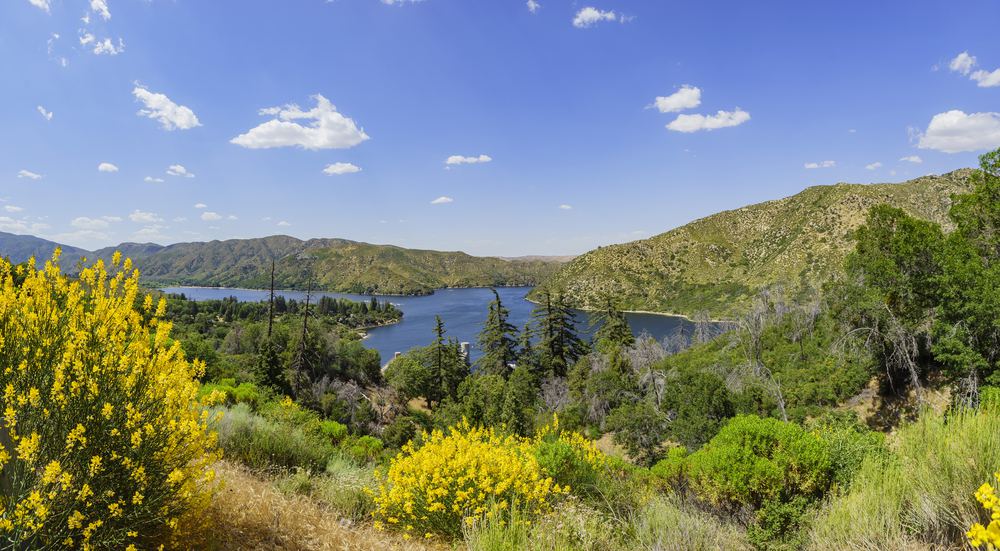 2. Silverwood Lake
Location: San Bernardino County
This breathtaking Southern California lake is a mere 90-minute drive away from Los Angeles and is located along the West Fork Mojave River in San Bernardino County. Silverwood Lake also borders the iconic Pacific Crest Trail, attracting plenty of visitors. The San Bernardino Mountains and forested hills surrounding the bright-blue lake make it an extremely beautiful backdrop suitable for any type of adventure.

The Best Lakes in Northern California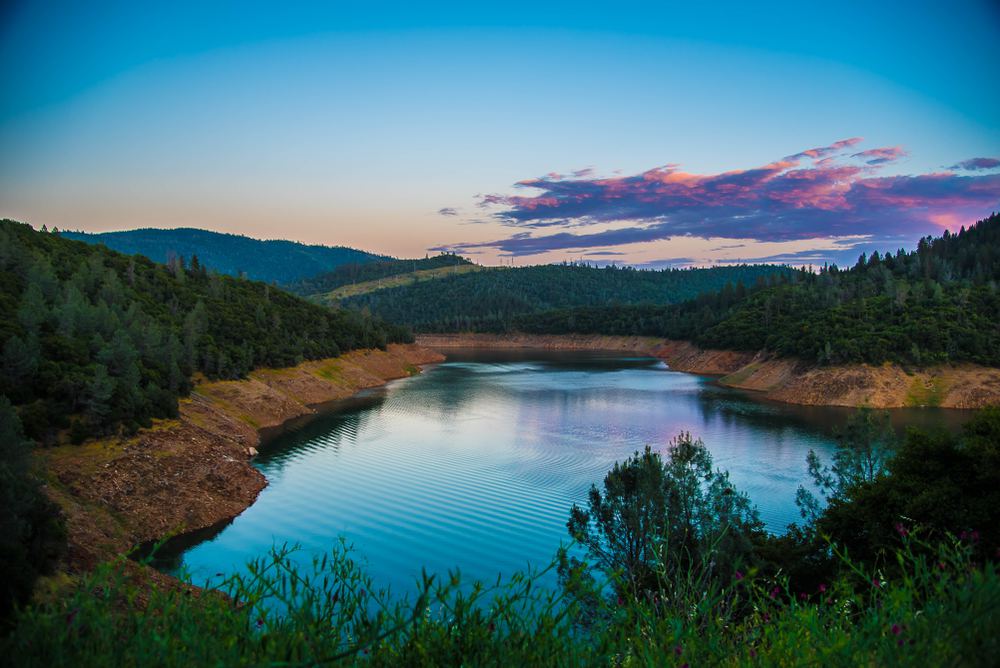 3. Lake Oroville
Location: Oroville East
Lake Oroville is tucked away in the picturesque Sierra Nevada Valley of Northern California. Fishing, boating, water skiing, and swimming are frequently enjoyed at the state's second-largest reservoir. Camping, picnicking, and horseback riding are also popular pastimes here.

4. Honey lake
Location: Great Basin
Although Honey Lake is quite stunning on its own, the surrounding wildlife and wetlands make it one of the best lakes in Northern California. The lake's surrounding lands are home to deer, antelopes, bald eagles, and many more animals. People frequent the lake to camp, birdwatch, and hike the surrounding trails. During the summer months, the lake evaporates almost completely, creating an alkali flat. So, to admire Honey Lake in all of its glory, make sure to visit in the wintertime.

The best swimming lakes in California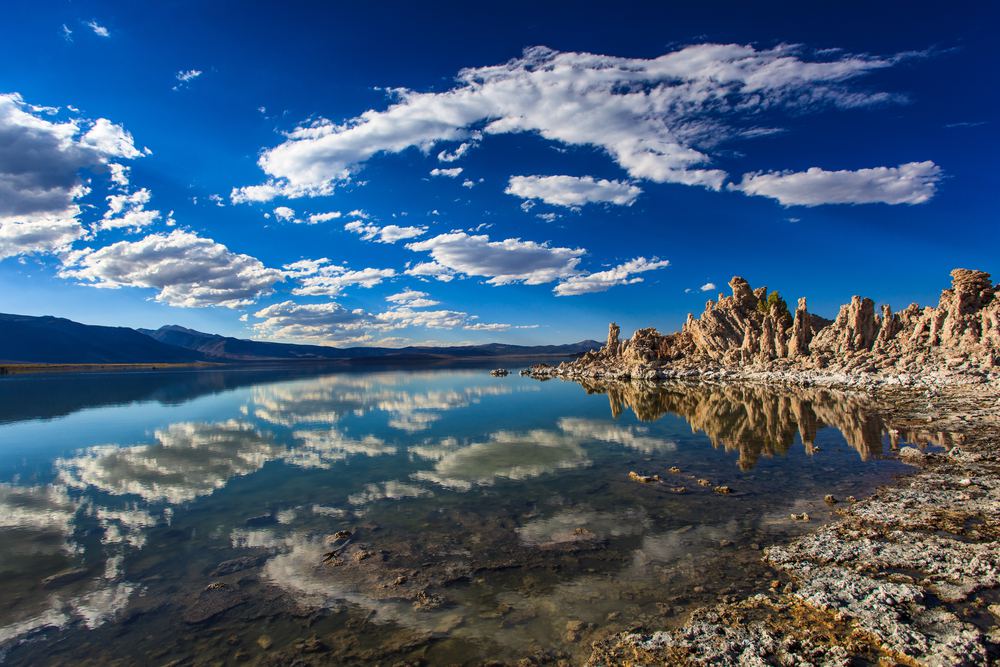 5. Mono Lake

Location: Mono County
You can't help but float in Mono Lake—literally. This lake makes the list as one of the best swimming lakes in California for its extremely unique qualities. It's three times as salty as the ocean (and twice as beautiful). After a getaway to Yosemite National Park, head down to this scenic lake for a quick dip and recreate Pink Floyd's Wish You Were Here album cover, which was shot here. You might want to visit during the spring or autumn season, as the water heats up during the summer and won't be as refreshing.

6. Lake Del Valle
Location: Livermore
Lake Del Valle in Livermore is known for being a busy and fun summer getaway spot for Bay Area residents. Plenty of families head to this beautiful lake in California to camp, picnic, and swim. The campground is temporarily unavailable, but we're optimistic that by the time summer rolls around, we'll get to experience Lake Del Valle in all its busy, beautiful glory.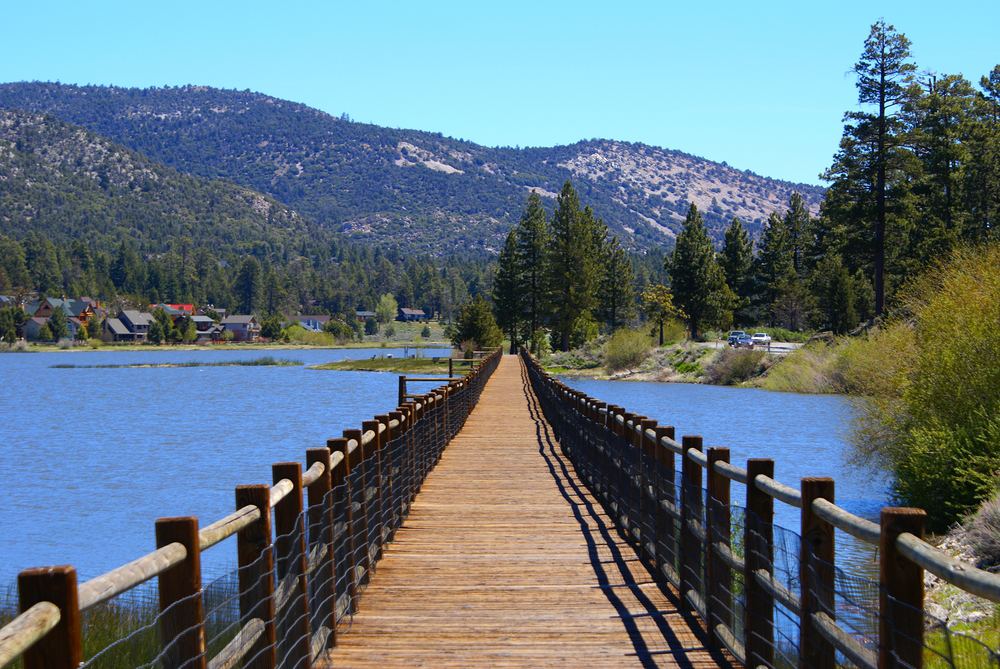 7. Big Bear Lake
Location: San Bernardino County
A popular vacation spot for families from all around the state, the seven-mile-long Big Bear Lake offers plenty of activities that'll keep your whole family entertained. Big Bear boasts plenty of beaches on its long shoreline—if you're lucky, you'll have a stretch of land all to yourself (especially during this time of year). Enjoy swimming, kayaking, and fishing in the calm waters. The top-notch campgrounds and hotels nearby are the perfect place to crash after spending the day at this top lake in California.


The best lake in California for vacation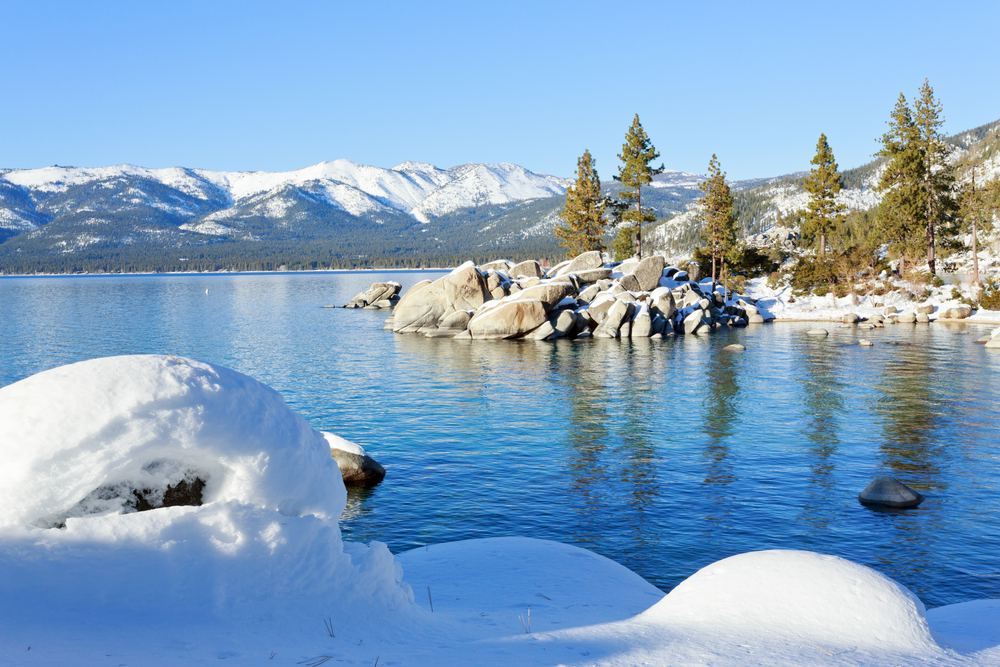 8. Lake Tahoe

Location: Sierra Nevada
Compiling a list of best lakes in California without mentioning Lake Tahoe would be a crime. Situated along the border of California and Nevada, this is a famed destination for a variety of reasons. Previously home to the native Washoe tribe, Lake Tahoe is many Californians' favorite lake vacation spot. Stunning scenery, luxurious hotels, and plenty of recreational activities—what more do you need?
During the winter months, skiing on the mountain slopes around the lake is a popular pastime. In the spring and summer, parasailing, paddleboarding, and kayaking will make your trip worthwhile. So, don't wait to book a trip to one of the best lakes in California for vacation.


The best lakes in California for fishing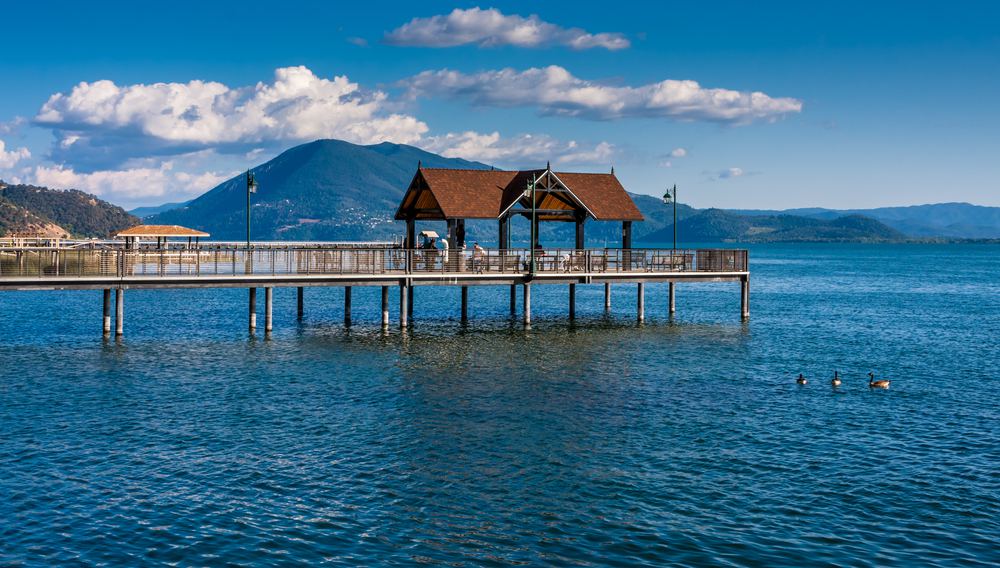 9. Clear Lake
Location: Lake County
The largest clearwater lake in California, Clear Lake is also known as the "Bass Capital of the West." But fret not, you'll find so much more than just bass at this SoCal fishing lake. Bluegill, catfish, carp, and crappie are a few of the other species you can hope to catch at Clear Lake. Afraid you'll get bored if fishing isn't your pastime activity of choice? The area around the lake has more than 10,000 acres of vineyards—you'll have plenty of scenic locations to explore both in and out of the water.

10. Lake Cuyamaca
Location: San Diego County
Head about an hour east of San Diego and you'll stumble upon this 110-acre reservoir nestled in the scenic Cuyamaca Mountains. As one of the best spots for fishing in California, Lake Cuyamaca is teeming with 45,000 rainbow trout annually. Catfish, bluegill, and bullhead are other species commonly found in the lake. Seven- to 11-pound bass are also occasionally observed swimming about. So, get your fishing rods out; you might just be lucky enough to get a big catch.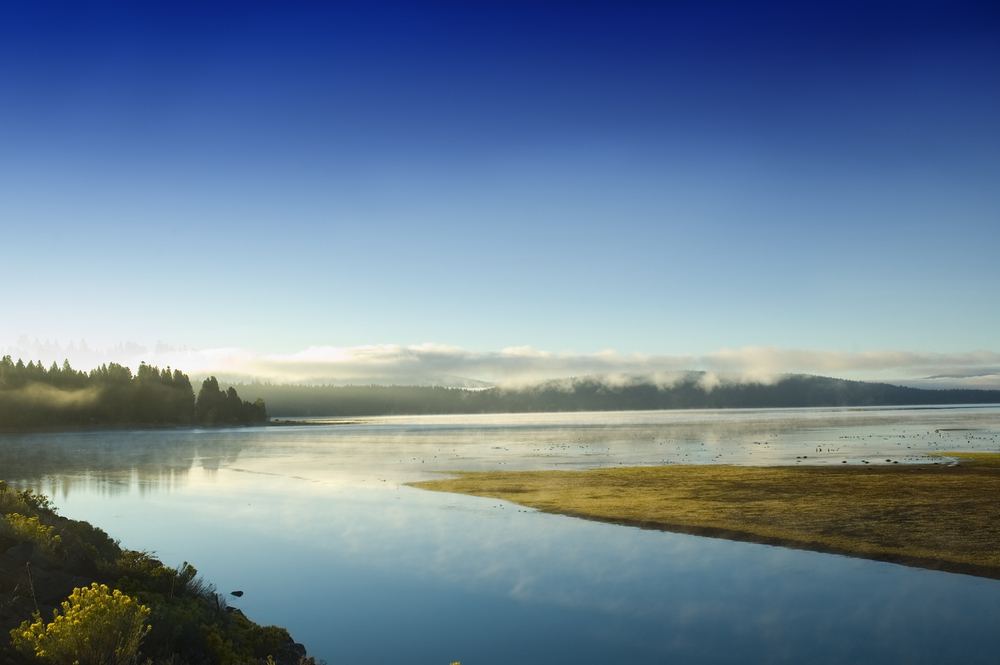 11. Lake Almanor
Location: Plumas County
Lake Almanor is an incredibly beautiful manmade lake in California that also happens to be one of the best lakes for fishing. Located south of Lassen National Volcanic Park, this gigantic Northern California lake is all about the trout. Lake Almanor can get pretty foggy during the early hours of the day; pulling out fresh catch while admiring the backdrop of the foggy, scenic lake will have you feeling like a superhero—congrats, you're quite the talented fisher.

The Best Boating Lakes in California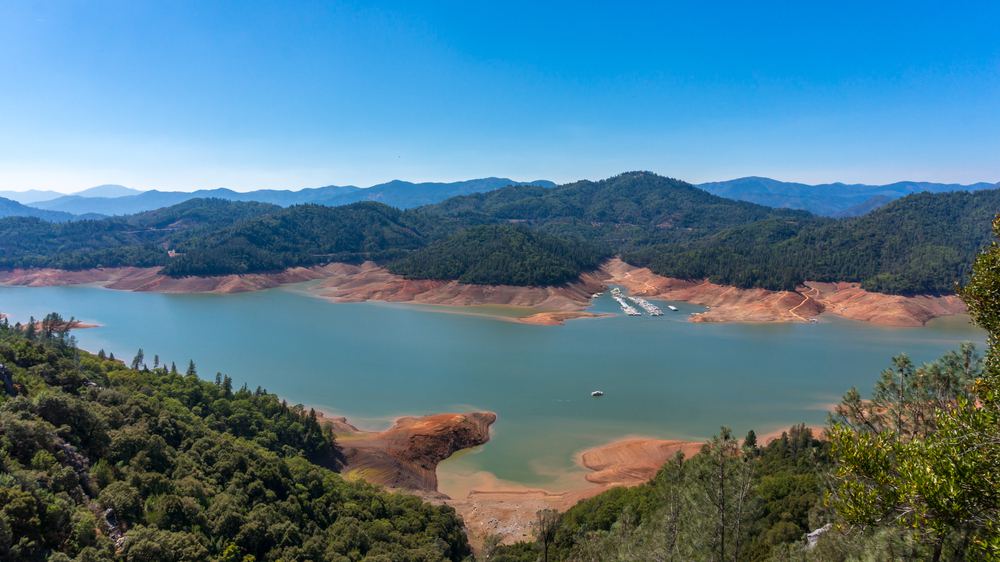 12. Lake Shasta
Location: Shasta County
Nestled in the scenic Shasta-Trinity National Forest, Lake Shasta is one of the best lakes in California for boating. Although there are a number of marinas on the lake, Bridge Bay Marina is the largest with over 700 slips. Having too few options won't be a problem if you're looking to boat on the lake. The marina can house up to 100 houseboats. But that's not all—there's room for water-skiing boats, fishing boats, patio boats, jet skis, and paddleboards.
13. Lake Sonoma
Location: Sonoma County
With 50 miles of shoreline and plenty of recreational areas, Lake Sonoma is a top spot for Californians looking to go boating at one of the top lakes in California. A variety of rentals can be found on-site, including ski boats, wakeboards, jet skis, water skis, and canoes. Ideal for picnicking and camping as well, Lake Sonoma is usually packed with people on the weekends. If you're looking for more of a quiet getaway, visit Lake Sonoma during the colder months—there's also a high chance of clearer views.