Flights have long been omnipresent at wineries and breweries, providing a way to taste and compare various offerings. But there's a new type of flight that's taking off in Southern California—and it's not reserved for only drinks. Foodie flights are popping up on restaurant menus across San Diego.
Now, discerning diners can sip and savor a variety of goodies, from tacos and moles to hot cocoas and pancakes. Jump on the 2020 trend early, and head to these eight eateries for San Diego food flights that showcase the city's incredibly diverse dining scene.
Rise & Shine
If you're looking to start your day with a breakfast of champions, these top San Diego restaurants have you covered with hearty breakfast flights.
Breakfast Republic
This quirky and innovative hot spot offers two "cluckin' good" food flights to take on the day. The French Toast Sampler gives you the option to savor three of seven toasts, including the gluten-free cinnamon raisin, sweet banana split, and decadent Mr. Presley (peanut butter with bananas foster and bacon). But if you prefer pancakes, the Flight of 3 should be your go-to, so you can try everything from Oreo cookie and cinnamon roll to pineapple upside-down cake and strawberry cheesecake. Drooling yet? Head to any of the San Diego locations to get your fix.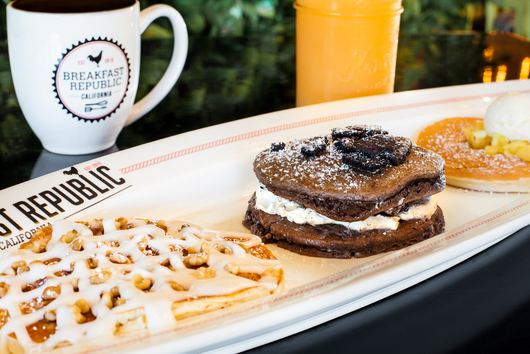 North Park Breakfast Company
Take breakfast to a whole new level with the signature Breakfast Co. Flight, which allows you to mix and match any three pancakes, waffles, and French toasts. There are 13 tempting options to choose from—including savory mashed potato and orange-thyme waffles, rich tiramisu and banana bread pancakes, and indulgent churro and crème brulée French toasts—and it's hard to go wrong. Stop by the Gaslamp or North Park location to taste the mouthwatering creations for yourself, and prevent your food coma with a matcha latte or nitro cold brew.
Snooze, an A.M. Eatery
If you don't go to Snooze, you lose. This beloved brunch destination with multiple San Diego locales serves up creative takes on breakfast staples, but the Pancake Flight provides the best of all worlds. Select any three for a divine kick-start to your day: Bite into the blueberry Danish pancakes (stuffed with lemon cream cheese and topped with blueberry coulis and almond streusel), cherries jubilee pancakes (featuring dark-cherry bourbon compote and cookies-and-cream mousse), sweet potato pancakes (adorned with house-made caramel, candied pecans, and ginger butter), or pancake of the day. No matter what you choose, you're bound to leave satisfied but longing to return again.
Savory Samplers
San Diego is famous for its Mexican fare and fresh seafood—and for good reason. Savor the flavors after a surf session at these three eateries offering Instagram-worthy food flights for lunch and dinner.
Wonderland Ocean Pub
With a picturesque perch overlooking the Ocean Beach Pier, this waterfront restaurant is the perfect place to unwind and enjoy a flight of tasty seafood cocktails. The Pescadero Sampler features all three signature appetizers: Mac Daddy ahi poke (spiced poke tossed with macadamia nuts and seaweed), fresh fish ceviche (mahi-mahi intermingled with pico de gallo and avocado), and shrimp aguachile (succulent shrimp mixed with cucumber, cilantro, avocado, lime juice, and spicy chilies). Scoop 'em up with the house-made wonton and corn tortilla chips, and take in the gorgeous views as you chow down.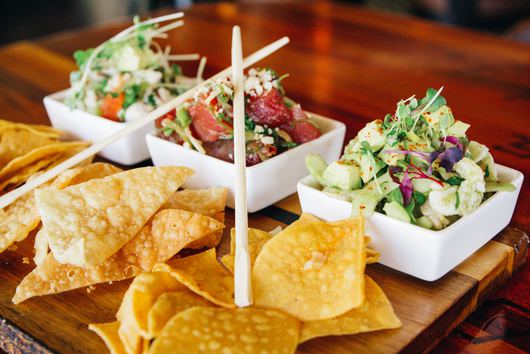 Tahona
Tucked away on San Diego Avenue, merely steps from Old Town San Diego State Historic Park, this Oaxacan-inspired eatery brings modern Mexican cuisine to Old Town. For a unique dining experience, begin your meal here with the delectable Mole Flight, which features three versions of the traditional Mexican sauce: a zesty mole coloradito, a tangy mole verde, and a classic mole negro—all served over a large flauta de papa (rolled up potato taco).
Puesto
For tantalizing tacos, make a beeline for the downtown San Diego or La Jolla location of this contemporary Mexican restaurant, where you'll find an array of innovative street tacos. Since it's always hard to make a decision here, take advantage of the option to mix and match three tacos of your choice. Whether you want to keep it more traditional with the melt-in-your-mouth carnitas and shrimp adobada or want to try something new with the Maine lobster and verduras—a vegetarian delight brimming with fresh vegetables such as Tatume squash, potatoes, nopales (cactus), avocado and zucchini blossom—you will want for nothing at Puesto.
Hot Shots
No, these aren't the shots of the alcoholic kind, but rather unique drink samplers. From caffeinated drinks to sweet sips, these beverage flights are creating a different type of buzz in San Diego.
Morning Glory
This pink-hued bistro in Little Italy doesn't just stand out for its dazzling interiors featuring rose-colored retro lamps, neon flower installations, and blushing booths. The brunch here is anything but basic, and the dishes are best enjoyed alongside the piping-hot Flight of Three Hot Chocolates. From the classic and caramel versions to the strawberries and cream and maple cinnamon flavors, these warming drinks can satisfy any sweet tooth on a winter's day.
Fig Tree Cafe
In need of a pick-me-up to fuel your San Diego explorations? The drink flights here will fix you right up. Top off your energy levels with the Caffeine Sampler, which includes three 4-ounce tasters of a latte, mocha, and zesty Mexican mocha—all made with Fair Trade–certified, 100-percent organic coffee. For a healthy energy boost packed with vitamins and nutrients, go for the flight of three Adaptogenic Antioxidant Shots. Between the fruity Tropical Detox, açaí-centric Cellular Cleanse, and vitamin C–packed Immune Boost, you'll feel ready to conquer the day.
Which foodie flight are you going to try first? Let us know in the comments.