Nestled between the southern edge of Los Angeles and the coastal towns of Orange County, Long Beach was once primarily known for its commercial seaport—one of the busiest in the United States. But over the years, major revitalization efforts have turned the formerly workaday city into a modern urban center on par with its more glamorous neighbors.
Long Beach now has all the hallmarks of a quintessential Southern California getaway, making it an ideal choice for a weekend by the water—especially for those looking to escape the winter chill found in other parts of the state. This oceanfront town experiences nearly 345 days of sunshine a year, with wintertime highs hovering between 67 to 73 degrees. So, no matter when you visit, you'll find everything from idyllic weather and island-hopping excursions to posh retail stores and sophisticated restaurants that put a creative spin on classic California flavors. Whether you want to spend a weekend with your best gal pals or enjoy a romantic winter trip with your sweetheart, this destination with a big-city feel and small-town charm has plenty to keep you entertained. Here are the best things to do in the city of Long Beach.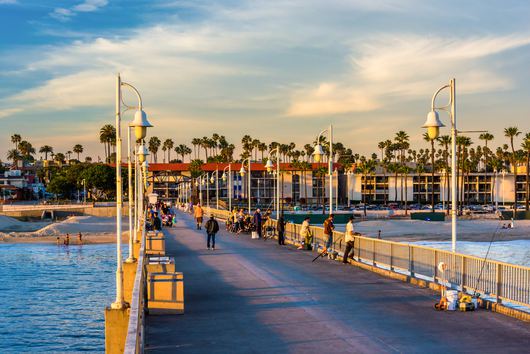 Getting to Long Beach
From the San Francisco Bay Area, a direct flight from Oakland International Airport or San Francisco International Airport can get you to Long Beach Airport in about an hour. Once you arrive, you can rent a car or take Lyft to get from place to place, but Long Beach was recently named one of America's "Most Walkable Cities", making it possible to get around inexpensively and still see the best of the city by foot.
Southern California residents can easily reach Long Beach by car. From the Los Angeles area, the drive is merely 30 minutes or so, and from the San Diego region, the drive is about two hours.
Day 1
Afternoon
Turning off the Pacific Coast Highway with the radio turned up, you can feel yourself slipping into a blissful state as you enter downtown Long Beach. The salt-kissed air fills your lungs while the warm rays shine down on your face and the invigorating coastal breeze flows through your hair, igniting the senses as you take in the picturesque setting.
Continue cruising down Shoreline Drive to explore noteworthy sights such as the legendary ocean liner The Queen Mary, which has been permanently docked in Long Beach Harbor since 1967. The historic ship was the most luxurious in the world when it first set sail on the high seas in 1936 and also served as a troop-transport vessel during World War II. Now, it's one of the top historical landmarks in Long Beach (and among the most haunted destinations in California). Visitors can take tours of the ship, have a meal at the onboard restaurants, and even spend the night in one of the stately guest rooms and suites. If you visit before the end of the year, you can also experience the Queen Mary Christmas event, when the vessel transforms into a winter wonderland complete with holiday decor, an ice-skating rink, fun activities, and photo ops with Santa.
Right across the water from The Queen Mary, the world-class Aquarium of the Pacific is easily recognizable for its recently completed Pacific Visions wing—a glittering blue biomorphic structure housing live animal exhibits, multimedia displays, an immersive theater, and art installations. Inside the main aquarium, you'll find enthralling examples of Pacific Ocean environments, from tropical reefs to California kelp forests, along with interactive exhibits on ocean conservation.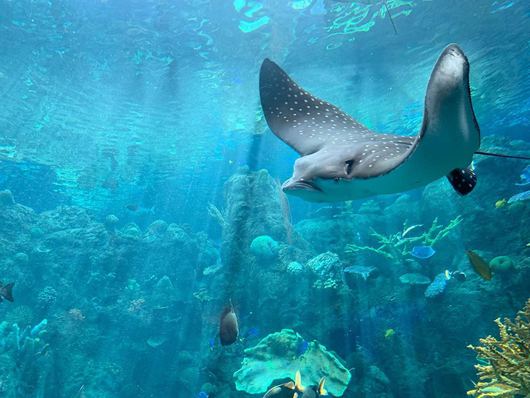 Once you're done viewing thousands of sea creatures, continue your adventure by joining a local boat tour with Harbor Breeze Cruises, which operates from the dock right outside the aquarium. The 45-minute harbor tours are great for a quick jaunt on the water to see the beauty of Long Beach from a different perspective. But a whale-watching tour will take you farther out on the ocean and give you the chance to spot gray and blue whales, dolphins, and numerous other marine animals.
Evening
After your fun-filled afternoon, head to the award-winning Hyatt Regency Long Beach and check in your room for a quick respite before dinner. This posh hotel is ideally located in the heart of downtown Long Beach and boasts views of the spectacular waterfront and marina. Merely steps away are the aquarium, the ferry dock, and the shops and restaurants of the Pike Outlets entertainment district. Drop off your bags, throw on your swimsuit, and go for a dip in the heated outdoor pool or whirlpool hot tub.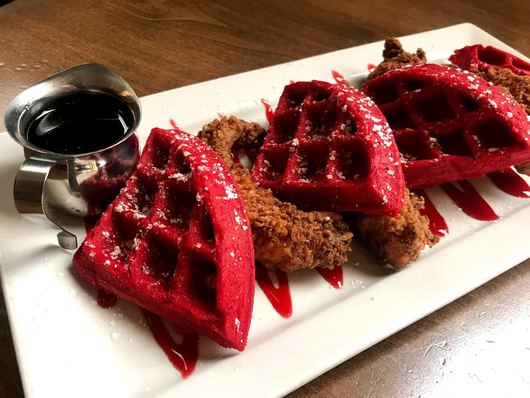 When hunger hits, take a short walk over to The Federal—a gastropub built into a historic bank building—where you can feast on over-the-top comfort foods such as crispy fried chicken and red-velvet waffles, Nashville-style shrimp and grits, and braised short ribs atop creamy polenta. (For dessert, don't miss the decadent Elvis pie, featuring creamy peanut butter, chocolate ganache, and fresh bananas finished off with whipped cream and a chocolate drizzle.) Make a night of it by booking tickets for a live show at The Federal Underground, a speakeasy-​themed hot spot situ­ated inside the original bank vault downstairs.
Day 2
Morning
Pulling yourself out of bed and away from your Pacific Ocean view may be difficult, but once you muster the energy to start your day, walk to the nearby Cuppa Cuppa coffeehouse to fuel your explorations. This java joint specializes in "barista-style coffee", which ensures that every cup is customized and served to each customer's liking. Whether you prefer a shot of espresso, a salted caramel latte, or a macchiato in the morning, Cuppa Cuppa has you covered—just don't leave without grabbing a breakfast sandwich or some avocado toast.
Fully fired up, head to Long Beach Harbor and hop aboard a ferry to the famous Catalina Island, located 22 miles off the coast of Long Beach. This iconic SoCal destination is rife with unique wildlife, dining hot spots, cultural attractions, and outdoor recreation, making it a must-visit spot for Long Beach visitors. The Catalina Express runs between the harbor and the Mediterranean-style town of Avalon throughout the day; the crossing takes about an hour, and once there, it's easy to get around by foot, bicycle, or golf cart.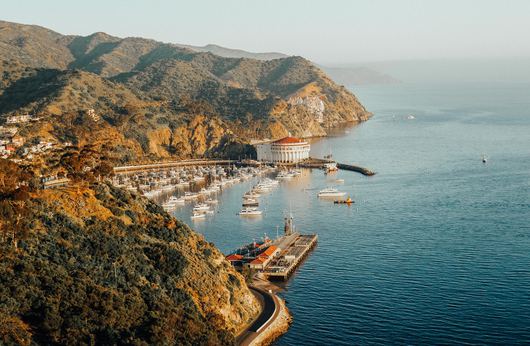 Afternoon
As soon as you arrive in Catalina and look upon the calm, crystal-clear waters of Avalon Harbor, you may decide that swimming in the sapphire waves and lounging on the pristine shores are the perfect ways to spend the day. If the mood strikes, Descanso Beach Club boasts a scenic swath of sand with a bar and restaurant that take orders towel-side.
But if you're desiring a bit more action, take an underwater tour with Catalina Divers Supply. The island's oldest dive shop will guide scuba divers or snorkelers through the temperate waters, where thick kelp forests serve as a stunning backdrop as you come face-to-face with aquatic life such as sea lions, leopard sharks, and bright orange garibaldi (California's state marine fish). If you prefer to explore the ocean without getting wet, kayak rentals from Descanso Beach Ocean Sports provide an easy coastline paddling experience, and Catalina Tours' glass-bottom boats offer a panoramic window onto the seafloor.
You can even dive into the island's rich history with a visit to the Catalina Island Museum. Exhibits include photos of the island when it was the home of Marilyn Monroe and the private retreat of chewing-​gum mogul William Wrigley Jr. You can also learn how Catalina's status as a favorite location for early Hollywood films led to the introduction of the bison herd that still roams the island today.
For a delicious lunch overlooking the water, grab a patio table at Bluewater Grill, an oceanfront eatery serving up fresh, sustainable seafood. Take in the spectacular views as you slurp oysters and savor fresh mussels in a spicy chorizo broth. Then, bite into the grilled mahi-mahi sandwich with jalapeño aioli or the seafood tacos stuffed with succulent shrimp, avocado, tomatillo salsa, and cotija cheese. It's a great way to wrap up your Santa Catalina excursion.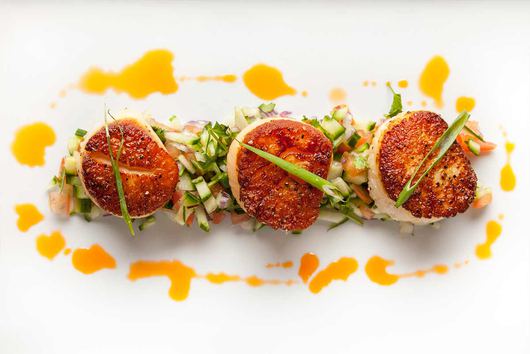 Back in Long Beach, spend some time exploring the Long Beach waterfront. While this area was once home to a massive amusement park, the only remnants today are a Ferris wheel in front of the Laugh Factory and a pedestrian pathway that resembles a roller coaster. Most of the hustle and bustle is now found in the redeveloped Rainbow Harbor. Anchored by the marina-adjacent shops and restaurants at Shoreline Village, this area is a convenient spot to enjoy a leisurely stroll and partake in some family-friendly fun—play arcade games, ride an antique carousel, rent a bike, take photos, and grab gifts or souvenirs. It's also an ideal place to take in the sunset and admire the views of The Queen Mary docked just across the way.
Evening
End the day in the Italian-style neighborhood of Naples (yes, there are canals here). Insider tip: Get there by boat; Long Beach's public transit system includes water transportation, so for $5 per person, you can catch a boat ride around town—including from Rainbow Harbor to Alamitos Bay Landing, where you'll find Naples and a little slice of Italy. While it's decidedly more Southern Californian than Neapolitan, it's worth a visit to take a walk along (or a gondola ride through) its various canals.
After exploring the community, continue the Italian vibes with an authentic, elegant meal at the highly acclaimed Michael's on Naples. Request a table out on the rooftop patio (weather permitting) to fully savor the relaxed Long Beach ambience along with a superb dinner. The seasonally driven menu changes frequently but always highlights fresh, hyperlocal ingredients. Additionally, nearly everything is made in-house, from the various pastas and sauces to the mozzarella and gelato. You can order most dishes à la carte, but if you're feeling adventurous, opt for the Chef's Tasting or the Pasta Tasting menu. Either way, it'll be an evening to remember—and one that will leave you longing to return to Long Beach in the future.