Downward dog, meet upright goat. A new yoga trend is exploding across California, and it involves friendly, fuzzy, and cute companions: baby goats. (Yes, you read that correctly.)
Goat yoga, which is yoga practiced in the presence of barnyard goats, is the latest form of exercise to capture the attention of and flood the social media feeds of Californians. The adorable animals are said to have a calming effect, as they often jump on your back while you're holding a plank or downward dog—providing a few laughs and thereby helping to relieve stress (not to mention giving you a bit of a massage as they move to keep their balance). Snuggles are not uncommon, either, and put a smile on everyone's face.
This fun and unique combination of nature, animals, and exercise is the brainchild of Lainey Morse, who started the original goat yoga classes on her farm in Oregon's Willamette Valley. The idea came to her after she was diagnosed with an autoimmune disease and needed something to help her cope with feelings of anxiety and depression, leading her to buy a small herd and begin goat yoga classes with friends. Soon after Morse held her first public session in August 2016, the classes boomed in popularity, and now there's a waiting list that continues to grow each day. The phenomenon also made its way into California—attracting the likes of Khloé Kardashian, Kevin Hart, and Kate Beckinsale—and numerous farms and fitness studios are jumping in on the action and hiring certified yoga instructors to host goat yoga classes.
Interested in experiencing goat yoga for yourself? Here's where to go in California to try this trendy and entertaining workout.
Bay Area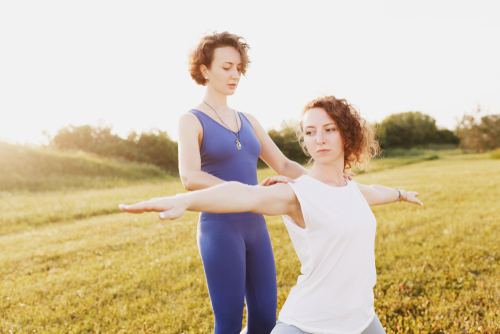 First Generation Farmers
Enjoy cuddles and friendly nibbles from baby goats as you stretch and say om at this family-owned farm in Brentwood, an agricultural hub in the East Bay region of the San Francisco Bay Area. Held in a sheltered outdoor space, the 60-minute sessions typically take place on Friday mornings but are only available to participants ages 14 and up. It should also be noted that First Generation Farmers does not host goat yoga classes regularly, so make sure to call ahead for specific dates or to check the events calendar on the website.
Lemos Farm
Located in scenic Half Moon Bay, Lemos Farm offers heartwarming goat yoga classes for yogis of all ages and skill levels inside a spacious barn. The classes occur every weekend at 11:30 a.m. and feature 45 minutes of yoga in the midst of 15 to 20 roaming goats, followed by a 15-minute petting zoo session where participants can feed and brush the furry animals. The $31 classes often sell out, so be sure to sign up in advance on the farm's website.
Original Goat Yoga
City slickers and tech workers can escape the hustle and bustle to enjoy Original Goat Yoga's rejuvenating classes in Morgan Hill, a largely pastoral town situated at the southern end of Silicon Valley. The yoga sessions—which are appropriate for those ages 8 and up and for people of all skill levels—are held under a protected outside area, allowing participants to revel in the fresh air as spirited baby goats encourage giggles and relaxation. Each $50 class lasts 30 to 45 minutes and ends with a roughly 45-minute Goat Happy Hour, where participants can snap Instagram-worth pics with the goats. Sign up for a Friday or Saturday class on the Original Goat Yoga website.
Central Coast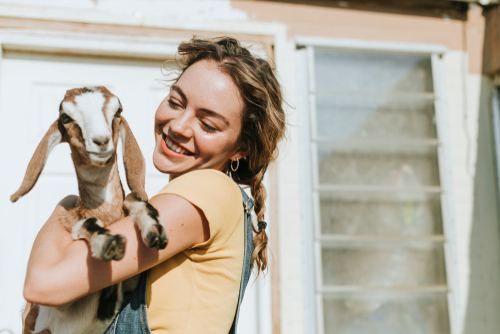 Carmel Valley Goats and Yoga
Experience the joy of performing yoga in the great outdoors alongside a herd of lovable baby goats at El Ranchito de Carmel, a verdant property tucked away in the rolling hillsides of the gorgeous Carmel Valley. Organized by Carmel Valley Goats and Yoga, the 60-minute classes encourage participants to disconnect from daily stresses and bond with the playful animal companions who may want to snuggle, gently headbutt, or simply lay next to you as you try to perfect your downward dog. Held in a wide open space surrounded by oak trees and lush foliage, the sessions take place on the second and fourth weekends of each month and are bound to fill you with happiness. Register ahead of time by contacting Carmel Valley Goats and Yoga.
Lavenderwood Farm
Nestled in the small community of Moorpark, about 20 minutes from the larger neighboring cities of Thousand Oaks and Camarillo, Lavenderwood Farm is a micro dairy that supports youth agriculture by teaching young people about sustainable farming practices—and even offers some weekend fun with its goat yoga classes. Hosted every Saturday and Sunday, the farm's Baby Goat Yoga Pajama Party consists of an hour-long yoga class (complete with goats, of course), providing a new type of Zen for beginner and experienced yogis alike. Tickets to the party cost $25 each and can be purchased through the farm's website.
Oats and Ivy Farm
The dynamic married couple that owns Oats and Ivy Farm in Somis, a small rural town in Ventura County, uses goat's milk to handcraft nourishing, small-batch soap bars (offering scents like hibiscus-eucalyptus and Ceylon citrus)—and brings out the goats in the spring for weekly yoga sessions. Held outside on the farm's 10-acre property, the Baby Goats and Yoga classes allow attendees to achieve vinyasa while soaking up the sunshine and practicing yoga poses amid avocado trees, orchards, and Nigerian Dwarf dairy goats. Head to Oats and Ivy's website to sign up for goat yoga class announcements and notifications.
Los Angeles Region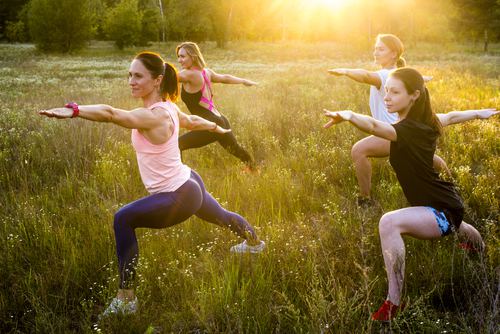 Laughing Frog Yoga
From goat yoga birthday parties, to team-building corporate events, to individual and couples classes, Laughing Frog Yoga has it all—and it's the only studio in Los Angeles offering goat yoga. After sweating and laughing through an hour-long session alongside two endearing animals, stick around for the 30-minute after party and take selfies with your new furry friends. Unsurprisingly, the $39 goat yoga classes sell out fast here, so make sure to claim your spot well in advance. But if your preferred class is already booked solid, don't despair: You may be able to catch one elsewhere in the Los Angeles region. The Sunday classes held at Laughing Frog are organized by Hello Critter, which hosts special goat yoga events at various venues throughout Los Angeles over the year, so check its events calendar for upcoming yoga classes and hikes with goats.
San Diego Region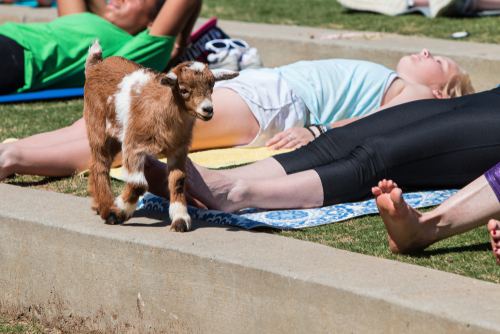 The Blissful Goat
True to its name, The Blissful Goat is guaranteed to make you feel nothing but bliss during its goat yoga classes. Held on a small farm in San Marcos, a city in north San Diego County, the sessions last about one hour and include some time for interacting and taking photos with the goats. While the classes provide a great workout, the focus is not so much on teaching participants how to do perfect yoga poses as much as it's on giving them an opportunity to reconnect with themselves, nature, and—of course—the baby goats surrounding and interacting with them. Classes take place every weekend and do not require previous yoga experience, but you must be at least 18 years old to attend. Register for classes online; they cost $19 for returning yogis and $24 for first-timers.
Sugar Sweet Farm
Situated on the outskirts of Encinitas, Sugar Sweet Farm provides weekly goat yoga classes for novices and experts alike. The intimate sessions promote spiritual healing and personal reflection in bucolic environs, where you can breathe in the fresh air and the sweet scent of the orange blossoms around you as baby and mama goats roam around, kissing your toes and cuddling up to you during savasana. Following the 50-minute class, you can linger around to take some selfies with the four-legged creatures, meander through the fruit orchards, and get a peek at the other farm animals. Note that participants need to be at least 13 years old and must sign up for the classes in advance on Sugar Sweet's website. Regardless of where you decide to take a goat yoga class, you're bound to leave feeling refreshed, happy, and amazed. And who knows—it just might become your new favorite way to work out.