Whether you are into hatha or vinyasa, acro or aerial, there is an outdoor yoga opportunity for you. From yoga on the beach, to stand-up paddleboard yoga in the harbor, to yoga on the farm, to goat yoga, there are endless classes that take advantage of the unparalleled California weather. While you may stumble upon a free yoga class or find yoga in the park during the summer, there are a few studios fully dedicated to providing special outdoor yoga experiences as often as possible. Some of our favorite places to enjoy yoga classes alfresco include these top California studios.
Stand-Up Paddleboard (SUP) Yoga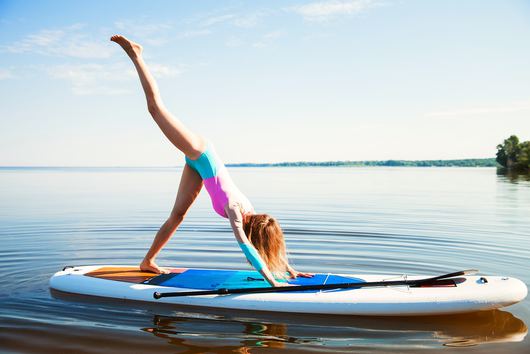 YOGAqua
Settled along Mother's Beach in Marina del Rey, YOGAqua is the region's ultimate stand-up paddleboard studio, hosting weekly vinyasa yoga classes Friday through Sunday. Classes last 90 minutes and are suitable for all levels, with the first half hour dedicated to instruction on how to properly move the paddleboards around the harbor. When the outdoor yoga class is about to begin, participants paddle into a line and drop their individual anchors so they can solely focus on their practice, without having to worry about floating away. Check out the sunset paddle on Friday evenings for an extra special SUP yoga experience.
OnBoardSUP
Hit Richardson Bay in Sausalito for weekly SUP yoga classes on Wednesdays from 9:30 to 10:45 a.m. and on Sundays from 9 to 10:15 a.m. Each class lasts 75 minutes and combines yoga and pilates—and tests your core strength as you try to stay stable on a moving stand-up paddleboard. Once you're better acquainted with the board, try the studio's monthly full-moon paddles for a unique water adventure after the sun goes down.
Floating Yogis
Head out to the Agua Hedionda Lagoon in Carlsbad to reconnect with yourself and with nature by taking a Floating Yogis class. You'll quickly see why locals and visitors alike keep coming back. The additional challenge provided by the paddleboard allows you to become more present and truly understand balance while you hone your practice atop the teal waters under the California sun.
Yoga on the Beach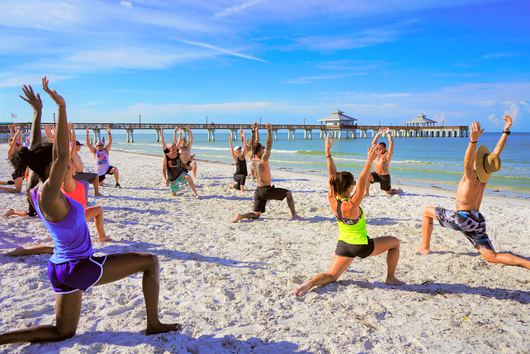 Beach Yoga SoCal
Celebrate the power of outdoor yoga on the sands near Ocean Park Boulevard in Santa Monica, where you can roll out a large beach towel, slather on the sunscreen, and listen to the waves roll in as you flow through this yoga class by the beach.
Outdoor Yoga SF
Lay out a beach blanket, take in the gorgeous views of the Golden Gate Bridge, and get ready to stretch your limits on the shores of Baker Beach. Head out to the San Francisco shoreline for a sunrise or sunset session to appreciate the beauty of the city. Don't worry about missing a thing during your class; Outdoor Yoga SF practices silent-disco yoga, meaning each person wears wireless headphones that emit soothing music and yoga instruction so there are no distractions. Watch the waves along the coastline, see the sky come alive with a burst of colors at sunset, and revel in your practice outside.
Yoga Outside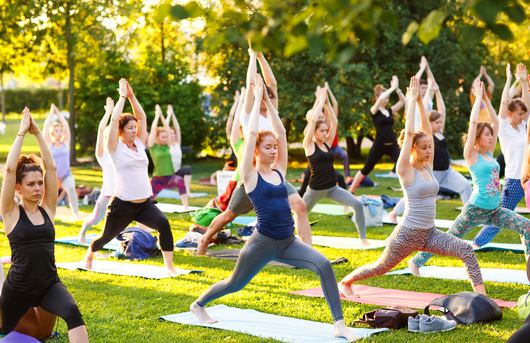 Riffs Yoga Studios
Located in the upscale town of La Jolla, Riffs Yoga Studios is doing things differently. Inspired by his father's music store and the restorative powers of yoga, owner Steve Hart set out to combine the two in a space of healing. Throughout the studio, you will find acoustic guitars, ukuleles, and even crystal singing bowls to inspire your musical inklings as you connect with your roots in such unique classes as live music vinyasa or yin yoga with sound healing. Roll out your mat on the covered outdoor yoga studio (or practice on the wooden floor next to the calming green foliage) and feel the soothing ocean breeze wash over you.
Retreat to the Farm
Tucked along the San Francisco Bay Delta on Grand Island, Retreat to the Farm provides a way to relax—away from modern distractions. Book a spot for a multi-day retreat so you can tour the 15-acre organic farm, practice yoga on the outdoor deck, lie on the quaint beach, and meditate under the warm rays to fully recharge and reconnect.
Aerial Yoga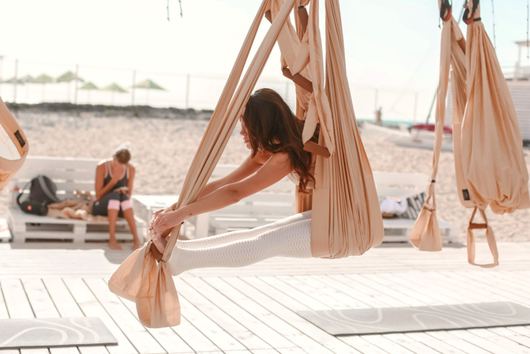 Trilogy Sanctuary
If you find yourself at the beach in La Jolla, head inland for a few blocks to find Trilogy Sanctuary, where you can take a swing at the studio's rooftop aerial yoga—one of the premier yoga classes in San Diego. Aerial yoga is perfect for all levels and is a great way to decompress and find comfort in difficult poses while facing your fears. Float above the beach and strengthen your muscles in these fun and dynamic classes.