Green coffee beans are dropped into the hopper of the preheated machine, and the magic of roasting coffee begins: The aromas change as the beans begin to crack; the chaff swirls around, as if to celebrate a successful roast with a handful of confetti; and the green coloration gives way to caramel and chocolate browns, indicating the end of the roasting process. This is a common scene in the coffeehouses of San Francisco, a city known for many things—incredible coffee undoubtedly being one of them. Blending artistry with science, the region's coffee roasters know how to craft the perfect cup, so there's no better place to celebrate National Coffee Day than the City by the Bay.
National Coffee Day 2019 falls on Sunday, September 29, and in honor of this glorious day, we set out to find the best coffee roasters in San Francisco so you can skip the searching and get right to the sipping.
Sightglass Coffee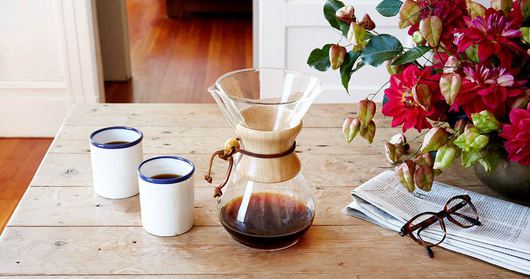 Location: 270 Seventh Street, South of Market (SoMA) District
When you think of premier coffee roasters in San Francisco, Sightglass Coffee should immediately come to mind. The independently owned company takes the entire coffee journey into account, from meticulously sourcing the beans—by evaluating the farms and the processing methods; coffee varieties available; and climate, soil conditions, and altitude at which the plants are grown—to carefully roasting every batch, to brewing each cup at its cafés.
Take advantage of Sightglass' unique San Francisco offerings by ordering a treat from the affogato bar. Pair your favorite single-origin espresso with one of the seasonal Salt & Straw ice-cream flavors (such as the sea salt with caramel ribbons or the non-dairy toasted coconut and spiced pear).
Linea Caffe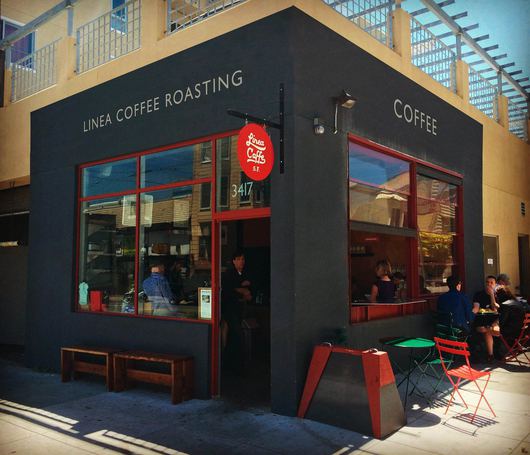 Location: 3417 18th Street, Mission District
Founded by master roaster Andrew Barnett, Linea Caffe is all about providing a quality cup of coffee. Having attended endless cuppings (or tastings) throughout the years, Barnett is particularly fond of lighter roasts—which highlight the natural sweetness and complex flavor combinations of well-curated coffee beans—so his coffee shop serves up a variety. Grab a cup of joe or a shot of espresso, and sit outside to watch the passersby as you savor every drop.
Mazarine Coffee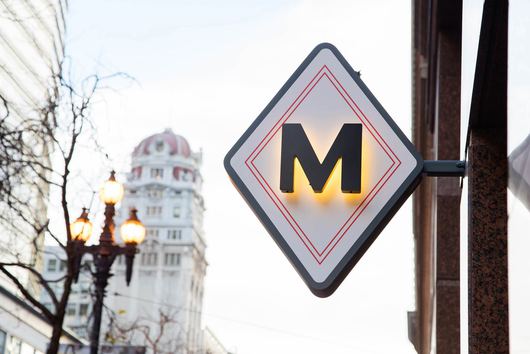 Location: 720 Market Street, Financial District
With all of the traditional offerings you'd expect from a coffee shop such as gibraltars, cappuccinos, and macchiatos—plus a wide selection of sweet and savory fare—Mazarine Coffee is a perfect morning spot. Order the signature Raf for a delightful combination of espresso, cinnamon, and half-and-half, or opt for the trendy nitro cold brew to get the day started.
While you're there, bite into the fig jam and ricotta toast—complete with honey, sea salt, and cracked black pepper—or the egg-topped avocado toast, and you'll have enough protein to jump-start your afternoon.
Saint Frank Coffee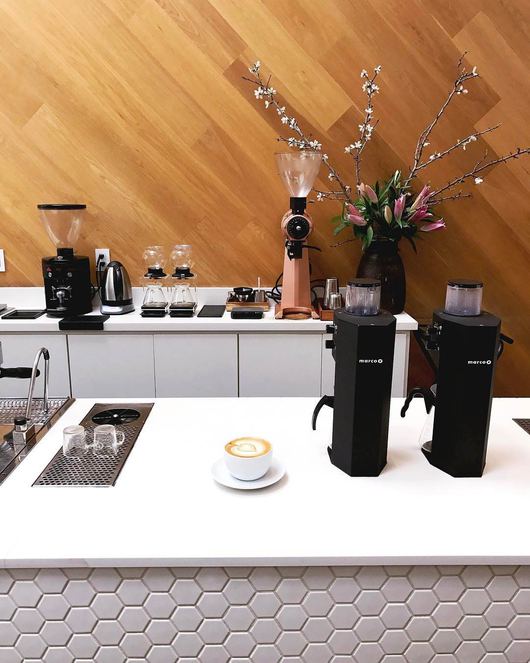 Location: 1081 Mission Street, SoMA District
Committed to the specialty coffee movement, Saint Frank Coffee sheds light on the origins of the world's most complex coffees. The team travels across the globe to build relationships with the coffee producers and elevate their quality of life. Since roasting and brewing are the final steps in a long and laborious process, Saint Frank Coffee works to help the people behind the beans and to tell their stories in the hopes of creating a better-connected planet.
Step inside the chic coffeehouse and order the single-origin flight to taste the differences for yourself and understand the diversity and complexity of each distinct roast.
Andytown Coffee Roasters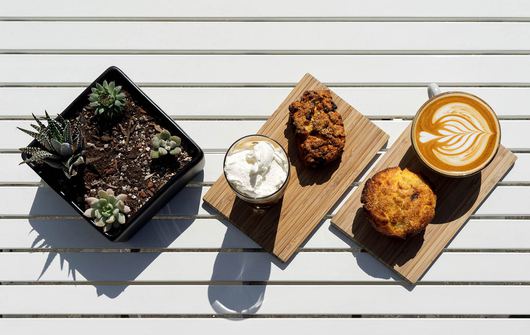 Location: 3655 Lawton Street, Sunset District
This cozy venue is the original location of Andytown Coffee Roasters, which now has four shops in the city. Tall white ceilings are complemented by a warm, wood-paneled espresso bar, and numerous flowers and plants are carefully placed throughout the space. Order an almond-milk latte with single-origin espresso and the avocado toast featuring Point Reyes Toma cheese, pickled onions, chervil, Meyer lemon vinaigrette, and a blend of sesame marash spices for a delectable experience.
In the beginning, everything was done out of the 600-square-foot spot on Lawton Street—from roasting the coffee, to baking pastries, to serving customers. Then in 2017, Andytown expanded operations and debuted a new facility at 3016 Taraval Street, merely a five-minute drive away. Stop in to see where the roasting and training take place for this modern California coffee shop; if you're lucky, you might even catch the latest pop-up event for a local food start-up. Either way, you'll find a magical wonderland of fresh coffee, brewing equipment, and greeting cards.
Wrecking Ball Coffee Roasters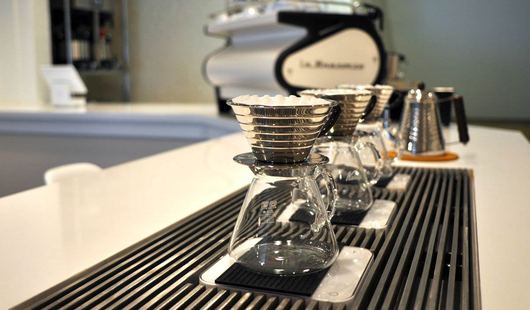 Location: 1580 Folsom Street, SoMa District
Wrecking Ball Coffee Roasters takes its art seriously. From roasting two days a week; to bagging the freshly roasted coffee in biodegradable, one-way degassing valve bags; to shipping out the supply within 24 hours of roasting, every detail is taken into account to create a special, socially responsible coffee experience. Schedule a visit to the roasting facility, or check out the Cow Hollow café at 2271 Union Street to try the sustainably sourced coffee for yourself.
Order Karl the Latte (if available) for a new take on the trendy pumpkin spice latte. Complete with two shots of espresso, a smoky Lapsang souchong tea, a touch of honey, almond milk, some cardamom, and a sprinkle of cocoa for garnish, this autumnal drink is sure to comfort the soul and remind you of sitting by a fireplace on a cold day.
Ritual Coffee Roasters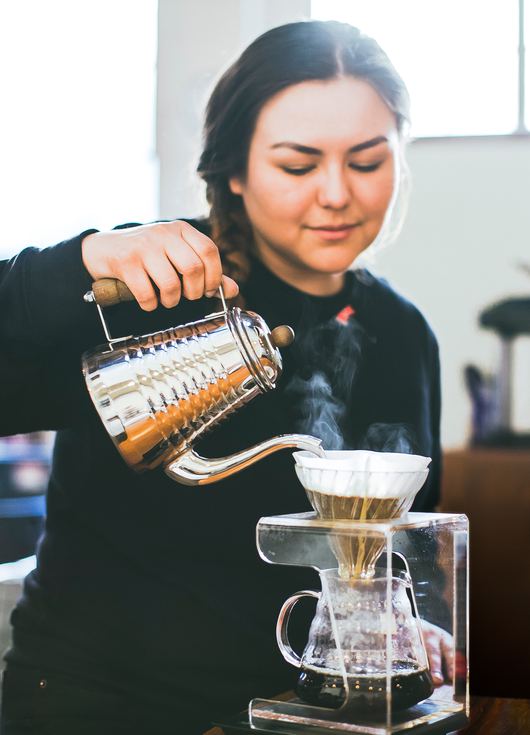 Location: 1026 Valencia Street, Mission District
Ritual Coffee Roasters has been pouring incredible coffee in San Francisco since 2005. With a local roasting facility in the SoMa District, the company freshly roasts every bean and delivers the final product—after it has been sampled and approved by the quality-control department—to its handful of cafés. Aside from adhering to these exacting roasting standards, Ritual Coffee also trains all its baristas for three to six months to make sure each drink is crafted properly and lives up to expectations.
Ready to try your own hand at brewing? Pick up a bag of coffee beans at the shop and check out Ritual Coffee's brew guides to enjoy the perfect cup at home.
Flywheel Coffee Roasters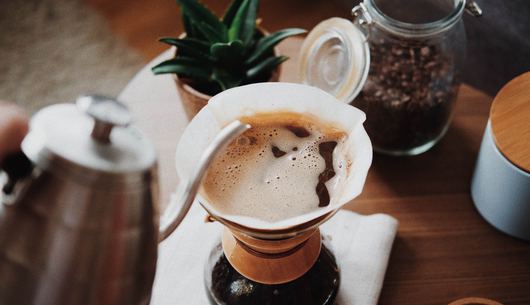 Location: 672 Stanyan Street, Haight-Ashbury District
Flywheel Coffee Roasters might not be known throughout California, but the family-owned company is certainly having an impact on the San Francisco coffee scene. While the coffee shop only opened in 2012, founder Aquiles Guerrero has deep roots in the industry. Born into the business, he grew up on a coffee farm in Nicaragua and started harvesting beans at a young age, going on to become a barista by the age of 12 and a professional roaster by the time he turned 18.
Taste the fruits of his labor by visiting the Flywheel Coffee Roasters café across from Golden Gate Park, where you can grab a cortado, americano, or affogato for the perfect pick-me-up.