By

California.com
September 16, 2020
As California mitigates health risks during the COVID-19 pandemic, some travel restrictions may remain in certain communities. Call the local and regional tourism offices to learn more about the restrictions in your intended destination. Thank you for reading, and stay safe.
To enjoy incredible hikes, crimson sunsets, and starlit nights—and to view metal dragons, dinosaurs, and giant grasshoppers—venture to one of the Golden State's coolest and most underrated parks: Anza-Borrego Desert State Park.
Spanning more than 600,000 acres and covering one-fifth of San Diego County, Anza-Borrego Desert State Park is California's largest park and among the state's best places for camping. Thanks to its location along the boundary between the North American and Pacific tectonic plates, Anza-Borrego Desert State Park is one of the most diverse desert landscapes in SoCal, encompassing 12 wilderness areas rich with flora and fauna.
Fun Facts About Anza-Borrego

Before you visit Anza-Borrego State Park in Borrego Springs, check out these interesting facts about the park and start getting acquainted.
1. Anza-Borrego is recognized as an International Dark Sky Park, making it a must-see destination for magical stargazing.
2. The land is home to the endangered bighorn desert sheep—known by its Spanish name "Borrego."
3. The park is named after Juan Bautista de Anza, the Spanish explorer.
4. There is free Wi-Fi service throughout the park.
5. The park encompasses the Santa Rosa Mountains, which have the only year-round water flow in the park.
6. Anza-Borrego features the state's only native palm: the California fan palm.
7. The park is one of the hottest destinations in the U.S., with an average temperature of 107 degrees and peaks reaching 125 degrees Fahrenheit.
8. Hidden throughout the park are murals created by native Indian tribes.
9. Over 550 types of fossils have been found within the park, with some dating back six million years. The most intriguing fossils found include a giant tortoise, the largest flying bird found in the Northern Hemisphere, ground sloths, a mammoth, and a camel.
Getting to
Anza-Borrego Desert State Park

The Anza-Borrego Desert State Park Visitor Center is located at the west end of Palm Canyon Drive in Borrego Springs. A $10 day-use fee ticket is required throughout the park (including at the Visitor Center and at developed campgrounds). Whether you embark on your journey from San Diego, Palm Springs, or El Centro of Imperial County, it takes less than two hours to reach the park.
If you're starting with a scenic drive from San Diego, jump on Highway 78 or 79; both will lead you through the mountainous Cuyamaca Rancho State Park to new adventures. Highways S-22, S-2, and 78 enter Anza-Borrego Desert State Park from the east—climbing upwards of 2,400 feet before finally descending into the valley; prepare for vistas of Anza-Borrego's great bowl once the high-country vegetation along the road discontinues. The drive from Palm Springs takes you along CA-86 South, passing by the Salton Sea and through the towns of Indio and Coachella.
No matter where you're coming from, endless adventures await you in Anza-Borrego. Get ready to track through desert trails, drive along 500 miles of dirt roads, camp in the middle of dramatic badlands, and witness the night sky change its scenery.
Things to do in Anza-Borrego Desert State Park
Located within the Colorado Desert, Anza-Borrego State Park has many hiking, biking, and equestrian trails as well as unique desert attractions. The abundance of activities and points of interest scattered all around the rugged landscape makes it a must-see destination for outdoor enthusiasts. When exploring Anza-Borrego, always carry enough water, hydrate frequently, and turn around once you've finished half of your bottle to ensure you stay safely hydrated.
Hiking in Anza-Borrego

Due to its location atop two tectonic plates, Anza-Borrego Desert State Park undergoes drastic changes each year. With an annual movement of about 35 millimeters, the terrain is twisted, faulted, and broken. Witness the Elsinore Fault Zone, most distinguishable at the Tierra Blanca Mountains Frontal Fault; explore Henderson, Borrego-Palm, and Hellhole—the canyons and arroyos created through so-called canyon cutting (rock debris being removed through episodic running waters); and experience the Borrego Badlands area, which was formed through centuries of erosion and sediment deposition.
You can also hike to the Wind Caves of Anza-Borrego overlooking the Carrizo Badlands. Follow the short Wind Caves Trail, which leads you along a rocky path—crawl through openings and tunnels, climb over caves and alcoves, and take the time to examine the astonishing sandstone formations created through erosion and strong winds. Gaze upon miles and miles of desert mountains before returning to the trailhead. Keep an eye out for roadrunners, golden eagles, kit foxes, mule deer, iguanas, chuckwallas, and the red diamond rattlesnake.
When you're in need of a respite, look for every traveler's lifesaving miracle—Seventeen Palm Oasis, Five Palms Oasis, and Una Palma Oasis—about three miles from the Arroyo Salado Primitive Campground. Relax by the watering holes and the green lush palms in the middle of the desert. If the mood strikes, partake in the age-old tradition of leaving notes and glass jars full of water for fellow wanderers; leave your message in the hidden post office barrel to become part of Anza-Borrego's history. Continue on until a trail leads you to the pumpkin patch within the Ocotillo Wells area. Examine the sandstone concretions scattered across the ground, formed through water and wind eroding the soil's surface.
Nature Viewing in Anza-Borrego

To view the diverse plants and animals that call this desert their home, traipse along the one-mile Cactus Loop Trail. Spot hummingbirds seeking out the chuparosa's nectar, tiny songbirds sheltering amidst the branches of the catclaw shrubs and creosote bushes (nicknamed "little stinkers"), and the rare peninsular bighorn sheep making their way through Pinyon Ridge's boulders. Receiving an average of four to six inches of rain annually, this tiny oasis resists and thrives in the harsh climate.
Head to the Anza-Borrego Visitor Center's desert garden to observe even more plants. You can also view the pupfish pond, home to the most intriguing fish in the world: pupfish, which can survive in both fresh and saltwater, in mud when the pond dries out, and at temperatures ranging from near freezing to 108 degrees Fahrenheit. Join the 90-minute Behind-the-Scenes Tours of the Colorado Desert District, or visit the archaeology and paleontology labs to witness collections and research usually not accessible to the public.
Admiring Anza-Borrego's Sculptures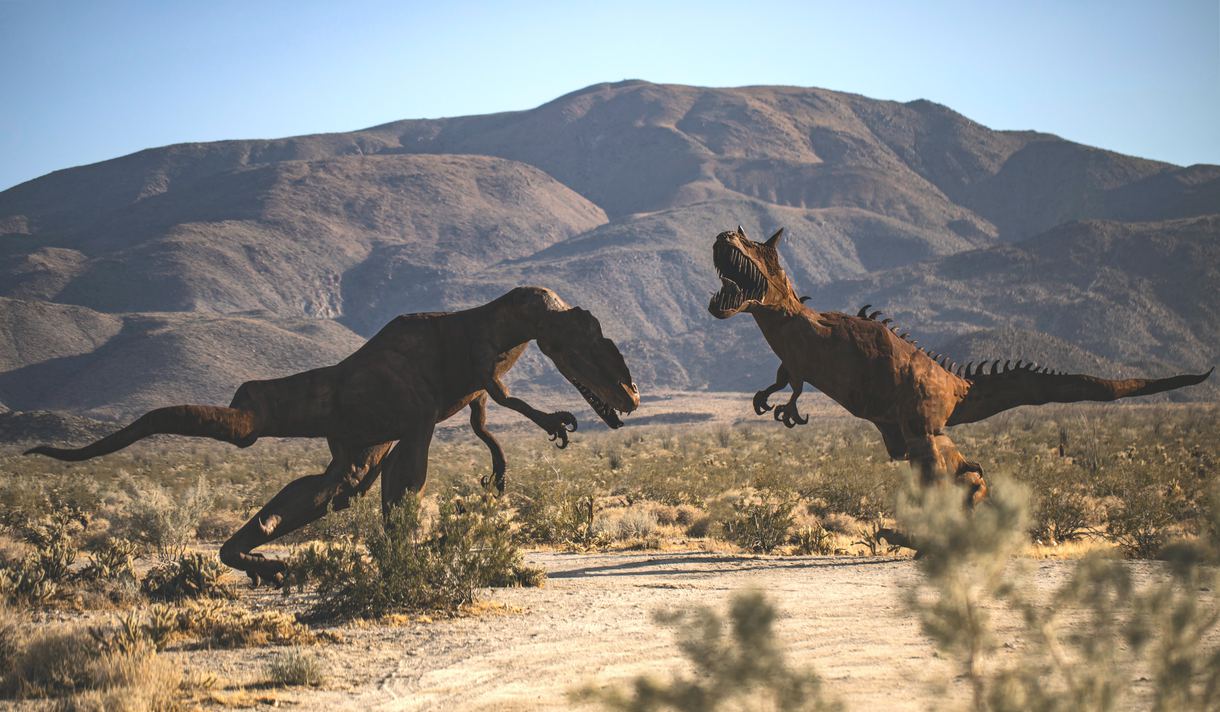 Drive along Borrego Springs Road to explore the free-standing Sky Art created by artist Ricardo Breceda. The 130 large-scale metal sculptures, originally presented at Dennis Avery's Galleta Meadows, are now being curated by the Under The Sun Foundation and are spread across 1,500 acres of undeveloped land in Borrego Springs. Avery's vision was to invite visitors to connect to nature and art by honoring creatures roaming these lands long ago. Sculptures of giant tortoises, mammoths, serpents, sloths, and historic figures make for the perfect photo op during your epic desert getaway.
Camping
at
Anza-Borrego
Desert State Park

Prepare for the most magical nights of your life. Starlit skies at Anza-Borrego Desert State Park—recognized as an International Dark Sky Park—make you wonder about your majestic connection between yourself and the universe.
If you want to challenge yourself on your adventurous weekend, stay at a free campground and learn how to survive in the desert with only basic amenities. Get away from the crowds, and camp at one of the eight primitive campgrounds in Anza-Borrego to enjoy a more wild, remote experience and close proximity to an abundance of hiking trails. Make the Arroyo Salado Primitive Camp your new home or settle in at the Blair Valley Primitive Camp.
But if you prefer to stay somewhere with more creature comforts, reserve your campsite at the Borrego Palm Canyon or Tamarisk Grove Campground. With drinking water, fire pits, picnic tables, RV sites, and restrooms, these grounds are more suitable for first-time-visitors or those who desire certain amenities.

You can also opt to book a site for yourself and your steed at the Vern Whitaker Horse Camp. Explore the equestrian trails leading to nearby canyons and valleys. With corrals for your horse as well as picnic tables, fire rings, bathrooms, and drinking water, the developed campground is one of the nicest equestrian campgrounds in Anza-Borrego.
If you need a break from nature, pamper yourself at the Borrego Springs Resort and Spa. Plan a romantic getaway complete with luxurious amenities such as Egyptian cotton linens, plush robes, a coffee maker, and stunning views from your private balcony. The spa is the perfect place to unwind after an exciting day at Anza-Borrego Desert State Park.