By

California.com
September 11, 2020
As California mitigates health risks during the COVID-19 pandemic, some travel restrictions may remain in certain communities. Call the local and regional tourism offices to learn more about the restrictions in your intended destination. Thank you for reading, and stay safe.
Get ready to pack up your gear, grab your rods and reels from the garage, and cruise along winding roads to reach some of the most popular fishing spots in California. Regardless of which direction you drive in, you'll keep boredom at bay by visiting one of the state's best fishing locations.
Whether you're following a pescatarian diet or you simply enjoy the rich, buttery taste of salmon and the delicate flavor of trout, eating fish has many health benefits. While there are many food markets in California offering fresh and local cuisine, nothing compares to picking or catching your own food to prepare a lovely dinner. Luckily, the Golden State's vast landscape offers some of the best U-pick farms and an abundance of fishing opportunities to satisfy your inner hunter-gatherer.
How to Get a
California Fishing License
and
Permit
While angling from a public pier is free and doesn't require a sport fishing license, California's rivers and lakes are where you can find most of the fish fun. Purchase your California sport fishing license online with the California Department of Fish and Wildlife (CDFW); within 15 days, your documents will be mailed to you and you'll be ready for an unforgettable fishing adventure.
You can choose from a variety of fishing licenses. Depending on your needs, fishing licenses are valid for one year or one, two, or 10 days; prices vary by state residence. The CDFW also sponsors two free fishing days each year, so you can fish in California cost-free.
The Top California Fishing Spot
s
Once you have all of the necessary documents, you can embark on your fishing expedition at one of the best fishing spots in California. Whether you want to stick with lake fishing or try deep-sea fishing, there is an abundance of locales for any interest.

Driving along I-210 to Highway 330 from Los Angeles, you can see the scenery changing drastically and the air getting thinner as you enter San Bernardino National Forest and make your way to Big Bear Lake. With rainbow trout, largemouth bass, channel catfish, and panfish found within Big Bear Lake, fishing is a popular summertime activity.
Pick your perfect spot along North Shore Drive between Windy Point and the Bear Valley Dam. For boat fishing, the ideal locale is anywhere between Gray Landing and Bear Valley Dam. In the late summer and fall, head from North Shore Landing to Big Bear Solar Observatory for shore fishing; just east of Windy Point is where you'll find most the action.
Fishing at Lake Isabella

Travel to Lake Isabella, located at the southern tip of the Sequoia National Forest, to catch trout, bass, bluegill, crappie, and catfish. Fishing at Lake Isabella can be done from your boat (permits required) or from the shore. Settle in at the Red's Marina, Freear Point or along the French Gulch for bites and stunning views of the lake. If the day isn't as rewarding as expected, munch on fried shrimp at Cheryl's Diner's while enjoying the vistas—you'll be smiling all evening.
Morro Bay Fishing

Conveniently located on the coast, right between San Francisco and Los Angeles, Morro Bay offers prime coastal fishing. Fish for rockfish, lingcod, halibut, tuna, and salmon to prepare a mouthwatering dinner at home. Go charter fishing with the Morro Bay Landing crew or get your catch at one of the T-piers in the company of otters.
San Diego Fishing

San Diego is another popular destination for deep-sea fishing. Book a half-day trip with Seaforth Sportfishing to nab yellowtail, barracuda, and bass in the summer months and rockfish, lingcod, sculpin, and sheephead in the winter. When it comes to pier fishing, nothing will compare to the 1,971-foot-long Ocean Beach Municipal Pier. Sand bass, halibut, surfperch, calico bass, and yellowtail will be on your menu—the sea lions will enviously watch your catch from afar.
Bodega Bay Fishing

Driving north along Route 101 from San Francisco, you'll arrive in the picturesque fishing village Bodega Bay within one-and-a-half hours. Cast your line from the private Lucas Wharf pier, private Tides Wharf pier, or Bayside Park Pier for jacksmelt, Pacific herring, and perch. Or, place your trust in the experienced hands of North Bay Charters and go ocean fishing for salmon, rockfish, lingcod, albacore tuna, white seabass, and halibut.
Monterey Fishing Spots

From San Francisco, head south along Route 101 for about 100 miles for fishing in Monterey. Common catches include salmon, rockfish, lingcod, mackerel, surfperch, smelt, halibut, sand dabs, and squid. Join Chris' Sport Fishing to experience the full beauty of the Monterey Bay National Marine Sanctuary. If you can't wait to get a taste of your catch, make your way to Flying Fish Grill in nearby Carmel for a mouthwatering black bean halibut or a seafood clay pot packed with shrimp, scallops, mussels, squid, salmon, and halibut.
Deep-Sea FIshing IN Los Angeles

Los Angeles provides the perfect setting for fishing. Set up camp at one of the seven public piers—Cabrillo Beach Pier, Hermosa Beach Pier, Malibu Pier, Manhattan Beach Pier, Redondo Beach Pier, Santa Monica Pier, or Venice Pier—and cast your line for free rockfish, barracuda, white sea bass, calico bass, yellowtail, and tuna. You can also opt to go deep-sea fishing with Los Angeles Sport Fishing for lingcod year-round (except January and February).
Oceanside Fishing

Cruise along I-5 from L.A. to reach Oceanside in just 30 minutes. Fishing at the famed Oceanside Pier—which stretches 1,942 feet into the deep blue waters—takes you back to the 19th-century when the pier was originally constructed. Alluring fish that can be caught from the end of the pier include bonitos, mackerels, barracudas, small white seabass, and small yellowtails. The Oceanside Pier Bait Shop is open daily and will come to your rescue if you run out of tackle or bait.
San Joaquin Delta Fishing

Spanning thousands of miles and encompassing nearly 200 islands, the San Joaquin Delta is every fisherman's dream. You can catch catfish, bluegill, striped bass, sturgeon, salmon, and American shad year-round (see local regulations). There are over 60 popular angler spots along the expansive waterway, including piers, bridges, shores, and spots only reached by boat. Join Captain Stan Koeningsberger at Quetzal Adventures for guided fishing tours.
Lake Shasta FIshing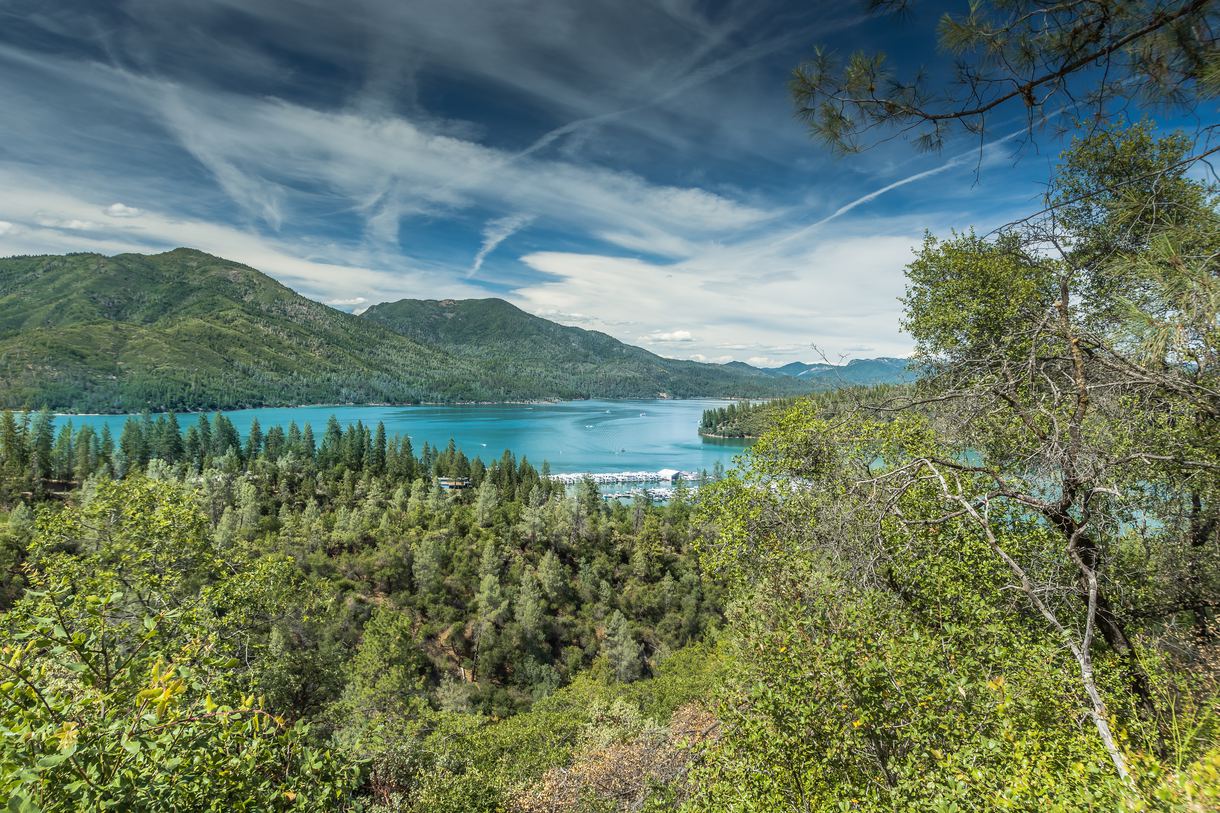 Less than three hours north of Sacramento, Shasta Lake is best known for its serene camping and breathtaking hiking trails. This beloved lake is also the state's largest reservoir and is home to various species of bass, catfish, and crappie. Shore angling is most rewarding in Jones Valley, Silverthorn, and around Shasta Dam. Head north to the McCloud rivershore to try nabbing rainbow trout, but you want a (nearly) guaranteed catch, join Jeff Goodwin's Guide Team.