As California mitigates health risks during the COVID-19 pandemic, some travel restrictions may remain in certain communities. Call the local and regional tourism offices to learn more about the restrictions in your intended destination. Thank you for reading, and stay safe.
While the Golden State's 800-plus miles of coastline tend to steal the spotlight, California's rivers and lakes make idyllic springtime vacation destinations. Surrounded by rugged mountain peaks and lush forests, the state's various rivers and lakes always delight visitors with unexpected panoramas. So, take advantage of the warm temperatures and make the most of rain-free days before the scorching summer weather takes hold.
The Best Rivers to Explore This Season

Trinity River
The Trinity River in California is a major tributary of the Klamath River and begins in the Trinity Alps before meeting up with the Klamath at Weitchpec. The river's 203 miles are split between 120 miles of recreational space, 39 miles of scenic expanse, and 44 miles of wilderness. The river is known for its salmon and steelhead fishery resources, but it is a hot spot for adventurers, too. Prepare to encounter rapids in the springtime, or wait until summer to appreciate the beauty as you leisurely float down the river.
South Yuba River
The South Yuba River is a California river, iconic for its smooth granite mounds, emerald pools, and cascading white water rapids. The river is also known for its location during the Gold Rush, so 20 miles of the roughly 65-mile-long river is designated as a California state park and is a popular swimming destination. The Yuba River in California also happens to be one of the best spots in the state for river camping. While mostly primitive and lacking in modern amenities, the Yuba River campgrounds offer you a chance to reconnect with nature and catch a break from daily life.

Eel River
Despite its name, the Eel River in California does not actually contain any eels. However, that doesn't mean this California river isn't rich in marine life. The state's third largest watershed hosts countless fun adventures and boasts breathtaking scenery you can't miss. Aside from fishing, you'll love exploring the three forks of the Eel River through hiking, kayaking, and swimming.
Incredible rivers for white water rafting in California

North Fork American River
Make the American River your next river-rafting destination. Spanning 88 miles, the North Fork is the longest segment of the American River in California, fed by the snowmelt of the Sierra Nevada. Wildflowers, forests, and stunning cliffs make this waterway unique, and the rushing rapids make it a worthwhile destination for thrill-seekers.
The famous river is also known for being the spot where gold was discovered during the 19th century Gold Rush Era. So, if river rafting in Sacramento isn't a big enough draw, then its history should definitely help.

Kings River
Whether you're looking for the perfect picnic spots, campgrounds, whitewater rafting, or fly-fishing, Kings River is the place you've been dreaming of. Nestled in one of the deepest river gorges on the continent, this river flows through Kings Canyon National Park and the Sequoia and Sierra National Forests for 81 miles, offering unparalleled scenery. Head over to this beautiful California river and take advantage of the rafting opportunities sans crowds while you still can.
Klamath River
As California's second largest and second longest river, the 286-mile-long Klamath River is a spectacle to see. The Klamath River in California is known for its fishing opportunities (which include steelhead, king salmon, and silver salmon), jet boat rides, and endless recreation—so there's always something new to explore. This Northern California river rafting hotspot offers excursions that'll exceed your expectations. Lower Klamath is perfect for beginner paddlers, while more experienced rafters will love the upper part of the river.
The Best Lakes in California for Vacation

Lake Tahoe
Tucked along the California-Nevada border, surrounded by the picturesque South Lake Tahoe and dozens of world-class ski resorts, Lake Tahoe is one of the best lakes in California. Gaze at the snow-capped mountains, stand-up paddleboard around the lake, or hike in the nearby wilderness to make the most of your spring vacation. Though it's freezing, Lake Tahoe isn't the best swimming lake in California at the moment. But with summer right around the corner, feel free to see for yourself if you can run out to the clear waters and dive in one of the most beautiful lakes in California.
Lake Berryessa
Situated east of the charming town of Calistoga, Lake Berryessa is the largest lake in Napa County, but it gains its fame from its mysterious, spiraling hole. Exploring this beautiful lake in California is a great Napa road trip activity for those who don't drink. Rent a houseboat, admire the wildlife, and sit beneath the oak trees to see why this serene locale is a California favorite.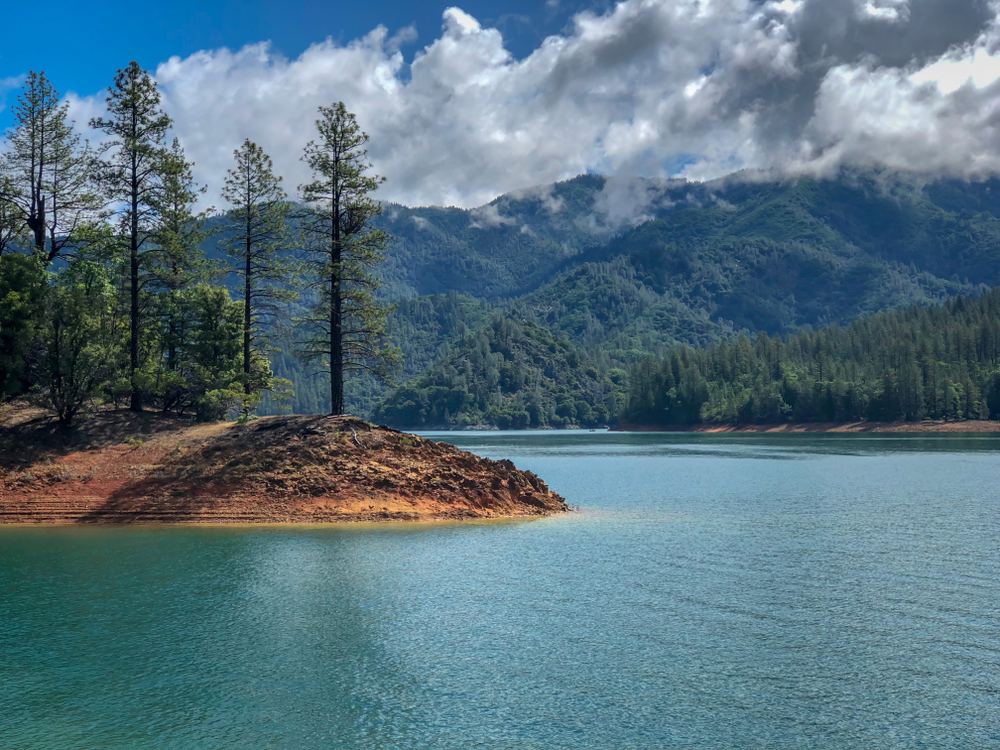 Shasta Lake
Lake Shasta is always a good getaway. Considered one of the most beautiful lakes in Northern California, Shasta offers beautiful hotels and motels, and superb lakeside camping grounds. Spend your days cruising around on a boat, fishing, camping, and appreciating California's largest reservoir. Then, take a tour of Shasta Dam—the second largest cement dam in the U.S.—before heading up to the peak of Mount Shasta to take in the views.
The best lakes to live on in California

Lake Arrowhead
Located high in the San Bernardino Mountains, just outside of Big Bear, Lake Arrowhead has something for everyone. There are numerous things to do—from boating and sailing, to canoeing and kayaking, to fishing and horseback riding—so it's nearly impossible to be bored in this secluded oasis. Whether you spend your time backpacking, bicycling, or photographing the colorful wilderness, this is one springtime vacation you'll never forget.
Mammoth Lakes
Undoubtedly one of the best lakes in Northern California, this lake is a dream. With a location near Yosemite National Park, Mammoth Lakes makes the perfect weekend getaway year-round. From family-fun indoor activities, to kayaking excursions on the lake, to snowboarding in the mountains, there are activities here for every mood—especially during spring, when you can ski and fish in the course of an afternoon. Mammoth Lakes is home to some of the most beautiful lakes in Northern California, so don't miss your chance to splash around.
The best swimming lakes in California

Lake Siskiyou
The crystal clear waters of Lake Siskiyou are tough to resist on a hot summer day. Fed by mountain streams, Lake Siskiyou is a top-notch spot for a getaway. Book a cabin in Redding and spend your days swimming, kayaking, and lounging around one of the best lakes in California. Fishing enthusiasts will be glad to hear that Lake Siskiyou is rich in rainbow trout, lake trout, and smallmouth bass. There's truly something for everyone at one of the best lakes in California.
Lake Havasu
Lake Havasu's name comes from the Mojave word for the color blue. And as expected, the beautiful California lake's waters are as blue as it gets. There's a large designated swimming area at Lake Havasu State Park, complete with white sandy shores. Besides being one of the best swimming lakes in California, Havasu also boasts numerous campgrounds, some of which you can stay at with your RV. Spend your days swimming, fishing, paddling, and soaking up the sun as you explore this beautiful lake in California.