By

California.com
November 09, 2020
As California mitigates health risks during the COVID-19 pandemic, some travel restrictions may remain in certain communities. Call the local and regional tourism offices to learn more about the restrictions in your intended destination. Thank you for reading, and stay safe.
Lava Beds National Monument is a land of geological turmoil, volcanic eruptions, and rugged landscapes—sound intriguing? Then make your way to one of California's best national sites to experience a transcendental journey in Northern California's desert wilderness park. Lava Beds National Monument spans 46,000 acres and boasts more than 800 caves, historic battlefields, Native American rock art, and plenty of hiking trails. So, stop by this national monument on your next trip to the Shasta Cascade to explore lava-tube caves, admire captivating geological formations, and learn about its interesting history. (Pro tip: Plan your visit on one of the free national park days.)
Lava Beds National Monument Visitor Center
The Lava Beds National Monument Visitor Center—found at the south end of the park, near Cave Loop Road—provides guests with maps and information about the park and caves. Make this your first stop upon entering Lava Beds National Monument so you can learn about the top sites, determine which trails you want to hike, book a ranger-led tour, or grab a hard hat and flashlight for your spelunking adventures.
Lava Beds National Monument Caves
To Visit

Sentinel Cave
The Sentinel Cave is the longest cave in Lava Beds National Monument. This cave is absolutely incredible if you're not afraid of the darkness; you'll be hiking in the dark for about 15 to 20 minutes while climbing upwards of 3,280 feet. Make sure to pack your flashlight and get ready for a surreal experience.
Mushpot Cave
Located around a quarter-mile from the Lava Beds National Monument Visitor Center, this cave is the perfect place to begin your park endeavors. Mushpot Cave is well lit and provides interpretive signs to guide you along the way.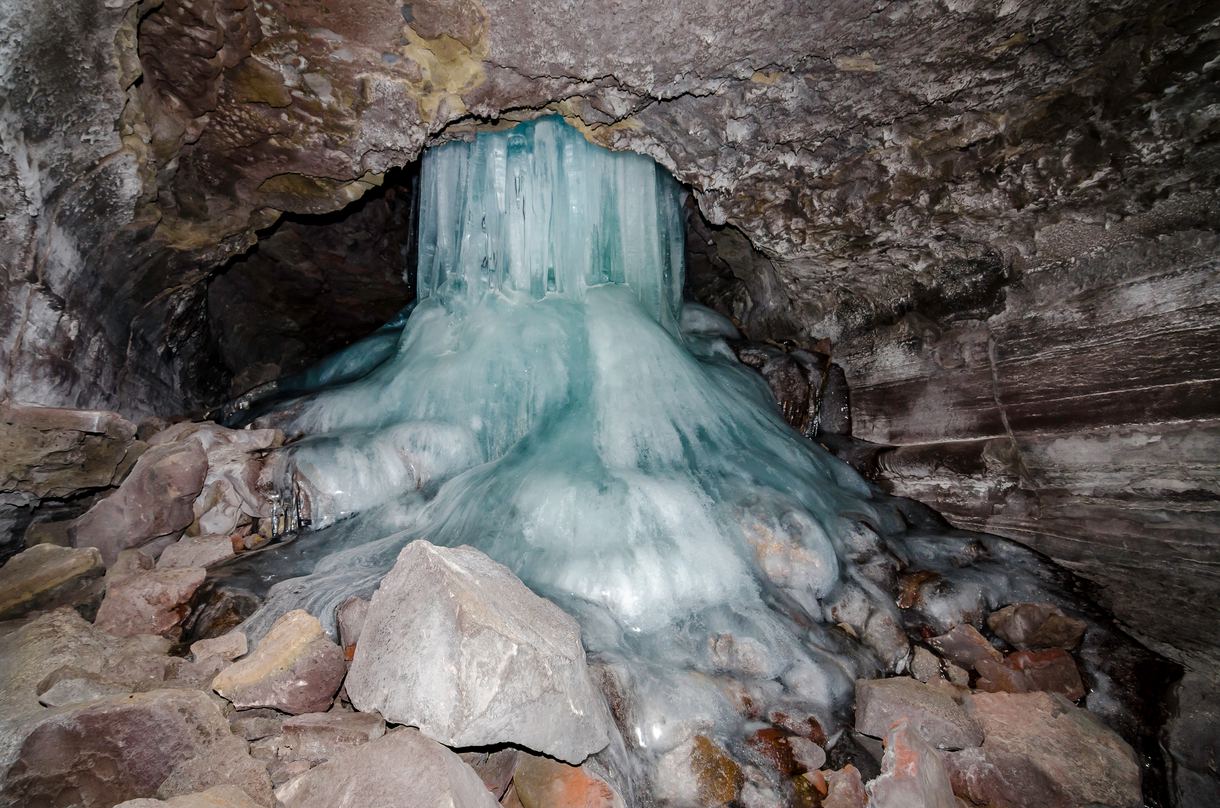 Indian Well Cave
Indian Well Cave is great for exploring during wintertime; the cave's extensive ice formations found towards the back make it well worth the visit. The cave is situated across the street from the Lava Beds National Monument Visitor Center and Mushpot Cave.
Sunshine Cave
As its name implies, this Lava Beds National Monument cave lets the light in. While there are a few other caves in the park that also welcome sunlight, Sunshine Cave stands out from the rest due to its immense entrance and intense illumination, which has allowed plants to grow within the cave. Although the cave is on the smaller side, the exploration is still remarkable.

Golden Dome Cave
An extensive lava tube in the national monument, the Golden Dome Cave is definitely more intense than the other introductory caves, making it perfect for adrenaline junkies. To explore this cave, serious caving skills are required; there are also fewer established trails and several narrow areas that are challenging to navigate. The ceilings are yellow due to a buildup of bacteria caused by the light reflecting off of the water within the cave.
Ovis Cave
Ovis Cave is a great choice for beginner cavers. At 216 feet, the cave is short and can be explored rather quickly. It also has a convenient entrance and exit; rather than turning back around the way you came, you can just exit. The two openings provide plenty of light, making it an ideal experience for anyone afraid of staying in the dark for too long.

Skull Cave
The most popular lava-tube cave at Lava Beds National Monument, the Skull Cave is an awe-inspiring spot to explore. The cave's massive opening gives you a sneak peek of what awaits. The cave isn't too long, either, so it's perfect for a quick underground adventure.
Big Painted Cave & Symbol Bridge
Lava Beds National Monument is steeped in Native American history—this is clearly exhibited in the Modoc Tribe's artworks. One of the best ways to experience and view the Modoc people's history is at the Painted Cave and Symbol Bridge, both of which reveal cave paintings and drawings.

Lava Beds National Monument Facts
You Didn't Know

Lava Beds National Monument's natural beauty beckons to visitors year-round. While it may be one of the most visited spots in the country, there are plenty of little-known facts about this park—beloved Sagittarius, this is the best national park to visit based on your zodiac sign.
1. Many types of animals call the Lava Beds National Monument home, but one of the more cave-like animals you should expect to run into is bats. There are 16 different types of bats hovering and hanging around the park.
2. Lava Beds National Monument provides a variety of protected habitat for bats. Many of the bats currently roaming around the park are in danger of extinction and suffer from white-nose syndrome, a skin infection. If you want to partake in protecting and learning about the bats at the national monument, join the Adopt-A-Bat program.
3. Lava Beds National Monument lies on the north flank of the Medicine Lake Volcano, which is where the Modoc War took place. This was an armed conflict between the Native American Modoc people and the U.S. Army that occurred in the 19th century.
4. Medicine Lake Volcano is also the most voluminous volcano of the Cascades due to the amount of lava it contains; unlike other volcanoes, this one has numerous small magma chambers instead of just a large one. It is an active volcano, too. Over the past 4,000 years, there have been at least six eruptions, and it's expected to erupt again in the future.
5. Visitors can endlessly indulge in magnificent views of the dazzling, star-studded night sky. Lava Beds National Monument is considered a dark-sky preserve—the high altitude and remote environment of the park limits the amount of artificial light pollution.

camping near lava beds national monument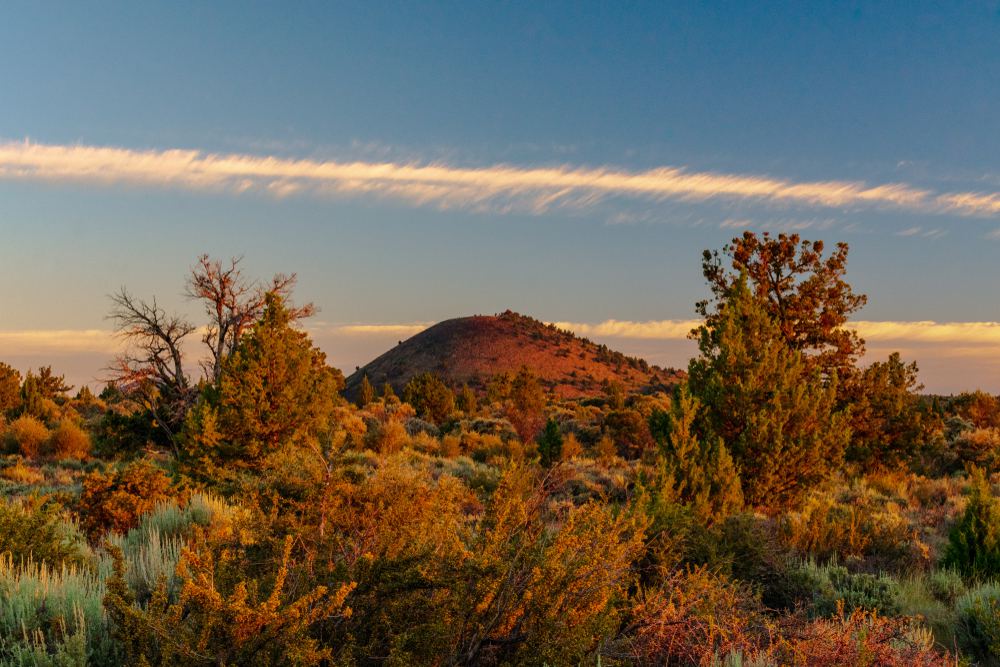 Lava Beds National Monument has one campground: Indian Well Campground, which is one of the best places to camp in the Shasta Cascade. The campground offers 43 sites for tents, trailers, or RVs (up to 30 feet long) on a first-come, first-served basis. Sites cost $10 per night and include a picnic table, fire ring, and grill. There are also restrooms with water, sinks, and flush toilets.