By

California.com
December 25, 2020
As California mitigates health risks during the COVID-19 pandemic, some travel restrictions may remain in certain communities. Call the local and regional tourism offices to learn more about the restrictions in your intended destination. Thank you for reading, and stay safe.
Desert chic meets effortless luxury in Palm Springs. Offering everything from cutting-edge art galleries and towering palm trees to mid-century modern homes and world-class golf courses, Palm Springs neighborhoods are timelessly classy. Whether you're embarking on a weekend getaway to Palm Springs, getting ready for Modernism Week, or looking for a swanky spot to relocate to, this Palm Springs neighborhood guide will lead you in the right direction.
While there's a distinctive aura to Palm Springs that makes you feel like you're living in a glamorous movie set, each neighborhood in Palm Springs boasts its own unique set of trendy eateries, chic cocktail lounges, and distinct attractions you'll want to explore. This list will show you exactly what you can enjoy in each neighborhood.
The History of Palm Springs Neighborhoods
Palm Springs has one of the largest concentrations of modernist architecture in the country. But this hasn't always been the case. Before this alluring desert captured the attention of an impressive list of pioneering architects from around the world, the city was relatively deserted. After Hollywood's elite discovered Palm Springs—the perfect playground to enjoy the year-round sun discreetly—the city became the place to be for everyone who's anyone.
It's easy to understand why the original Hollywood elite chose Palm Springs as their go-to destination. You can't help but be mesmerized upon first entering the city and seeing the San Jacinto Mountains hovering over the stylish neighborhoods.
The real stars of Palm Springs, however, are the talented architects who shaped the city. R.M. Schindler, Richard Neutra, and Albert Frey from the 20s to the 30s; William Krisel, Donald Wexler, and E. Stewart William from the 40s to the 70s; and other talented architects who followed them made Palm Springs neighborhoods the influential architectural hot spot it is today.
There's no doubt that some of the coolest architecture in California is in Palm Springs. So, if you're as much of a mid-century modern enthusiast as we are, you're going to have a hard time deciding how to divide your time between the different Palm Springs neighborhoods. Whether you're looking to discover Alexander homes (more on that later), tour the previous residences of the likes of Marilyn Monroe and Paul Anka, or snap pictures of quintessential Eichler homes for inspiration—these are the Palm Springs Neighborhoods you should explore now.

The Ultimate Palm Springs Neighborhood Guide

Twin Palms Estates
Twin Palms is where the first Alexander homes were built during the 1950s. The Alexander Construction company built about 1,200 "Palm Springs Alexanders" in the area between 1957 and 1966. These houses were designed by architect William Krisel and were highly sought after back then due to their function and affordability.
Today, the homes are still very much in-demand but are no longer as affordable. When they were first constructed, they were selling for about $20,000 to $40,000—the houses are now sold at a minimum of $1 million.
Located just north of Indian Canyons, south of East Palm Canyon Drive, the Two Palms neighborhood is named after two palm trees that were planted on every residential property during the mid-20th century, when the area first started flourishing. You'll also find beautiful butterfly roofs scattered around this neighborhood.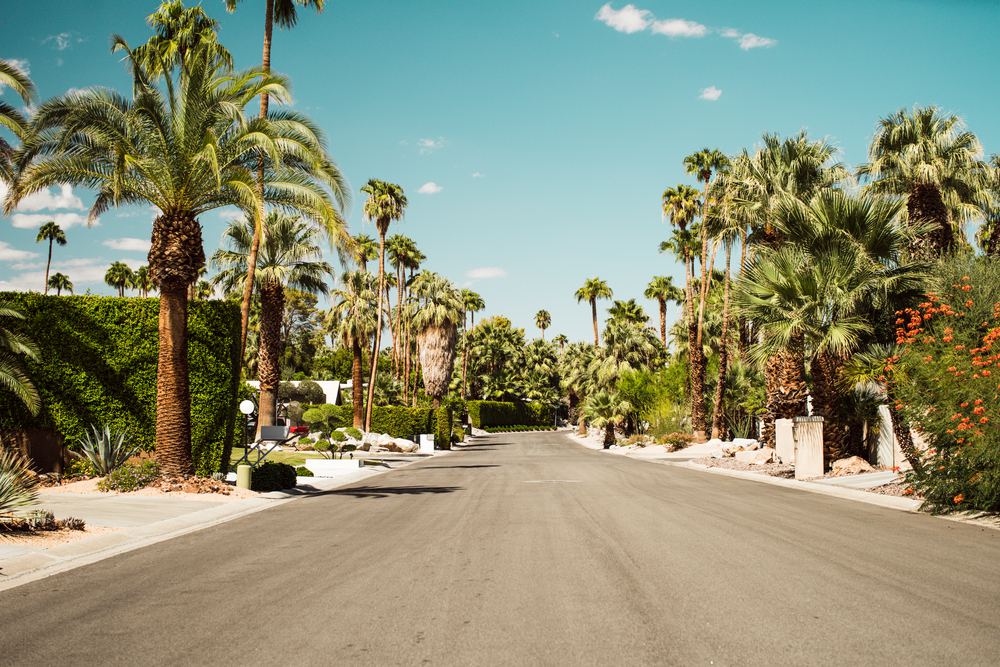 The Movie Colony
The Movie Colony, or TMC, is a central Palm Springs neighborhood located within walking distance to the downtown area. The neighborhood was once highly coveted by the biggest stars in the entertainment industry—there are many stories of parties and celebrations that took place inside the lavish homes of TMC.
The most well-known home here is Frank Sinatra's Twin Palms villa, which was dubbed "party central" during the 50s. Legend has it that Sinatra had a flag with the Jack Daniels logo on his front lawn, and whenever he would put up the flag, a party was going to be held that evening. Since stars like Sinatra, Marilyn Monroe, and Cary Grant were TMC residents, the houses are concealed from view by walls and elegant landscaping, making privacy a given.
This Palm Springs neighborhood was developed during the 1930s and 40s. Most homes were designed in Spanish Colonial Revival and mid-century modern styles. There are also plenty of green spaces around TMC, including Ruth Hardy Park, where you'll find tennis courts, jogging trails, and picnic areas.


Sunmor Estates
Sunmor Estates in Palm Springs will have you feeling like you stepped back in time to Hollywood's golden era. As another well-known central neighborhood in Palm Springs, Sunmor Estates boasts a significant number of well-intact mid-century homes from the 1950s.
The neighborhood faces Palm Springs City Hall on the east and Farrell Drive on the west. Sunmor was initially developed by prominent local builder Robert "Bob" C. Higgins, who wanted to build affordably priced modernist homes in Palm Springs. However, after only building 11 homes, the project was taken over by Alexander Construction.
Today, this Palm Springs neighborhood has a great sense of community and hosts sold-out Modernism Week tours each year. So, if you're looking for architectural hidden gems to see in Southern California, visit during Modernism Week in April 2021 (moved back from February due to COVID-19 restrictions), and you might just find the home of your dreams.


Deepwell Estates
Admire the classic Palm Springs architectural styles—mid-century modern, desert ranch, and Spanish Revival—lining the streets of Deepwell Estates. The current name of this neighborhood is inspired by scientist Henry Person, who bought a house here in the 20th century while on a mission to dig for water. Apparently, after digging 100 feet into the soil, Person actually found water but decided to keep drilling the well; thus, after reaching over 600 feet in depth, the name Deepwell was coined.
There are a number of hip boutique hotels and rustic restaurants around this Palm Springs neighborhood that you'll love. This lesser-known neighborhood is calmer in comparison to the others on the list, but no less rich in Hollywood history. The likes of Tippi Hedren and Audrey Hepburn once owned homes in this charming neighborhood. If you drive around this area during December, you'll likely find highly impressive Christmas light decorations.


Vista Las Palmas
Home to the largest Alexander houses in the area, Vista Las Palmas is an obvious favorite for good reason. Most of the homes lining this Palm Springs neighborhood were designed by the era's most famous modernist architects and have been carefully kept and restored throughout the years. You won't need to worry about facing outdated features in Vista Las Palmas—homeowners over the years have made stunning, meticulously-designed additions that respect the integrity of the original architecture. Here, you'll find a large collection of A-frame and Swiss Miss homes.
Once occupied by the likes of Nat King Cole and Joan Collins, Vista Las Palmas is still home to an array of well-known singers, actors, and actresses as well as a diverse mix of other residents from all over the world. The community in this neighborhood is also very close-knit and has donated over $30,000 from last year's annual Modernism Week tours to local charities.