Desert landscapes, towering palm trees, and mid-century modern architecture cover the vast floor of Hollywood's playground: Palm Springs. Majestic mountains dotted with native plants surround the valley on all sides, but the sherbet skies are otherwise uninterrupted. An air of excitement encompasses the region as the warm temperatures evoke a sense of never-ending summer.
While this arid inland destination may not be the first place that comes to mind when you think about California, Palm Springs is a desert oasis where endless adventures await. Located merely 100 miles from Los Angeles, this luxury resort town has garnered the attention of the elite for over a century by combining retro-chic design with modern amenities.
Palm Springs continues to live up to its reputation and steal hearts across the state—and beyond—with its vintage boutiques, charming eateries, envious neighborhood communities, and world-renowned golf courses.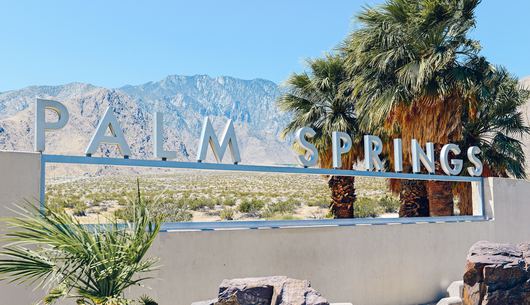 The Best Time To Plan A Palm Springs Vacation
There is truly no wrong time to visit Palm Springs, but the temperatures are generally much cooler from November through March, allowing for more pleasant outdoor adventures. Festival season arrives in April—bringing droves of concert-goers on their way to Coachella and Stagecoach—so while the weather typically remains under 100 degrees through May, this spike in tourism may make it difficult to book hotels. Though the crowds can present challenges, they also add to Palm Springs' appeal by filling the air with a sense of excitement and enlivening the region.
palm springs Weather
Since Palm Springs is located in the Southern California desert, the region typically experiences warm temperatures and relatively little precipitation year-round. The summer months experience temperatures in the 100s, the fall sees varying temperatures between the 70s and the 100s, and the winter provides comfortable 70-degree weather. Things start to heat back up into the 80s and 90s by springtime.
Getting To Palm Springs
There are various ways to reach Palm Springs, but driving may be the best option if you live nearby. Whether you take the 74 from Dana Point, the 10 from Los Angeles, or the 15 from San Diego, you are sure to see the state's incredible terrain change as you grow closer to your destination.
L.A. to Palm Springs:

The drive from Los Angeles takes roughly three hours, while the flight lasts about an hour. If you fly, Palm Springs International Airport is less than three miles from downtown, so you can easily rent a car or take rideshares around once you arrive.

San Diego to Palm Springs:

There are usually no direct flights from San Diego to Palm Springs, making driving the best option. The road trip should take between two and three hours, depending on traffic.

San Francisco to Palm Springs: A flight from San Francisco takes about an hour and a half—compared to an eight-hour drive—so flying cuts down the travel time significantly.
Day 1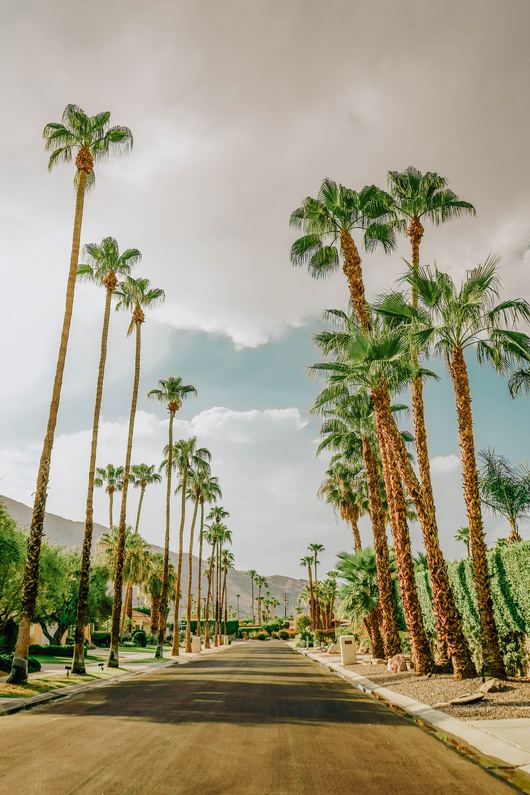 Driving from Anaheim to Palm Springs feels like traveling from one playground to another. With plenty of Anaheim adventures under your belt, the two-hour drive provides enough time to build the anticipation for those that are still to come. While Disneyland provides delicious snacks and the opportunity to be a kid again, Palm Springs comes with an entirely different set of appealing characteristics that make the region a distinct destination in its own right.
The sun beats down across the land and reflects off the brilliant-blue pools as the desert floor covers the surrounding expanse and towering palm trees sway with the wind. Aside from the dry heat, you may never guess that Palm Springs resides in one of California's desert regions; the swimming pools, high-end resorts, asphalt streets, and unique flora work wonders for transforming the drab, dusty valley into an enviable vacation destination.
But the journey to Palm Springs is half the appeal. Passing by the plant-covered rolling hills and the man-made urban centers, it becomes clear once again why California is so special. The Golden State offers everything from beaches to deserts, from countrysides to metropolises, and from mountains to valleys—making anything possible. As you approach the beige sand and white windmills bordering Highway 111, the overwhelming feelings of freedom and anticipation wash over you as you cruise down the open road and draw closer to the dazzling city of Palm Springs.
Afternoon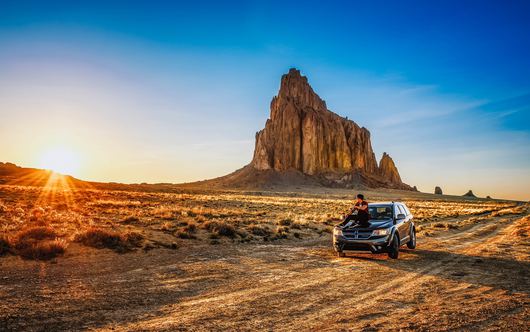 Your experience begins at Shiprock, a geological wonder located right off the 111. While not exactly within the Palm Springs city limits, this landmark rock provides the perfect excuse to pull over and take in the beauty of the desert encompassing you. The purple- and green-hued slopes surrounding the highway feel as though they are merely a stone's throw away, while in the distance, majestic mountains stretch as far as the eye can see and stand tall beneath the clouds. But it is the closest formation—Shiprock—that captures your attention as you try to discern the shapes of a ship among the angular, orange-and-tan monolith. After a photo op and several quizzicle minutes spent trying to spot a boat among this strange rock, hop back in the car and continue on the road toward town.
You'll know you've arrived when the famous Palm Springs sign greets you on the side of the road. Though it seems so silly to be enraptured by a simple cement sign with metal letters perched atop it, these letters spell out the name of the city you've always dreamt of visiting: Palm Springs, California. (In case you're still holding on to any doubt, a grove of palm trees will confirm you've made it to the right place.)
As the shock of entering a new place begins to wear off, the reality of being in the iconic city of Palm Springs starts to sink in. But with so much to explore, it quickly becomes overwhelming to choose what to see first. A brief, three-mile drive through town provides a glimpse into the city's segments and proves your first stop ought to be the Palm Springs Art Museum. It's so easy to get lost between the collections and exhibitions throughout this museum; photographs hang alongside Impressionist paintings, modern creations sit next to timeless works, and fictional objects mingle with historical representations.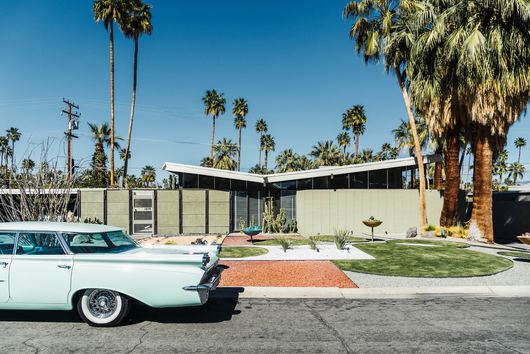 An hour or two provides enough time to earn some respect for Palm Springs' origins and relationship with art, but you should also set aside time to drive around and discover another form of art that the city is widely recognized for: mid-century modern architecture. (What would Palm Springs be without the crisp lines and retro designs of its buildings?) The white and beige exteriors of the city's blocky homes are accented by drought-resistant landscaping and brilliant pops of color in the entryway—a purposeful combination that simultaneously allows the structures to blend into the beautiful desert landscape and to stand out against the cerulean sky.
Driving over to the Avalon Hotel & Bungalows, you may start to believe no other architecture exists in this pocket of the world. But the hotel's Spanish-inspired terracotta shingles merge with white stucco walls that rise above perfectly manicured shrubs, surprising you and proving Palm Springs is full of wonder.
While there are numerous resorts in the region, the Avalon's elegant details make it seem like the only option when it comes to Palm Springs hotels (and may even entice you to stay longer than planned). Indeed, it's hard not to feel like a celebrity upon checking in to the Avalon merely two blocks from downtown Palm Springs. The luxury can be felt throughout every inch of the property, yet the laid-back vibe and homey functionality set your mind at ease.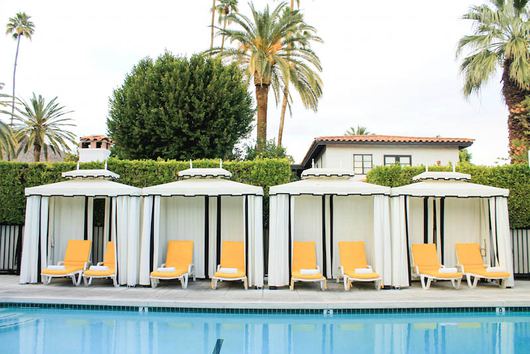 Find your room and settle in before dinner, but try not to get too comfortable; slipping into the cozy robes and lounging on the down comforters may be all it takes to make you cancel your evening plans. So, after putting down your California-made luggage, head out to play a round of croquet, cornhole, or table tennis on the hotel grounds.
Evening
A magical day calls for an enchanting dinner, making Workshop an ideal choice. Housed in a retrofitted, 90-year-old movie theatre in the heart of the Uptown Design District, the stylish eatery features white-washed brick walls, exposed hanging bulbs, and stark cement tables adorned with small plants—minimalist details that come together to create a warm, industrial-chic ambience.
And then there's the food. This James Beard Award–winning restaurant receives the majority of its ingredients from farms residing within an hour of Palm Springs, and the resulting dishes are nothing short of edible works of art. Each ingredient is thoughtfully prepared and plated with intention to craft a beautiful, delicious dish that provides a taste of the region.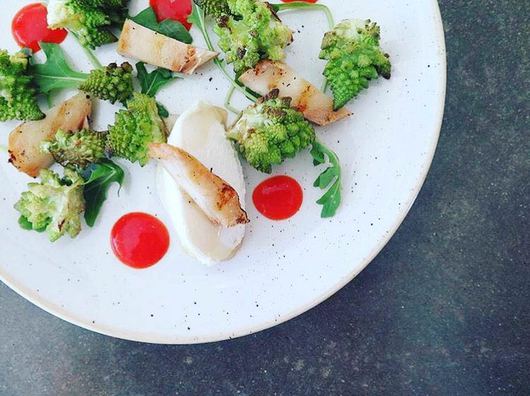 Start with orders of the roasted brussels sprouts mixed with delicate pancetta, honey, and thyme—which will prove farm-to-table cuisine reigns supreme—and the decadent duck fat fries tossed in sea salt and finished with herbs de Provence. These appetizers are the perfect segway into the main entrée: The jidori chicken breast is brined and cooked sous vide–style, served with succulent roasted vegetables, and accompanied by green-curry jus. This dish will transport you to a faraway place; the sweet vegetables meld with the tangy green curry for an experience that is simultaneously invigorating and comforting.
Round out the meal with the pistachio mousse cake, and you're sure to remember this evening forever. The nutty pistachios complement the sweet raspberry compote and passion fruit glaze for a refreshingly light dessert, while the dehydrated bougainvillea adds one last burst of color that tantalizes the senses.
After finishing every bite, head back to the Avalon and bring your first day to a close by slipping into the soft robe and relaxing on your private patio before flopping down on the plush bed for a restful night's sleep.
Day 2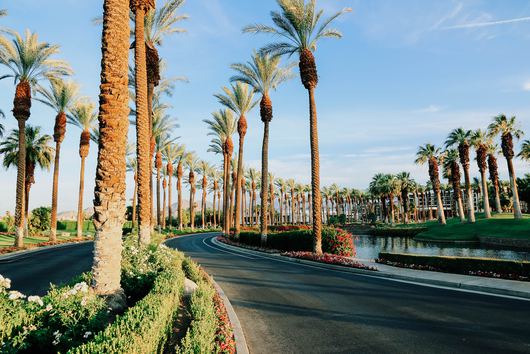 Morning
The sense of paradise envelops you as soon as you wake up to the smell of jasmine wafting into your room and see the sun shining on the blue mountains outside your window. After taking a moment to appreciate all of the seemingly small things in life, it's time to roll out of bed and kick off your second day of vacation—which is all but guaranteed to be fantastic—with brunch at The Pink Cabana.
Drive 30 minutes to the restaurant at the Sands Hotel & Spa, following the winding road through Cathedral City and Palm Desert before ending up in Indian Wells. Though much of the journey is spent passing by housing tracts and boutiques, it also provides quick glimpses of the open desert, and in those moments, it is no longer hard to picture yourself living here.
Between the scenery and musings, the drive goes by way too fast, and before you know it, you're at The Pink Cabana. Setting foot inside the restaurant feels like stepping back in time to the glamorous 50s. Green and white tiles adorn the floor, mid-century modern chairs are covered in tropical prints, pink booths draw your eye with their playful essence, and large circular lights glimmer in the mirrors.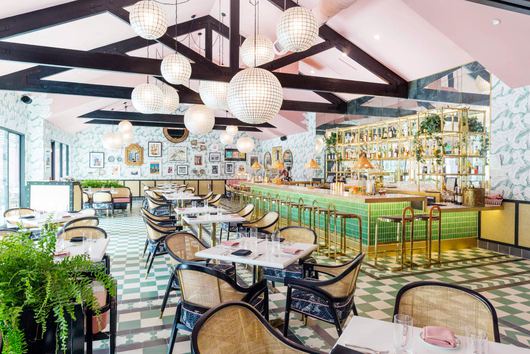 Take a seat and revel in the quirkily elegant ambience, then open up the menu to choose between such delicacies as a half dozen oysters served alongside a mignonette of preserved Meyer lemons; an exquisite ricotta tartine topped with amlou almond butter and local berry conserva; and a pairing of citrus-scented olives, hummus, zaalouk, and grilled naan. But when it comes to brunch, the Cabana Benedict just might win. Country ham, young lettuces, impeccably poached eggs, and decadent hollandaise come perched atop an English muffin for endless mouthfuls of sumptuous delight. Wash down your meal with a Turkish coffee—whose espresso, almond milk, coconut, ginger, and nutmeg blend together for a taste of the holiday spirit—and you're officially ready to start the day.
Afternoon
With dozens of holes to play (and even more star power associated with them) in Palm Springs, golfing here is a must. While there are numerous courses to choose from, the Indian Wells Golf Resort has been a hot spot since 1986 and has even hosted such renowned competitions as the PGA's Skins Game and the Golf Channel's The Big Break. So, drive five miles from The Pink Cabana to reach this coveted destination decked out with two 18-hole golf courses and a huge clubhouse.
The greens are beautifully manicured and feature the occasional sand pit and cluster of palm trees, all of which stand in stark contrast to the sun-drenched mountains looming in the distance. It is all too easy to forget that this grassy expanse lies in the middle of a desert town, and in the moment, it is hard to imagine that another course could even come close to this intimate setting. But the next place is truly legendary, so make sure you leave ample time for another stop.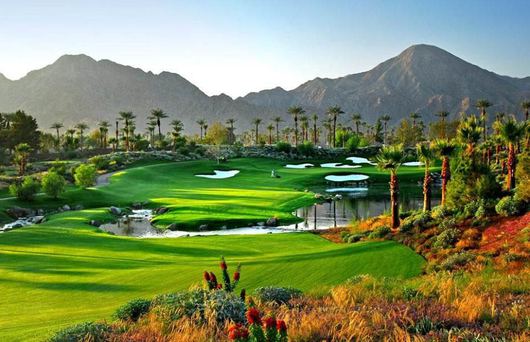 Drive about 20 minutes up the road to tee off at Palm Desert's Classic Club, which was designed by Arnold Palmer himself. Take a swing at the 18 holes to see how you stack up against the pros, but don't forget to take in the beauty of the property, too: Chartreuse-colored grass surrounds azure-blue ponds, pine trees punctuate the edges of the green, and bridges connect the landscape in this unexpected wonderland. While the Classic Club has enough to keep you entertained for quite some time, the Stadium Course at PGA West is only 30 minutes away, in case you want to squeeze in one more stop.
After an awe-inspiring day of golf, you'll likely be in need of a massage, so it's time to head back to the Avalon Hotel and pamper yourself with a rejuvenating treatment at Estrella Spa, one of the leading spas in Palm Springs. The incredible deep-tissue massage is the perfect way to unwind, melting away sore muscles and any worries or cares. Follow it up with the vegan Milky Way treatment; sit back as the white clay, green tea mask rejuvenates your skin, and then pick the season's hottest nail color for your subsequent manicure and pedicure. When all is said and done, you'll feel refreshed and ready for more explorations.
Evening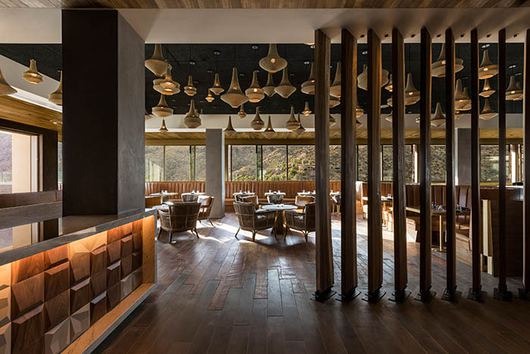 Dress up for dinner, and then walk less than 10 minutes to 4 Saints, a stylish rooftop restaurant located near the corner of South Belardo Road and West Tahquitz Canyon Way. Lanterns hang from the ceiling, wooden planks cover the floor, brown booths and lounge chairs allude to a dreamy study rather than a restaurant, and the rounded table edges evoke a vintage, Old-Hollywood vibe. Settle in and peruse the ever-changing seasonal menu of small, shareable plates featuring an exciting combination of Mediterranean and Californian influences. There is always something new to enjoy at this eatery, which allows for a novel experience time after time.
Start off by sharing the roasted baby beets sprinkled with goat cheese and drizzled with extra-virgin olive oil and hearty balsamic reduction. The crispy Thai tofu also makes for the perfect transition into heavier fare, featuring the umami flavors of braised farmers market mushrooms, fresh kale, and bright Kaffir lime. As far as mains go, it doesn't get much better than the grass-fed strip steak topped with pungent blue cheese and farm-fresh vegetables.
Though these particular dishes may not always be available, it is truly hard to go wrong at 4 Saints, so don't hesitate to be adventurous. But whatever you do, finish off the meal with a palate teaser such as the Dynamic Duo; complete with pistachio cheesecake, coconut cheesecake, and crispy phyllo dough, this dessert combines the best exotic flavors for a burst of vacation in your mouth.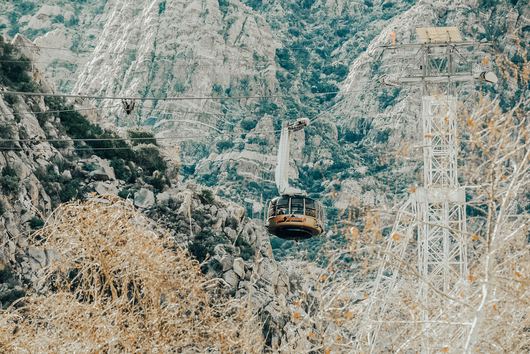 Now that an unforgettable dining experience is behind you, the only place to look is up—way up, to the Palm Springs Aerial Tramway, to be exact. The short walk back to the Avalon Hotel provides a great opportunity to breathe in the night air, and the 20-minute drive from the hotel to the tramway allows the anticipation to settle in.
If you can, plan your trip around sunset, so you can watch the blue sky transform into shades of dusty rose and bright tangerine as you rise 6,000 feet above the land. Otherwise, you can ride inside the world's largest rotating tram until 9:45 p.m. and admire the twinkling city lights covering the valley floor below you.
Though the ride only lasts about 10 minutes, the temperature can be up to 40 degrees cooler at the top than it is on the desert floor, so make sure to bring a jacket. Linger until the sun greets the horizon, then return to the hotel and tuck in for the night.
Day 3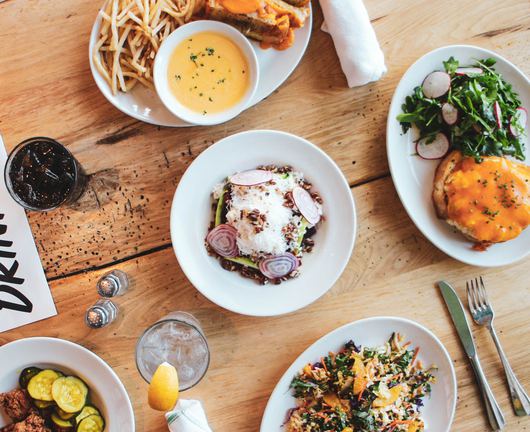 Morning
After two unbelievable days, it's hard to believe this is your last morning in Palm Springs. Getting out of bed feels a bit more difficult, knowing that the dream is coming to an end, but alas, it's not all over yet. After packing up your things and checking out, the day's itinerary can commence.
A six-minute drive down the road takes you to Moorten Botanical Garden, a stunningly photogenic arboretum that showcases the region's various desert plants. Walk around the nursery and cactarium to better understand the local landscape before heading to the nearby Ace Hotel & Swim Club for some breakfast at King's Highway. To make the most of your time at this desert diner, it's best to share a couple of entrées. The seeded-bread avocado toast provides a taste of California—featuring creamy avocado, confit tomatoes, local onion sprouts, crispy shallots, and a soft-boiled egg—while the mushroom chorizo, citrus crema, cotija cheese, and pico de gallo of the chilaquiles offer an ode to the neighboring country's cuisine.
Afternoon
If time permits, make the one-hour drive from Palm Springs to Joshua Tree to experience everything the wide-open desert has in store. There is something magical about the arid landscape that provides glimpses into California's soul, so no matter where the wind takes you next, a piece of your heart will always remain in the desert.