As with many of the best inventions (I'm talking to you, blue jeans and San Francisco sourdough), the Cobb salad feels right at home in its birthplace of California. And why shouldn't it? With enough crispy bacon, creamy avocado, and fresh greens to fuel adventures as diverse as scouring for movie locations and catching the perfect waves, this composed yet playful dish nails the California vibe.
History of the Cobb Salad
Like many other inventions, there is some debate surrounding the details of the Cobb salad's creation, but a few things are for certain: Robert Howard Cobb and Hollywood's Brown Derby Restaurant had something to do with it. As the most common version of the story goes, Cobb started the Brown Derby with Herbert Somborn in 1926. Known at the time as "The Little Hat", this restaurant was literally shaped like a brown derby hat and was opened in the hopes of bringing super-fresh, high-quality food to Southern California during a time when it was sorely lacking.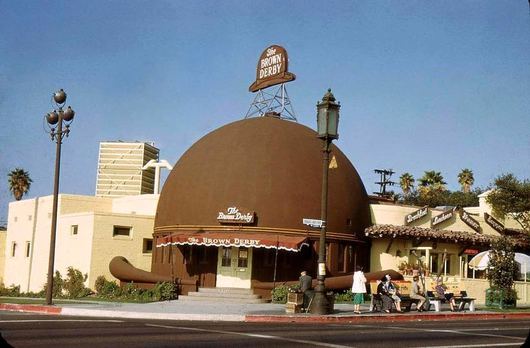 Working late one night in 1937 and entertaining some of his famous friends, Cobb went into the kitchen to scrounge up some leftovers for their midnight snack. After finding some lettuce, blue cheese, chicken, tomatoes, and scraps of bacon, he assembled the concoction and brought it out. The dish was so warmly received that one of these friends, Sid Grauman—of the iconic Grauman's Chinese Theatre (now known as the TCL Chinese Theatre)—came back the very next day and ordered the "Cobb salad". The salad was added to the restaurant's menu and was chopped and assembled in front of the guests, making it a must-try experience. The dish was a hit from that time on.
Of course, other renditions of the story have different details. Some versions claim that the restaurant's head chef actually decided to add the dish to the menu, while others tout that a dental procedure led Cobb to chop the ingredients into small pieces and create the dish we know today. And in yet another version, it is said that Cobb had been experimenting with salads for years before making a passive comment about this particular salad to Grauman, who was too intrigued not to try it for himself.
However it came about, we're glad the Golden State's plethora of fresh ingredients made it onto our plates in such an interesting and delectable way. And although the original Brown Derby restaurant closed in 1985, the legacy of the Cobb salad lives on.
Cobb Salad Recipe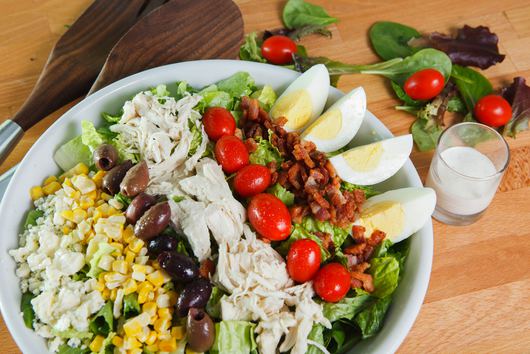 The Cobb salad was made for large groups. While there is nothing wrong with a single serving of this deliciously filling dish, the stunning plating and simple assembly make it the ideal no-fuss party food (that can even please guests on the keto diet). So, we've come up with a recipe for a 12-person Cobb salad that we think the inventor himself would be proud of.
Cobb Salad Ingredients
Greens
1 head iceberg lettuce, finely chopped

1 bunch watercress, finely chopped

1 head romaine lettuce, finely chopped
Proteins
2 chicken breasts, cooked and finely diced

4 hard-boiled eggs, finely diced

8 slices of bacon, cooked and finely chopped or crumbled

4 ounces grated Roquefort cheese (or crumbled blue cheese—we won't tell)
Produce
½ cup tomatoes, finely chopped

2 avocados, thinly sliced
Finish with dressing to taste.
Cobb Salad Dressing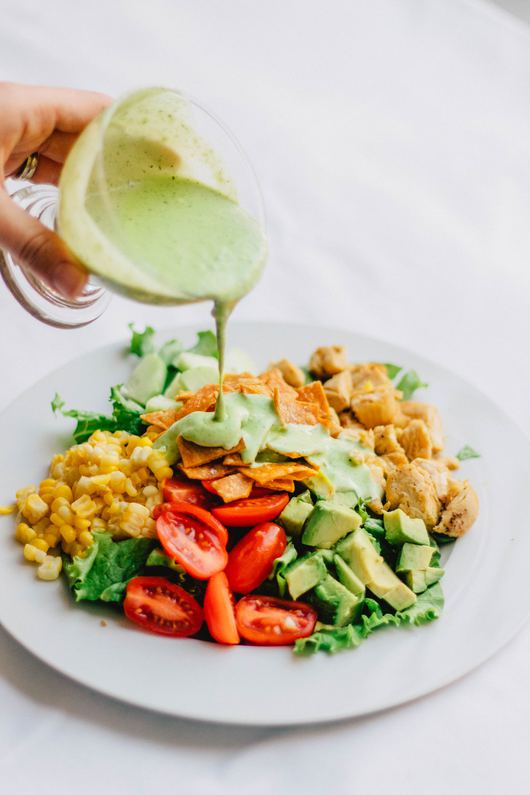 Similar to the origins of the salad itself, the original Cobb salad dressing recipe is hotly debated. While many recipes claim that the original included egg yolks, some stick to oils, and others incorporate red wine vinegar into the mix. No matter which way you lean, this dressing is sure to please. To make your Cobb salad keto-approved, make sure to watch the proportions of fat and carbs, and of course, nix the sugar in the dressing.
"Original" Cobb Salad Dressing Recipe
2 cups olive oil
1 lemon, juiced
½ cup water
1 cup red wine vinegar
3 tablespoons Worcestershire sauce
1 tablespoon Dijon mustard (or 1 teaspoon dry mustard)
1 clove garlic, minced
2 teaspoon salt, or to taste
2 teaspoon ground black pepper, or to taste
1 teaspoon white sugar
Directions
Mix greens together in a bowl or place them across a platter. Arrange the proteins and produce in lines across the greens to create an aesthetically pleasing dish. Drizzle the homemade dressing over the top of the freshly prepped Cobb salad ingredients when you're ready to serve it to your guests.