La Cocina's 10th annual San Francisco Street Food Festival is right around the corner, and you don't want to miss it. The celebration brings 50-plus incredible chefs and eateries—including James Beard Award winners and nominees—live entertainment, and activities for the whole family to the city's Dogpatch neighborhood.
In addition to launching Off the Grid, San Francisco's ultra-popular food-truck experience, La Cocina's Street Food Festival has helped to change the city's street-food policies and attract some of the Bay Area's best culinary talents. It also promotes equity for women-, POC-, and immigrant-owned businesses in the Bay Area and beyond—making it a must-see event.
Here's everything you need to know, including a peek at the festival's vendor lineup.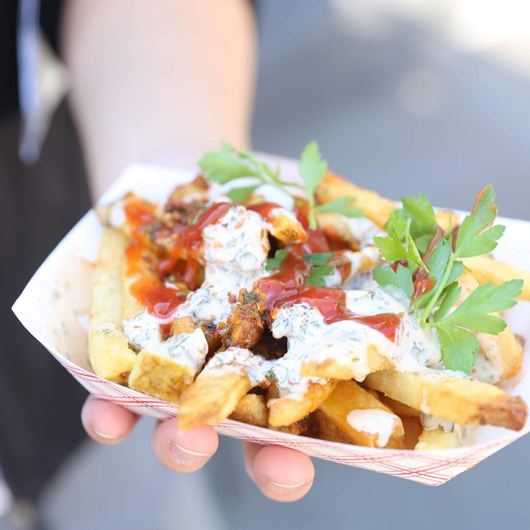 When
Saturday, October 12, from 11:30 a.m. to 8:00 p.m.
Where
The Power Station, 420 23rd Street, San Francisco
What to Bring
A refillable water bottle

Plenty of cash

An appetite

Tickets
General Admission Tickets: $5 pre-sale, $10 at the door

General Admission and La Cocina's Cookbook Tickets: $36

Early Admission and La Cocina's Cookbook Tickets: $50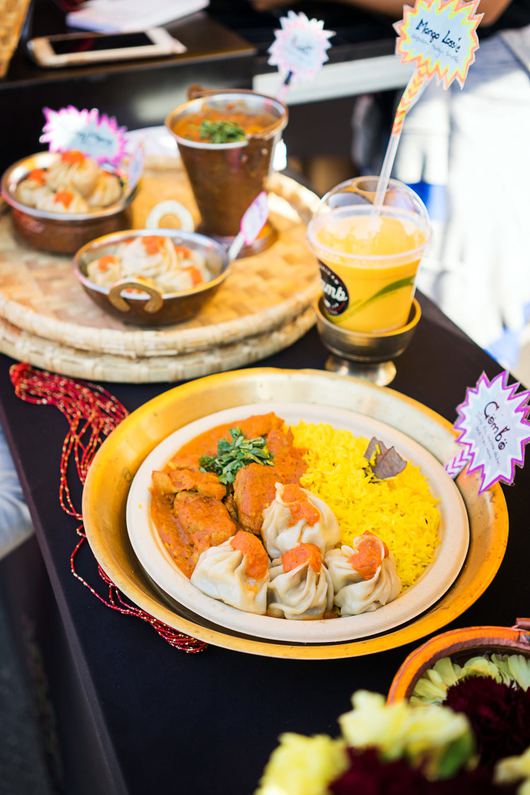 Food and Vendor Lineup
Hang Truong of Noodle Girl

Tu David Phu

Jessica Nguyen of Little Window

Francis Ang of Pinoy Heritage

Fernay McPherson of Minnie Bell's Soul Movement

Charles Phan of The Slanted Door

Caue Fantone from Brazil's Mauricio

Adachi Hiroyuki of Aburaya

Mayra Velazquez of Xingones

Dilsa Lugo of Los Cilantros

Gabriela Guerrero of Delicioso Creperie

Maria Guerrero of La Cocina de Mama

Heena Patel of Besharam

Veronica Salazar of El Huarache Loco

Isabel Caudillo of El Buen Comer

Kitiya Ditpare of TACOTHAI

Traci Des Jardins of School Night

Reem Assil of Reem's California

Alma Rodriguez of Mixiote

Anthony Strong of Prairie

Ryan Farr of 4505 Burgers and BBQ

Kathleen of G Stacks Pit and Bone Sucking BBQ Sauce

Aaron and Leida of MexiQ

Alicia VIllanueva of Alicia's Tamales Los Mayas

Ricardo Cespedes of Bocadito

Bini Pradhan of Bini's Kitchen

Charles Farrier of Crumble & Whisk

Gabriela Guerrero of Delicioso Creperie

Carmen Figueroa of El Mesón de Violeta

Guadalupe Guerrero of El Pípila

Estrella Flores of Estrellita's Snacks

Rosie Ortiz of Mission Boricua

Rawaa Kasedah of Old Damascus Fare

Karla Rosales-Barrios of Pass the Sauced

Bernadine Sewell of Pinky & Red's

Rosa Rodriguez of Sweets Collection

Dionne Knox of Zella's Soulful Kitchen

Rodney Scott's BBQ

Josey Baker Bread

Wise Sons Jewish Delicatessen

826 Valencia

Beijing Restaurant

The Chaga Company

CounterPulse

Farm Fresh To You

FK Frozen Custard

Larkin Street Youth

La Voz Latina

Mamava Nursing Pods

Off the Grid food trucks

San Francisco Public Library

St. Anthony's

Three Twins Ice Cream

Yvonne's Southern Sweets

Xpresion Cultural


About La Cocina
Inspired by San Francisco's diverse Mission District, nonprofit La Cocina set out to solve problems of equity in women-, POC-, and immigrant-owned businesses. Women still only account for one-third of business owners nationwide and are consistently paid less than their male counterparts—we're talking 46 to 75 cents per dollar. Today, La Cocina is a business incubator supporting small businesses with one-on-one mentorship and offering commercial kitchen space to working-class food entrepreneurs so they can turn their talents into sustainable, legal, and formalized businesses.
"The high cost of renting a commercial kitchen makes it difficult for many working-class food entrepreneurs to formalize their business. Our kitchen space lets people who were formerly shut out of the food industry find a way in." —La Cocina

La Cocina also provides small businesses with opportunities—such as becoming vendors at farmers markets, opening up brick-and-mortar stores, and accepting catering orders—that they would otherwise not have given the lack of resources available to them. By transforming small operations into independent, economically sound businesses, La Cocina encourages an ethnically and economically inclusive culinary landscape.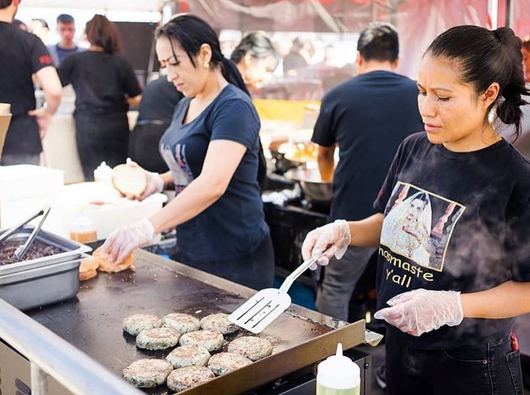 La Cocina Municipal Market
The La Cocina Municipal Market is set to open in the spring of 2020 and will become the first women-led food hall in the nation. Located in San Francisco's Tenderloin neighborhood, the market aims to turn one of the roughest areas in the city into one of the most beautiful by employing low-income, immigrant women and by providing a safe space for the neighborhood's residents.
Equipped with a seven-year lease, the La Cocina Municipal Market will transform a 7,000-square-foot space into an anti-gentrification concept featuring seven female chefs: Binita Pradhana of Bini's Kitchen, Tiffany Carter of Boug Cali, Estrella Flores of Estrellitas's Snacks, Wafa Bahloul of Kayma, Dilsa Lugo of Los Cilantros, Lupe Moreno of Mi Morena, and Nafy Flatley of Teranga.