The millions of visitors who head to San Francisco County each year know all too well why Tony Bennett sings about leaving his heart there. It's hard not to fall for the City by the Bay. As the cultural, commercial, and financial center of Northern California, San Francisco County boasts stunning attractions, an impressive array of cultural offerings, a world-class dining scene, dynamic nightlife, luxe shopping destinations, and a welcoming ambience that beckons to free spirits. So whether you dream of crossing the iconic Golden Gate Bridge, heading to Fisherman's Wharf to savor a sourdough bread bowl brimming with clam chowder, exploring the diverse Mission District, or traversing the hills in a cable car—a moving national historic landmark—there's plenty to delight (and surprise) you in the city.
San Francisco's waterfront is usually the first place visitors hit. One of the most frequented spots is the 65,000-square-foot Ferry Building Marketplace, a historic ferry terminal that now offers everything from farm-to-table fare, to fresh flowers, to handcrafted wares. Further up the Embarcadero thoroughfare is the Exploratorium, which offers interactive exhibits and activities for museumgoers of all ages.
The Embarcadero is also where you'll find the world-famous Fisherman's Wharf. This tourist hot spot is home to such famed attractions as Pier 39, the Aquarium by the Bay, and Ghirardelli Square. Start by warming up with a sourdough bread bowl filled with piping-hot clam chowder and watching fishermen prepare the day's catch, then start exploring this oceanfront district. (Pro tip: Get to Fisherman's Wharf on the Powell-Hyde Street cable car if you're looking for a fun ride.) Pier 39 offers two levels of souvenir shops, a variety of eateries, and family-friendly entertainment—all surrounded by sweeping views of the Bay and city skyline. (It's one of the best sea lion–watching spots on the West Coast, too.) For little ones, the Aquarium of the Bay features two immense tunnels, holding roughly 700,000 gallons of water that sustain 20,000-plus animal species. The aquarium also offers up-close-and-personal encounters with marine life, behind-the-scenes tours, and interactive exhibits. More family entertainment can be found at Madame Tussauds wax museum—containing lifelike figures of actors, athletes, politicians, singers, and more—and the neighboring San Francisco Dungeon, where the history of the region comes alive with live actor shows and special effects. Finally, satisfy your sweet tooth with a decadent ice-cream sundae or a rich chocolate bar at Ghirardelli Square, the site of a former chocolate factory.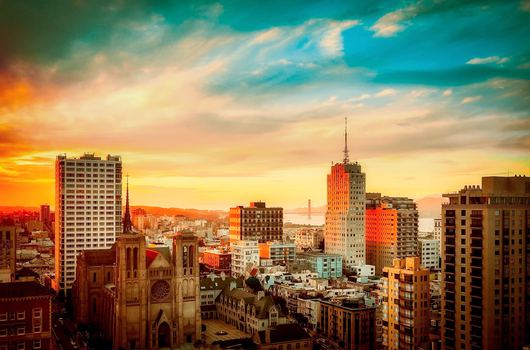 And of course, no trip to San Francisco County would be complete without an excursion to Alcatraz and Angel Islands. On Alcatraz, visitors can take a tour of the first lighthouse and U.S.-built fort on the West Coast as well as the infamous prison that operated until 1963. (The brave at heart can even take a night tour.) Angel Island, meanwhile, features a vast network of trails offering breathtaking views of the city. Both islands are easily accessible by ferry.
The origins of San Francisco are also located along the waterfront. The city was founded on June 29, 1776, when Spanish colonists established The Presidio of San Francisco, which served as a military fort for 218 years. The Presidio is now part of the Golden Gate National Recreation Area, but visitors can still get a glimpse of this piece of history at the museum and cultural center. The 1,500-acre park also features numerous trails, expansive lawn areas, scenic overlooks, a golf course, beaches, and even restaurants and hotels. But many people flock to The Presidio for one main reason: its close proximity to San Francisco's icon, the Golden Gate Bridge. At first considered ugly and called "the bridge that couldn't be built", the Golden Gate proved all the naysayers wrong after it opened in 1937. It's one of the seven wonders of the world, and walking or biking across its magnificent span is a must for any visitor.
Further inland, you can discover San Francisco's diverse neighborhoods, including North Beach (savor Italian cuisine and catch a bus to Coit Tower), Chinatown (peruse souvenir shops and nibble on dim sum), Haight-Ashbury (buy vinyl records and vintage clothing, then meander through Golden Gate Park), the Mission (admire colorful murals, enjoy ethnic eats, and stop by Dolores Park), and downtown (shop for the latest fashions in Union Square).
Aside from its iconic attractions, San Francisco County also has a reputation for its welcoming environs and tolerant attitude. This is largely due to the aftermath of World War II, when the confluence of returning servicemen, increased immigration, and more open-minded perspectives—and later the rise of the "hippie" counterculture, the Sexual Revolution, and the Peace Movement stemming from opposition to the Vietnam War—led to the Summer of Love and the gay rights movement, cementing San Francisco as a center of liberal activism.
Another great part of San Francisco's appeal is its well-established image as a cultural hub. Drama, music, and dance have flourished in the city, which is home to such prestigious institutions as the San Francisco Symphony, San Francisco Opera, San Francisco Ballet, and Alonzo King Lines Ballet. The city is also where several esteemed writers got their start, including Mark Twain, Jack London, and Gertrude Atherton. San Francisco County visitors have their pick of museums, too—from the Asian Art Museum, to the Legion of Honor, to the de Young Museum, to the San Francisco Museum of Modern Art, among others.
With so many attractions to choose from, it can be difficult to decide what to see in the City by the Bay. But San Francisco County visitors can be sure of one thing: They'll find plenty to keep them entertained, and they may even leave their hearts there.