One of the best things about chilly winter days is curling up on the couch with a soft blanket and a mug of rich, silky, perfectly sweet hot chocolate. This comforting drink invokes beloved childhood memories for many people, serving as the ideal cure for any cold-weather blues. But don't settle for Swiss Miss with the fossilized marshmallows when you can indulge in a top-notch cup of hot chocolate—especially on National Cocoa Day, taking place today.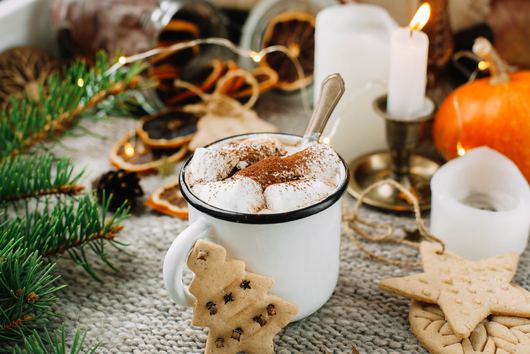 Yes, there is a day dedicated to celebrating the glorious cocoa bean, and you can bet that we'll be indulging. While several chains (such as In-N-Out Burger and Dunkin' Donuts) will undoubtedly have National Cocoa Day deals, there are more unique spots to grab a chocolatey drink. Whether you're craving traditional hot cocoa or a more adventurous take on the beloved beverage, here's where to get some of the best hot chocolate in the San Francisco Bay Area on National Cocoa Day 2019.
Dandelion Chocolate
For an elevated take on the classic hot chocolate you drank as a kid, look no further than San Francisco's Dandelion Chocolate. Thanks to its small-batch, high-quality creations, this beloved "bean-to-bar chocolate factory" in the Mission District set a new standard for Bay Area chocolate when it debuted in 2010, and it has been drawing droves of chocolate aficionados ever since. So, it should come as no surprise to hear that Dandelion has also perfected the craft of making hot cocoa. It is creamy and sweet (but not too sweet); accompanied by a small cookie; and topped with fluffy, house-made marshmallows if you want them—trust me, you want them. If that's not enough to make your mouth water, Dandelion also offers a Mission hot chocolate (foamy, spiced, and spicy), a European drinking chocolate (Italian-inspired and thick), and a frozen hot chocolate (like an over-the-top milkshake, but better).
Recchiuti Confections
San Francisco chocolatier Michael Recchiuti might be best known for his truffles and desserts, but his hot chocolate is also worthy of attention. The deliciously dark, exceptionally rich drink is made only more decadent by the house-made Madagascar vanilla–laced marshmallows floating on top. You might not love it if you're not a fan of dark chocolate, but those who prefer the more bittersweet treat will be able to satiate their craving and warm up on a chilly winter day real quick. Head to Recchiuti Confections at theLab in the Dogpatch neighborhood to get a taste.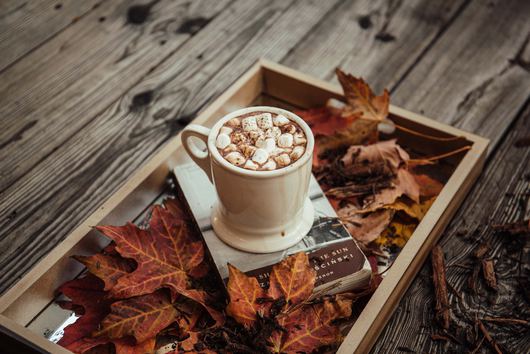 Craftsman & Wolves
In addition to offering creative croissants, Instagram-worthy desserts, and beautiful loaves of bread, this contemporary patisserie in San Francisco's Mission neighborhood provides stellar hot cocoa, too. Crafted from French Valrhona chocolate, the satisfying beverage is so thick and intense that it's been dubbed "sipping chocolate"—and you'll definitely want to savor it slowly. Craftsman & Wolves serves each magical cup on a hefty wooden block with a pillowy, house-made seasonal marshmallow that's perfect for dunking into the divine drink.
Tartine Bakery
This San Francisco standout consistently has long lines for a reason: The scent of fresh-baked bread and pastries permeates the air around the corner of Guerrero and 18th Streets, where the Tartine Bakery display cases are lined with everything from flaky croissants and morning buns to fruit-topped tarts and cakes. Though the main draw may be the baked goods, the silky hot chocolate here is equally crave-worthy, and once you commit to the wait, you might as well commit to enjoying as many delicious treats as possible. Like Craftsman & Wolves, Tartine also makes its hot cocoa with Valrhona chocolate, resulting in an indulgent drink that warms the soul. While you're at it, make sure to ask for the house-made whipped cream—at this point, why not? You only live once.
Socola Chocolatier and Barista
Best known for its artisanal chocolate truffles, the award-winning Socola Chocolatier in San Francisco also knows how to whip up an amazing cuppa cocoa. (Plus, the café is decorated with tiny stuffed llamas, and it doesn't get much more adorable than that.) The one served at this SoMa District shop is comprised of 72-percent dark chocolate ganache and steamed milk and adorned with a house-made chocolate marshmallow. It's warm, delicate, and decadent—and not laden with sugar—and becomes wonderfully creamy as the marshmallow melts. Aside from this delectable libation, you also have numerous Asian-inspired chocolates to choose from; enjoy one with your hot cocoa, or take a box to go. And if you really need an afternoon pick-me-up, go for the Soco latte, which combines the hot chocolate with a shot of espresso.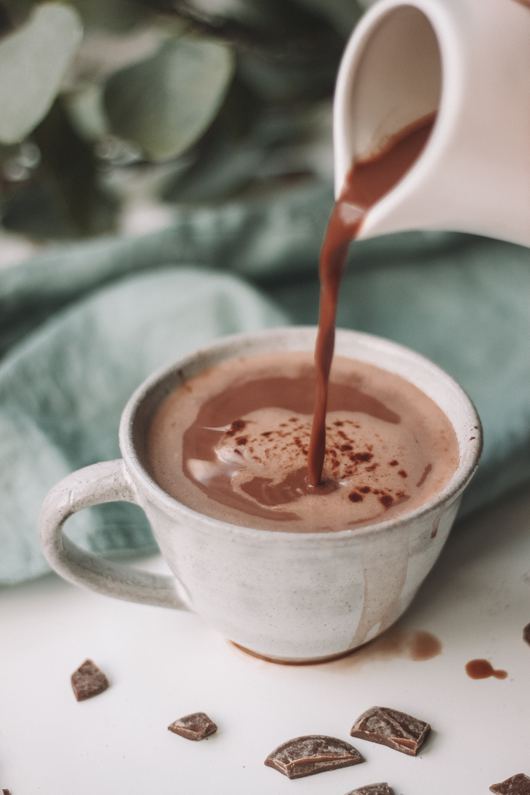 Casa de Chocolates
Located on Berkeley's bustling Ashby Avenue, this festive shop specializes in artisanal chocolates but is also famous for its steaming cups of Mexican hot cocoa. And for those feeling adventurous, there's a spiced-up version of the familiar favorite: In addition to the traditional ingredients—such as Mexican cocoa nibs, milk, and canela (cinnamon)—the piquant version at Casa de Chocolates is spiked with chile de árbol. The drink begins on a sweet note, offering the usual flavors of chocolate with cinnamon and sugar-infused milk. But soon after you savor your first sip, the strong bite of chile hits your palate, adding a pleasantly zesty kick that's bound to warm you up in no time.
Leonidas Love + Chocolate Shop
It's easy to walk by this cozy storefront in Walnut Creek, but it would be a shame if you did. Not only would you miss the chance to pick up a box of artisanal Belgian chocolates and seasonal delights, but also the opportunity to try the best hot cocoa in the East Bay. The concoction is made from the shop's own chocolate, which is handcrafted in Brussels using only the purest ingredients—you won't find any artificial flavors, colors, or sweeteners here. The result is a rich, velvety hot chocolate that should be savored slowly. The best part? Every cup of cocoa at Leonidas Love + Chocolate is accompanied by a Biscoff biscuit (which is also from Europe) and a small piece of chocolate. The sustainably made, Fair Trade treats are dotted with such delicacies as hazelnuts from Turkey, Morello cherries from France, and almonds from Italy. No matter which chocolate you get, you won't be disappointed, especially if you enjoy your assortment of delicacies at one of the outdoor tables and soak in the charming downtown Walnut Creek scene.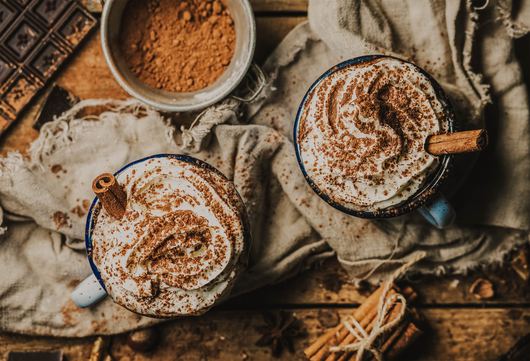 If you're looking for another excuse to turn up your cocoa intake today, here's where to find the best chocolate in San Francisco.
Where do you plan on going for a sweet treat on National Cocoa Day? Let us know in the comments below!