Walk by any of the iconic, blue-and-white hued Humphry Slocombe shops, and you'll be hard pressed to not peek inside as the sweet scents of ice cream and freshly made brown-sugar waffle cones permeate the air. But make no mistake: Humphry Slocombe isn't your typical ice-cream parlor.
You certainly won't find any cerulean cotton candy, neon-pink bubble gum, or basic vanilla ice cream here. Instead, you'll discover delightfully unconventional (and dare we say, hipster) flavors to tantalize every taste bud—and blow your mind in the process. Smooth peanut butter ice cream is flecked with curry and house-made Vadouvan-spiced cookies; foie gras is magically transformed into creamy, frozen perfection; floral hibiscus and earthy beets come together in a refreshing sorbet; and bits of burnt lemon enliven Earl Grey ice cream. Welcome to the bizarre, delicious, and frozen universe of Humphry Slocombe.
Say Hello to Humphry Slocombe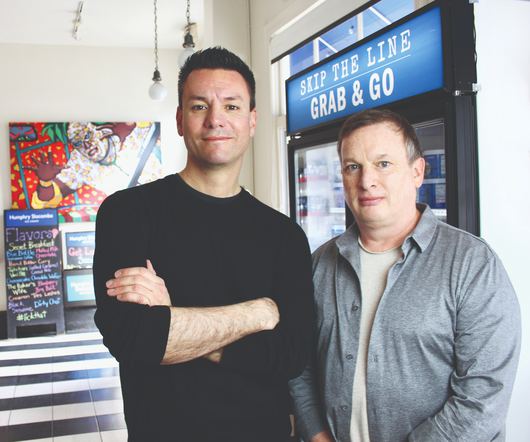 The beloved ice-cream company has boomed since its inception 11 years ago and now has five California locations—each typically besieged by a long line, rain or shine—and sells its heavenly pints in select stores throughout the state. It is the brainchild of San Francisco residents Jake Godby and Sean Vahey, both industry veterans with 20-plus years of experience between them. Before starting Humphry Slocombe, Godby flitted between San Francisco establishments working as a pastry chef, while Vahey gained his restaurant-management know-how during his stints at the Four Seasons and Hyatt hotels. The pair met while working at Tartare in San Francisco, where Godby was the pastry chef and Vahey was the restaurant manager, and maintained their friendship after the place closed. Then in 2008, they joined forces and embarked on an adventure of a lifetime.
"When Jake approached me about [starting a business together]," Vahey recalls, "he just said: 'I have this idea, and I want you to taste this ice cream that I'm going to make.' When I tasted it, I was like, 'Whatever we need to do to make this happen, let's make it happen.' It was that good."
The unique ice cream Vahey tasted on that fateful day was Secret Breakfast—the cleverly named bourbon-laced vanilla ice cream peppered with chunks of crispy cornflake cookies—now the most famous Humphry Slocombe flavor and arguably what put the company on the map. Godby had long had the seed of an idea to start an ice-cream company, but he wanted to focus on more unusual flavors—not the standard chocolate, rainbow sherbet, and rocky road.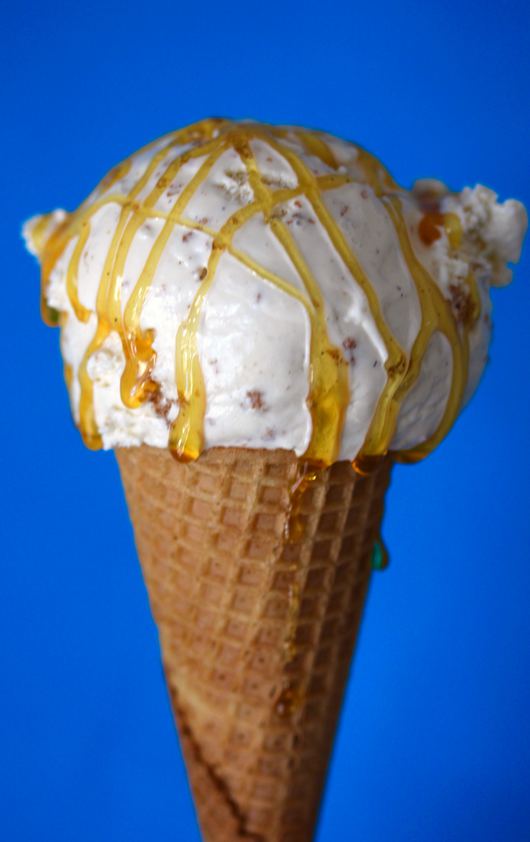 "There was no reason to do what other people were doing, especially when they were doing it well," he says. "It would be really boring for me to do the same [ice-cream] flavors as everyone else."
At the time, there were no other San Francisco scoop shops doing what Godby wanted to do with ice cream—highlight seasonal, California-grown produce and locally sourced, artisanal ingredients in elevated flavors—and Vahey was fully on board. "I was in love with everything [Godby] was making, so I knew what we were going to create was going to be amazing," Vahey says. "So I was like, 'Let's do it.' Then it was the perfect storm that followed."
The Perfect Storm
In December of 2008, Humphry Slocombe—named after the two lead characters on the 1970s British sitcom Are You Being Served?—officially opened for business in San Francisco's Mission District. Godby and Vahey believed it would be fairly simple; "I thought: One person makes the ice cream; another person scoops it," Godby recalls. "How hard could it be?"
But the duo soon realized there would be nothing easy about running this new ice-cream company. "Every scenario that could have gone wrong, went wrong," Vahey says. "We both knew the inner workings of a restaurant, but we didn't know anything outside of that (like any HR stuff, any business stuff), so we exhausted our skillset really fast … We had to learn a lot of lessons quickly."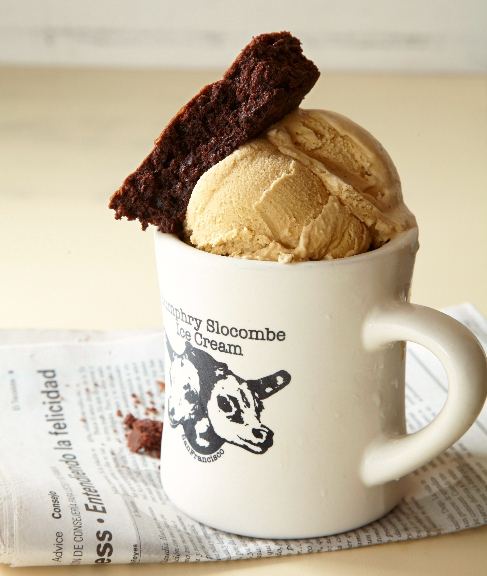 Meanwhile, in the front of house, there was a bit of confusion and apprehension among some customers who were expecting more "normal" ice-cream flavors. Though chefs and foodies appreciated the adventurous Humphry Slocombe flavors, other visitors were more reluctant to try the out-of-the-box offerings. "Nobody had seen anything like them," Vahey says. "We were mostly trying to convince people that [our ice cream] was good … and wanting to tell them, 'Just put it in your mouth! It's really good.' "
The flavors were certainly distinct, given that Godby was crafting ice cream unlike anyone else in San Francisco at the time. He was incorporating ingredients like olive oil, vinegar, peppers, global spices, local fruits and vegetables—and even meat—into his creations. (To make his prosciutto ice cream, for instance, "Jake was adding meat fat and soaking it in ham cartilage," Vahey says.) While getting people to try these more unconventional flavors was a struggle at the beginning, there was a silver lining: The challenges ultimately shaped the Humphry Slocombe narrative and overall customer experience.
"We were mostly trying to convince people that [our ice cream] was good … and wanting to tell them, 'Just put it in your mouth! It's really good.' "
—Sean Vahey

"It wasn't part of the plan, but we ended up having to explain the flavors to everyone who came in, and that lent itself to our story," Vahey says. "We would let people try literally every single flavor, and while they were tasting it, we would tell them the story of how that ice cream was made, because how [Godby] was sourcing and producing everything was really interesting. All of a sudden, you have this really unique ice-cream experience."
To help tell their story, Godby and Vahey also started to cannily use Twitter since they didn't have enough money to pay for advertising. The social media company was still in its early stages back then, but it gave the duo a way to get their name out and directly connect with a wide audience—without having to pay for anything.
"At the time, we were doing it because we needed people to come in the door," Vahey says. "We also wanted to give our product a voice and personality—that's where the "Ice Cream With Attitude" [slogan] came from—and I wanted to tell Jake's story about how he was making all this cool stuff."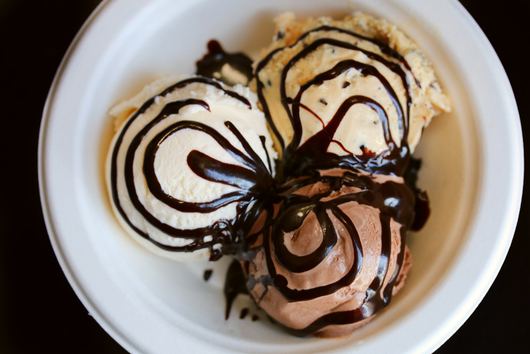 The pair's Twitter tactics paid off: Any time they'd tweet, their shop would flourish. They steadily garnered a strong, cult-like following, and the social media buzz quickly attracted the attention of national media, too—who were eager to tell the Humphry Slocombe story and describe the cheekily named ice-cream flavors (such as Jesus Juice Sorbet, Elvis: The Fat Years, and I Have a Dreamsicle)—landing the company in The New York Times, Vogue, Bon Appétit, and many others.
The rest, as they say, is history. It wasn't long before droves were lining up out the door on a regular basis, and it turns out, foodies and chefs weren't the only ones bewitched by the scrumptious scoops. Ice-cream aficionados of all kinds were flocking to the Mission District to get a taste, transforming the humble neighborhood shop into a roaring success.
Capturing California in a Cone
Fast-forward to today, and there are five Humphry Slocombe scoop shops in California. Godby and Vahey first expanded into San Francisco's Ferry Building in 2014, and then—within the last two years—went on to open more locations in Oakland, Los Angeles, and Berkeley. The offerings are similar at all the shops, with each one carrying 12 different flavors at a time, six of which change every month. Godby aims to rotate the flavors with the seasons, drawing inspiration from the rich variety of artisanal ingredients and California produce at his disposal.
"There was no reason to do what other people were doing ... It would be really boring for me to do the same [ice-cream] flavors as everyone else."
—Jake Godby

Indeed, the menu reads like a cheat sheet to California's farm-fresh culinary scene: Humphry Slocombe pulls in local chefs, bakers, brewers, coffee roasters, spice shops, and chocolatiers to guest-star in ever-changing collaborative creations. (Think ice-cream flavors like jalapeño cornbread, cinnamon brittle, Anchor Steam Flying Cloud Stout, Blue Bottle Vietnamese coffee, peanut butter curry, and milk chocolate tarragon.)
What's grown and produced here, literally and spiritually, churns through these flavors: the entrepreneurial spirit, love of brazen flavors, California pride, farm-to-table fare. Even sweet candy cap mushrooms get into the act, scrounged from beneath the earth to lend a taste of California's forests, frozen in cream. Somehow, Humphry Slocombe has managed to transplant the idea of terroir—that every place has a distinctive flavor that springs from its soil and environment—into ice cream.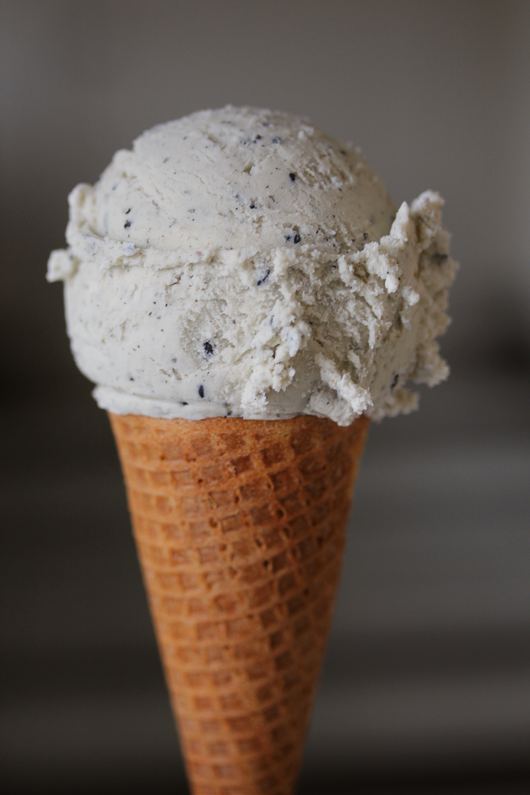 Even California's vegan trend is captured in a cone. "We were a little caught off-guard by the whole vegan thing and how big it became," Godby admits. But he has certainly risen to the occasion, crafting vegan versions of ice cream—such as the latest Berkeley Bar flavor, featuring lucuma ice cream dotted with morsels of toasted cashews and vegan chocolate chips made in Berkeley—that taste surprisingly similar to the real thing. ("It tastes so good that we call it 'vegan by accident,' " Vahey says.)
In addition to working with local businesses and farms near each of its locations, Humphry Slocombe frequently collaborates with celebrities like the "Fab Five" of Netflix's Queer Eye, renowned theater groups such as SHN and Cirque du Soleil, and organizers of major festivals like Coachella and Outside Lands to create unique frozen treats. Next year, Godby and Vahey aim to partner with a different chef each month to add to their arsenal of special flavors that capture the personality of their collaborators; it's one of their favorite parts of their job.
"I've had the opportunity to work with Whole Foods, Outside Lands, and major Broadway productions," Vahey says, "and working with these powerhouse companies and celebrities has changed my life completely. … I feel like the luckiest guy on the planet."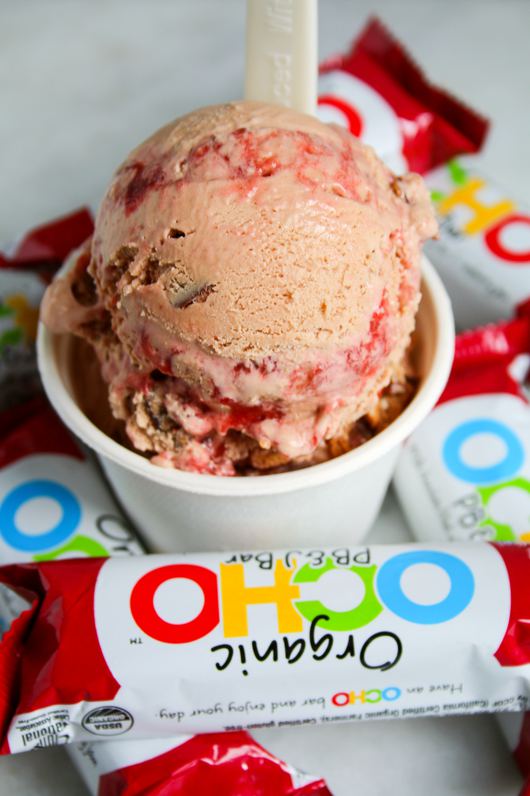 No matter which big names they land next, these ice-cream innovators are bound to have their hands full. With the Humphry Slocombe shop in Berkeley still fresh off its March debut and the Los Angeles locale approaching its one-year anniversary this month, there are countless creative offerings to bring to each new food community and—literally—reflect the local flavor.
So if you want to get a taste of California in a cone, stop by Humphry Slocombe to savor a luscious scoop, decadent sundae, or satisfying ice-cream float. Remember, you can taste every flavor before you buy (Yes: Every. Single. Flavor.), so go ahead and be a little adventurous. The flavors will be unlike anything you've seen before, but they are likely to be among the best you've tried.
"Nobody on Earth makes ice cream like Jake," Vahey asserts. "To this day, I'm still amazed by all of his creations. ... I think they're the best in the entire world."
Five Questions for Humphry Slocombe's
Jake Godby and Sean Vahey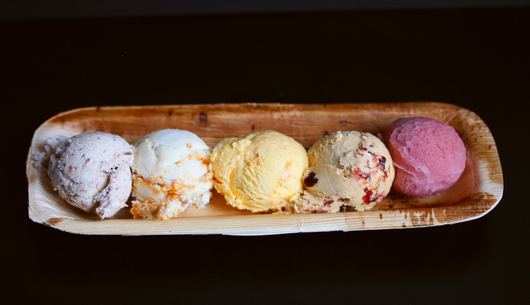 1. What are you most proud of, so far?
Jake Godby: Not killing each other [laughs].
Sean Vahey: Yeah, the fact that both of us are still alive is a miracle. That first year was intense! Jake and I basically worked all day and all night in the shop, and when you're on top of each other like that, day in and day out, it's really stressful. And neither of us was prepared mentally to handle that, so we went through some crazy times.
2. What are your favorite Humphry Slocombe flavors?
JG: I always like the new one or whatever I'm currently working on. … But I really like [SF] Beer Week because I get to work with different breweries and translate their babies into our babies.
SV: Because I'm such a theater gay, I really love working with SHN and our theatrical partners to make theaterical-themed ice cream. It's really interesting to see Jake get inspired and see what he comes up with, and those are usually my favorite ice creams. Good job, Jake!
3. What do you love most about living in San Francisco?
JG: I love the food culture here.
SV: I love everything about this city. As soon as I got here I thought, What was I waiting for? This is amazing. I always tell people I love it here because you can let your freak flag fly and be yourself. … And if I never see snow again, I will be a happy, happy person. San Francisco has the best weather.
4. What do you enjoy doing on your days off?
JG: I drink a lot of coffee. ... I also love a good dive bar.
SV: I like to eat. I don't know if it's because I've been in the food and beverage industry, but I love to go out. Even if it's just my little corner place in the Castro, I like sitting down and eating dinner or lunch somewhere. I think that's the best thing you can do for yourself.
5. What are your favorite junk foods?
JG: I love tater tots and Goldfish crackers.
SV: I love hot dogs. That is my white-trash, guilty-pleasure food left over from growing up in Delaware. I like hot dogs of all kinds.