By

California.com
December 18, 2020
You've already hung up the lights, set up the festive holiday drinks table, put on your festive New Year's Eve outfit, and written a toast. Now, all you need to do is put together an NYE music playlist. A playlist can absolutely make or break a New Year's Eve celebration. The horrifying realization creeping in that this is already the fourth time you've heard "Deck the Halls" or a debate sparking over "Baby, It's Cold Outside" is not ideal. So, make sure you're fully equipped to bid adieu to 2020 with the ultimate New Year playlist.
The New Year's Eve Playlist You'll Have on Repeat
The fact that 2020 wasn't really the fantastic year we thought it would be isn't enough to stop us from putting on our party hats and ringing in 2021—in a safe and socially distanced manner, of course. These throwback classics, modern pop tunes, moody ballads, and more will take your NYE playlist up a notch and make sure your Christmas tree isn't the only thing that's lit on December 31.

"Let's Start thE New Year Right" by Bing Crosby
Bing Crosby is an integral part of the holiday season with hits such as "White Christmas," which has sold over 50 million copies. Another fun fact about Crosby is that he welcomed many not-so-white Christmases at his home in Rancho Mirage, overlooking the Coachella Valley long before the Coachella Music Festival was a thing. "Let's Start the New Year Right" is a classic tune about kissing the old year goodbye. We suggest you add this song to the very beginning of your New Year's Eve party playlist to set the right mood.
"Merry Christmas, Happy Holidays" by NSYNC
Nothing fuels our nostalgia for the '90s like a good old holiday song performed by a boy band. This track comes from NSYNC's holiday album (and second-ever studio album) Home for Christmas and is a great addition to your New Year's Eve playlist. If you want to start letting loose, this will do the trick.
"Rain on Me" by Lady Gaga and Ariana Grande
This song just makes us want to get up and dance—and to be honest, that's the only mood we want our New Year's Eve music playlist to put us in. An equally fun music video for this single was filmed in Los Angeles earlier in the year, shortly before the state went into lockdown. This song will inevitably add a little positivity to your virtual or physical celebration. (FYI, it sounds just as good over Zoom.)

"Truth Hurts" by Lizzo
If a guy who didn't deserve you recently broke your heart, then singing along to "Truth Hurts" by Lizzo is the ultimate therapy. This track topped the California charts when it was first released in 2019, and it still gets everyone in the room singing along whenever it plays. For an extra boost of serotonin, stream the music video in which the singer marries herself.
"Christmas in L.A." by The Killers featuring Dawes
This song was released on December 1, 2013, and marked the eighth consecutive year for the band to release a Christmas song. Furthermore, as with the previous seven releases, all of the proceeds from the song went to AIDS charities. Owen Wilson appears in the music video as a struggling Hollywood actor. Play this as you sit around playing board games.
"Countdown" by Beyonce
No New Year's Eve party is complete without a countdown—and who wouldn't want a little help with that from Queen Bey herself? The singer, who spends her life between Los Angeles and New York, released this song in 2011. Ever since then, this feel-good pop tune is a staple on many New Year's Eve party playlists for obvious reasons.
"1999" by Prince
We don't care what the calendar says—any year is a good year to party like it's 1999. This upbeat song from Prince actually has a deeper meaning. This tune was written in 1982, at the height of the Cold War, and Prince and company were facing uncertain times (kind of like we are now). Keeping a positive mindset, Prince wrote this song to remind us to enjoy whatever time we have on this earth and "dance our lives away."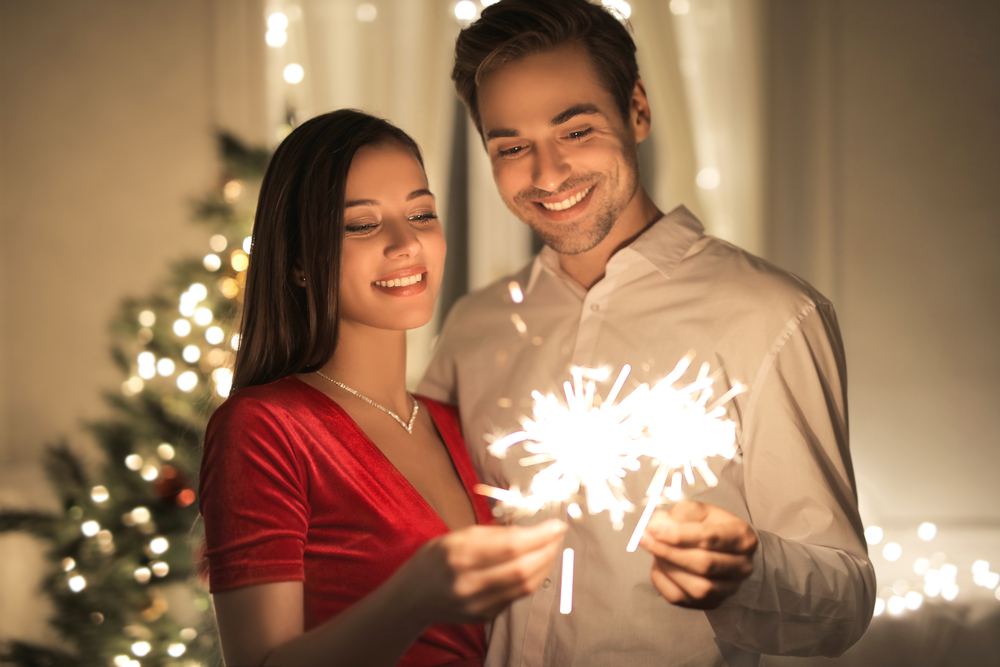 "Holiday Road" by Lindsey Buckingham
Throwing it back again, we're featuring a bit of '80s campy nostalgia with "Holiday Road." The single from Fleetwood Mac legend Lindsey Buckingham should get you up and dancing in no time. This song from the Palo Alto native is quite different from the more folksy rock tunes of his band with Stevie Nicks—but it's still just as good.
"I'd Like You for Christmas" by Julie London
All the best New Year's Eve playlists need some romantic retro swing. The jazzy pop tune "I'd Like You for Christmas" by Julie London will definitely fuel a few romantic sparks and is a perfect holiday song to slow dance to. Despite what her name implies, Julie London was actually a California native whose career began when she was discovered while working as an elevator operator in downtown Los Angeles. Talk about a Christmas miracle.
"Don't Stop Believin'" by Journey
This song from the San Francisco-band Journey has become an anthem due to its wide use in many famous movie and TV show scenes. The last scene in the series finale of HBO's The Sopranos is one iconic example that reinserted the popular track in the music charts. Play this feel-good anthem just after ringing in 2021 to pass around the good vibes.
"Funky New Year" by The Eagles
Is it even a party in the Golden State without a song by The Eagles on the playlist? This track comes from the Los Angeles band's holiday album Please Come Home for Christmas and is as funkadelic as a New Year's song gets. Play this as you ring in the New Year at midnight, throwing confetti on the floor and celebrating a new year full of promise and potential.
What's your New Year's resolution? Check out how to get a jump start on your resolutions now.