By

California.com
November 03, 2020
As California mitigates health risks during the COVID-19 pandemic, some travel restrictions may remain in certain communities. Call the local and regional tourism offices to learn more about the restrictions in your intended destination. Thank you for reading, and stay safe.
Is Netflix and chill getting too boring? As romantic as at-home dates sound, sometimes you just have to break free from your comfort zone and look for entertainment outside of your home. Luckily, there are plenty of romantic things to do in California that you can enjoy in the great outdoors. So, plan an unforgettable day and sweep your special someone off their feet with these exciting outdoor date ideas.
Cheap Outdoor Date Ideas

Explore the Lost Coast
A secret stretch of coastline filled with forests, fog, waves, and pristine sand—is there anything more romantic for outdoor enthusiasts? The mystique of the Lost Coast hypnotizes visitors and casts a magical spell on those wise enough to journey here; your beloved will be in seventh heaven. This untamed area of the North Coast includes the King Range, whose peaks stand high and mighty, rising over 4,000 feet above the Pacific.
Although the 25-mile Lost Coast Trail usually takes three to four days to complete, exploring the area for only several hours is enough to transform your outdoor date idea into an exciting adventure. The trail leads you to Black Sands Beach, where dark sands and pebbles engulf the lands. There's no pressure to dazzle your date because the views certainly will.

Watch the Sunset at La Jolla Cove
Nothing screams romance like watching the sun disappear below the horizon, and the perfect place to do that is none other than La Jolla Cove. Hit the beach, explore the hidden caves, catch a glimpse of sea lions during the day, and soak in the stunning colors of the sunset as golden hour sets in. Get to know your date better while catching the last bits of light.
Play Beach Volleyball at Sorrento Beach
Outdoor activities are just as exciting as romantic dates. Sorrento Beach is your go-to spot for a fun and cheap outdoor date idea. The SoCal coast is basically the beach volleyball capital of the world, and Sorrento Beach is a haven for waterfront sports. Many advanced volleyball players fell in love with the game here, so why not continue (or start) your own love story in the same place? Grab a ball, hit the beach, and challenge your date to a game of volleyball; the winner will enjoy a lovely meal, cost-free.

Have an Evening Picnic at Grizzly Peak
A picnic is a timeless outdoor date idea. Pack yourself some sandwiches and beverages and head over to Grizzly Peak, where spectacular views of the San Francisco Bay Area take your breath away. Located within Berkeley's Tilden Regional Park, there are many activities to enjoy during the day, but make sure to capture the romance of the evening as the sun starts to set. The gorgeous city lights will captivate both you and your special someone.

Discover Balboa Park's Natural Wonders
Balboa Park is a lover's paradise. With 19 gardens, 17 museums, 13 recreation venues, and lush grounds, it's the ultimate place for an outdoor date idea. The San Diego gem is the best spot for sitting in the shade of a century-old tree and fantasizing about a future together (it's never too early to start dreamin'). The uniquely landscaped gardens are abundant with fragrant roses, towering trees, pleasantly variegated cacti, and stunning orchids. Stroll through the green spaces hand-in-hand and watch the butterflies flutter from one plant to the other.
The Best Outdoor Dinner Date Ideas

Share a Hearty Dish at Hatchet Hall
Craving the company of your crush while enjoying a comforting, satisfying dish? Actualize your outdoor dinner date idea and take your special someone to Hatchet Hall in Los Angeles. The wood-fired restaurant puts an emphasis on top-notch ingredients and old American techniques to make your alfresco dining experience as delicious as possible. The umbrella-shaded tables, string lights, and potted plants create a romantic ambience, making your outdoor dinner date even more memorable.

Indulge in Seafood at Waterbar
Fresh seafood, dramatic floor-to-ceiling aquariums, and sweeping views of the Bay—it's almost impossible to resist a date at Waterbar. Dining here is much more than just eating a meal; it's enjoying delicious food while falling in love with the scenic vistas and the captivating the person sitting across from you. Waterbar offers incredible panoramas of the Bay Bridge, but the food (and company) easily tops the view.

Split a Warm Chocolate Cake at Wildwood Kitchen and Bar
All you need is love, but a little chocolate now and then doesn't hurt. Standout Sacramento restaurant Wildwood Kitchen and Bar is the ideal place for a cute outdoor date. Although the restaurant is famed for its exquisite food and seasonal menu, the dessert menu will have you hooked. Imagine sitting on the patio with your loved one while the sparking lights illuminate the night. Just one bite of the warm chocolate cake that instantly melts in your mouth will take you to seventh heaven.
Enjoy Live Music at Homestead Solana Beach
Fresh comfort food and live musical performances? Sounds like an awesome date to us. Homestead Solana Beach is a San Diego gem—the quaint neighborhood cafe is the ideal spot for a cute outdoor date. Offering simple yet appetizing options, the local restaurant is located in the famous Cedros Design District and is full of Solana Beach spirit. Homestead prides itself on quality ingredients and friendly service; the outdoor patio seating will have you forgetting that you're in town. Check out the live music calendar in advance so you can plan your next outdoor dinner date right in this charming spot.
Cute Outdoor Dates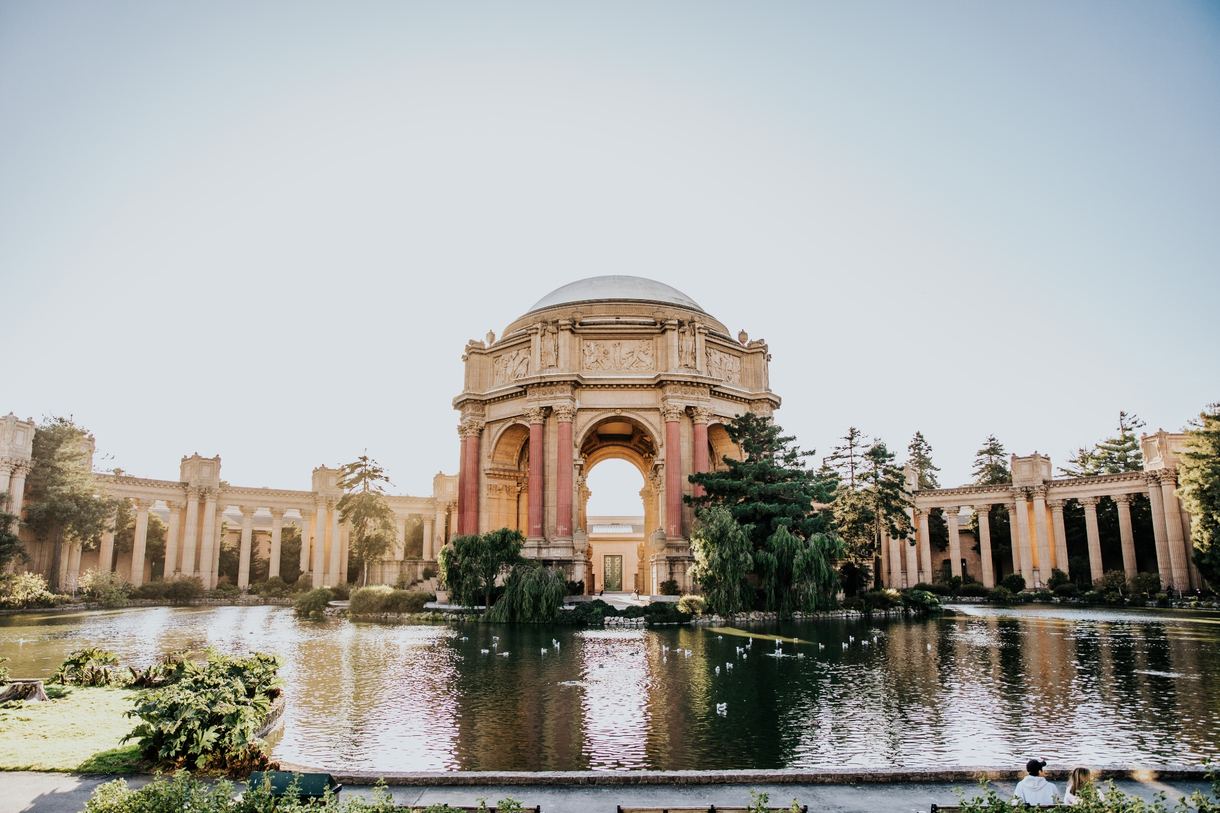 Stroll Around the Palace of Fine Arts
The Palace of Fine Arts is a San Francisco landmark and undoubtedly one of the most breathtaking places in the Bay Area. Perfect for cheap outdoor date ideas, the destination is a spectacular spot to set up a cute outdoor date, thanks to the romantic Greco-Roman rotunda and colonnades, lush grounds, and tranquil lagoon. Wander around the impressive structure while observing the swans, ducks, and turtles swimming in the lagoon and admiring the beauty of the landmark—and your date.
Catch a Flick at the Los Angeles Art Society Drive-In Cinema
Keep it simple and opt for an old-fashioned outdoor date idea that'll take you back in time: a night at the drive-in theater. Pull off an idyllic movie night at Los Angeles Art Society Drive-In Cinema, which shows cult classics and must-see horror movies—the gory and grotesque will bring you two closer, clinging together in fright. Share popcorn and snuggle up in a blanket while enjoying the retro experience.

Go on a Gondola Ride in Long Beach
Experience what it means to be truly in love while gliding on the serene canal waters with Gondola Getaway. Romantic adventures await you two in Long Beach; the cruise company makes you feel as though you've been transported to Venice, Italy. Prepare to enter a relaxing, dreamy state with your significant other—this magical gondola ride is bound to rekindle the romance.

Ride the Carousel at Belmont Park
Show off your thrill-seeking personality and take your date to San Diego's Belmont Park for a night of exciting adventures. Scream at the top of your lungs on the roller coaster before impressing your crush with a prize well won. Head over to the carousel for a nostalgia-inducing ride—which animal will you sit atop? Have fun with it, and try to guess each other's spirit animals before going for a spin. When you hop off, share cotton candy with your beloved to end the night on a high note.

Enjoy the Views of Napa Valley From a Hot-Air Balloon
Everyone knows that Napa Valley is where real love begins and lasts for an eternity. Realize the coolest outdoor date idea and wow your partner as you soar into the sky with Napa Valley Balloons. Float among the clouds while looking down at the incredible vineyards and gorgeous valleys. Undeniably an extraordinary experience, this outdoor date idea is an incomparable romantic adventure.