As California mitigates health risks during the COVID-19 pandemic, some travel restrictions may remain in certain communities. Call the local and regional tourism offices to learn more about the restrictions in your intended destination. Thank you for reading, and stay safe.
It's always road trip season in California, and road trips are incomplete without the fun and quirky attractions that you'll remember for a lifetime. California has a lot of weird places to visit—dozens of eccentric museums, statues, and gardens await your exploration. Some have become Golden State icons thanks to pop culture and the media, while others are still hidden gems you'd be lucky to find. Whether you're a local or a tourist, you'll want to add these strange roadside attractions to your bucket list.
Weird roadside attractions to see now
Whether you're heading to see stunning fall foliage in Southern California or cruising through the charming small towns of Northern California, there are so many must-see stops on your California road trip. So, get in touch with your adventurous side and hit the road to get to know the Golden State (and all of its mysterious attractions) a bit better.
Strange Roadside Attractions in Southern California

Randy's Donuts
Location: 805 West Manchester Boulevard, Inglewood
Donuts make everything better, and what could be better than a giant donut? Randy's Donuts is a 24-hour donut shop found just a few miles north of LAX and is famous for its giant donut sign, which is as loved by longtime locals as it is by California's A-list celebrities—actually, the massive rooftop donut is a bit of an A-lister itself. The donut has appeared in many TV shows and movies, including Arrested Development, Californication, and Iron Man 2. Although Randy's Donuts is now an iconic bakery chain, head to Inglewood to experience the original roadside attraction.
Chicken Boy
Location: 5558 North Figueroa Street, Los Angeles
The one-and-only Chicken Boy installation was constructed in 1969 atop the roof of Los Angeles' Chicken Boy restaurant. When the restaurant permanently closed in the 1980s, the building was set for demolition, but Los Angeles art director and admirer Amy Inouye wouldn't have it; after many requests, the beloved fiberglass statue was given to her for safekeeping. Inouye kept the acclaimed California attraction safe in storage until 2007. Now, the all-mighty, 22-foot-tall Chicken Boy statue stands tall on a building located along Route 66. While cruisin' along this historic road, check out the other sites worth stopping for.

The Cabazon Dinosaurs
Location: 50770 Seminole Drive, Cabazon
Although there are so many things to do in the deserts of California, the mighty Cabazon Dinosaurs soar to the top of the list. Previously known as Claude Bell's Dinosaurs, the 65-foot-high Tyrannosaurus rex and 150-foot-long Brontosaurus stand high above the ground—they're even visible from Interstate 10. These intimidating creatures that once roamed the earth were replicated in 1964 to attract tourists to the nearby Wheel Inn Restaurant. Many of you may recognize these giants from the 1985 film Pee-wee's Big Adventure. So, stop by and say hello to the roadside titans keeping an eye on traffic; better yet, climb into the "belly of the beast" and heroically leave with a souvenir in hand.
The World's Largest Lemon
Location: 3365-3599 Main Street, Lemon Grove
Fan of the zest? California has you covered. Standing 10 feet high and stretching 6 feet long, the 3,000-pound lemon is all you'll see while driving down Main Street in Lemon Grove. (Quite fitting, isn't it?) The gigantic citrus was originally constructed for a parade float in 1928 and has since stood as a source of pride in the area.
Wigwam Motel
Location: 2728 Foothill Boulevard, San Bernardino
The Wigwam Motel franchise began its operations in the 1930s. The last motel ever built within the franchise was Wigwam Village Motel No. 7 along Route 66. This roadside inn still welcomes travelers. Although the motel went through a "rebellious" phase (when the beds were switched out with waterbeds and rooms could be rented out by the hour), the kitschy motel has since been restored to its former glory. Today, it stands as a family-friendly Route 66 attraction beckoning to all travelers with its 30-foot-tall concrete tepees.

Big Josh: Bearded Cowboy Muffler Man
Location: The Station Joshua Tree, 61943 Twentynine Palms Highway, Joshua Tree
One of the weirdest road trip stops is Big Josh: Bearded Cowboy Muffler Man. Originally, this cowboy giant resided in Mecca, California, but was relocated to Joshua Tree in 2018. Now looming above a former gas station, Big Josh is hard to miss. Swing by to snap a pic in front of the massive man and pick up souvenirs and local wares from the shop he stands guard over. He is often adorned in festive decorations for each season—a vampire mask for Halloween or a string of lightbulbs during Christmas.

International Banana Museum
Location: 98775 CA-111, Mecca
This California roadside attraction will drive you bananas. The International Banana Museum is home to more than 25,000 banana-themed items. You can feel the love for this yellow fruit. The museum even set a Guinness World Record as the largest museum dedicated to one fruit. But why limit yourself to looking at banana-like objects? Stop by the Banana Bar and enjoy a smoothie or scoop of banana ice cream.

Elmer's Bottle Tree Ranch
Location: 24266 National Trails Highway, Oro Grande
A scrap metal artist started by packing his property with trees made from metal pipes and recycled glass bottles in 2000, and by 2019, he had a forest of pipes and bottles on his hands. Brilliant glass sculptures shimmer beneath the California sun, making Elmer's Bottle Tree Ranch a must-see stop on Route 66.
Roadside Attractions in Northern California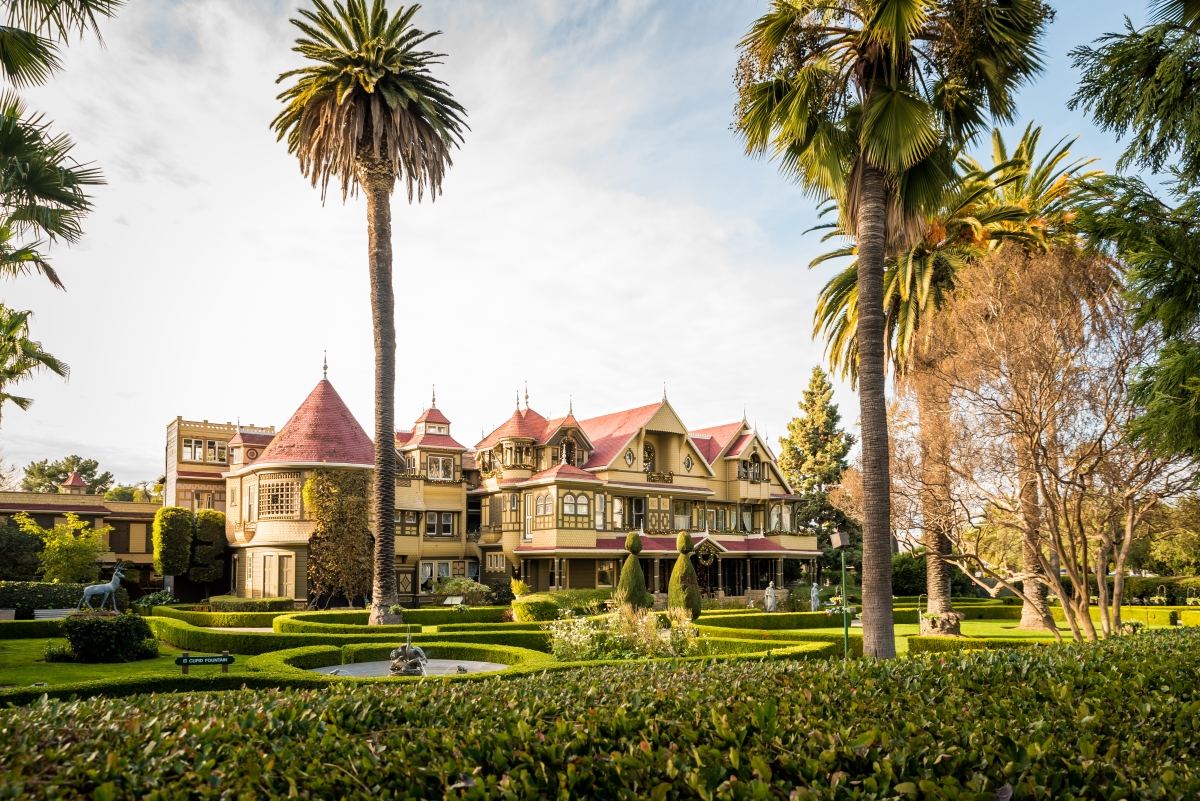 Winchester Mystery House
Location: 525 South Winchester Boulevard, San Jose
An eternally immortal mansion (thanks to its ghostly residents) built by firearm magnate William Wirt Winchester's widow, the Winchester Mystery House couldn't be any more intriguing. Sarah Winchester firmly believed that her beloved estate was haunted, but instead of fleeing, she stayed and humored her ghosts. The house was constantly under renovation as Sarah demanded that workers keep adding strange modifications—such as secret doorways, doors that open into walls, and steps leading to nowhere—in an attempt to appease the apparitions. A mansion like no other (literally, there are windows in the ceiling, and they aren't your average skylights), it has to be seen to be believed. Winchester Mystery House tours are open to the public; the oddity of the mansion is guaranteed to leave you beyond bewildered and perplexed.

Giant Artichoke Restaurant
Location: 11261 Merritt Street, Castroville
Everything seems to be bigger in the Golden State. Castroville, better known as the "Artichoke Center Of The World," is home to the annual Artichoke Festival and one of the state's most weird attractions: a giant artichoke. Come for a quick photo op with the humongous vegetable and feast away at the Giant Artichoke Restaurant, where everything artichoke is on the menu.

Trees Of Mystery
Location: 15500 US-101, Klamath
One of Northern California's oldest roadside attractions, the Trees of Mystery opened in 1931. The park boasts gorgeous panoramic views of the lush redwood forest and unusual tree formations. Ride the Sky Trail, a string of cable cars that takes you soaring above the trees, and meander over to the gift shop. Towards the back of the gift shop, you'll find The End of the Trail Museum, which features one of the largest private North American Native American artifact collections. For a relaxing hike, walk the Forest Experience Trai You should also take a stroll on the Trail of Tall Tales—be on the lookout for the 49-foot-tall Paul Bunyan statue and his trusted companion, Babe the Blue Ox, standing side by side.