As California mitigates health risks during the COVID-19 pandemic, some travel restrictions may remain in certain communities. Call the local and regional tourism offices to learn more about the restrictions in your intended destination. Thank you for reading, and stay safe.
Cruising down Route 66 with the breeze blowing against your face feels incredibly nostalgic. With a plethora of quirky roadside attractions to see along the way, this historic road has been a California icon ever since it was created in 1926. Traversing Southern California from the California-Nevada border all the way to the Pacific Ocean in Santa Monica, Route 66 is a road trip unlike any other.

The Golden State's Historic Route 66
Route 66 road trips have garnered so much attention over the years, it is hard to believe the state ever existed without it. But it wasn't until November 11, 1926, that Route 66 provided a way for victims of the Dust Bowl to escape the barren landscapes and find work out west. By this time, California was already known for its fields and factories, which—along with the incredible weather—made it a highly coveted place to be.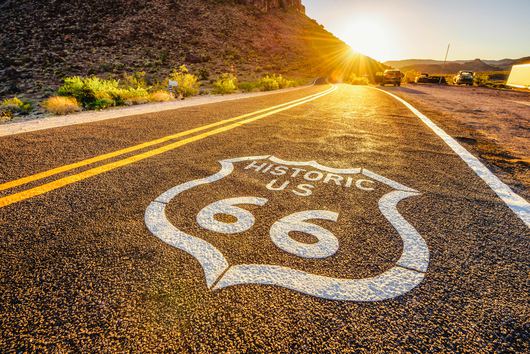 Throughout the early 20th century, Route 66 served as the primary thoroughfare for people coming to the Golden State, especially after World War II ended. This marked a new era for the original Route 66, as visitors started to see the state as an enviable vacation destination. While California's popularity began to rise during the 1940s, it wasn't until the opening of Disneyland in 1955 that the route saw its peak of tourists. Not long after, automobiles became even more widespread, creating the need for better, larger roadways. By the 1970s, nearly all 270 miles of Route 66 were bypassed via these new freeways, and in 1985, the roadway was removed from the U.S. Highway System altogether.
Markers for Route 66 can still be found along the nascent freeways—offering the chance to indulge your nostalgia. And since the beloved roadway covers all types of terrain between the California-Nevada border and the Santa Monica Pier, there's an adventure suitable for everyone. So, pack your bags and set out to "get your kicks on Route 66."
The Route 66 Attractions worth stopping for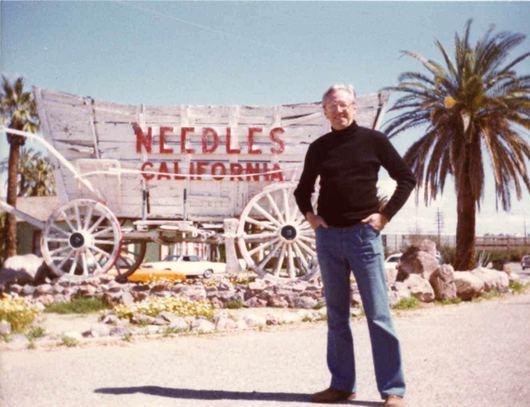 The childhood home of Charles Schulz
Location: Needles
Though his family only lived in Needles for a little over a year, Peanuts creator Charles Schulz retained many memories from his boyhood home and went on to convey them in his comic strip as an adult. While there isn't much else to see in this solitary Mojave Desert town, it's worth adding to your Route 66 road trip itinerary—even if it's only to say you've been.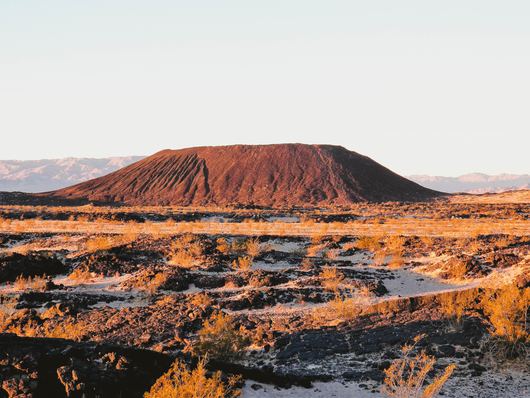 Amboy Crater
Location: Amboy
While a 3.5-mile hike through the desert is required to truly see this famed volcanic cinder cone, it's worth it—this natural landmark is not something you see every day. If you decide to spend a few hours here, consider taking a detour south to experience Joshua Tree National Park or spend some time in Palm Springs.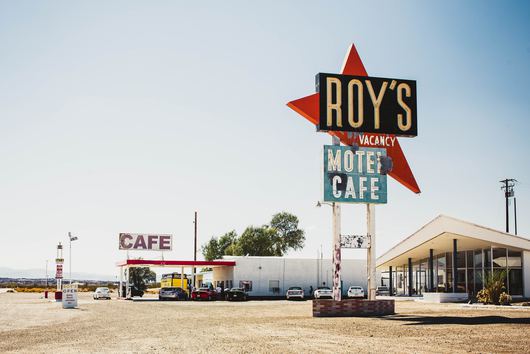 Roy's Motel and Cafe
Location: 87520 National Trails Highway, Amboy
You might not be able to get much to eat here, but this iconic Route 66 attraction and popular film location is well worth the stop. Take pictures of the historic Route 66 motel's retro sign, fill up your tank, walk around the grounds, and breathe in the Mojave Desert air before driving on. The owner hopes to refurbish the café soon, so perhaps by the time you make it out here, you'll be able to grab a bite, too.
Route 66 Mother Road Museum
Location: 681 North First Avenue, Barstow
As part of the Barstow Harvey House, the Route 66 Mother Road Museum is the perfect place to learn about the roadway's past. After perusing the collection of historic photographs and artifacts, make sure to visit the Western American Railroad Museum and the rest of the Barstow Harvey House.
Fun fact: The Barstow Harvey House was originally named Casa Del Desierto ("House of the Desert") when it opened in 1911 as a stopping point for railroad passengers. The grounds included a wooden depot for the Santa Fe Railroad, a hotel, and a restaurant so that weary passengers didn't have to wander far to find everything they needed. Back then, trains weren't able to cook and feed passengers onboard, so eateries were built in conjunction with the railroad approximately every 100 miles to afford riders the chance to satiate their appetites. Because these restaurants were designed to feed everyone on board, they had both a formal dining room and a casual counter that passengers could choose from.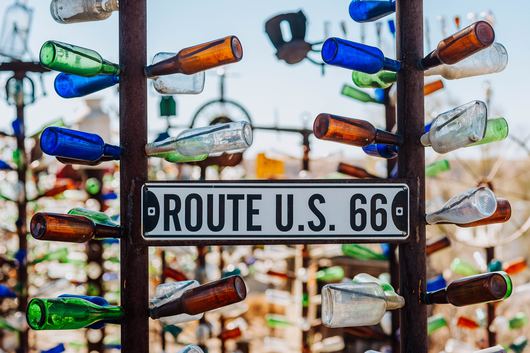 Elmer's Bottle Tree Ranch
Location: 24266 National Trails Highway, Oro Grande
Located right outside of Victorville, Elmer's Bottle Tree Ranch is exactly what you might picture. For years, creator Elmer Long used recycled glass bottles and the desert landscape to make artwork that garnered worldwide attention. After his sudden passing in June 2019, his family committed to keeping the Bottle Tree Ranch open for many years to come. Stop by to admire what Long loved to do and snap a picture or two of this mysterious California attraction, but make sure not to touch these fragile statues.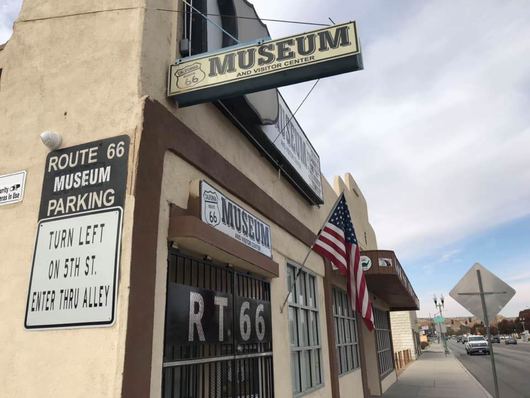 California Route 66 Museum
Location: 16825 D Street, Victorville
The California Route 66 Museum is a quintessential stop on this truly nostalgic road trip. Nestled just off the side of the highway, the interactive museum is filled with memorabilia, photo booths, and guidebooks to help you along on your journey. Trust us, visiting this spot is definitely a top thing to do on Route 66.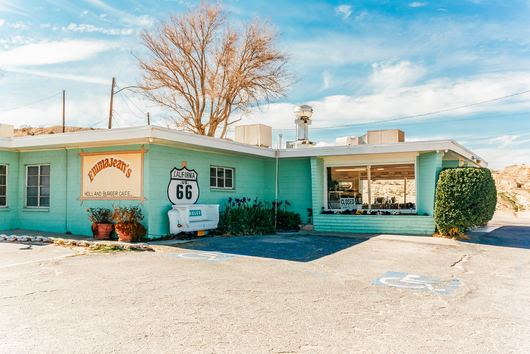 Emma Jean's Holland Burger Cafe
Location: 17143 North D Street, Victorville
Opened in 1947, Emma Jean's Holland Burger Cafe is best recognized for its minty-green exterior. It's still in operation today, so stop in and grab a burger on your way out west—and don't leave without taking a picture or two. This quirky eatery has appeared in Quentin Tarantino's Kill Bill Vol. 2 and Train's music video for "Bulletproof Picasso," so you'll definitely want to prove you were at this Route 66 landmark.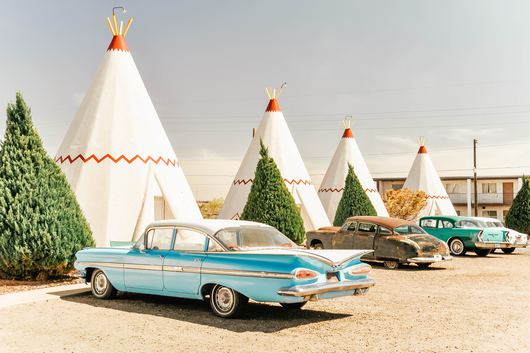 Wigwam Motel
Location: 2728 West Foothill Boulevard, San Bernardino
While sleeping in a teepee might not sound like your cup of tea, this interesting motel is undoubtedly among the top things to see on Route 66. So what if it's only because Route 66's Wigwam Motel inspired the Cozy Cone Motel in Disney's Cars? That's totally a valid reason to visit.
Bono's Historic Orange
Location: 15395 East Foothill Boulevard, Fontana
A former juice kiosk, this odd Route 66 roadside attraction used to be a much more common sight, with giant oranges set throughout the city. Today, this location is the last of its kind, making it a fun place to celebrate the state's citrus roots and stretch your legs before continuing your drive on Route 66.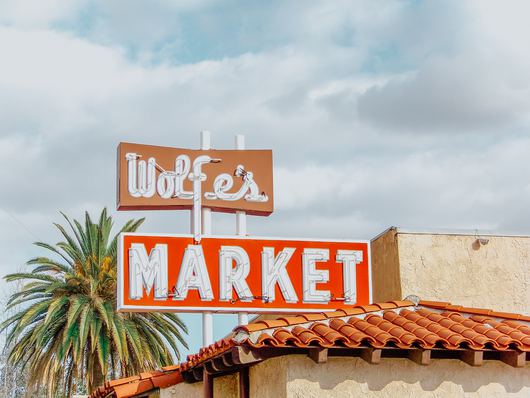 Wolfe's Kitchen and Deli
Location: 160 West Foothill Boulevard, Claremont
Opened in 1917, Wolfe's Kitchen and Deli (previously named Wolfe's Market) has been a Claremont mainstay for over a century. Passed down through four generations, this stop is sure to satisfy your hunger and feed your curiosity. Pick up some Graber olives and a loaf of bread from the deli, or grab a hot pastrami sandwich from the grill. Then, snap a photo of the iconic Wolfe's Market sign outside before you drive off on Route 66 to Santa Monica.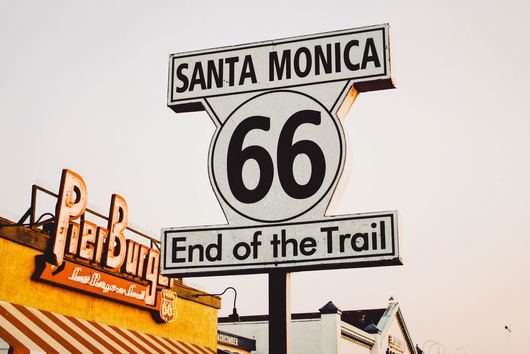 Santa Monica Pier
Location: 200 Santa Monica Pier, Santa Monica
The Santa Monica Pier represents the end of Route 66 and is the perfect place to celebrate the adventure. With pristine weather, fine white sand, and the Pacific Park amusement park, this destination is easy to love. From here, take a bike ride to Venice Beach, continue your drive along Highway 1 to Malibu, or just bask in the sunshine—you've made it!

Noteworthy Towns on Route 66

Calico
The road trip playlist playing in your car might be the only noise you'll hear as you drive through Calico. Once home to over 500 silver mines, Calico is now a ghost town. At its height, this town in the Mojave Desert had 3,500 residents and produced over $20 million in silver (equivalent to over half a billion dollars today). So, how did it die a mere 12 years later? As the bottom fell out of the price of silver, the bottom fell out of Calico, too, and by the turn of the 20th century, it was deserted.
The town was left relatively untouched until the 1950s. But then Walter Knott (of Knott's Berry Farms) came along and bought the entire town. He restored it almost completely, and today, Calico stands as a historic Route 66 landmark open to the public.
Goffs
The introduction of Highway 40 caused many towns along the route from Needles to Ludlow to empty out almost entirely. Today, Route 66 towns resemble roadside attractions more than livable locales. One such example is Goffs. This town first came into existence when a railway station was built here in 1893. Now, it is a California desert ghost town you need to experience yourself.
Among the interesting Route 66 attractions in this town are the bones of a 20th-century general store, old mailboxes, and a schoolhouse-turned-museum. If you actually run into people while visiting Goffs, fear not—they're (likely) not ghosts; the town has a population of 23 residents.
Amboy
Amboy became a boomtown in 1926 when Route 66 passed through it. This led to a lot of businesses moving to the relatively isolated town, as it was a necessary stop along the California portion of the route. Similar to Goffs, the town's growth rapidly declined after the introduction of Highway 40.
Today, Amboy is a haven stuck in the 1950s, kept alive mostly by the former Route 66 gas station now known as Roy's Motel and Cafe. Upon arrival, you'll be greeted with retro music and the preserved relics of what used to be a full-fledged, functioning town.