There's something liberating about being on a rooftop. Whether it's the invigorating breeze flowing through your hair, the comforting warmth of the sun, the panoramic views, or the simple pleasure of relaxing outside, it's easy to feel as though you're on top of the world. The only thing that could make a rooftop experience even better? Delicious food and libations—and San Francisco offers it all. The City by the Bay is home to numerous rooftop restaurants serving up innovative fare and creative concoctions to complement the scenic vistas of the cityscape below. So the next time you want to enjoy lunch or dinner with a view, head to these five San Francisco rooftop restaurants raising the city's dining scene to new heights.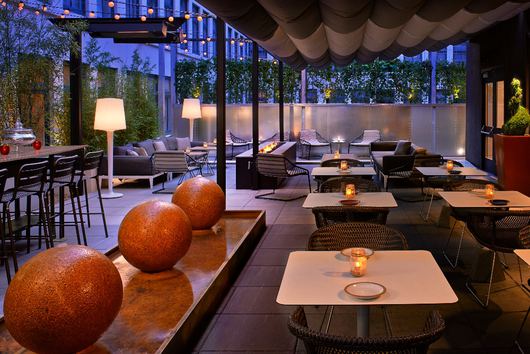 Dirty Habit
Tucked away on the fifth floor of Hotel Zelos, Dirty Habit is a hidden oasis nestled in the middle of San Francisco's bustling SoMa neighborhood. After undergoing a recent transformation, the eatery is now hotter than ever, boasting a sleek, 50-seat outdoor patio—complete with comfy seating options, fire pits, and industrial accents—that feels like a natural extension of the speakeasy-like interior. Whether you settle in for happy hour to enjoy a punch bowl and an artisanal charcuterie plate or come to savor a seasonally inspired dinner of soft-shell crab tacos and tender rib eye topped with black trumpet mushrooms, Dirty Habit is the place to be for intriguing drinks and eats with a view.
Pro tip: The patio is often booked for private parties and events, so call in advance to ensure you can snag a table outside. And since the place is especially crowded for happy hour, try stopping by for dinner instead.
Rooftop 25 at 25 Lusk
This industrial-chic eatery is a bit hard to find, but once you enter the dimly lit hideaway off of Townsend Street, you feel as though you've stumbled upon a hidden treasure. Situated on the third floor—above the sultry, cave-like downstairs lounge and elevated dining room of 25 Lusk—is Rooftop 25. Adorned with greenery, warm wood accents, wicker chairs, communal tables, and graphic light fixtures, the outdoor space feels like your coolest neighbor's backyard. There are refreshing libations (including frozen drinks and Otter Pops), wood-fired pizzas, mouthwatering burgers, and hot dogs smothered with cheddar sauce and caramelized onions. Stop by to enjoy lunch, happy hour, or dinner with friends (or by yourself), and revel in the fresh air and relaxing ambience.
Pro tip: Head here in the middle of the day or early in the evenings to avoid the worst of the weekend crowds.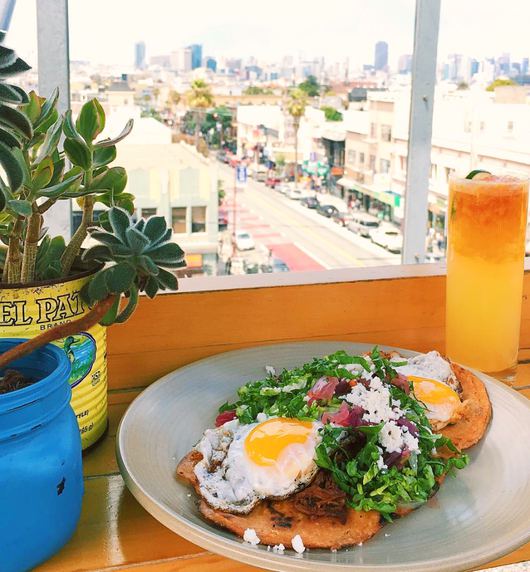 El Techo
One of the O.G. rooftop restaurants in San Francisco, El Techo is still a local favorite that draws droves, especially on the weekends. With a Spanish namesake that translates to "the roof", the Mission District eatery offers a spectacular view five stories above its Argentinean steakhouse sister restaurant: Lolinda. The no-frills patio space serves Latin American street food and pitcher drinks, creating a festive atmosphere day or night, rain or shine—and there's no shortage of chips and guacamole. Nosh on dreamy quesadillas, savory empanadas, fried plantains, and melt-in-your-mouth carnitas as you admire postcard-worthy Bay and downtown vistas (libation in hand, of course).
Pro tip: There's almost always a line to get in for weekend brunch, so arrive as close to opening time as possible. (While you wait, curb your hunger or thirst at the neighboring Foreign Cinema.) Or, stop by around 7 p.m. on weeknights for dinner.
Everdene
Perched atop the swanky Virgin Hotel San Francisco, a brand-new destination just steps away from the famed Yerba Buena Gardens, Everdene is the SoMa hot spot to see and be seen. The lively rooftop lounge combines breathtaking city views with a lush outdoor garden and an upscale indoor salon, taking over a 4,000-square-foot space on the 12th floor. After braving the line, enter through a marble foyer and settle in at a table overlooking the S.F. skyline. The menu boasts a variety of well-crafted drinks and culinary creations that change with the seasons. From the crowd-pleasing snacks and shareable concoctions, to the DJ beats and carefree atmosphere, Everdene is the hip place you and your friends don't want to miss.
Pro tip: Since Everdene is the newest, trendiest spot in the city, it attracts crowds at all hours of the day and night, so make a reservation in advance or arrive as close to opening time as possible.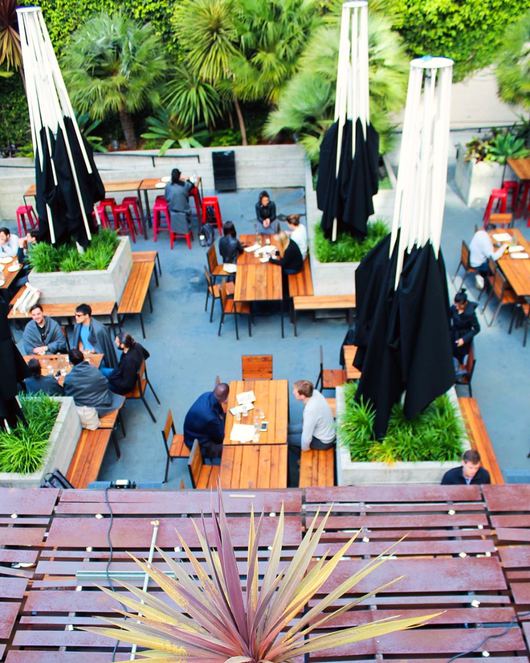 Jones
Though this chic and popular restaurant is only on the second story, you won't mind one bit. The picturesque perch in the heart of San Francisco still affords views of the Transamerica Pyramid, FiDi, and pedestrians below. Stroll through the wrought-iron gates, make your way up the stairs, and emerge onto an open-air terrace decked with string lights, palm trees, vibrant murals, and glowing neon signs. Thanks to the festive vibe, ample seating, and great deals, Jones is a hoppin' happy hour spot with live music six nights a week. Grab an order of ahi tuna poke, crispy pork ribs, and Asian honey hot wings to share with your group, and revel in the alfresco dining experience. While there are outdoor heaters, make sure to bring a jacket, just in case Karl the Fog decides to roll in.
Pro tip: Jones is cash-only for drinks, so come prepared (though there is an ATM on-site in case you forget). Weeknights also bring lighter crowds than Saturday night and Sunday brunch.