Strolling down a quiet stretch of San Francisco's Union Street, past the fashion boutiques and beauty shops lining the sidewalk, I immediately perk up upon hearing catchy Latin tunes, compelling me to look over and determine where they're coming from. To my right, I see an intimate, elegant eatery called KAIYŌ—glad I didn't blink, or I might have missed the narrow entrance—where the music is bumpin', couples and groups of friends fill the cozy front patio and chat animatedly over drinks, and the mouthwatering scent of grilled meat and crispy fries permeate the air. My stomach is grumbling and the fun, lively ambience is calling to me, so I decide to step inside.
I'm so happy I did.
Upon being seated in a plush booth, I'm immediately fascinated by the edgy yet refined dining room adorned with a 35-foot living moss wall, handcrafted lanterns, leopard-embossed wallpaper, and Japanese artwork. And once I open the menu, I start to see why the eatery is such a hot spot: KAIYŌ may draw you in with its hip and festive vibe, but it's the innovative cuisine that makes you want to stay awhile.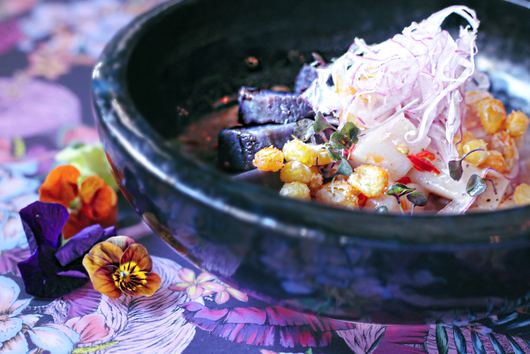 Though I've had my fair share of Japanese and Peruvian food (ceviche and pollo a la brasa, anyone?), I'd never tried a fusion of the two—and I didn't even know Peruvian-Japanese fare was a thing. But as the friendly waiter informed me, the cultures became intricately intertwined in the late 1800s, when thousands of Japanese immigrants arrived in Peru to work on the country's rich coastal plantations. They adapted to local ingredients but also incorporated the familiar flavors of their homeland into their food, capturing the best of both worlds and calling the new style nikkei.
If that sounds as intriguing to you as it was to me, then make a beeline for KAIYŌ in the Cow Hollow neighborhood, where restaurateur John Park—one of the forces behind such popular destinations as Novela and Whitechapel, also in the City by the Bay—sheds light on the fascinating cuisine and takes diners on an epicurean adventure.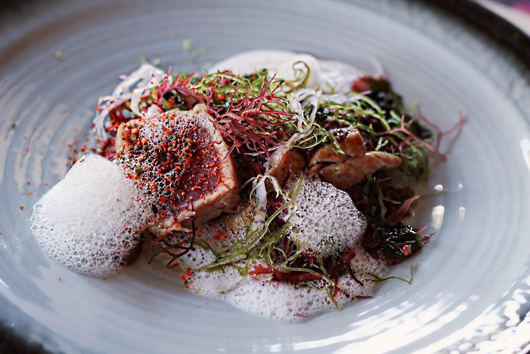 Begin with the bluefin tuna tataki, starring perfect slices of delicate, pristine fish carefully draped in dashi ponzu sauce, daikon mignonette, and leek-infused foam. Another must-try is the hokkaido scallop tiradito (Peru's version of sashimi) marinated in a golden passion-fruit leche de tigre and garnished with gorgeous flower petals.
Continue the culinary journey with an anticucho, or a yakitori-like skewer lightly licked by flames. The ultra-tender corazon is a winner, featuring a delightful kick from the spicy chimichurri laced with serrano peppers and huacatay. (Even if the thought of eating beef heart makes you a bit squamish, I strongly encourage you to step out of your comfort zone and give it a shot; trying new foods expands your mind, which to me, is one of the biggest benefits of going out to eat.) I could have easily devoured another plate of those suckers, but the menu was dotted with a few more tantalizing dishes I just had to try, so I resisted the urge.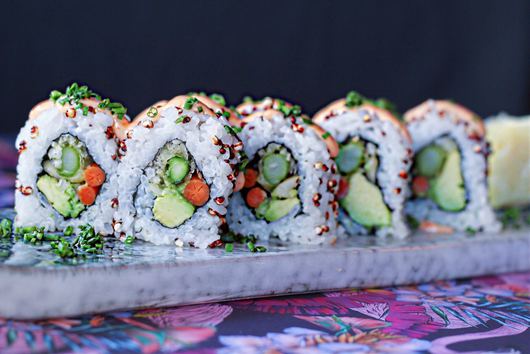 My decision was wise, because the subsequent Union Street roll was a knockout and may have been my favorite dish of the night—which was surprising to me because it was vegetarian, and I'm clearly a carnivore. (Again: This is why I think you should always be open to trying something slightly unfamiliar at restaurants!)
At first glance, it looks like any other sushi roll you might see at an upscale Japanese restaurant, but as soon as you take a bite, you realize it's actually unlike any other roll you've ever had. Tucked inside the delicate sushi rice, creamy avocado is complemented by the satisfying crunch of tempura asparagus, puffed quinoa, and crushed Brazil nuts, while the tangy pickled burdock root and savory yuzu kosho aioli tantalize the taste buds. Essentially, it's an explosion of umami. The seasonal roll is part of the restaurant's summer menu, so if you want to get a taste of this impeccable dish for yourself (trust me, you do), you better get your butt over to KAIYŌ, stat.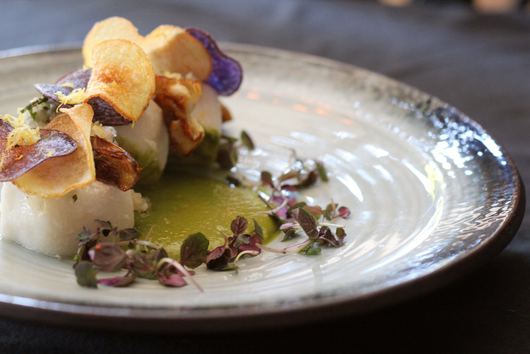 Though I probably could have stopped eating at this point, I'm a true glutton at heart and couldn't help but want to continue the foodie fun. To my disappointment, however, the next dish of olive oil–poached butterfish was slightly underwhelming—at least compared to the other items I had tried. While the hearty fillet was cooked to perfection, it was lacking in bold flavor (which is what I loved about the other plates), and some of the accompanying purple potato chips had become a bit soggy from the onion mignonette. But to be clear: This wasn't a poorly executed dish; I simply didn't enjoy eating it as much as I did the others.
The meal ended on a sweet note, at least. The cocoa nib–dusted chocolate-lucuma cheesecake was nothing short of delectable and left me wanting for nothing—though I'm already looking forward to my next visit. While I wasn't quite sure what to expect at KAIYŌ, the dining experience was certainly special, from the time I sat down to the moment I took my last bite. The restaurant is successful in showcasing two cultures on every plate, choosing and utilizing each ingredient with intention and telling a story.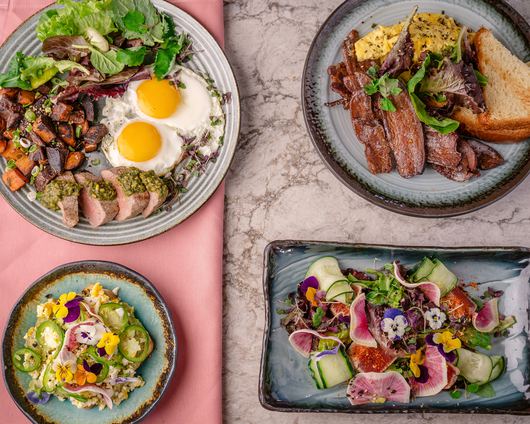 Check it out for a relaxed dinner date, after-work bites, or a nightcap—or come by early in the day for a Bay Area brunch. The eatery recently expanded its nikkei-style menu to Saturday and Sunday from 11 a.m. to 3 p.m. Request to sit out on the covered front patio, and feast on the kakuni-braised pork belly hash with a fried egg, the passion fruit–soaked French toast, or the karaage chicken and sesame waffles.
But no matter when you visit or what you order, the innovative dishes at KAIYŌ are sure to delight your senses with their eye-catching presentations and umami flavors—and will have you planning your next visit.
After-Eating Adventures
Continue exploring Cow Hollow after your meal at KAIYŌ. The upscale yet unpretentious neighborhood is lined with chic boutiques (giving you the perfect excuse to indulge in some retail therapy), fitness and dance studios, juice bars, hair salons, and notable landmarks. Here are five unique destinations to visit while you're in the neighborhood.
Wrecking Ball Coffee: To fuel your explorations, pick up a pour over or an oat-milk latte from one of the top coffee roasters in San Francisco.
Gio Gelati: For a taste of la dolce vita, meander down Union Street to this immaculate scoop shop to savor artisanal gelato in such tantalizing flavors as dulce de leche, sour cherry crunch, pistachio, and coconut.
Lyon Street Steps: Walk off your meal by traversing the Lyon Street Steps; tucked between the Presidio and Pacific Heights, this 288-step hidden staircase offers sweeping views of the city.
Le Marcel Dog Bakery: Pamper Fido with a handcrafted, all-natural dog treat from this adorable Union Street shop.
McElroy Octagon House: Hit up the corner of Union and Gough to admire one of the three remaining octagon-shaped homes in San Francisco.