By

Mackenzie Hutson
February 20, 2020
It's no secret that the Golden State is famous for celebrity spotting. With Hollywood, endless film locations, and stunning destinations like Malibu and Beverly Hills to visit in California, it's easy to see why movie stars, musicians, and TV personalities flock here. Despite SoCal's high population of the rich and famous, celeb sightings can be difficult if you don't know where to look.
While you could spend your days dining at Nobu in Malibu, scouring the park for Disneyland celebrity sightings, or loitering outside the iconic TCL Chinese Theatre, there are better ways to get a glimpse of the stars. Visit the top-rated celebrity hotels in Hollywood and beyond to live luxuriously—even if it's only for a few hours. Whether you're booking a hotel room for a week or seeking restaurant recommendations, stop by these celebrity hot spots to increase your chances of seeing stars.

Chateau Marmont
Chateau Marmont has long been a prominent celebrity hotel in West Hollywood. Check in for the evening, or visit for brunch to take advantage of the potential celebrity sightings. Enjoy smashed avocado toast, delectable Bolognese, or savory olives out on the patio—it is beautiful and is the ideal place for spotting any VIP guests.
Rumored celebrity sightings include: Emily Ratajkowski, Lady Gaga, Kit Harington, Lana Del Rey, Dakota Johnson, Jamie Dornan, Led Zeppelin, Lindsay Lohan, Kristen Stewart, Robert Pattinson, Kate Bosworth, Avril Lavigne, Jennifer Aniston, John Mayer, Eva Longoria, Christina Applegate, Charlize Theron, and Mary-Kate Olsen

Ace Hotel Downtown Los Angeles
When it comes to spending a day in L.A., the Ace Hotel Downtown Los Angeles is a must-see. From hotel suites to high-quality eats, this hip destination offers something for everyone. Check out The Theatre at Ace Hotel's event calendar before booking your stay; this will improve your chances of seeing your favorite actors in person—especially if you go up to the roof after the show ends. Don't forget to explore D.T.L.A. while you're there, either.
Rumored celebrity sightings include: Anna Kendrick, Aloe Blacc, Lykke Li, Jennifer Lawrence, Sky Ferreira, and Matt Damon

Hotel Bel-Air
Nestled in the hills, Hotel Bel-Air offers a much-needed escape from the racket of city life. Opened in 1946, this five-star hotel offers the privacy and exclusivity celebs crave, making it a prime place to see them in their natural habitat. Reserve a table at Wolfgang Puck at Hotel Bel-Air, and take a look at the private alcoves in the back of the restaurant for your best bet. Make sure to play it cool, though, if you see someone famous—this celebrity resort is known for its laid-back vibes, and you wouldn't want to be the one to ruin them. 
Rumored celebrity sightings include: Beyoncé, Jay-Z, Real Housewives cast members, and Wolfgang Puck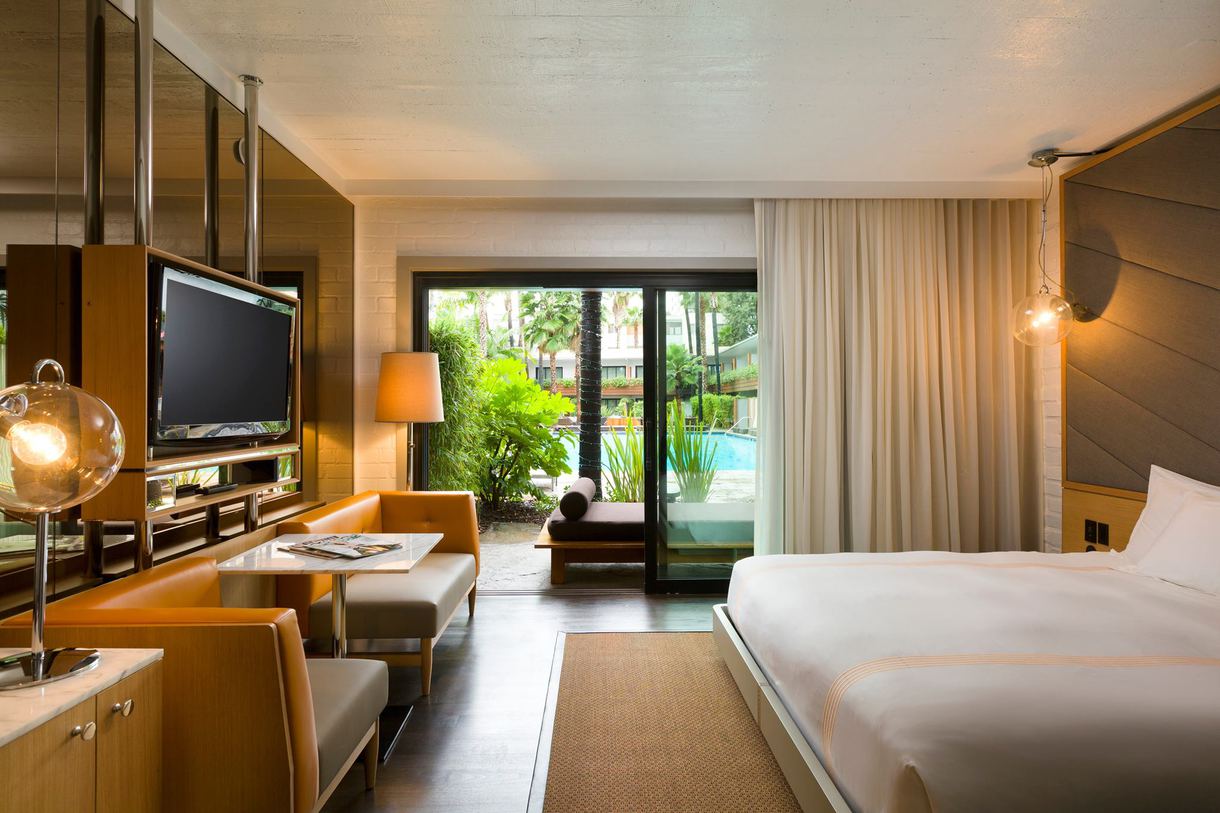 The Hollywood Roosevelt
The Hollywood Roosevelt has always been one of L.A.'s most popular destinations for the elite (and one of the most haunted hotels in California). Thanks to its convenient location along the Hollywood Walk of Fame, the boutique hotel is frequented by all kinds of celebs. Spend a day at the Tropicana Pool before retiring to your room, go bowling in The Spare Room, or grab a bite to eat at 25 Degrees to make the most of your trip.
Rumored celebrity sightings include: Miley Cyrus, Liam Hemsworth, Kelly Osbourne, Joe Jonas, Demi Lovato, Jessical Beil, Justin Timberlake, Jay-Z, Beyoncé, Jake Gyllenhall, Jeremy Piven, Mischa Barton, Kate Bosworth, Penélope Cruz, Orlando Bloom, Ryan Phillippe, Brody Jenner, Frankie Delgado, JC Chasez, Cameron Diaz, Hayden Panettiere, Zachary Quinto, Zac Efron, and Vanessa Hudgens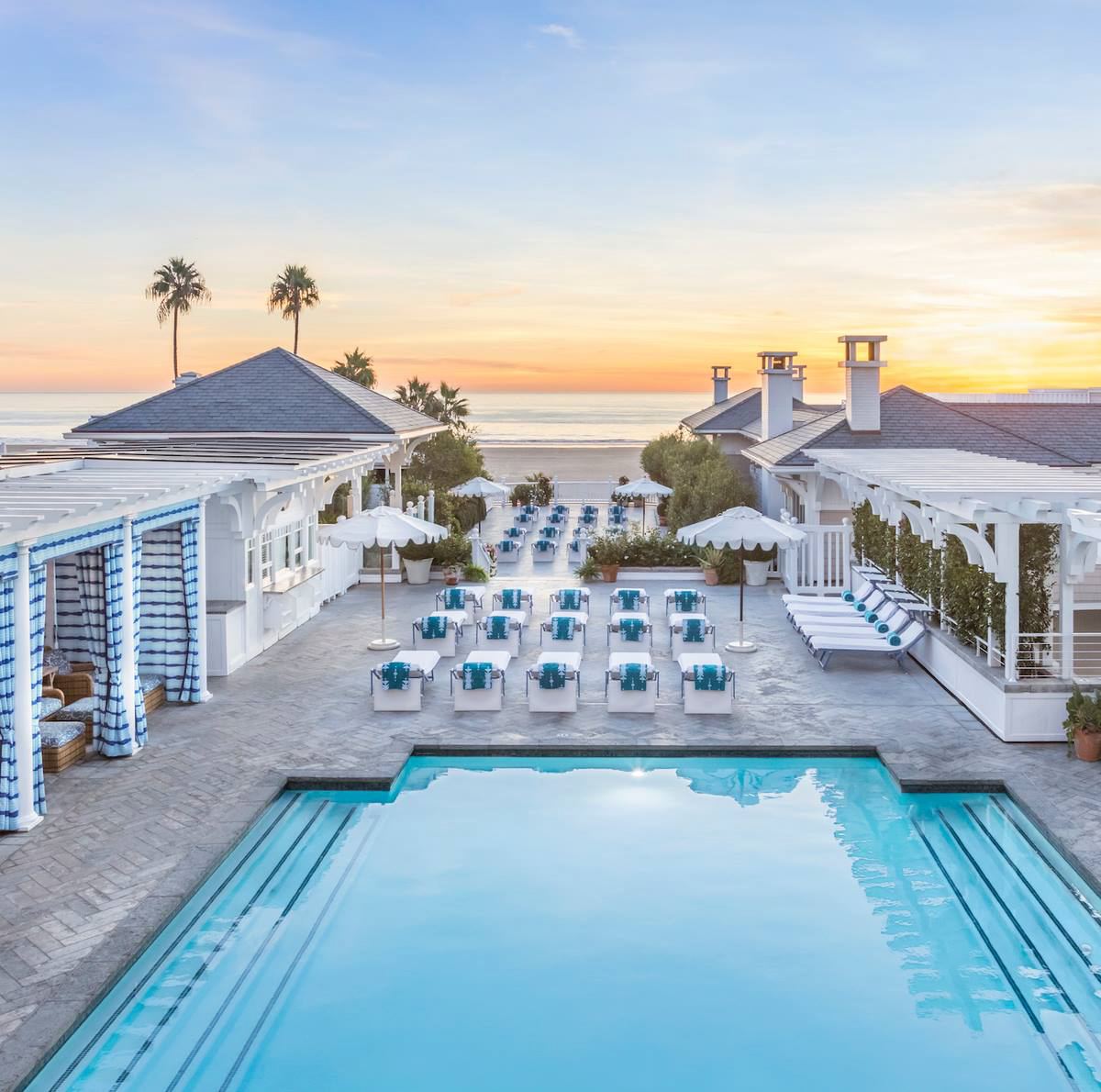 Shutters on the Beach
As one of the only high-end hotels in Los Angeles bordering the iconic California coastline, Shutters on the Beach is an enviable vacation spot. Get some sun in the lounge chairs, or dip your toes in the Pacific before seeing live musical performances in the lobby or to dining at the on-site eateries. Set aside time to see the rest of Santa Monica, too.
Rumored celebrity sightings include: Dave Chappelle, Sarah Michelle Gellar, Megan Fox, Ben Affleck, Julia Roberts, Britney Spears, Pamela Anderson, Al Pacino, Brad Pitt, and Angelina Jolie
If you've already been to these top hotels, check in to the Viceroy L'Ermitage Beverly Hills, Mondrian Los Angeles, Petit Ermitage in West Hollywood, or NoMad Los Angeles for a chance to see Gwyneth Paltrow, Tom Cruise, Adam Sandler, and a host of other celebrities. 
Where have you seen celebs in Southern California? Let us know in the comments below.