San Diego is known for its beautiful and pristine beaches, perfect weather year-round, delicious food, and friendly locals—but there's more to this vibrant destination than meets the eye. While San Diego is a great place for a getaway thanks to its numerous attractions like the San Diego Zoo and The Gaslamp Quarter, the city is also home to some weird laws and an eccentric history. This list of 30 fun facts about San Diego is sure to raise a few eyebrows.
Interesting Facts About San Diego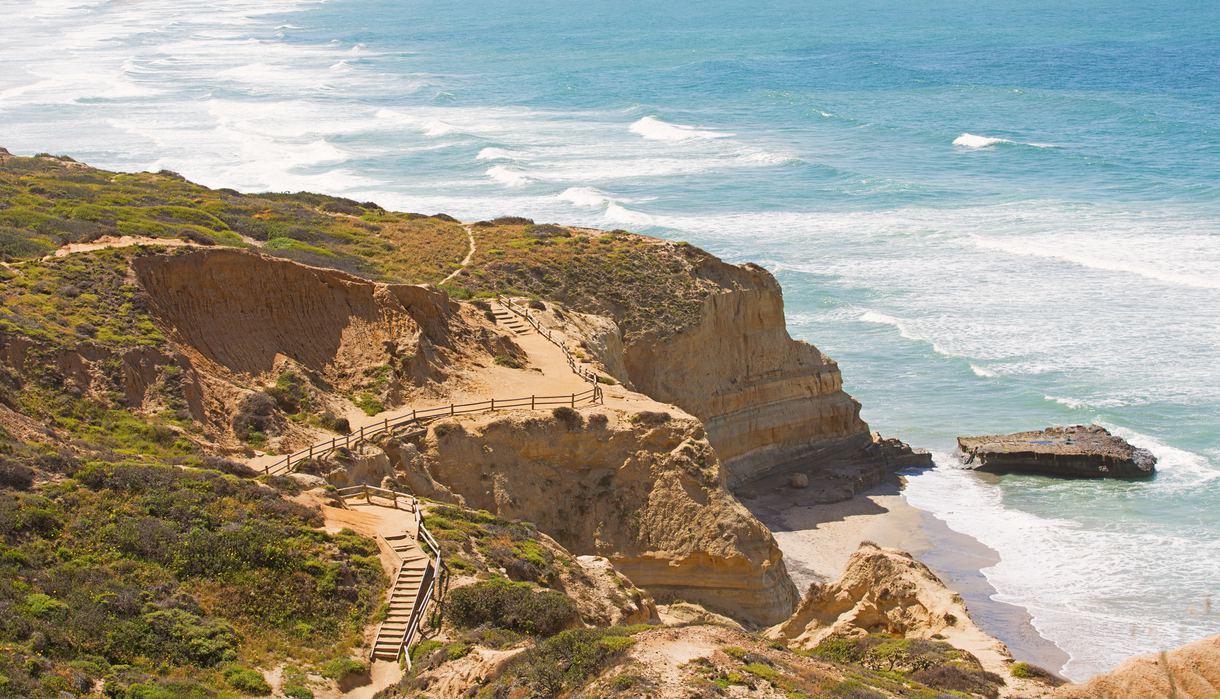 1. San Diego is one of only two places where the rare Torrey Pine grows. These magical yet critically endangered trees can be found at the Torrey Pines State Natural Reserve in the northern coastal area of San Diego County as well as on Santa Rosa Island.
2. San Diego has over 7,000 small farms—more than any other U.S. city—and produces the most avocados. So, if there ever was a place to make wholesale guacamole, it's definitely San Diego.
3. If you can't get enough avocados, singer and guitarist Jason Mraz owns an organic avocado farm in San Diego, right beside the ocean.
4. The California burrito originated in San Diego. This iconic Golden State food is loaded with smooth sour cream, creamy guacamole, flavorful carne asada, shredded cheese, and crunchy fries. Taquitos, better known as rolled tacos, were invented in El Indio Mexican Restaurant near Mission Hills.
5. The famous children's author Theodor Geisel, more commonly known as Dr. Seuss, was a well-known resident of La Jolla, San Diego.
6. Another fun fact about San Diego is that Fast Times at Ridgemont High, the 1982 comedy-drama film starring Sean Penn, was inspired by the lives of students at San Diego's Clairemont High School.
7. While Balboa Park attracts many tourists and locals with its natural beauty, museums, and architecture, it's also home to the famous Herschell-Spillman menagerie carousel, which was built in 1910.

8. Wyatt Earp was a famous Wild West gunslinger, but he lived at the Horton Grand Hotel in downtown San Diego for seven years.
9. Every May 29, the residents of San Diego celebrate Tony Hawk Day. The legendary skater was born in Carlsbad, a coastal city in northern San Diego County, and still lives in the area.
10. The official Comic-Con International is held in San Diego every July. The first convention took place in 1970; back then, only 100 people attended, and now, over 130,000 attend every year.
11. Given the plethora of amazing places to live in San Diego, it's not surprising that many harbor seals have also chosen to reside here. The Children's Pool Beach in La Jolla has been home to a colony of harbor seals since the mid-1990s. Observe more than 200 seals hanging out at the beach on any given day.

12. For pet lovers, San Diego is a safe haven. It has the highest number of dog-friendly restaurants per capita in the country. You can practically take your furry best friend anywhere in the city.
13. You can be fined in San Diego if you keep your Christmas lights up past February 2.
14. Hypnosis is forbidden in public schools in San Diego.
15. The weather in San Diego is ideal almost all year long, averaging 70 degrees over the course of the year.
16. Famous fast-food chain Jack in the Box started as a drive-thru hamburger joint on El Cajon Boulevard in San Diego.

Weird facts about san diego's history

17. San Diego has been called the birthplace of California because it was the site of California's first permanent Spanish settlement. In 1769, Father Junipero Serra came to San Diego to establish the first of a chain of 21 missions that would eventually stretch all the way up to Sonoma.
18. One of only four remaining roller-coasters on the National Register of Historic Places is found in San Diego. Head to Belmont Park for an adventure on the 94-year-old wooden coaster.
19. Between the early 1930s and the late 1970s, San Diego was labeled the "Tuna Capital of the World." Nearly every major cannery, including Bumble Bee, was based here.
20. There's bone-chilling history here, too. San Diego boasts plenty of expensive neighborhoods and one of the most famous haunted houses. The Travel Channel referred to the Whaley House Museum in San Diego as "the country's most haunted house." The alleged house hauntings have been featured in numerous TV programs and publications since the museum's opening in 1960.
21. The first person to ever cross the San Diego-Coronado Bridge was then-California governor Ronald Reagan in 1969.

22. The Star of India is the world's oldest active sailing ship and is anchored at the Port of San Diego.
23. The San Diego Air and Space Museum is home to the "Spirit of St. Louis," the world's only flying replica of Charles Lindbergh's famous plane, which made history as the first nonstop solo transatlantic flight. In May 1927, Lindbergh became the first person to fly solo across the Atlantic Ocean in this plane.
24. The first modern triathlon was held in 1974 at Mission Bay, San Diego.
25. Situated on the magical island of Coronado, Hotel Del Coronado attracts both locals and tourists. Not only is it the oldest wooden building in the U.S., but also the location of the first electrically lit Christmas tree, which was put on display in 1904.

Fun Facts About The San Diego Zoo

26. Housing more than 3,700 animals from 650 different species, the San Diego Zoo is one of the largest zoological parks in the world. (It's also among the best zoos in California.)
27. The first pair of koalas, Snuggles and Cuddles, set foot in the San Diego Zoo in 1925. Soon after, the city fell head over heels for koalas; in 1960, the first koala was born in the zoo.
28. The San Diego Zoo is home to the largest population of giant pandas in North America. Although these adorable black-and-white creatures were declared endangered in 1984, their reproduction rate has thankfully increased in recent years.
29. The San Diego Zoo's interesting history depicts how a tragedy was once turned into a modern and world-famous zoo. After the Panama-California exposition in 1915, many exotic animals were left abandoned in their exhibits. But in 1921, the San Diego Zoo was created to permanently shelter these animals.
30. The zoo's aerial tram, known as Skyfari, allows visitors to observe the park from high up above. Skyfari was built in 1969, spanning approximately three-fourths of a mile long. The tram's highest point is 185 feet.