Merry Christmas! For many, it's the most wonderful day of the year, and you can make it the most indulgent one yet by cooking up a big batch (or two) of delectable Christmas cookies. Whether you're looking for easy Christmas cookies to make with the kids or wanting to put your own Christmas-baking skills to the test, these five holiday cookie recipes from California bakers are sure to inspire.
So throw on your apron, break out the baking supplies, crank up the Christmas music, and get to it. Before long, the mouthwatering scents will permeate the house, indicating your Christmas desserts are nearly ready to pull out of the oven—but I won't judge if you don't wait until dinner. (After all, you should do a taste test, right?) I'll be devouring my Christmas treats right away on the couch while watching Love Actually and sipping hot cocoa. And if you follow any of these Christmas cookie recipes, you probably won't be able to resist, either. Happy baking!
For a Traditional Christmas Treat
Christmas Cookies by The Kitchy Kitchen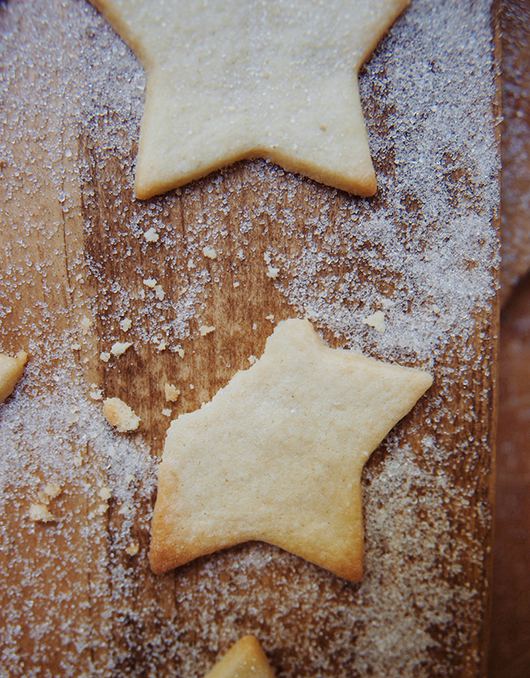 Claire Thomas, the baking extraordinaire behind The Kitchy Kitchen, provides a straightforward recipe for Christmas sugar cookies. The former chef and food stylist started her lifestyle blog to share her recipes and photography and has since gone on to write two cookbooks, direct commercials, and land her own television show on ABC. Give her simple, versatile Christmas cookies a shot, and make them your own by adding colorful icing and sprinkles.
Makes 3 dozen cookies
Ingredients
3 cups all-purpose flour
¾ teaspoon baking powder
½ teaspoon kosher salt
8 ounces unsalted butter, softened
1 cup white granulated sugar
2 eggs, beaten
2 teaspoons vanilla extract
Powdered sugar, for rolling out dough
Directions
Sift together flour, baking powder, and salt. Set aside. Place butter and sugar in a large bowl of electric stand mixer and beat until light in color, about 3 minutes on medium speed. Add the egg and beat to combine. Put mixer on low speed, gradually add dry ingredients, and beat until mixture pulls away from the side of the bowl, just a minute or two. Divide the dough in half, wrap in plastic wrap, and refrigerate for 2 hours.
Preheat oven to 375 degrees. Sprinkle the surface where you will roll out the dough with powdered sugar. Remove 1 wrapped pack of dough from the refrigerator at a time, sprinkle rolling pin with powdered sugar, and roll out dough to ¼–inch thick. Move the dough around and check underneath frequently to make sure it is not sticking. If dough has warmed during rolling, place a cold cookie sheet on top for 10 minutes to chill.
Cut into desired shape. Place at least 1-inch apart on a parchment- or silicone mat–lined baking sheet. Bake for 7 to 9 minutes, or until cookies are just beginning to turn brown around the edges, rotating the cookie sheet halfway through baking time. Let sit on a baking sheet for 2 minutes after removing from the oven, and then move to a wire rack to complete cooling. Serve as is or decorate with icing. Store in airtight container for up to 1 week.
For a Kid-Friendly Cookie
Reindeer Oreos by Sprinkles for Breakfast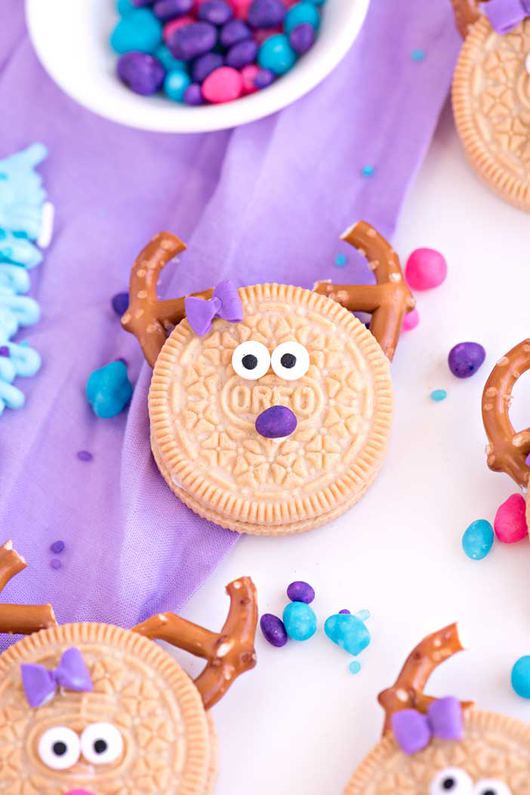 Accomplished baker Lindsay Nathanson wants everyone to ditch the boxed cake mixes and premade frostings: She firmly believes anyone can bake something beautiful from-scratch in their own kitchen, offering easy recipes that result in delicious, Instagram-worthy treats. (She even provides free webinars, classes, and handy-dandy baking tips on her popular blog, Sprinkles for Breakfast.) Her Reindeer Oreos are so simple that even children can join in on the fun, so don't be afraid to give them a shot and channel your inner Martha Stewart.
Makes 36 Oreos
Ingredients
1 package Golden Oreos
4 ounces white melting chocolate
Pretzels
Colorful sprinkles
Candy eyes
2 ounces colorful fondant
Toothpick
Directions
To make the fondant bow, roll a small piece of fondant into a pea sized ball. Then, roll it into a thin log and flatten it. Use the toothpick to fold the edge of one side into the middle, creating a small loop. Repeat with the other side. Use two toothpicks to pinch together the bow in the middle. Set aside to dry.
Split the Oreos in half. Cut (or break) the pretzels down the middle. In a microwave-safe bowl, melt white melting chocolate in 30-second increments. Dip bottom part of the pretzel into the chocolate, and attach it to the top part of the cookie (so it is coming off the cookie like an antler). Repeat with the other half of the pretzel. Reattach the top of the Oreo.
Use a toothpick to add a little bit of chocolate to the sprinkles. Attach to the Oreo. Repeat with the eyes and the bow.
For a Grown-Up Take on a Holiday Classic
Chocolate Gingerbread Cookie with Bailey's Buttercream by The Jam Lab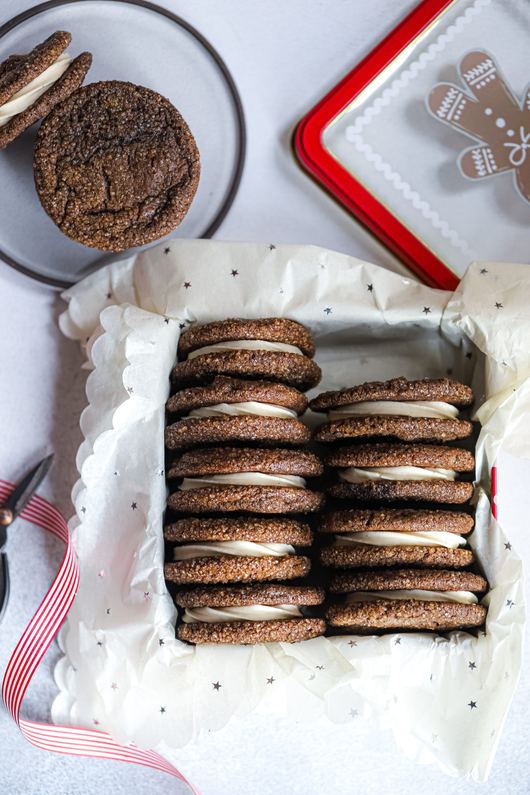 Food stylist, photographer, and recipe developer Amisha Gurbani has been cooking and baking since she was a young girl growing up in Mumbai, India. A computer engineer by day and a chef by night, she infuses many of her creations with spices, herbs, and fruits, resulting in one-of-a-kind flavor combinations. She shares her culinary works of art on The Jam Lab, where you'll find recipes on everything from brunch and dinner dishes to fruit jams and sweet treats. In this elevated version of a cookie sandwich, the quintessential Christmas gingerbread takes center stage but gets an upgrade with unique—and unexpected—ingredients.
Ingredients
Chocolate gingerbread cookie:
2 ¼ cups all purpose flour
¼ cup dark cocoa powder
2 teaspoon baking soda
½ teaspoon kosher salt
2 teaspoons ground ginger
1 teaspoon ground cinnamon
½ teaspoon ground nutmeg
½ teaspoon ground cloves
¾ cup dark brown sugar, packed
¼ cup granulated sugar
1/3 cup unsulfured dark molasses
2 teaspoons vanilla extract
¾ cup (1½ sticks) unsalted butter at room temperature
1 large egg, room temperature
1 cup medium to small coarsely chopped 60% chocolate
½ to ¾ cup candied ginger, coarsely chopped
Demerara/Turbinado sugar for rolling
Bailey's buttercream:
1 stick butter at room temperature
3 cups powdered sugar
½ teaspoon salt
1 teaspoon vanilla extract
3 tablespoons Bailey's Irish Cream
Directions
Cookies:
In a medium bowl, add the flour, cocoa powder, baking soda, salt, ginger, clove, cinnamon, nutmeg. Whisk it all together to combine. In the bowl of a stand mixer with a paddle attachment, add in the butter, brown sugar, and granulated sugar, and whisk at high speed for 2 minutes, or until fluffy. Add the egg, and whisk until combined at medium speed. Add the molasses and vanilla extract, and combine again at low speed. At low speed, in 2 batches, add in the flour mixture until just combined (you should not see the flour). Scrape down the sides of the bowl, and incorporate it into the mixture. Add in the chopped chocolate and candied ginger, and mix well. Remove the dough and divide it into 2 plastic wraps. Wrap it well and form into disks. Put it in the refrigerator for an hour.
Preheat oven to 350 degrees. Line 2 baking sheets with parchment paper. Take a 1 tablespoon ice-cream scooper, and scoop out the dough. Roll it in your hands to form a ball, roll it in the sugar, and place it on the baking sheet. Put 3 in a row (about 12 cookies per sheet). Bake in the oven in the middle lower rack for about 12 minutes. Remove from the oven, and bang the entire tray against the counter 2-3 times. Let it cool for 10 minutes. Remove from the baking sheet and let it completely cool on a wire rack.
Bailey's buttercream:
In a medium bowl, add in the butter and salt, and whip it with a hand mixer for 1 minute. Add in the powdered sugar, Bailey's Irish Cream, and vanilla extract; slowly mix it to ensure the sugar does not spread everywhere! Increase the speed gradually to medium for 1 minute to mix it all together. In a piping bag with a Wilton round tip inserted, add the buttercream into the bag, twist, and close it tight. Push the buttercream down. Set it aside.
To assemble, turn one cookie flat side up, pipe the buttercream on the entire cookie in a concentric circle. Top with another cookie and gently press to seal, making sure it matches the other cookie. Repeat with all the cookies.
For a Healthy Treat
Nut-Free Cut-Out Christmas Cookies by Against All Grain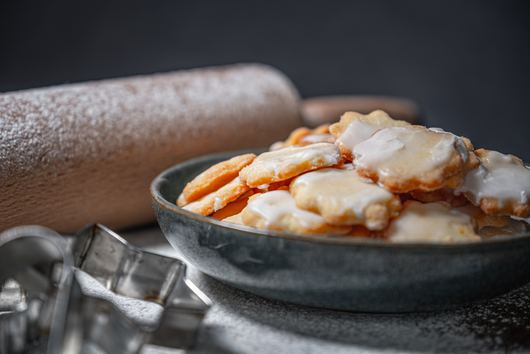 After being diagnosed with an autoimmune disease at the age of 22, Danielle Walker embarked on a wellness journey and completely changed her eating habits. In the process, she started her blog, Against All Grain, to share her experiences and help others who may also be facing similar ailments or food allergies. The self-taught chef now has several awards and a New York Times best-selling cookbook under her belt—and for good reason. All of her recipes are gluten- and grain-free and are appropriate for a variety of diets (including keto, paleo, and Whole30), but you would never know it. They're that good. See for yourself by making her delicious nut-free Christmas cookies.
Makes 1 dozen cookies
Ingredients
Cookies:
3⁄4 cup coconut flour
1⁄2 cup arrowroot powder
1⁄2 cup palm shortening, ghee, or coconut oil
1⁄4 cup maple sugar
1⁄2 teaspoon pure vanilla extract
1⁄2 teaspoon fine sea salt
2 eggs
1 teaspoon cold water, if needed
Frosting:
1 egg white
1⁄2 cup arrowroot powder
1⁄2 cup maple sugar
1 ounce cacao butter, melted
1⁄4 teaspoon vanilla extract
2 teaspoons natural liquid food coloring, such as India Tree brand
Directions
Cookies:
Preheat the oven to 350 degrees. Line a baking sheet with parchment paper. To make the crust, in a stand mixer fitted with the beater attachment (or using an electric handheld mixer), combine the coconut flour, arrowroot, palm shortening, maple sugar, vanilla extract, and salt; beat on medium speed until mixed. Add the eggs, and beat on medium-high speed until the eggs are fully incorporated and a loose dough forms.
Place the dough between two sheets of parchment paper, and roll out to 1⁄4-inch thickness. Remove the top parchment sheet. Dip a cookie cutter in a little flour, then cut out shapes, peeling away the excess dough. Gather the excess dough into a ball, and reroll it to make more cookies. If the dough starts to dry out or crack when rolled the second time, lightly moisten your hands with water before kneading the scraps to add a little moisture back into the dough.
Place the cookies on the prepared baking sheet, spacing them evenly. Bake for 8 to 10 minutes, or until golden around the edges. Cool completely on a wire rack.
Frosting:
In the bowl of a stand mixer fitted with the whisk attachment (or using a handheld electric mixer), mix the egg white with the arrowroot powder, maple sugar, cacao butter, and vanilla extract until fully combined. Scrape down the sides, and mix again on medium-high speed for 30 seconds. Divide the mixture into small cups and color them as you'd like, using 3 to 4 drops of coloring per cup.
Which cookies will you make to celebrate the season? Let us know how they turn out in the comments.