Between the fireworks, the incredible food, and the nostalgia, it doesn't get any better than a trip to Disneyland. Dole Whip has always been my favorite Disney treat, thanks to childhood memories of eating the frozen pineapple concoction outside of the beloved Enchanted Tiki Room. But I'm always open to trying Disney's other sweet and salty creations.
The Cajun food at Blue Bayou Restaurant and Ralph Brennan's Jazz Kitchen; the Carthay signature fried biscuits (stuffed with white cheddar, bacon, and jalapeño and served with apricot-honey butter) at Carthay Circle Restaurant; the Mickey Mouse waffles at character breakfasts and Carnation Café; and the mini donuts (covered in cinnamon sugar and served with raspberry and chocolate dipping sauces) at the Lamplight Lounge all hold very distinct memories for me that enhance each of their unique flavors. And though it is hard to go wrong with meals in the park (prices aside), there is something about the food that speaks to Disneyland's overall sense of wonder.
So, we have compiled a list of must-try eats—with a few can't-miss drinks thrown in for good measure—that are sure to make your visit to Disneyland a little more magical.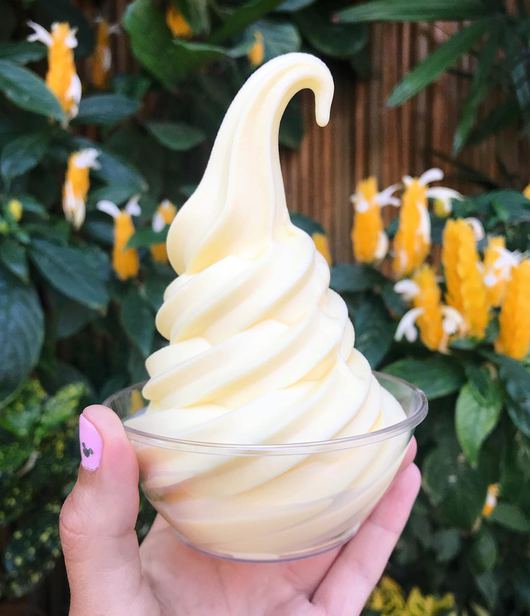 1. Dole Whip
You already knew Dole Whip would be the top pick! The famous pineapple soft-serve is super delicious and refreshing—and is offered at two locations inside my favorite land: Adventureland. The longtime Tiki Juice Bar and the new Tropical Hideaway both provide versions of this sweet treat.
Head outside the Tiki Room to find the Tiki Juice Bar, where the classic Dole Whip and the pineapple juice–laced Dole Whip floats are served with a side of singing and crooning. Alternatively, the Tropical Hideaway offers a more extensive menu featuring bulgogi beef bao, sweet lumpia, and a pineapple-and-raspberry-swirl dessert that is perfect for the 'gram.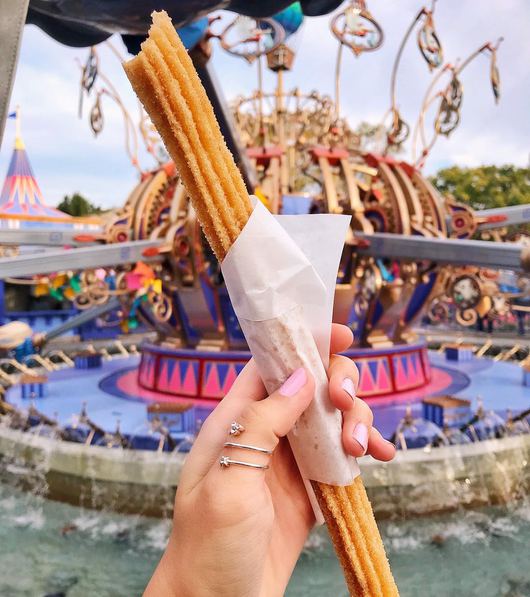 2. Churros
While Disneyland churros have never been a staple for my park visits, they are my man's absolute favorite—and they happen to be one of the most popular items throughout all of the Disney parks. If you've never had a Disney churro before, opt for the classic cinnamon sugar churro, but if you're not a newbie, you might want to look into the seasonal flavors.
And this year is the perfect time to try a new flavor: In celebration of the Haunted Mansion's 50th anniversary, the park is offering an array of special treats for ghouls and boys. Find the vanilla sugar Bride Churro at the churro cart in New Orleans Square, and search for the dark and milk chocolate Groom Churro in Critter Country.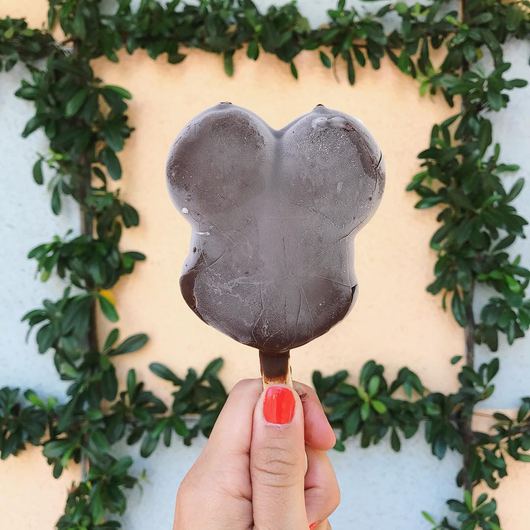 3. Mickey Ice-Cream Bar
Though there is much debate when it comes to Mickey-shaped frozen treats, the Mickey Mouse ice cream bars reign supreme in our eyes. The Nestlé Mickey's Ice-Cream Bar is a total classic, and we love it because it combines the familiar flavors of childhood with the novel shape of a Mickey head—it doesn't get much better than that. Pick one up at Clarabelle's in Mickey's Toontown before standing in line for the Matterhorn Bobsleds or It's a Small World.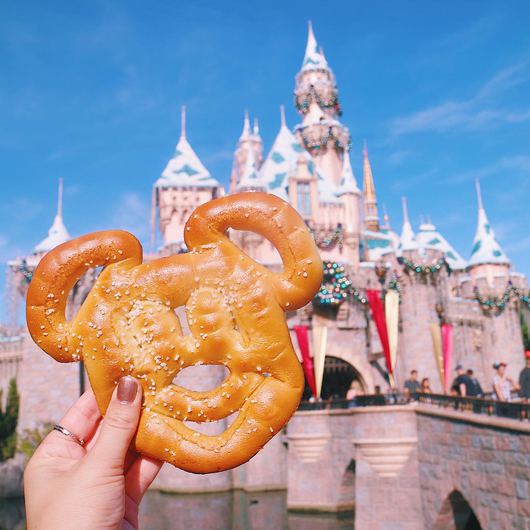 4. Mickey Pretzel
Who doesn't love a freshly baked, perfectly salted pretzel? Along with being a mouthwatering snack, the Mickey pretzel is available throughout Disneyland and Disney California Adventure Park, so it's easy to find one when the craving strikes. Hit up one of the pretzel carts near Pacific Wharf, Star Tours, or Big Thunder Mountain Railroad (before heading to Star Wars: Galaxy's Edge).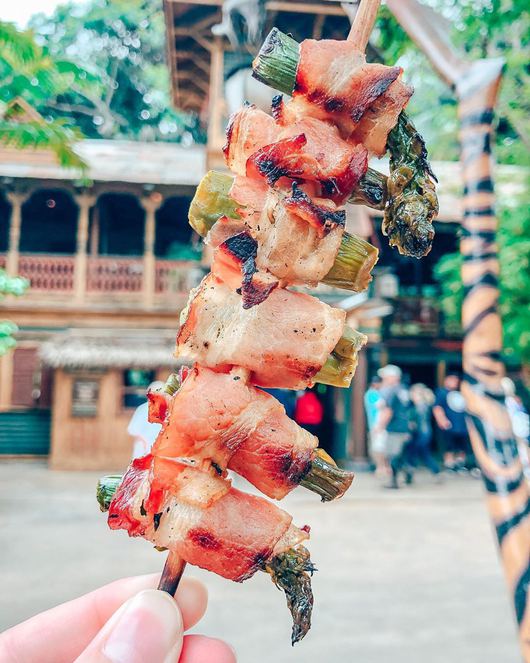 5. Chieftain Chicken Skewer
With a prime location across from the Disney Jungle Cruise in Adventureland, Bengal Barbecue dishes up my favorite savory snack: the Chieftain chicken skewer. While the chicken provides enough protein to keep me full during my multi-mile park explorations, it's really the Polynesian sauce that makes this dish a winner. The lines have gotten crazier lately with the introduction of mobile orders, so do yourself a favor and whip out your phone to order ahead.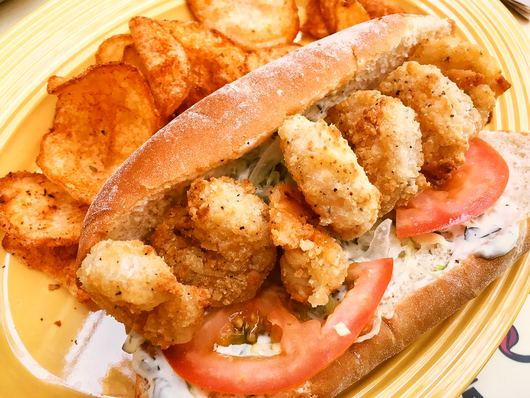 6. Shrimp Po' Boy Sandwich
This hearty selection is perfect for sharing when you need to avoid the mid-afternoon grumpies. Offered inside the French Market Restaurant in New Orleans Square, the mondo sando is well worth the price; battered shrimp mix with lettuce, tomatoes, and a citrus-caper mayo inside an Italian sandwich roll. Served alongside house-made seasoned chips, the dish makes for a filling, quick bite.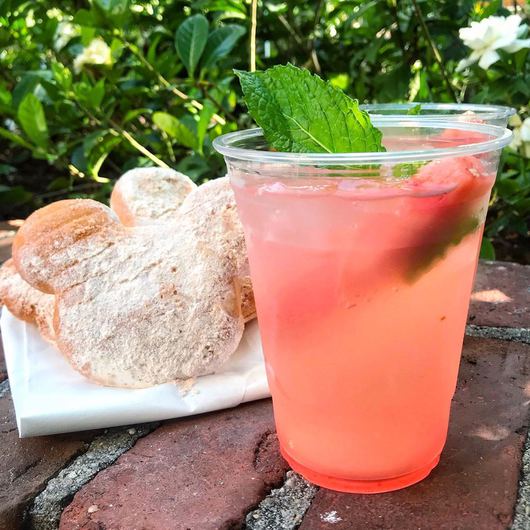 7. New Orleans Mint Julep
Dealing with the Anaheim heat is no joke, making dehydration and fatigue common occurrences. Take a minute to relax on the Disneyland Railroad and grab a drink from the Mint Julep Bar before cooling off on Splash Mountain. The namesake mint- and lime-infused beverage is refreshing and sure to add a bit more pep in your step.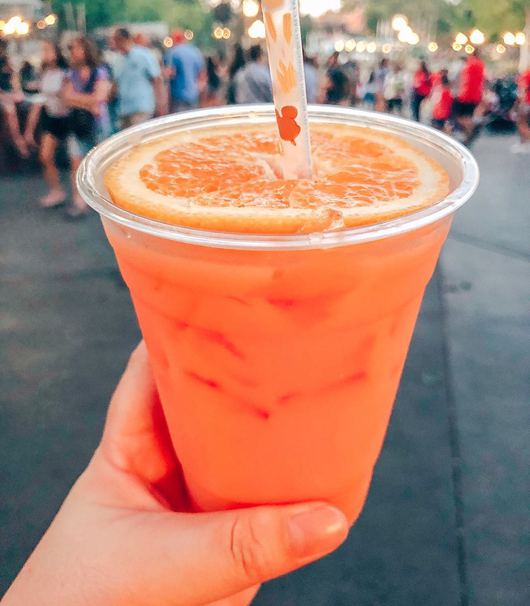 8. Pickwick Ghost Punch
The destination for interesting foods in Disneyland, New Orleans Square is also home to the Pickwick Ghost Punch during the Haunted Mansion 50th Anniversary Celebration. Offered at the Royal Street Veranda, this punch features a medley of fruit, citrus juices, and sherbet that will awaken your spirits.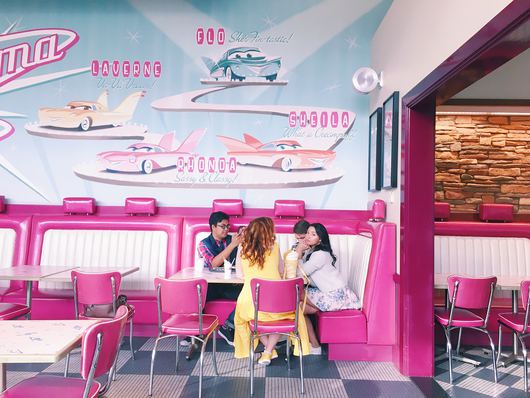 9. Flo's Classic Shake
Flo's V8 Café is quite possibly the cutest eatery in Disney California Adventure Park—that's right, I said it. The picture-perfect diner provides the perfect backdrop for sipping on Flo's Classic Shake. Order the strawberry shake with "road gravel", and sit back as the Radiator Springs Racers rush by.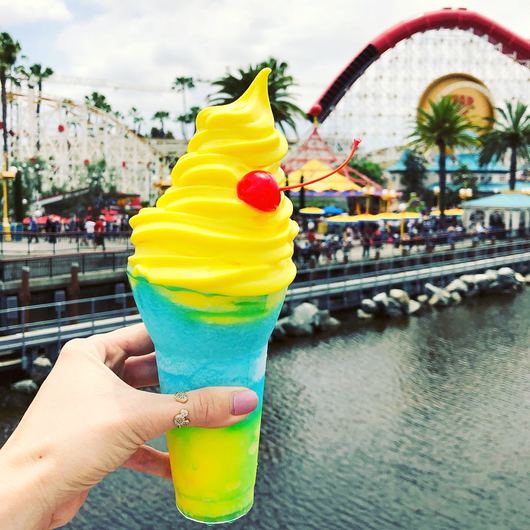 10. Pixar Pier Frosty Parfait
If you have a Disney Park Hopper, make sure to head over to Disney California Adventure to try the Pixar Pier Frosty Parfait from the Adorable Snowman Frosted Treats. The non-dairy mixture of lemon sof serve and blue raspberry swirl is as photogenic as it is delicious.
If lemon isn't your favorite flavor, go for the It's Chocolate and Vanilla Swirl in a cone—but be prepared to eat it before the hot Southern California sun melts it. (Pro tip: Go before the warmest parts of the day to avoid standing in a super long line.)
Looking for even more treats around Disneyland? Try their seasonal offerings throughout Halloween and the holiday season.