By

California.com
September 02, 2020
The Central Coast boasts a stunning shoreline, grassy meadows, and hypnotizing sunsets, but its real treasure lies in its rolling hills and wide valleys: world-renowned olives. The region's comparative climate to the Mediterranean makes it ideal for growing olive trees. So, it's no wonder the Central Coast is a hot spot for olive oil producers, many of whom are certified by the California Olive Oil Council (COOC). Their secret to crafting high-quality extra virgin olive oil (EVOO) is handpicking the olives and cold-pressing each batch within 24 hours. These companies also respect generations-old traditions and practice sustainable and organic farming, ensuring excellent long-term olive oil production.
Purchasing cold-pressed EVOO is essential if you'd like to reap countless health benefits. But given the wide variety of olive-oil types and flavors, it's best to taste the options to see what you like. Paso Robles olive oil tasting is fantastic; after tasting, stroll through a California olive grove and marvel at the Mediterranean-like landscape. Then, head to other Central Coast destinations to savor even more acclaimed olive oils.
With just one spoonful of exceptional California olive oil, you'll attain nirvana. Regardless of what's cookin' in the kitchen, olive oil complements any dish perfectly. Whether it's poured on top of a Greek salad, soaked up with a piece of French baguette, or drizzled on pasta, extra virgin olive oil (EVOO) can be used in countless ways. (You can even get creative with your skin and hair routine by slathering it on yourself.) So, get your fix and check out the best Central Coast olive oils now.
The Best Central Coast California olive oil

Boccabella Farms
Made in: San Miguel
A story of passion and love for locally made, good-quality food led Shaana Rahman and Johnny Jantz to purchase an olive farm and produce olive oil. Boccabella Farms hand-harvests and cold-presses its olives. The farm's name was inspired by Rahman's grandmother named Boccabella—which means "beautiful mouth" in Italian—who taught her Italian-American cooking before she could even read.
Boccabella Farms' conscientious growing practices yield top-notch EVOO. Opt for the 100% Arbequina Extra Virgin—with notes of green grass, artichoke, and pepper, it pairs well with salads—or the Field Blend Extra Virgin, a fruity-buttery blend that's delightful with fish, vegetables, or even baked goods. The limited-edition, fruity-herbaceous Winemakers Blend is crafted using locally grown Spanish, Greek, and Italian olives; the oil is skillfully blended by Central Coast winemakers.
You can even purchase an olive-oil scrub at Boccabella Farms—choose between brown sugar or lavender-lemon salt. Interested in becoming a sous-chef? Check out the online recipes to make sauvignon-soaked salmon, lamb with herb pistou, banana bread, and divine chocolate cake using the company's oils.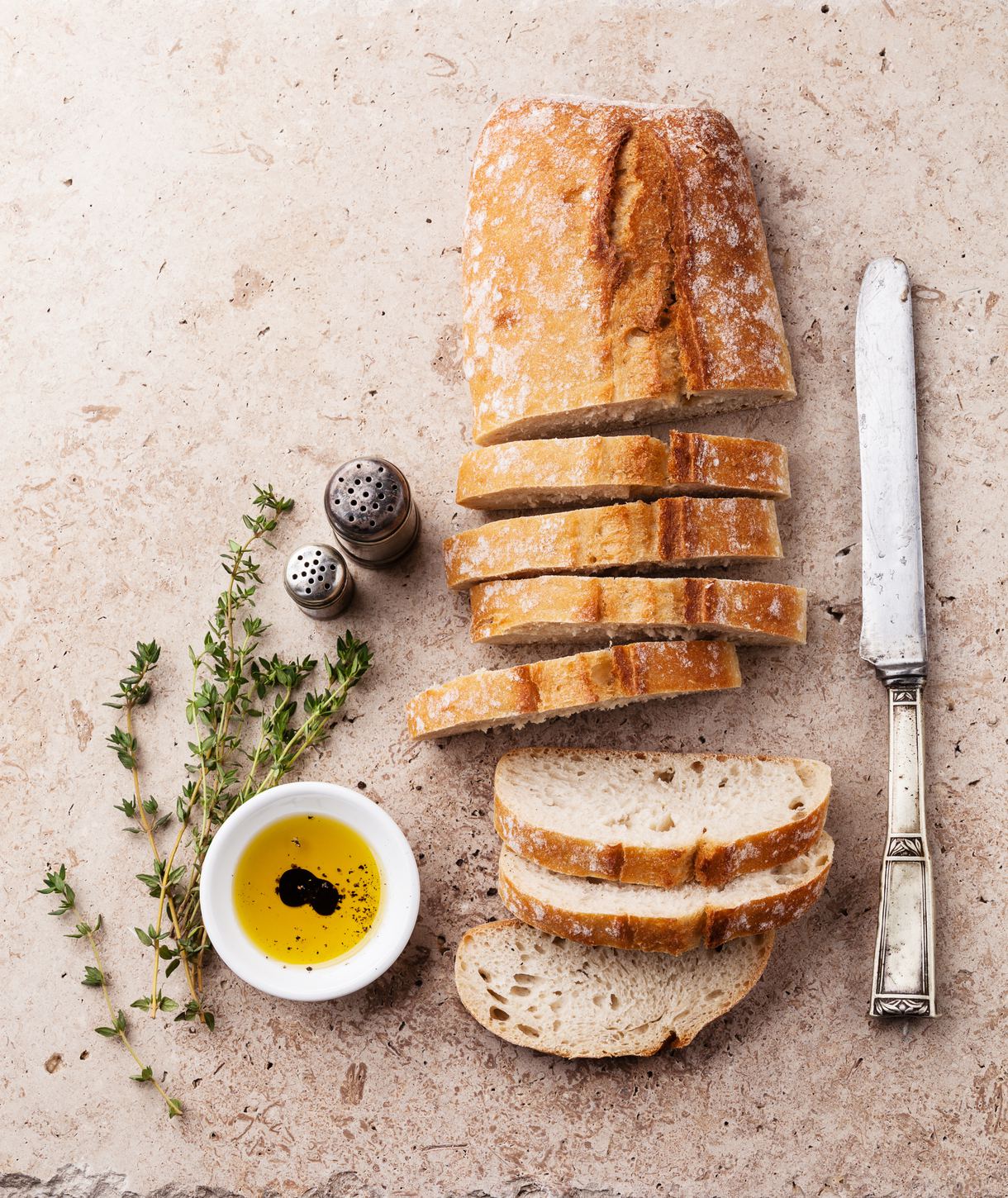 The Queen of Trees
Made in: Paso Robles
The Queen of Trees produces some of the best EVOO in Paso Robles. With a desire to turn their dream of owning an olive farm into reality, Edie and her husband, Bob, planted 220 olive trees. Now, their brand produces a lovely aromatic oil consisting of green almond, cinnamon, green olive, and fruity notes that will linger long after your meal. Certified by the COOC, the EVOO is made of olives that are handpicked and milled within 24 hours. With just one taste of this uniquely flavored oil, you'll be in seventh heaven.

Spanish Oaks Ranch
Made in: Santa Margarita
Whether you're planning a Santa Barbara escape from San Francisco or looking for a worthwhile stop on your Central Coast getaway, you won't want to miss Spanish Oaks Ranch—an 85-acre ranch boasting more than 2,000 olive trees. Using organic and sustainable practices, the ranch utilizes drip-irrigation systems to minimize water usage and invites San Clemente Island goats to graze on the fields to prevent overgrowth of grasses and weeds. Additionally, only organic pesticides are used and the ranch is fully solar-powered.
Run by a husband-and-wife team, Spanish Oaks Ranch produces award-winning extra virgin olive oils. For the 2019–2020 harvest, the ranch won the Best of Class Award at the Fairplex Los Angeles International EVOO Competition, the Gold Award at the 2020 New York International Olive Oil Competition (NYIOOC), and a silver medal at the Fairplex Los Angeles Competition. If you're a balsamic lover, the ranch also offers a superb imported Italian balsamic vinegar that's been barrel-aged for 10 years and pairs delightfully with the EVOOs.

Pasolivo
Made in: Paso Robles
Discover the magic of the Pasolivo olive farm nestled in the rolling hills of Paso Robles. The former estate of Hollywood director and producer King Vidor, this 140-acre paradise embraces the raw beauty of its surrounding wildlife. Tour the property to view towering oaks, deer families, and flocks of wild turkeys. You'll also see Arbequina, Ascolano, Frantoio, Leccino, Pendolino, Lucca, Mission, Manzanillo, Coratina, and Maurino tree varieties. Best of all, you can get a glimpse inside Pasolivo's mill, sample top-notch olive oil, and savor the farm's delectable olive-oil flavors. From cilantro-lime and garlic-lemon olive oils to Cucina and classic EVOOS, you're bound to find an oil that suits your needs.
Vinegar lovers can rejoice, too: Pasolivo offers balsamic, fruit, and wine vinegars alongside its oils. Visitors may also try artisanal foods—such as honey, jam, nut crumbs, mustards, sauces, and olives—and treat themselves to luxurious soaps, lotions, and body creams. With more than 100 recipes on the website, sign up for a membership and become the chef of the house.

Wild Poppies
Made in: Santa Cruz
Wild Poppies was founded on female kinship and ardent love for wild places, wildflowers, and extraordinary olive oil. Situated in the Santa Cruz Mountains, the orchard is home to over 2,000 olive trees and is eight acres strong. The handpicked, cold-pressed, and hand-bottled extra virgin olive oils are divine and will leave you yearning for more.
With tasting notes of tomato leaf, grass, herbs, artichoke, and green almond, the award-winning Ascolano is a robust oil with fruity and peppery notes. At the COOC's 12th Annual Competition, the oil won the Gold Award. Additionally, it won Best in Show during the 2019 Los Angeles International Olive Oil Competition and a silver medal during the 2020 competition.
The limited-edition Taggiasca oil—boasting notes of cinnamon, artichoke, green almond, herbs, and green tea—won the Gold Award at both the 2019 and 2020 Los Angeles International Olive Oil Competition. It was also awarded "Best Single Varietal" in California during the COOC's 12th Annual Competition.
But if you're into a fruity nose and robust finish, try the Orchard Blend featuring hints of cinnamon, grass, and herbs. Regardless of which oil you choose, you won't be disappointed with Wild Poppies.

Ojai Olive Oil COmpany
Made in: Ojai
Pack your bags and head to Ojai, located between Los Padres National Forest and the Pacific Ocean, for a taste of SoCal's idyllic lifestyle. Regarded as magical for thousands of years, the Ojai Valley was a sacred place for the Chumash and Oak Grove peoples; thanks to its Mediterranean climate and impressive olive production, it's still cherished today. So while you're in town, stop by the Ojai Olive Oil Company to tour the third-generation family-owned farm and sample its exceptional olive oils. The company believes that sustainable farming and harmony with the land are key to producing top-notch extra virgin oil.
The Ojai Olive Company's methods have won its oils several awards—Gold and Silver Awards from NYIOOC; a Master Miller Award; Best of Show, Gold, and Silver Awards from COOC; Best in Show and First Prize from Ventura County Fair; and a World's 50 Best Olive Oils Award from Der Feinschmecker (to name a few).
Afraid you'll overindulge on the extra virgin too quickly? Worry not, because you can purchase oil by the gallon here. For unique flavors of liquid gold, try the sweet and smooth mono-varietal bottle of Cailletier Extra Virgin or the peppery and robust Andalucian Extra Virgin, crafted from a blend of Lechon de Sevilla, Hojiblanca, Koroneiki, and Arbequina olives.
All about flavor? Choose from Lemon-Infused, Ojai Pixie, East End Herbs–Infused, or Rosemary-Infused Olive Oils. Pair your olive oils with a fruity balsamic vinegar such as pomegranate, cinnamon pear, or peach. For an exotic vinegar, try the honey-ginger or espresso flavors. No matter what you crave, Ojai Olive Oil Company has you covered.