By

California.com
August 26, 2020
As California mitigates health risks during the COVID-19 pandemic, some travel restrictions may remain in certain communities. Call the local and regional tourism offices to learn more about the restrictions in your intended destination. Thank you for reading, and stay safe.
Known for its 200 miles of pristine coastline, rugged mountainous terrain, and thermal hot springs, the Central Coast is a paradisiacal escape from the hustle and bustle of everyday life. Whether you want to spend your weekend exploring Big Sur, trekking along scenic coastal trails, or visiting the Santa Cruz Surfing Museum, what could be more appealing than a Central Coast vacation?
Meander through swoon-worthy beach towns, surf some rad waves, and rejuvenate yourself at the mineral springs. With so many places to visit on the Central Coast, there's a perfect destination for any interest.

The Top
Central Coast Weekend Getaways

San Luis Obispo (also known as SLO) is the closest thing you'll get to a city while on the Central Coast. Thanks to California Polytechnic State University, San Luis Obispo is a total college town—and there's a lot to love about this charming college town, from bubblegum-lined alleyways and eclectic eateries to scenic trails and historic landmarks. You'll enjoy every minute spent on your SLO weekend getaway.
Outdoor enthusiasts, get in a workout by hiking to the top of the 1,546-foot volcanic plug known as Bishop Peak. It's the tallest of the Morros ("Nine Sisters"), a chain of similar peaks stretching to Morro Bay. The four-mile out-and-back hike to the summit will take you several hours to complete, but you'll be rewarded with spectacular views of SLO County and beyond.
After conquering the hike, stop by the famous and eccentric Bubblegum Alley for a photo op sesh. Known for its approximately two million pieces of gum left behind on the walls, this alley is certainly extraordinary and well worth the stop.
Other unique activities include a visit to the Sunset Drive-In for an old-school, retro-romantic movie night in your car. Also be sure to stop by Sidecar Cocktail Co. for a delectable brunch, and head to Firestone Grill for dinner to try one of the most iconic California foods: a tri-tip sandwich. Whether you stay at an Airbnb in downtown SLO or check in to the quirky Madonna Inn for the evening, you won't soon forget your exciting weekend escape in SLO.
Morro Bay

Situated on a natural harbor, Morro Bay is a marvelous spot to observe marine life and sweeping ocean views. Morro Bay is recognized for two significant landmarks: the old power plant and the towering Morro Rock. Morro Bay is also home to a wildlife area where harbor seals, sea lions, sea otters, snowy plovers, and peregrine falcons reside.
No trip to Morro Bay is complete without maritime activities. Surfers will want to stop by Wavelengths Surf Shop to gear up for a rad surfing session. But if surfing isn't for you, stay dry and kayak your way around the harbor. After your adventures on the water, return to land and treat yourself to the famed saltwater taffy at Carousel Taffy.
With local specialties such as clam chowder, fish and chips, and barbecue oysters, Dutchman's Seafood House is a great place to feast on divine seafood. For a delicious breakfast the next day, head to Shine Cafe—one of the best vegan joints in town.
Paso Robles

Tucked between the Pacific Ocean and the Santa Lucia Coastal Range, Paso Robles is a world-renowned wine region and agricultural hub. But the area offers much more. Take a dip in Lake Nacimiento or enjoy a boat or jet-ski ride on the azure waters. For an inland adventure, take a class at Refugio Paso Robles—which also has lovely accommodations and a fantastic restaurant—and leave with in-depth knowledge of California cooking.
Paso Robles is also known for its thermal baths. Head to Franklin Hot Springs (a budget-friendly option) or the upscale River Oaks Hot Springs Spa for a reinvigorating day spent soaking in artesian thermal waters. For a pick-me-up, stop by Spearhead Coffee and savor one of the best cups of java on the Central Coast. After a long day of exploration and relaxation, satisfy your hunger with a plate of elevated comfort food at The Hatch.
Carmel-by-the-sea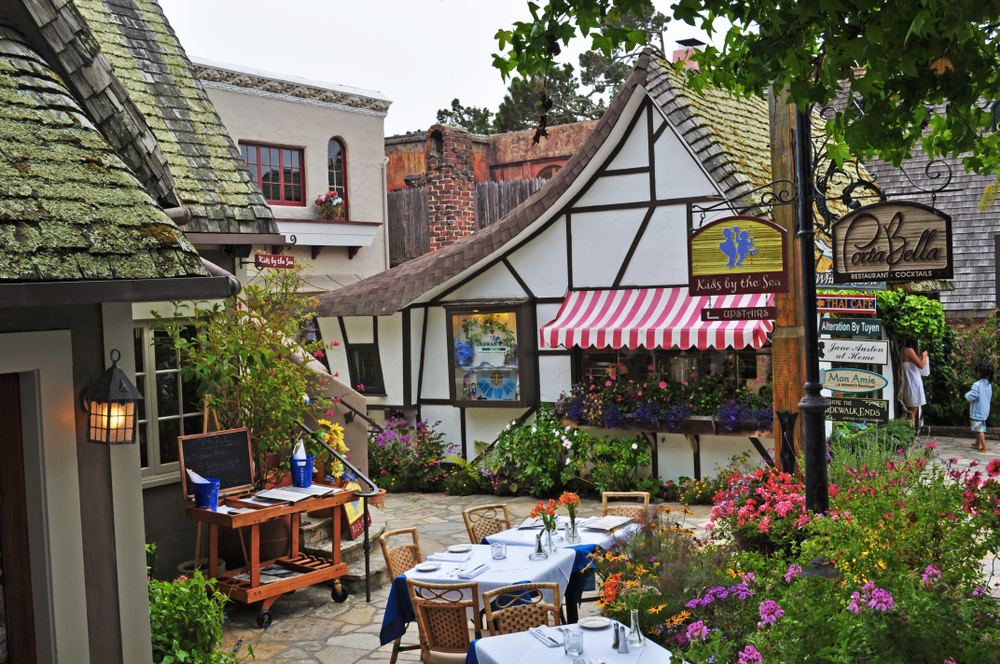 When in Pismo Beach, indulge in endless relaxation. Don't let lazy beach days fool you though—Pismo offers much more than that. Head into town with a beach cruiser from Wheel Fun Rentals or rent an ATV from Sun Buggy to ride through the dunes. For more waterfront fun, rent a kayak at Central Coast Kayaks to journey over to the sea caves off the shores of Pismo Beach. Thanks to the pier and boardwalk, you can also indulge in leisurely afternoon walks and romantic sunset views. While you're in town, head to the beachfront Splash Cafe for delectable seafood dishes.
If you want to extend your coastal adventures, there are numerous other Central Coast beaches nearby boasting majestic ocean views and marine wildlife. Cruise over to Arroyo Grande, Grover Beach, Shell Beach, or Oceano Beach—all located a short drive away.
Los Osos

This hidden gem is a relatively secluded town, making it perfect for a couples retreat along the Central Coast. Los Osos is also a nature lover's dream. The town is nestled between two magnificent landscapes—Montaña de Oro State Park and Morro Bay National Estuary—which feature diverse ecosystems.
So, strap on your sturdy boots and go for a soothing hike along the rugged cliffs of Montaña de Oro State Park. Follow Los Osos Valley Road until you reach the waterfront park, where beautiful vistas will greet you. Once you're done exploring the spectacular expanse, stop by the Morro Coast Audubon Society Sweet Springs Nature Preserve to observe Monarch butterflies flitting through the air above you. Conclude your lovely day spent in nature with a satisfying meal at local favorite Sylvester's Burgers or Kuma.