Ready your chopsticks, ramen aficionados: The world's first—and only—Michelin-starred ramen restaurant has arrived in San Francisco. Tsuta is now serving up steaming bowls of comforting, noodle-laden soup at the Metreon shopping center, just in time for sweater weather. This is the first international location for the Tokyo-based eatery, which originally opened in 2012 to much acclaim and nabbed its Michelin star merely three years later.
Armed with global ambitions, chef-owner Yuki Onishi has gone on to open more Tsuta outposts across Asia, and more U.S. locations are coming soon to Los Angeles, Seattle, and Portland. But it's no surprise that Onishi chose San Francisco as the city for his flagship West Coast restaurant. Ramen has been hot, hot, hot in the Bay Area, and Tsuta joins the wave of Japanese ramen chains that has flooded the region over the last few years—but it remains the only one with a Michelin star, and luckily, diners no longer have to cross the high seas to savor its unparalleled ramen.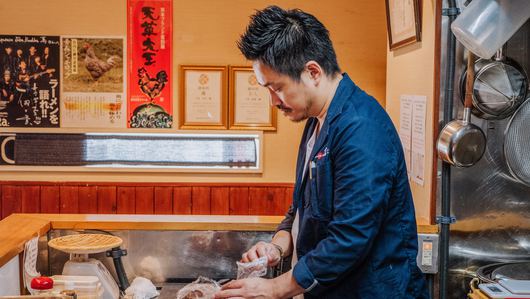 Hailing from a family of ramen chefs, Onishi is famous for his signature shoyu broth—a light, soy sauce–based concoction spiked with dashi and clam shells—which differs from the thick, creamy, meat-stewed tonkotsu broths that are prevalent at ramen eateries in the Bay Area. Onishi's distinct combination of chicken, clam, and seafood broth is known for creating an explosion of umami, which is only enhanced by the handcrafted whole-wheat noodles made fresh daily. We just had to get a taste for ourselves, so we stopped by on opening day to see what all the fuss was about.
Tucked between Split and Freshroll Vietnamese Rolls & Bowls, Tsuta sits quietly amongst the more neon-lit dining destinations at Mission and 4th Streets. The casual ramen eatery is small—we almost walked right by it—with just enough room to seat 50, but the space is sleek and modern, featuring a red- and black-accented interior backdropped by wood panelings and an open kitchen. At dinnertime, nearly all the tables are already occupied by hungry patrons eagerly awaiting brimming bowls of ramen.
The heavenly scent of aromatic ramen broth perfumes the air, making our mouths instantly water. And we soon realize we're in for a treat. The hostess seats us at the counter, where we get a front-row seat to all of the action in the kitchen: Fresh noodles are dunked into piping-hot water until they're perfectly cooked, vegetables and herbs are furiously chopped, and pristine cuts of meat are sizzling on the grill. We start to peruse the double-sided menu placed atop our "ramen trays", which come complete with a pair of black chopsticks, napkin, and long-handled porcelain spoon.
A few Japanese small plates immediately catch our eye, and since we simply can't choose between the tori karaage (fried chicken) and aburi niku (charred pork shoulder), we decide to get both. (YOLO!) For ramen, we have a choice of three types of broth: the shoyu with black truffle oil, shio (salt based) with white truffle oil, or miso with porcini mushroom oil. While they all sounded delicious, I chose the famous shoyu; I figured I couldn't go wrong with Onishi's signature dish. My husband settles on the miso soba and adds an egg for extra richness.
After only a few minutes, our starters arrive, and I'm so hungry I can't help but let out a gleeful squeal. The karaage arrives fresh from the fryer, its succulent interior still steaming as I pull apart a perfectly crispy piece. While the golden crust has a delightful crunch that contracts beautifully with the juicy meat inside, I find myself wishing there was a bit more salt or some sort of savory seasoning like furikake. But the aburi niku is pure bliss. The pristine pork is ultra-tender and cooked impeccably, almost melting in my mouth as I savor its luscious flavor with the accompanying onion sauce.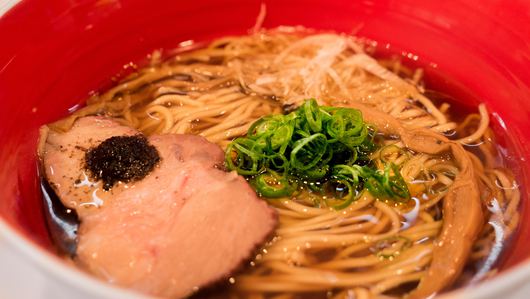 Just as we're polishing off the pork, our waiter presents our beautiful bowls of ramen, and we begin enthusiastically slurping broth and harpooning sizable pieces of char siu (pork). I soon see why Tsuta has a Michelin star; the flavors of Onishi's creations are truly one-of-a-kind. The shoyu ramen's truffle oil–laced broth combines with the hearty slices of delectable pork, hints of the reduced bivalve sauce, refreshing leek, and earthy bamboo shoots to produce an explosion of umami—and I just can't get enough. The soba noodles are unique, too, and unlike any others I've tasted, which may be because at Tsuta, soba doesn't refer to the buckwheat noodles many Americans call soba. Rather, Onishi crafts thinner-style noodles from a medley of four wheat flours. (Ramen was once called "chuka soba", which translates to Chinese noodles, and some shops still refer to their wheat noodles as soba.)
My husband is equally impressed with his miso soba, whose soft-boiled egg is cooked to perfection, oozing its vibrant yellow yolk into the soup's opaque broth infused with house-made hot sauce, sweet corn, and porcini mushroom oil. (I preferred my shoyu ramen due to the satisfying, umami-rich flavors, but I appreciated the delicious simplicity of his dish.) Fast-forward about 20 minutes, and the final, satisfying slurps echoed from our empty bowls. We were both thoroughly satiated after our comforting meal, but to be completely honest, we did miss our usual ramen accompaniment of warm Japanese sake, solely because Tsuta was still without a liquor license on our visit—something that's expected to be resolved in the near future. We did enjoy the mugicha (barley tea), though, and now we have another excuse to come back. Even though there are other ramen spots closer to our home in the East Bay, we do like taking BART into the city on occasion, and Tsuta has ramen worth traveling for—and I think you'll agree.
After all, this humble ramen shop in Japan—one of the most perfectionist-driven culinary countries in the world—managed to rise to the top above thousands of competitors, command lengthy lines, sell out of soup on a daily basis, and garner a Michelin star. The San Francisco iteration doesn't disappoint, either, and is sure to achieve the same success as the original.
The Best Ramen in the Bay Area
Continue warming up this season by slurping your way through these 10 must-try ramen spots in the San Francisco Bay Area.
Coco's Ramen: Hidden away in San Francisco's Bernal Heights neighborhood, Coco's offers six different broths, each of which is loaded with scratch-made noodles and topped with everything from double-braised pork belly to locally sourced veggies.
Hinodeya Ramen Bar: This elevated San Francisco spot specializes in dashi ramen—a traditional broth of benito skipjack tuna and Japanese seaweed—providing an umami flavor bomb.
Ippudo: The revered Japanese ramen shop has two California outposts in Berkeley and San Francisco, where droves of hungry diners line up for tonkotsu bowls, pork buns, and izakaya.
Itani Ramen: Situated along Oakland's bustling Telegraph Avenue, this cozy eatery concocts seasonally driven ramens that showcase the diverse regions of Japan; don't leave without grabbing dessert from the vending machine.
Iza Ramen: This pop-up eatery quickly made a name for itself—thanks to its rich, indulgent broth loaded with noodles, fresh toppings, and pristine meats—and now, there are two brick-and-mortar locations in San Francisco.
Marufuku Ramen: The esteemed restaurant has locations in San Francisco and Oakland, making it easy for Bay Area residents to get a taste of the rich ramen (which includes hakata-style offerings) featuring tonkotsu broth cooked for over 20 hours.
Mensho Tokyo: One of Japan's most acclaimed ramen bars opened an American spin-off, bringing its signature tori paitan and brothless ramens to San Francisco's Nob Hill district.
Ramen Hiroshi: This award-winning Walnut Creek restaurant dishes up traditional bowls of ramen along with authentic Japanese small plates in cozy environs.
Ramen Shop: Opened by three Chez Panisse alums, this Rockridge hole-in-the-wall is known for its innovative ramen starring handmade noodles and uncommon ingredients such as octopus and Meyer lemon.
Waraku: For an upscale ramen experience in San Francisco's Japantown, look no further than this modern, art-adorned eatery offering creative iterations.
What are some of your favorite ramen spots? Let us know in the comments!