There's no question about it: Dog moms and dads love their fur babies, buying them the latest and greatest toys from upscale pet stores, indulging them with treats, investing in the best food for them, and bringing them on trips. But there's no better time to spoil pooches than National Dog Day—which takes place this year on August 26—and no better way to do so than taking them to the spa.
That's right; spa treatments for furry, four-legged friends are becoming increasingly popular, with various groomers going beyond baths and offering all-natural facials, body wraps, "pawdicures", massages, and more. So, if you want to treat Fido to a day of supreme pampering and relaxation, check out these nine California groomers providing luxurious spa treatments specifically for pups.
San Diego Area dog Spas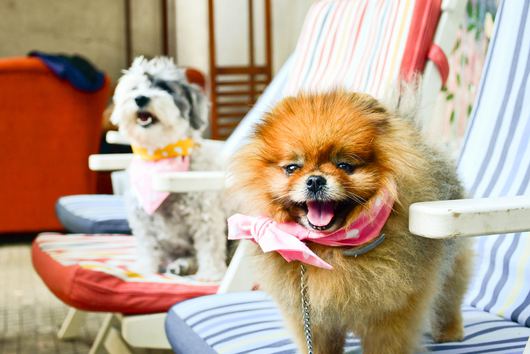 Sydnee's Pet Grooming
Situated in the upscale enclave of La Jolla, this award-winning dog salon knows how to make its furry customers look and feel their best, boasting high-quality products and unique grooming services. Sydnee's Pet Grooming pampers pooches with a variety of all-natural, locally made cleansers—including calming lavender, restorative vanilla, and invigorating mango—for baths and facials (yes, you read that correctly) and even offers a soothing oil to keep coats shiny and sleek. Canine massages are also available, in case you really want to make Fido feel relaxed and rejuvenated on National Dog Day.
While the original salon was founded in San Diego, Sydnee's is now a popular franchise with numerous locations throughout California, so see if there's a salon near you and join the Polished Pooch Club to treat Fido all year long.
Spawtlight Dog Salon and Spa
For a one-stop shop in San Diego, look no further than this full-service salon and day spa. The cozy, welcoming environment here will make your pup feel at ease as soon as you step inside, and the relaxing vibes will only continue once the treatments begin. Spawtlight Dog Salon and Spa can spoil your canine with a sea-salt scrub and facial during bathtime, and follow it up with a paw soak and paw conditioning. But if you truly want to give your pup a mini makeover, ask the stylists to add some feather extensions or hair coloring. Any dog is bound to leave Spawtlight feeling renewed and excited for the day ahead, especially if you picked up some treats and toys while you were there, too.
San Francisco Bay Area pet spas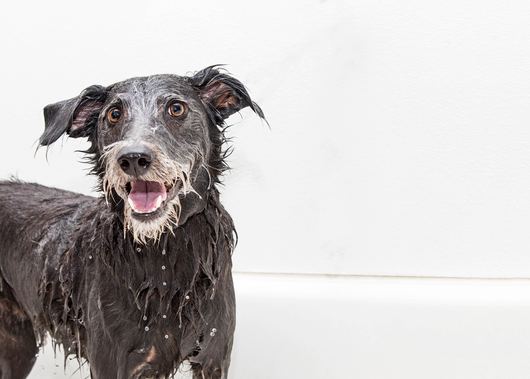 Doggie Day Spaw
Doggie Day Spaw is the only pet groomer in San Francisco to offer microbubble baths. Invented in Japan, these baths utilize microbubbles instead of shampoo or conditioner to penetrate hair follicles and pores to eliminate dirt and oils. The chemical-free, hypoallergenic treatment is believed to help relieve allergies, reduce shedding, and remove dead hair.
But microbubble baths aren't all this North Beach dog salon offers. Other unique services include mud treatments, facials, paw cleanses, feather extensions, and hot oil treatments—making it a go-to spot for many city-slickers looking to spoil their pets.
Pooch Hotel
Whether your dog desperately needs a bath or simply deserves a day at the spa, Sunnyvale's Pooch Hotel has you covered. The Silicon Valley dog-boarding facility focuses on enhancing the well-being of its clients, providing an array of grooming services ranging from baths and brush-outs to facials and pawdicures. And pups who need to stay overnight can be treated to belly rubs and cuddle time in the comfort of their own suite—some of which have comfy couches and full-on beds—so they feel at ease while you're away.
Paws Crossing Pet Resort and Spa
Get your pup groomed and gorgeous at the Paws Crossing Pet Resort and Spa in Campbell. The South Bay salon showers pooches with personalized attention, spa treatments, and professional grooming services that will have any fur-baby looking good in no time. Whether you treat Fido to a luxurious bath, blueberry facial, hair coloring, or canine massage—or all four—he's bound to appreciate the extra TLC on National Dog Day.
Central Coast pet salons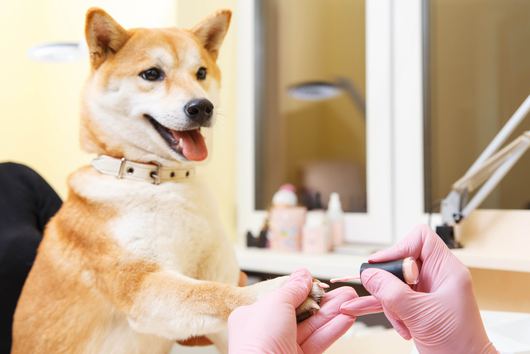 Doggie Salon and Spa
Tucked away on the outskirts of downtown San Luis Obispo, Doggie Salon and Spa prides itself on high-quality dog grooming, going well beyond a quick wash and cut. During the three-hour grooming cycle, stylists will massage customized shampoo deep into Fido's fur, towel- and blow-dry his coat, and trim the hair around his face and paws. If you want to spoil your pup even more, add on a facial or mud treatment.
In a hurry? Opt for the express grooming services, which promise a squeaky-clean pup in 90 minutes or less.
Signature Paw Spa
Give your dog the gift of relaxation by booking her a day at this luxury Pebble Beach pet spa. Equipped with an extensive deck, plush couches and day beds, lush greenery, and perfectly manicured grounds, Signature Paw Spa knows how to give its clientele the royal treatment. Indulge your pooch with a massage to kick off her relaxing stay, and then let her lounge on the sun-soaked patio the rest of the afternoon. She's bound to come home happy and rejuvenated (just don't forget to grab a bag of healthful treats for her on your way out).
Bed and Biscuits
Situated just off of Highway 1, this award-winning dog-training center and boarding facility is a top choice for pet parents in Santa Cruz—and for good reason. The friendly, experienced pet stylists at Bed and Biscuits focus on making dogs feel special, giving them the one-on-one attention and pampering they deserve. Each bath incorporates all-natural cleansers and a restorative blueberry facial, but if you really want to bedazzle your fur-baby on National Dog Day, splurge on some fur tattoos, hair dye, nail painting, feather extensions, or hair bling.
Los Angeles Area dog salons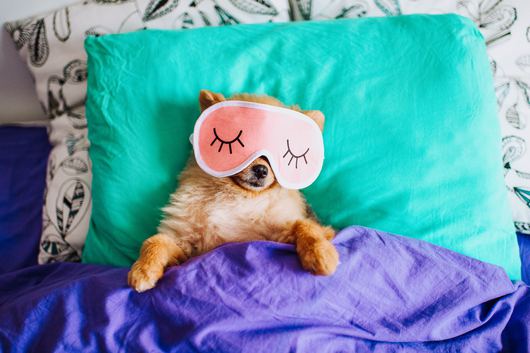 D Pet Hotels
Already a popular destination for dogs who need a home away from home while their parents are away, the all-inclusive five-star D Pet Hotels Hollywood is also a prime spot for grooming services. The lavish Spa & Wellness Center features a full menu of services for treating your canine like a queen (or king) during her stay. Treatments include classic grooming, vitamin-infused baths, soothing pawdicures, detoxifying thermal wraps, and rejuvenating massages—complete with aromatherapy and calming music.
When you pick up your pet from her spa day, continue the love by buying her all-natural treats, a "Chewy Vuitton" plush toy, a bejeweled collar, or skincare products at the on-site dog boutique.
Pussy & Pooch
Dogs want for nothing at Pussy & Pooch. The luxurious downtown L.A. pet hub is home to the posh Penthouse Boutique, Pawbar Café, Meat Market, Bathhouse, Social Club, and Training Lab—plus a Wellness Spa where dogs (and cats, as the name implies) can revel in holistic healing treatments such as acupuncture. The Core Wellness and Therapeutic services provided by Healing Touch Vets utilize a combination of Eastern and Western medicine to determine pain and stress points, dietary needs, and more.
Four-legged clients can also enjoy everything from blueberry facials and custom haircuts to nail painting and paw massages inside the 12,000-square-foot spa. Your dog is sure to strut down the street after his makeover, especially if you bought him a new collar and outfit, too.