You no longer have to keep on California dreamin' during your retirement. Many of the best coastal towns to retire in are located right here in the Golden State and offer great perks. Stunning sceneries, oceanfront homes, and an abundance of national parks up and down the coast—what's not to love about the best beach towns in California to retire?
From bustling and lively cities to quaint and affordable beach towns, California offers a variety of enchanting retirement destinations for different wants and needs. Our list of the state's swoon-worthy beach towns—each with its own unique personality—is the final dose of inspiration you'll need to pack your bags and live out your coastal dreams.
The Golden State's best coastal towns to retire in

Del Mar
Median home price: $2,662,400
Living in Del Mar is pure bliss. This laid-back SoCal beach town offers a serene lifestyle—its streets are lined with shopping and dining destinations. Sitting just north of La Jolla, this coastal retirement town is all about life in the slow lane.
Worried about not adjusting? The small-town vibe of the luxurious city makes it entirely possible to meet other local residents and build a network of your own in no time. Del Mar is a dream retirement spot, therefore attracting many other retirees of similar age. The town's location allows you to get to other major cities very easily. You'll drive to downtown San Diego in 20 minutes, and be in L.A. in less than two hours.
Alameda
Median home price: $986,600
Alameda is proof that it's possible to lead a retiree lifestyle full of coastal fun and comfort in NorCal. What makes Alameda one of the best beach towns in California to retire is its beautiful nature, vintage vibe, stunning architecture, and plentiful recreation opportunities. This safe Bay Area town gives you every reason to look forward to retiring by the beach.
Not convinced? Just a short drive away from this top place to retire in California is the bustling city of San Francisco, where you can feel young again and explore its exciting attractions. Every one of your trips to the City by the Bay ends with a return to the island of Alameda for a quieter existence.

The most affordable beach towns to retire

Eureka
Median home price: $261,900
Nature lovers looking to retire in a town that features a beach as well as forests, rivers, and other natural wonders will love Eureka. Despite being one of the most affordable beach towns to retire in California, Eureka has plenty to offer to its retired residents. Stunning outdoor escapes, quirky festivals, a rich history, and a charming downtown make Eureka not only a very calm place to live, but also quite an entertaining one.
It's easy to maintain an active lifestyle here, too, as there are many hiking and biking trails for those who enjoy spending time in the great outdoors. A getaway to Eureka is the perfect step to take before deciding whether to make this coastal retirement town your forever home.

Oxnard
Median home price: $503,100
About an hour north of Los Angeles is the underrated coastal town of Oxnard. Uncrowded beaches, a pleasant year-round climate, and endless opportunities for work and recreation make this Ventura County destination one of the top affordable beach towns to retire in California. Oxnard is renowned for being an agricultural town. So if you move here, get ready to incorporate fresh strawberries, avocados, and other deliciously healthy California fruits and vegetables into your daily diet.
This coastal retirement town's location is another huge perk—enjoying weekend getaways year-round is very easy. If you ever feel like you need a breather while living in Oxnard, hop on a short ferry ride to the nearby Channel Islands where you can enjoy swimming, hiking, and biking. Or, take a drive to one of the many neighboring towns to tour art galleries, shop at boutiques, and experience a change of scenery.

Quaint coastal retirement towns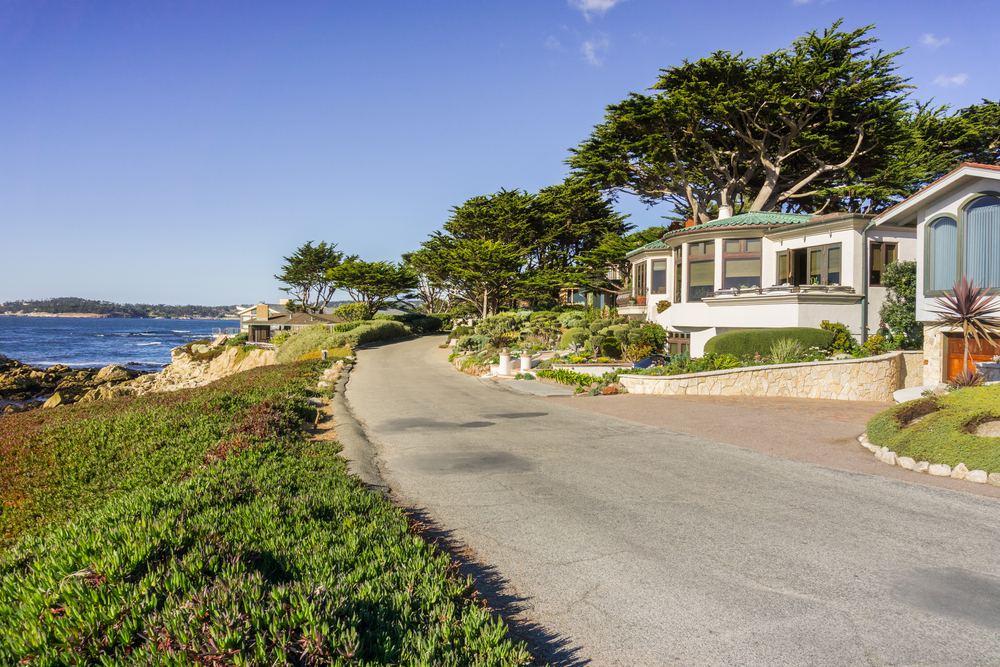 Carmel-by-the-Sea
Median home price: $1,438,100
Carmel-by-the-Sea is all about effortless elegance. This small town on the Central Coast has been attracting artists, creators, and other visionaries for decades now—you could be the next to move. If white-sand beaches, authentic fine dining, top art galleries, and sweeping views around every turn sound are what you're looking for, then Carmel-by-the-Sea is the best coastal town in California to retire for you. The majority of the population here is over the age of 55, so you'll have a community of retirees to mix and mingle with once you move to this can't-miss Central Coast beach town.

Solana Beach
Median home price: $1,352,800
The secluded coastal suburb that is Solana Beach is, hands down, one of San Diego's best places to live. Retiree or not, moving to this coastal town is a decision you'll never regret—the Mediterranean climate, pristine beaches, and uncrowded attractions are enough reasons to make you retire here. The charming, seaside community of Solana Beach is home to European-style restaurants, museums, galleries, and shopping destinations that'll keep you forever entertained. This small beach town to retire is nestled along the northern coast of San Diego County and is only 20 miles away from bustling downtown San Diego.

The best coastal communities to retire

Ventura
Median home price: $598,700
Ventura has managed to keep the old-school coastal California feel alive. Historic buildings, a classic wooden pier, and the old-fashioned Main Street make this coastal retirement town an extremely desirable place to live for senior citizens. Your much-deserved retirement lifestyle in Ventura involves fresh seafood, top shopping destinations, a wonderful coastal community, and many evenings spent whale watching while admiring explosive sunsets. The enviable location of this best small beach town to retire in also means embarking on many fun summer road trips to nearby SoCal towns.

Mendocino
Median home price: $711,600
The rugged coastline of Mendocino makes it one of the most alluring beach towns in Northern California. With most of its residents being over the age of 60, this is undoubtedly the best coastal community to retire in the Golden State. Besides beautifully wild nature, you'll also find upscale restaurants, fairytale-esque Victorian mansions, charming boutique hotels, and restorative hot springs in Mendocino—it's always possible to add a touch of elegance to your blissful lifestyle here.

The best small beach town to retire

Carlsbad
Median home price: $875,000
The much-beloved village of Carlsbad is a must-add to any list discussing the best beach towns in California. Antique shops, museums, golfing, plenty of water sports, and other entertaining activities make Carlsbad one of the best coastal towns in California to retire. Living in this SoCal beach town feels like a vacation every day. When your family comes to visit, there are plenty of cool family-friendly attractions to explore together; Legoland and Sea Life Aquarium will have the young ones begging for another trip back in no time.