By

California.com
August 11, 2020
With its fertile soils and abundance of fruit trees, the Central Valley is recognized as the Golden State's fruit basket and is one of the most productive agricultural regions in the country, providing more than half of the fruits, vegetables, and nuts grown in the U.S. While you can get locally grown foods at California farmers markets or in a CSA box, it's definitely more fun to handpick them yourself or with the family, and many farms welcome guests to come and pick their own produce during certain times of the year. You never know—your kids may even eat more fruits and vegetables after an exciting adventure to the best U-pick farms in Central Valley.
The Central Valley's Top
U-Pick Farms

Location: 38918 Road 64, Dinuba
Hours: Wednesdays–Saturdays, from 8 a.m.–6 p.m.
Fees: $1 per pound for plums, and $2 per pound for stone fruits
Buckets provided: Yes
The 40-acre Naylor Organics was founded in 1979 but began practicing organic farming in 1984. The farm grows apricots, peaches, plums, nectarines, and blackberries; it also offers tours of the orchards, educating guests about harvesting and offering complimentary organic fruit (when in season). The U-Pick season begins in late May and ends in September, so make your reservation to pick up your produce and savor the fresh flavors. After a full day of roaming, indulge in a fruit tasting tour, enjoy a picnic in the backyard, or relax in one of the Naylor Organics cozy cottages.
Rancho Notso Grande

Location: 5051 12th Avenue, Hanford
Hours: Tuesdays–Saturdays, from 7 a.m.–7 p.m.
Fees: $5 per person to enter (free for children under the age of 5), plus $6 per pound for U-pick canes and bush berries, $4 per pound for U-pick strawberries, and $2.50 per pound for U-pick vegetables
Buckets provided: Yes
Located about 30 minutes south of Fresno, Rancho Notso Grande harvests a wide variety of fruits and vegetables. Whether you want to go berry picking—there's everything from blueberries and blackberries to olallieberries and tayberries—pluck stone fruits like apricots and peaches from the orchards, or choose your own fresh veggies, you can do it all here. The farm offers both U-pick and we-pick options (the latter pricing is also consistent with the prices found at the farm stand) and sells many of its goods online, including produce, meat, eggs, nuts, and preserves.
Genesis Organic Farm

Location: 7595 Central Valley Highway, Hanford
Hours: By appointment only
Fees: $5 per basket for cherries and berries, $4 per pound for other tree fruits (the minimum purchase is $20 per session)
Buckets provided: Yes
Genesis Organic Farm is a 10-acre, family-run farm. Founded in 2007 by Jeannie and Ted Williams—who started with just two acres of Dapple fire pluots and a small U-Pick orchard—the farm has expanded to house a pick-your-own field, the first cucamelon maze, and agriculture programs. For a fun family activity, make your way through the cucamelon maze (opens in the fall season), where guests hunt for a "million-dollar bill" and win a big pumpkin if they do. Along the journey in the maze, you'll discover edible flowers.
Aside from cucamelons—a cucumber-melon hybrid, which looks like a miniature watermelon but tastes like a cucumber with a twist of lime—Genesis Organic Farm also offers U-pick cherries, blackberries, peaches, apricots, apriums (a type of pluot), apples, Fuyu persimmons, and pluots (a hybrid fruit combining plums and apricots). Veggie lovers, you aren't forgotten. You can pick carrots, tomatoes, squash, beans, and cucumbers; in autumn, pumpkins are up for grabs, too.
If you want to further your learning, take a hands-on class about planting, tending, and harvesting gardens. The classes are demonstrated through the practices of sustainable systems that honor the centuries-old organic farm and permaculture teachings.
Riverdance Farms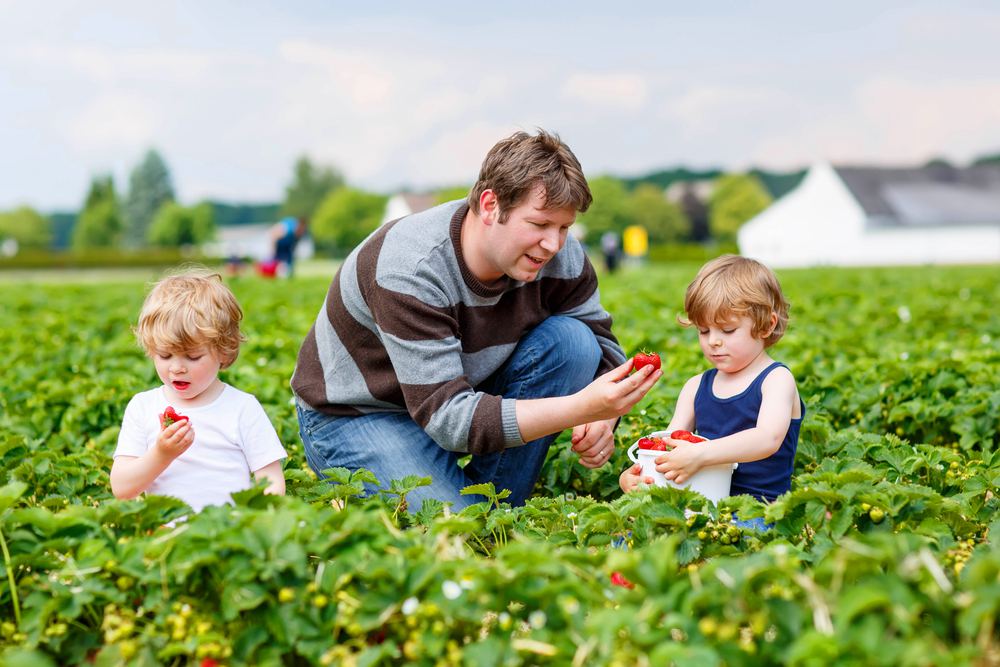 Location: 12230 Livingston Cressey Road, Livingston
Hours: By appointment only
Buckets provided: Yes
Riverdance Farm is situated in the picturesque lower section of the Merced River, which flows from the iconic Yosemite National Park. Using sustainable permaculture practices, the organic farm prides itself on only utilizing the existing ecosystem and its sustainable resources. The owners plant wildlife corridors and hedgerows alongside native Central Valley plants in order to restore the habitat for native bees, songbirds, and wildlife. Considered one the best places for blueberry picking, the farm's primary crops include blueberries, strawberries, elderberries, walnuts, cherries, almonds, oat hay, persimmons, pomegranates, pecans, citrus, and lavender.
The farm also hosts a yearly Pick and Gather Festival, a weekend-long festival that features fruit picking, educational activities, hay-bale rides, swimming, nature walks, fishing lessons, crafts, and wildlife viewing. Festivalgoers can even pitch their tent at one of the many campsites snuggled in the lush orchards, right along the Merced River.
Two Sisters
U-Pick
Apricots

Location: 583 West Lincoln Avenue, Fresno
Hours: 7–11 a.m.
Fees: $20 for half a tray
Buckets provided: Yes
Founded by two sisters, this U-Pick apricot farm is located just south of downtown Fresno. The Two Sisters U-Pick Apricots farm is a great place to pick these juicy fruits yourself, so get ready to kick back and savor the taste of this beloved summer fruit. Since this locale only grows apricots, it's only open for a few weeks throughout the year. So, make sure to plan a family trip during their upcoming harvest season for an apricot-picking extravaganza.
Want to continue your culinary adventures? Check out these other top U-Pick farms in California.