By

California.com
December 10, 2020
As California mitigates health risks during the COVID-19 pandemic, some travel restrictions may remain in certain communities. Call the local and regional tourism offices to learn more about the restrictions in your intended destination. Thank you for reading, and stay safe.
While going to the beach may be limited to the summer months in the rest of the country, there are plenty of beaches to visit in December and January in California. The temperatures may be dropping slowly, but the weather in the sunny Golden State still remains relatively pleasant. During the spring and summer months, everyone heads to the shores, making the beaches quite crowded (where's the peace and solitude?). The autumn and winter seasons are prime for those who don't want to be among large crowds at the beach.
Although it might be a bit chilly to go for a swim at every beach, you can still enjoy surfing, hiking, biking, picnicking, and listening to your beach day playlist. The best winter beaches in California await you for a day of exploration and bonding with your loved ones.
The Winter Beach Destinations that are Worth Braving the Cold
If warm weather is a requirement for you, we recommend sticking to Central Coast and SoCal beaches. However, if you don't mind a little bit of a breeze, Northern California beaches are great winter beach destinations as well.
Northern California Beaches to visit in the Winter

1. Glass Beach
Location: Mendocino County
Glass Beach is a well-known California beach found adjacent to MacKerricher State Park. Wondering how the beach got its name? The shore is rich in smooth, colorful glass pieces, thanks to the pounding waves breaking down the remains of glass bottles dumped onto the coastline over the years. Although technically full of trash remnants, Glass Beach in Fort Bragg is still very beautiful to witness and is a unique beach to add to your list.
We recommend visiting in the winter to witness all of its colorful glory without having big crowds interrupt your time in solitude. Stroll along the shoreline during sunset to watch the tiny pieces of glass glisten in the setting sun. Be careful not to pocket any pieces of glass—it's illegal; if caught, you may have to pay a fine.

2. Black Sands Beach
Location: Marin County
There's no need to travel all the way to Iceland to marvel over endless miles of black sand beaches. All you have to do is head to Black Sands Beach in Sausalito. The way the smooth black sand hugs the rugged shoreline makes this beach a breathtaking destination. However, you shouldn't swim in the water here. The combination of cold weather, unpredictable tides, and sudden drops in depth won't allow for a safe dip.
While it's chilly in the winter months, Black Sands Beach is one of the best winter beaches because the fog lifts during December and January—revealing clear skies and miles of bold black coast. So, it's one of those beaches worth visiting, even in the cold.
Central COast Beaches to visit in the Winter

3. Avila Beach
Location: San Luis Obispo County
Avila's sunny and warm year-round climate makes it an ideal beach vacation spot in December. Situated just off Highway 1 along the Central Coast, the area features luxurious hotels, charming oceanfront restaurants, and plenty of shops. Point San Luis Lighthouse and the Avila Valley Barn are some of the local attractions you'll want to check out while you're here.
For a truly relaxing beach day, bring your camera, light a bonfire, and go whale watching—if you're lucky, you'll catch a glimpse of the whales dancing in the water.

4. Pismo Beach
Location: San Luis Obispo County
Long sandy coastlines, glimmering blue waters, and beautiful sunsets—Pismo Beach is the quintessential Central Coast beach town. Surf, horseback ride, bodyboard, and more; we can only imagine why many people make Pismo Beach, California, their winter beach destination of choice.
If you've been looking for new winter campgrounds to visit this year, look no further. The North Beach Campground at Pismo Beach offers 103 campsites for adventure-loving families of all sizes.

5. Big Sur Beaches
Location: Monterey County
If you'd rather have Big Sur all to yourself, consider visiting in the wintertime. This spectacular region is home to some of the best beaches to visit in January, including Pfeiffer Beach and McWay Beach. Although it's warmer during the summer months, the winter rainfalls yield clearer skies. The winter months are an ideal time for wildlife spotting, too. From December to February, gray whales migrate from Big Sur to Mexico; elephant seals and sea otters also chill on the shore during these cold winter months.
So, spend a weekend in Big Sur this season exploring the various coastal gems, especially if you're looking for a stop on your romantic couple's road trip—it's definitely one of the most incredible places to go stargazing in California.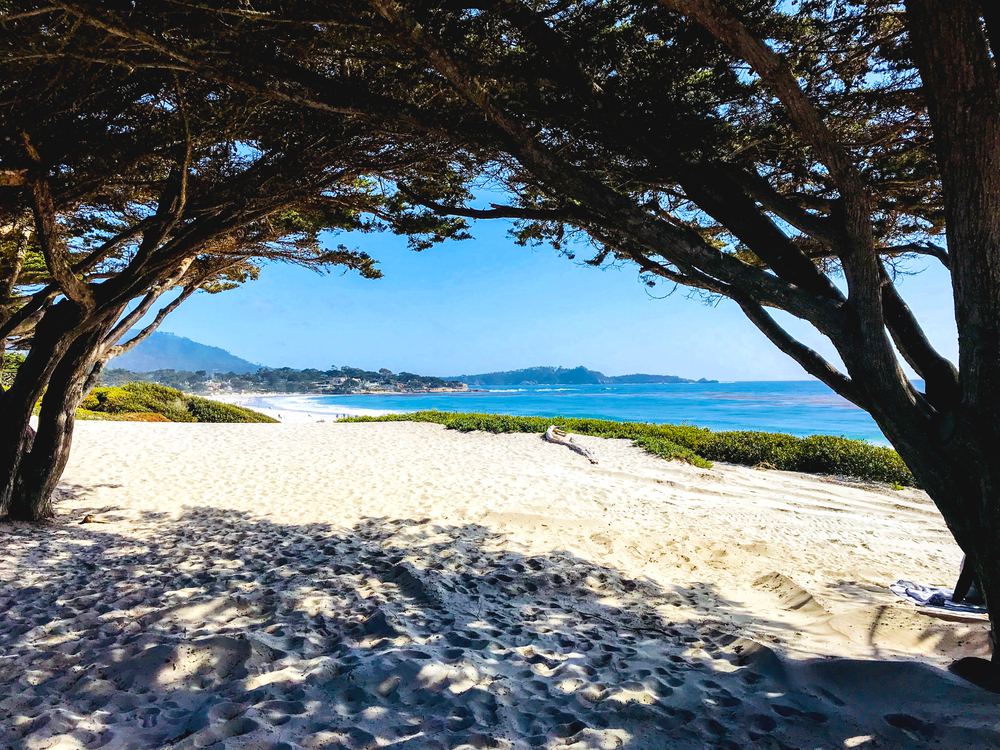 6. Carmel Beach
Location: Monterey County
This beautiful beach bordering the one-square-mile village of Carmel-by-the-Sea will have you feeling like you stepped into a fairytale. Thanks to its captivating aura and sandy shore lined with Monterey cypress trees, Carmel Beach makes for one of the best winter beach vacations.
After your beach day, explore Carmel-by-the-Sea, a coastal gem filled with high-end galleries and one-of-a-kind homes. You can spend a lovely winter afternoon meandering through the captivating village, sampling local foods at gourmet restaurants, and perusing the town's boutiques.

Southern California Beaches to visit in the Winter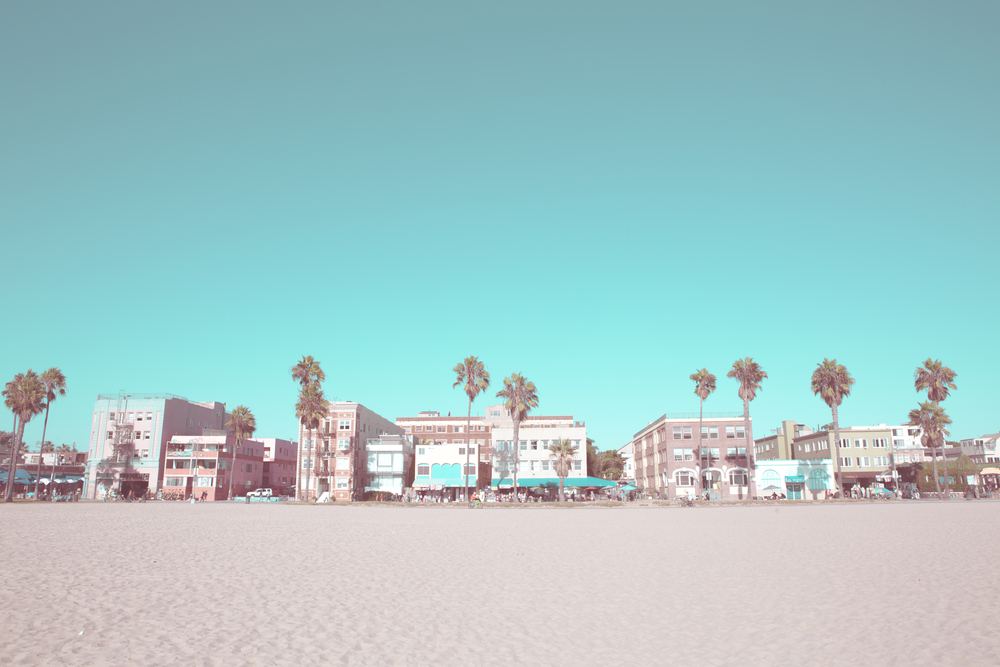 7. Venice Beach
Location: Los Angeles County
No winter beach destination list is complete without L.A.'s quirky Venice Beach. Known for its bohemian spirit, this trendy and eclectic beach town features many funky shops, colorful murals, and talented street performers. The boardwalk offers plenty of entertainment for one day. Get a true feel of the area by riding a bike along the Venice Beach bike path, taking a walking tour of the murals around the area, or strolling around the picturesque Venice Canals.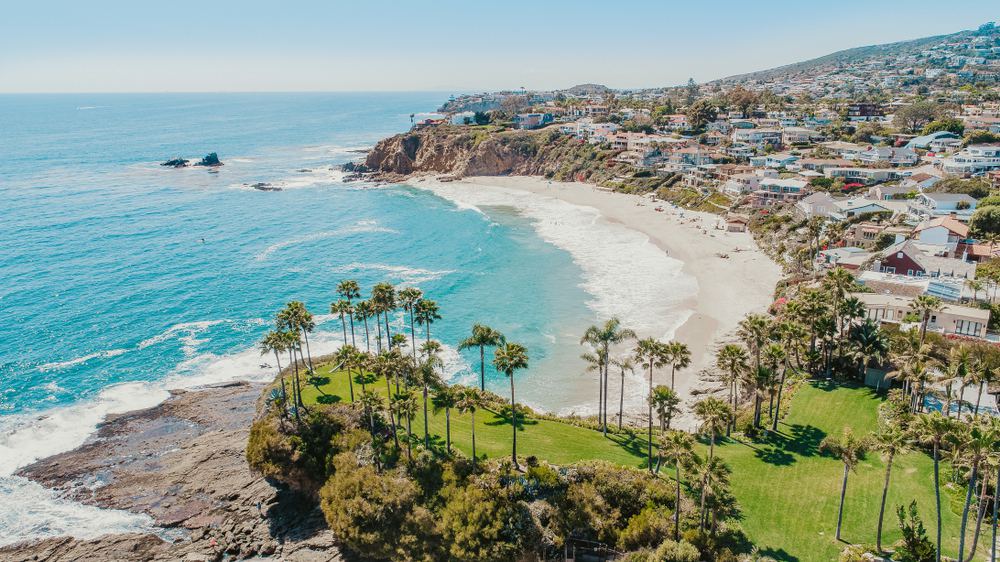 8. Laguna Beach
Location: Orange County
Sea coves and rocky shores aren't the only attributes that make Laguna Beach one of the best winter beach towns. There's a variety of activities you can enjoy during the winter months that don't even require you to get your hair wet. Stroll downtown, visit more than 100 art galleries, and explore the local shops for a truly captivating experience. If you'd rather stay along the shore, head to Main Beach and feel the sand in your toes as you keep an eye out for dolphins. Laguna Beach also offers free trolley rides year-round, making it easy to discover the area.

9. La Jolla Cove
Location: San Diego County
The breathtaking sunsets at La Jolla Cove will leave you breathless. Sea caves and rocky cliffs await your discovery. Don't want to dive into the glimmering ocean waters? Kayaking and paddleboarding will keep you busy without getting you wet. Keep your eyes peeled for seals and sea lions that frequent the area often—you just might meet your new best friend.