By

California.com
September 03, 2019
The Golden State Warriors' reign in Oakland has ended, and the brand-new Chase Center in San Francisco is slated to open in just three days. While Stephen Curry and the rest of the Warriors won't grace the floor until their first NBA pre-season game tips off on October 5, the stadium will host top-tier talent starting on September 6.
The inaugural show at Chase Center will feature Metallica and the San Francisco Symphony, with many more superstars set to fill the arena throughout the remainder of the month. September performers include Dave Matthews Band on the 10th, Bon Iver on the 12th, Elton John on the 13th and 15th, Chance the Rapper on the 14th, Mumford & Sons on the 19th, and Janet Jackson on the 21st—making for an incredible opening lineup. When the Warriors play their first official game of the season against the L.A. Clippers on October 24, it will be the first regular-season NBA game held in San Francisco in nearly five decades.
Chase Center is certainly a highly anticipated opening—especially considering the Bay Area basketball team shelled out over $1 billion for its construction—but the 18,064-seat, privately financed, multi-service arena has plenty to offer both Golden State Warriors fans and non-basketball fans alike. Here are answers to some of the most common questions surrounding the Chase Center debut.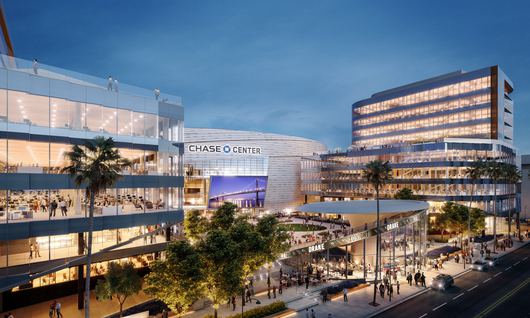 Where are the Warriors moving?
Chase Center is located at 1 Warriors Way in San Francisco, in the Mission Bay neighborhood southeast of Oracle Park.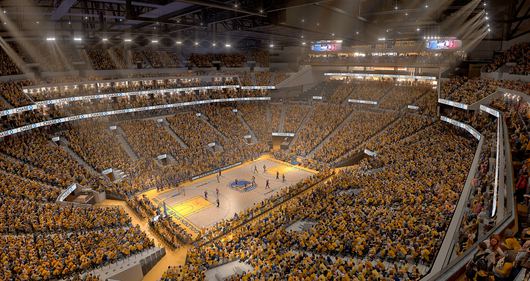 How can I get to the Chase Center to see some Warriors basketball?
A newly renovated Muni platform will make leaving the car at home even more feasible. Simply take BART and transfer onto the Muni T-Third Street line, and get off right outside Chase Center.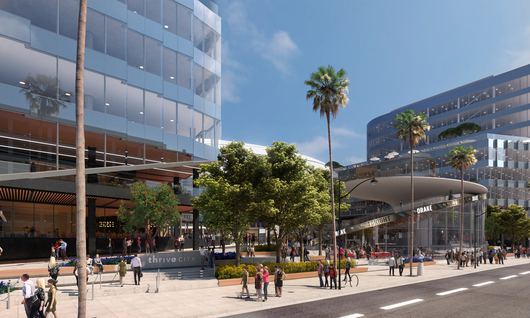 What is Thrive City?
Thrive City covers the 11-acre complex surrounding Chase Center that will house more than 20 restaurants and retailers along with a community-gathering space, which will promote health and wellness through yoga classes, farmers markets, fitness clinics, and ice-skating rinks.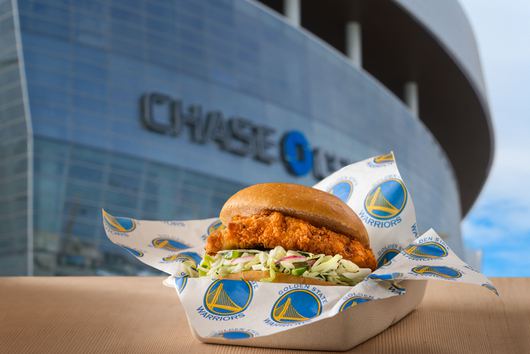 What is there to eat at Chase Center?
The Warriors' new home aims to be a culinary destination highlighting Bay Area restaurants. In addition to the elevated food hall from award-winning San Francisco chef Michael Mina, Chase Center's Thrive City will house Nachoria, Gott's Roadside, Dumpling Time, Belly, and Sweet Belly storefronts—plus many more.
Nachoria is a Puerto Vallarta–inspired restaurant dishing up the classics. While we cannot say for sure what the Burlingame-based eatery will bring to basketball fans at Chase Center, the current menu features a drool-worthy assortment of items—from four-pound monster nachos, to huevos rancheros burritos, to churro sundaes—so we can't wait to see what Nachoria ends up serving in the city.
Known for its wide variety of handmade dumplings, San Francisco's Dumpling Time features both Japanese and Chinese creations—and does them right. Between the salt and Szechuan peppercorn edamame; the Wagyu beef gyoza with ginger, black truffle, and shiitake mushrooms; and the bao buns stuffed with char siu pork belly and peanut butter, the hardest part is figuring out what to order.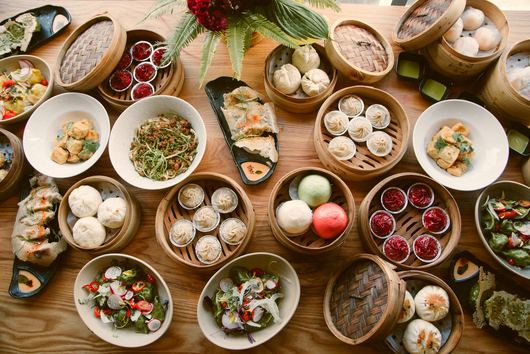 Gott's Roadside is a Northern California staple specializing in juicy burgers, handspun shakes, and decadent hot dogs—all made to order with fresh, locally sourced ingredients.
Belly and Sweet Belly are Uptown Oakland mainstays featuring unique creations made from organic, local ingredients. With a range of dishes including everything from a California burrito and a Korean fried chicken bowl to mini donuts and soft-serve ice cream, these two sister restaurants are real crowd-pleasers.
So, what are you waiting for? Grab your tickets to the hottest events in the Bay Area before they sell out.