As communities across the world and in California mitigate health risks during the COVID-19 pandemic, we are shifting our content focus and not encouraging any travel or social activities during this time. We will, however, continue to shine a light on and celebrate the many beautiful aspects of our State with the intention of being a source of inspiration and joy during this difficult period. Thank you for reading, and stay safe.
A single bite of a well-made cupcake has the power to completely transform a bad day: Imagine how you feel after biting into rich chocolate cake that melds deliciously with the light and airy lusciousness of the perfect buttercream frosting and the tangy sweetness of salted caramel. Though large bakery chains produce a perfectly fine dessert with pretty packaging, there is something special about independently owned cupcakeries that capture the essence of the area in which they reside. These smaller shops often allow the bakers to tap into their creativity and to pair unexpected flavors together, forming entirely new combinations for more exciting mouthfuls and memories.
Although many believed the cupcake trend had come to an end, the plethora of bakeshops surviving today prove that the industry is still alive and well. With such a simple foundation, cupcakes are able to transform to meet any desire; from sweet, to savory, to gluten-free, to vegan, the charm of the cupcake comes from its accommodating nature. This year has seen a shift in the industry, as traditional desserts like key lime pie, chocolate chip cookies, and carrot cake are being created in cupcake form and less common ingredients like fresh fruit are tickling taste buds.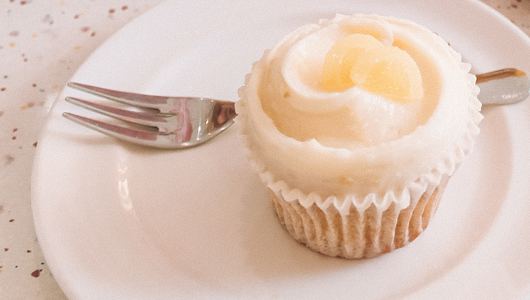 While driving along the coast of California, there are a few stops (and short detours) that complete the road trip. Whether you plan on seeing the Hollywood sign in Los Angeles or grabbing some clam chowder at Fisherman's Wharf in San Francisco, these cute cupcake shops should be added to the must-visit list.
Palm Springs
Over the Rainbow is a quirky cupcakery offering a little bit of everything. The shop has a rotating daily menu and closes as soon as it sells out, so make sure to call ahead or get there early if you are in the mood for a particular cupcake. With incredible flavors ranging from chocolate brownie cheesecake, to Southern red velvet, to vanilla bean, to chocolate peanut butter salty caramel, the hardest part is choosing which one to eat first.
Huntington Beach and Long Beach
Frosted Cupcakery is all about fresh, house-made products that are comprised of the highest quality ingredients. This shop has one of the largest selections of standard cupcake flavors as well as a few monthly and seasonal options—not to mention cupcake sandwiches, cookies, and custom orders. The decadent flavors include chocolate with caramel buttercream and toffee, vanilla with Nutella buttercream, and strawberry with cream cheese frosting.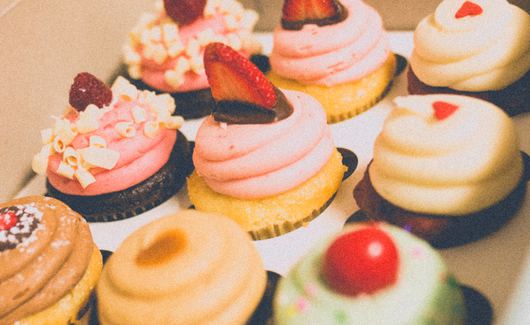 Ontario
My Delight Cupcakery began as a brick-and-mortar shop but later expanded to include a gourmet food truck as well. While the storefront is in Ontario, the truck makes appearances in cities throughout Los Angeles, Orange, and San Bernardino Counties. With 15 cupcake flavors and additional confections, this bakery may become a favorite. Interesting offerings include a breakfast buttermilk cupcake topped with applewood-smoked bacon and maple syrup, a gluten-free caramel cheesecake cupcake, a churro-inspired cupcake edged with cinnamon-sugar and topped with a mini churro, and a vegan Kona coffee cupcake featuring a chocolate-coconut base, Kona coffee mousse, and toasted coconut flakes.
Oakland
James and the Giant Cupcake combines the child-like excitement of enjoying sweets with locally and sustainably sourced ingredients to create a magically succulent cupcake. The flavors change monthly, but it is hard to find a flavor that doesn't make your mouth water—whether it's a chocolate cupcake topped with vanilla buttercream and sea salt caramel; a lemon cupcake filled with house-made blackberry sauce and decorated with a swirl of lemon blackberry buttercream; or a Boston cream pie cupcake featuring vanilla cake, pudding, and buttercream dipped in chocolate sauce.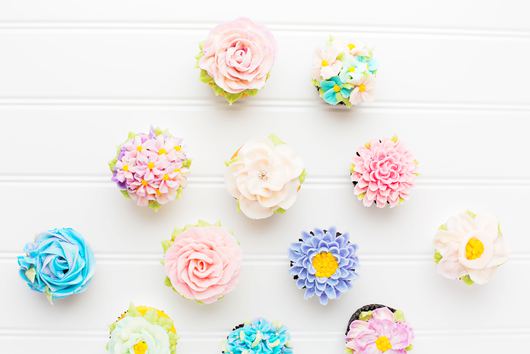 San Francisco, Petaluma, Napa, Cotati, and Santa Rosa
Sift has made a name for itself as an upscale dessert bar, and with close to a dozen cupcake flavors—not to mention a variety of macarons, ice cream, and cookies—it is easy to see why. This shop covers the basics (and then some) with a chocolate chip cookie–inspired cupcake; a Samoas cupcake made with coconut cake, chocolate ganache, caramel buttercream, and toasted coconut; and The O.G., which features chocolate cake, white chocolate mousse, and cookies 'n cream frosting.
Chico
Lovely Layers Cakery is owned and operated by a classically trained chef who loves people and, of course, cake. Her passion and creativity shine through in each of the flavors, which rotate daily. Among the many cupcake offerings are Boston cream pie, caramel macchiato, maple vanilla chip, stuffed French toast, and s'mores.