By

California.com
August 20, 2020
California was recently named the top state for work-from-home opportunities, and with remote work becoming the new normal for most residents, many of us are transforming our living rooms or bedrooms into makeshift home offices.
While there are some perks to working from home (like wearing sweats all day and not having to worry about commuting), it can also take a toll. Mental and physical health can be affected due to overworking or not being able to concentrate. With that in mind, it's time for positive change and improvements.
If we've learned one thing in the last few months, it's that self-care and the pursuit of happiness are as important as ever. So, whether you're looking for inspiration to enhance your current work-from-home space or you're still in the process of designing a functional home office, we've put together some tips for optimizing your workspace to maximize your success.
home office organization Essentials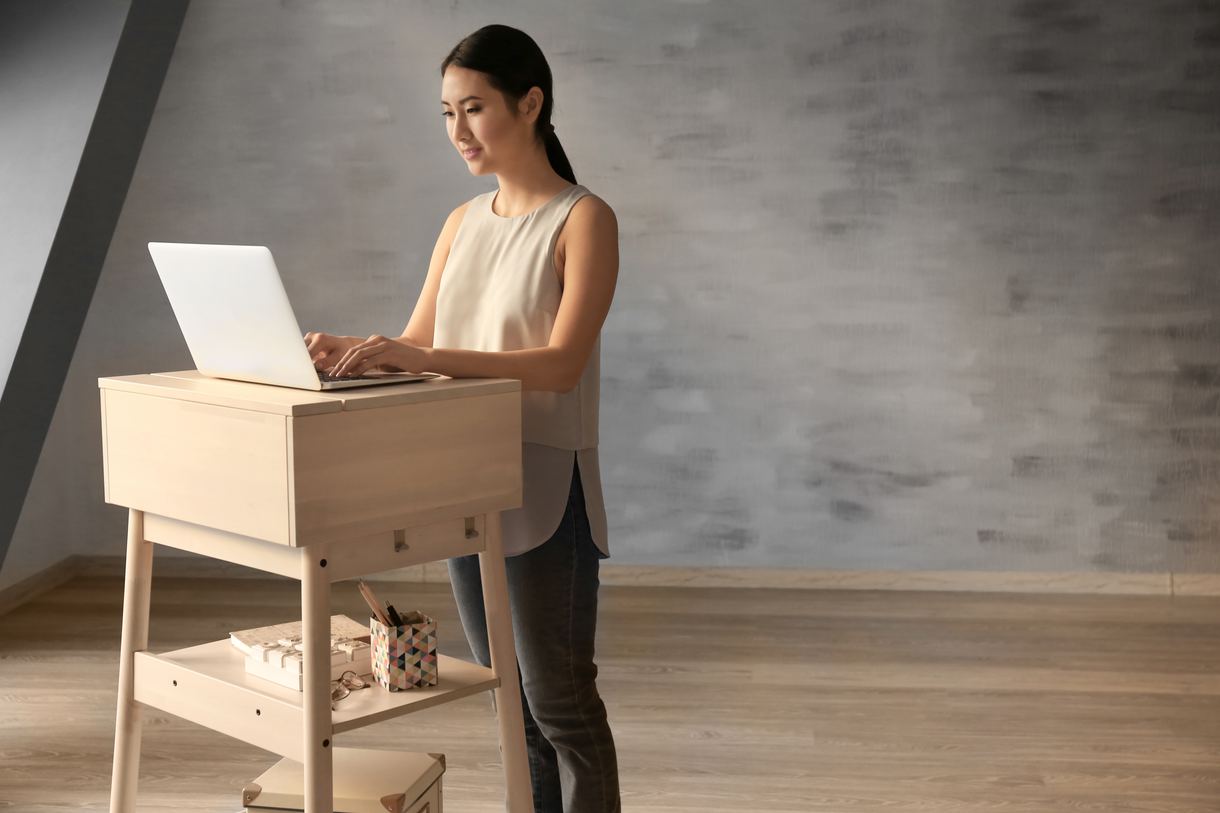 Make the most of a workday at home with these simple yet incredibly useful accessories.
Use your wall to mount a hanging wall organizer, a pegboard, or a gridwall to tidy up your office clutter, cables, and papers.

A board—pinboard, whiteboard, or magnetic board—helps you keep your notes organized. Add your favorite photos to give your home office setup a

personal touch.

Any small home office

must have a rolling cart organizer you can easily wheel around.

If your home workspace

is still missing drawers, try a unit on wheels for flexible usage.

Enhance your drawers with divider trays that keep them from getting cluttered.

Keep all your papers neatly arranged in magazine holders.

Flat storage baskets with lids are great if you need to store your papers in a closet.

Reduce your eye and neck strain with a computer monitor riser complete with drawers for extra storage.

Tuck away your cables in a cord box.

A multi-charging station from

Great Useful Stuff

keeps all of your devices charged while giving your modern home office

a professional finish.
Tips for Improving Your
Home Office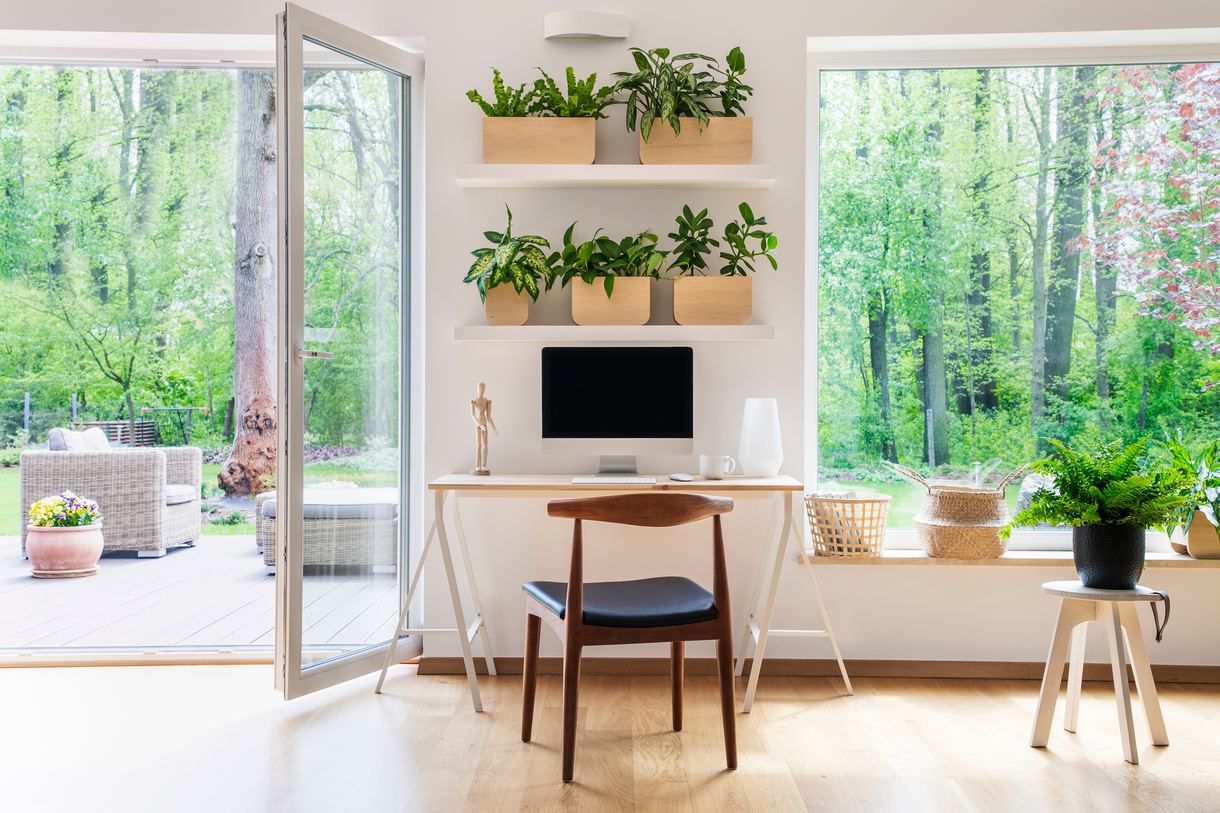 A good work-from-home setup is influential in maintaining a sustainable work-life balance. Physically separating work from personal life is critical to achieving a state of equilibrium. Start off by designating space for your workday; whether it's a corner in your bedroom, dining area, or balcony, make sure to minimize any source of distraction.
While working from your couch seems alluring, sitting at a desk is healthier in the long run. Treat yourself to a sturdy workspace table on wheels from Croft House or a standing desk from StandDesk. When seated, make sure your chair is adjusted correctly so your back remains straight. Upgrade your work notebook, too—purchase a computer monitor riser and wireless keyboard, making sure the screen is at eye level and your hands are level with the keyboard.
A well-lit, organized, and perfectly adjusted desk is only the tip of the iceberg. The best home office is one that makes you feel comfortable. Improve your home office with an accent chair from California Furniture Co. so you can read or meditate in between meetings. You can also make the most out of your small home office by installing a Murphy desk, which allows you to physically put away your desk after clocking out. If you want to revamp your living room home office, follow our secret interior-design tips.
Top Home Office Styles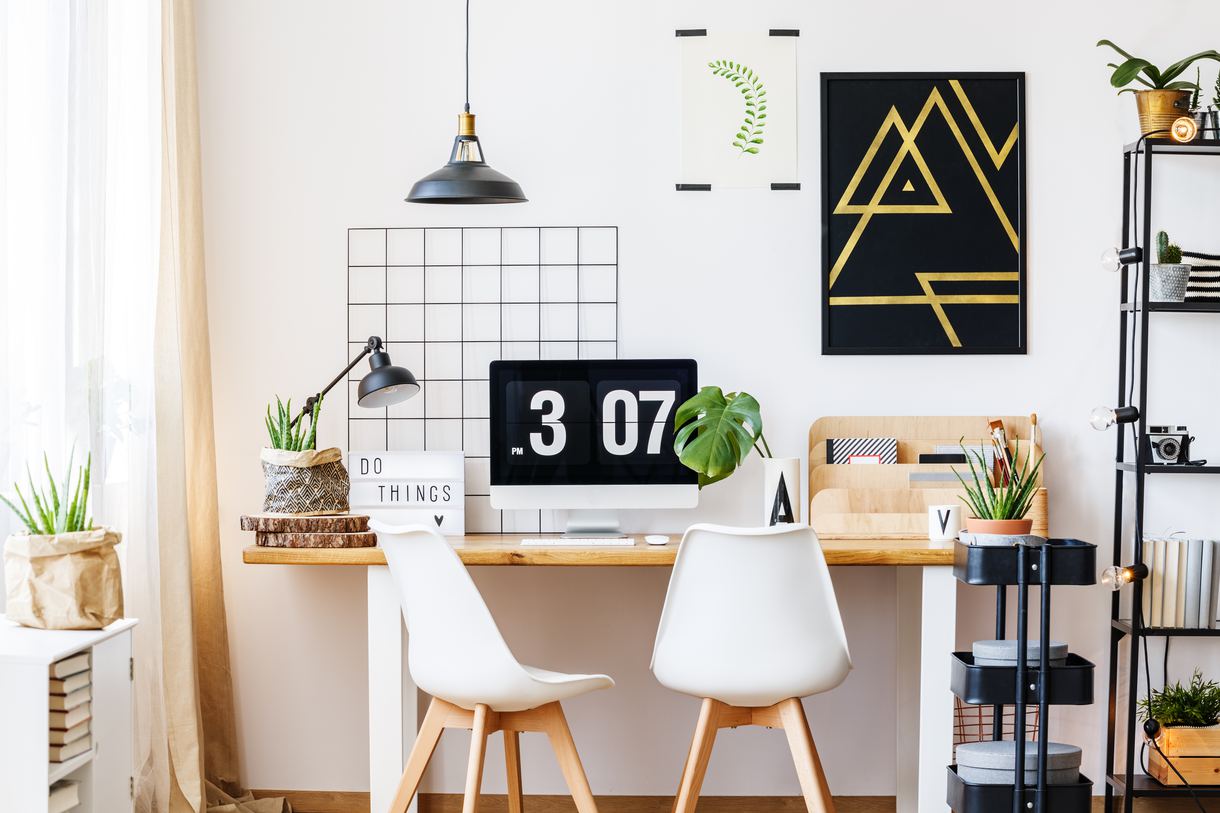 1. Minimalist Home Office
Designing a minimalist home office is all about eliminating chaos—keeping only what you need and getting rid of anything you don't—for both your surroundings and your mind. Naturally, the first step is to invest time in decluttering everything near your work station. Put away attention-grabbing objects in drawers and storage boxes (but be sure to label them for easy spotting), and make it a habit to put away anything you're not using at that moment. Play with lighting and shape by adding art pieces, curtains, and lamps to give your functional office a sleek look.
2. Mid-Century Modern Office
For a mid-century modern office, add splashes of mustard, saffron, and turmeric (they aren't only useful for cooking) to your organizational accessories. Start a simple DIY project instead of purchasing a magnetic board: Stretch a piece of fabric over a sheet of cardboard; hot-glue it to a galvanized steel sheet; place it into an empty frame; and voilà, your new mid-century modern decor is ready. Work with shapes and patterns—a curved armchair, an oval desk, and a vibrant rug (perhaps an exquisite Persian rug)—to add luxury and elegance to your home office.
3. Farmhouse Office
Styling a farmhouse office creates a cozy vibe for your everyday life. Pale woods, neutral colors, bulky furniture, and bold patterns take you back to simpler times when your only summer plan was playing in the barn. Sometimes, refurbishing means reducing your carbon footprint by upcycling—head to your nearest antique store to find new pieces for your refurbished home space. Paint the furniture, check the attic (or storage space) for grandma's warm knitted blanket, and acquire a station clock to keep track of your next meeting.
Simple Life Hacks for Working from Home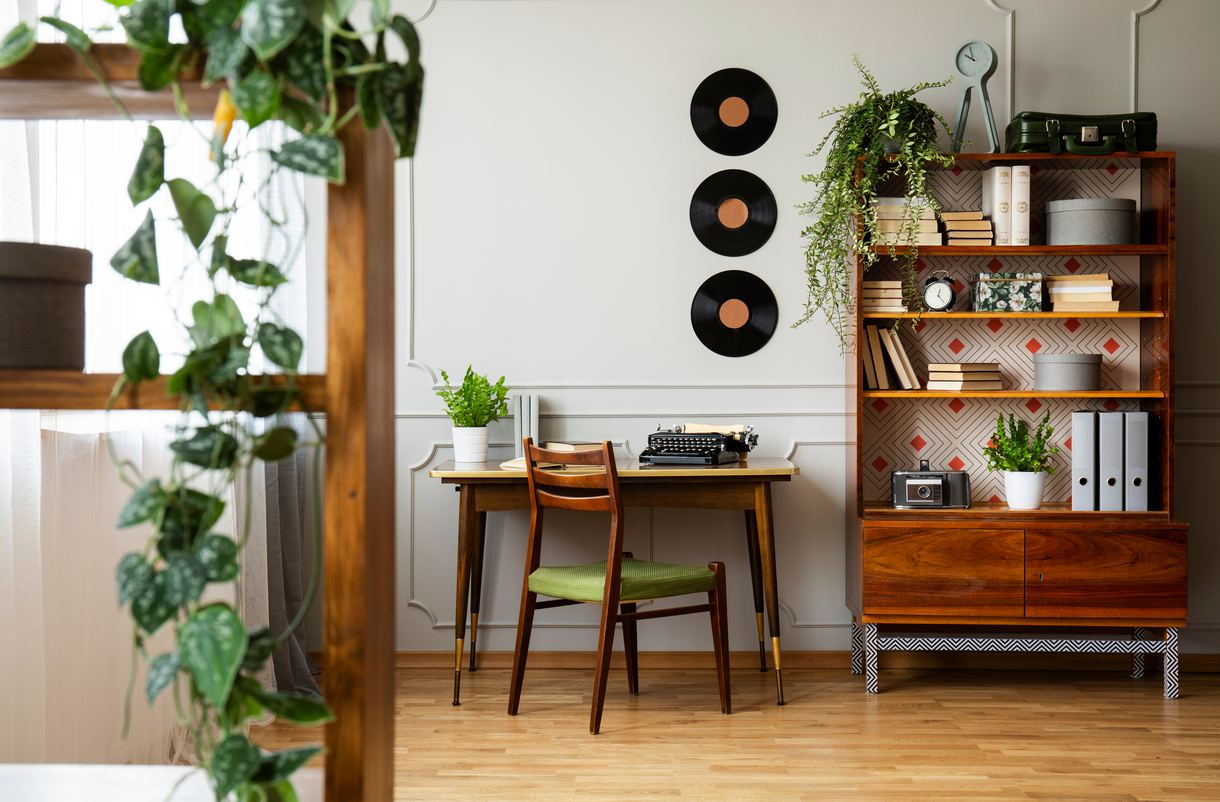 Situate your workspace close to a natural light source. The sunlight will keep you motivated while you're cooped up at home.

Get closer to nature by

placing succulents within your peripheral vision

. These calming, drought-tolerant plants are easy to maintain and stimulate your senses.

Place an Amazonite or Black Tourmaline stone on your desk to protect yourself and your family members from electromagnetic smog.

Keep a mirror by your workspace to make sure you look presentable before your next Google Meet or Zoom meeting.

Make sure to keep a "quiet time" or "do not enter" sign handy, like the one from Jerome's Furniture,

for those moments when you really need to meet a deadline.

Keep a glass full of drinking water to stay hydrated. (Or better yet, buy a reusable water bottle from Klean Kanteen to reduce your carbon footprint.)

Stretch at least once per hour, and set a reminder if needed.

Breathe. Fresh air is the key to success, so make sure your room is well-ventilated throughout the day.

Put your armchair in front of your bookshelves to create a library-feel whenever communicating with your colleagues.

Remember to pet your dogs and cats. They're not used to you being at home either.

Exercise regularly, and be mindful of your body and soul. Create a schedule for self-love and set aside time for self-care.