By

Melissa McGee
July 13, 2020
As California mitigates health risks during the COVID-19 pandemic, some travel restrictions may remain in certain communities. Call the local and regional tourism offices to learn more about the restrictions in your intended destination. Thank you for reading, and stay safe.
San Diego boasts 70 miles of beautiful coastline, so when in doubt, head to "America's Finest City" to experience the best beach scene. The sunny city is definitely one of California's (ahem, the entire country's) most stunning destinations, and you won't regret spending a day splashing around at the beach and a night out on the town. Whether you want a fun-filled weekend activity for the kids or you just need to satisfy your adventurous side, the top San Diego beaches have it all.
The Most Beautiful Beaches in San Diego

Coronado Beach
Considered one of San Diego's best beaches, Coronado is the perfect destination for waterfront bliss and is among the most swoon-worthy beach towns in California. The famous Hotel Del Coronado is situated along the extensive sandy shore overlooking the calm waves of Coronado Beach—a true San Diego gem. You're bound to have fun both in and out of the water at this family-friendly beach. Thanks to the flat terrain at the locale, it is the best beach in San Diego for kids, who can spend the afternoon flying kites, building sandcastles, and swimming in the refreshing ocean water.
(If you want to bring your pup along, make sure to head to the north section of the beach, where you can let him or her explore off-leash at Coronado Beach and Dog Park—one of the best dog-friendly beaches in San Diego.)
Pacific Beach
Tucked between Mission Bay and La Jolla, this two-mile-long beach offers visitors a pristine location to take long walks along the shore with family and friends. Arguably one of the most popular beaches among locals, Pacific Beach is definitely subject to larger crowds, but it is ideal for both family activities and adventurous pursuits.
Pacific Beach is also home to several rental shops that provide equipment for water sports such as scuba diving, surfing, kayaking, and stand-up paddleboarding. The waves are spectacular here and make this beach a top San Diego surf spot. Spend a lovely day on the water with the kids or your S.O., then sit back, relax, and feast on delicious, fresh-caught seafood from Pacific Beach Fish Shop or The Fishery.

La Jolla Shores
A mile-long swath of sand tucked between ocean-carved cliffs, the gorgeous and family-oriented La Jolla Shores is popular among locals and tourists alike (thanks to its combination of fun and relaxation, this beach is a favorite among Capricorns, too). The beach is a super rad place to surf, paddleboard, scuba dive, and kayak, making it a fabulous choice for an activity-filled outing with friends or family.
Check out the neighboring Kellogg Park and have a relaxing afternoon picnic overlooking the water. Or, visit the Birch Aquarium at Scripps—which is perched atop the coastal bluffs and is one of the best aquariums in the state—for exciting encounters with marine life.
Ocean Beach
With its pristine shoreline, tide pools, and waterfront dining, Ocean Beach makes for a quintessential San Diego destination. Savor an afternoon riding the waves, sunbathing with a good summer read in hand, or strolling along the shore at Ocean Beach Pier. The pier also has some awesome spots to go fishing, so if you're in the mood to catch your food, bring your rods and bait.
If you just so happen to own a dog (or two), Ocean Beach is divine for your canine. Home to the Original Dog Beach, this section at the north end of Ocean Beach features a large designated area where your dog can wander and roam freely off-leash.
For a lovely oceanside dining experience after your day by the water, head to Hodad's for gourmet burgers and shakes. But if you visit the town on a Wednesday, stop by the famous Ocean Beach Farmers Market to try delectable ceviche, tacos, or torpastas served by local vendors.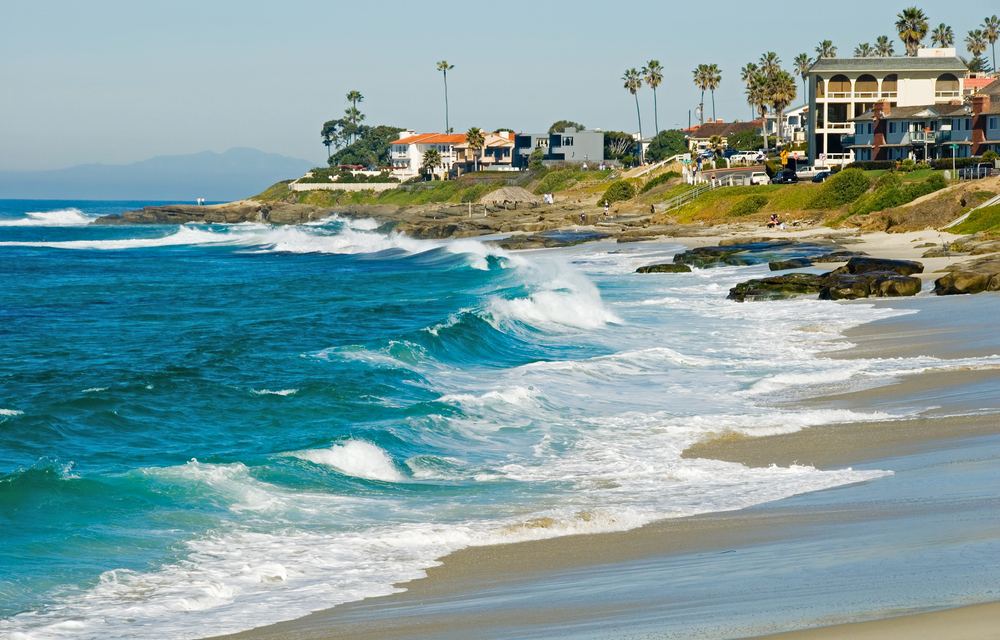 Windansea Beach
Located in La Jolla, Windansea Beach (give us more wind and sea, please) is the perfect destination for skillful surfers and swimmers. With bigger waves crashing right at the shoreline, swimmers are advised to tread carefully when entering the water. This beach is surrounded by rocky cliffs, which make it the perfect place to whale watch during their migration periods. Thanks to the picturesque scenery and robust waves, Windansea Beach is definitely one of the best beaches in La Jolla. While you're there, stop by The Waffle Spot or the Michelin-starred Nine-Ten Restaurant and Bar for a tasty morning breakfast.
Silver Strand State Beach
Silver Strand, also known as The Strand, boasts seven gorgeous miles of sandy beach connecting Coronado Island with Imperial Beach. From an aerial view, this narrow isthmus is absolutely stunning. Silver Strand State Beach is an amazing place to enjoy a variety of activities, from boating and surfing to kayaking and swimming. On-land entertainment abounds, too. You'll find campsites, fire pits, and volleyball nets located beachside. There's even a scenic bike path, part of the Bayshore Bikeway, which offers breathtaking views of the San Diego coast and skyline.
Silver Strand State Beach is ideal for visiting with your family and friends, so make a weekend out of it and take advantage of everything this divine destination has to offer. (What could top spending your weekend camping on the beach and sleeping under the stars?)

Cardiff-by-the-Sea
Situated in Encinitas, Cardiff-by-the-Sea is considered one of the best beaches near San Diego and features two miles of oceanfront bliss. If you're a sick wave breaker (surfers, we're hollerin' at you), make sure to check out the Cardiff Reef—one of the top surfing sites in the area. At Cardiff Reef, both experienced and professional surfers show off their epic moves when riding these challenging waves. Make sure to pack a picnic and s'mores ingredients, because at the nearby San Elijo Park, you'll find picnic tables and fire pits overlooking the coastline. You're more than welcome to hit the hay after a long day of swimming and munching on s'mores (quite difficult, we know) at one of San Elijo Park's several campsites.
Imperial Beach
Imperial Beach is home to the southernmost stretch of sand in California. Located five miles north of the Mexico border, this waterfront town offers a four-mile-long beach that's an ideal destination for surfers and swimmers alike, thanks to its stunning views and swells. The Imperial Beach Pier is also a great spot to cast a line and fish for your meal while admiring the lovely scenery.
Extend the fun by visiting the nearby Tijuana River Valley Regional Park, which features more than 300 species of birds and numerous trails, making it a haven for both birdwatchers and hikers.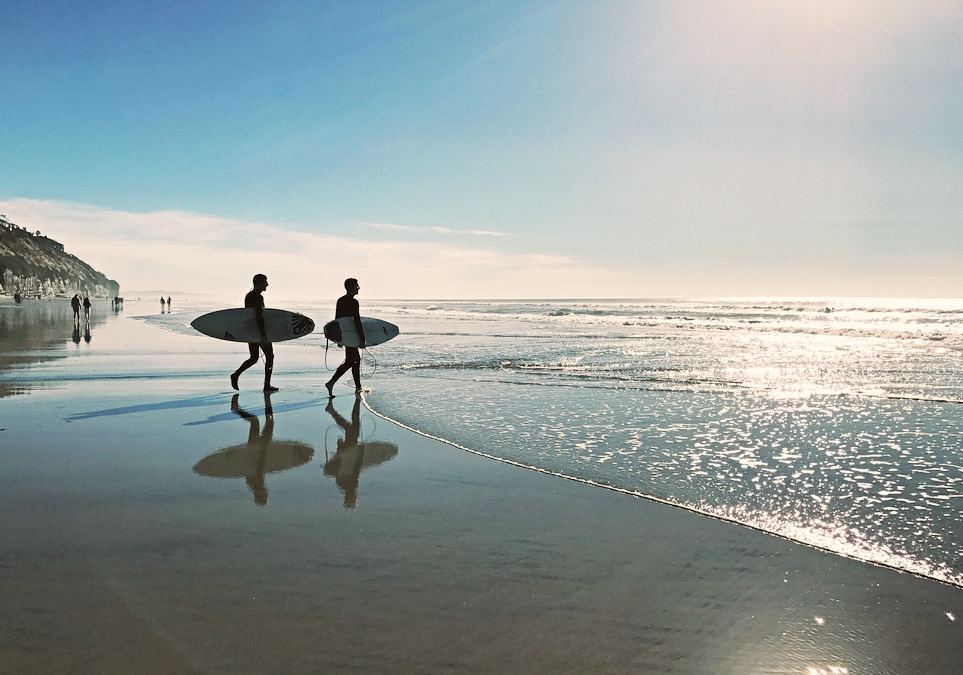 Tourmaline Surfing Park
If you happen to be an excellent surfer or sailboarder, Tourmaline Surfing Park is the place for you. Situated at the north end of Pacific Beach, this oceanfront location is a sick place to enjoy some righteous waves and magnificent ocean views. Surrounded by 75-foot-tall cliffs, Tourmaline Surfing Park is divided into two waterfront divisions—for surfing and swimming. Since this isn't a super touristy beach, it's the perfect place to go if you're looking for some oceanside peace and quiet.
Mission Beach
Mission Beach is a gorgeous place to spend your day. Although known for being one of the more overcrowded beachfront areas, this beloved destination has all the amenities—including easy parking, restrooms, volleyball nets, picnic tables, and firepits—to make it a worthwhile stop. After spending some time swimming, surfing, and playing volleyball, take a midday break and stroll the Ocean Front Walk until you discover a restaurant that floats your boat.
Later in the evening (after returning to the beach for a few more laps in the blissful blue ocean), head to Belmont Park, a historic amusement park overlooking the water, to get your adrenaline pumping on one of the fast-and-furious rides.