Whether you're driving to San Diego from as far away as San Francisco or as close as Los Angeles, hitting the open road is much more enjoyable with your furry best friend by your side. Luckily, an increasing number of San Diego hotels are welcoming pups with open arms, so you no longer have to leave Fido behind. These five resorts treat dogs like beloved guests as soon as their paws hit the lobby floor, offering special gear, gourmet food menus, and plush bedding just for them. So if you want to bring your four-legged pal along as you explore the sandy beaches, meandering pathways, world-renowned attractions, and alfresco restaurants of sunny San Diego, make a reservation at one of these top dog-friendly hotels—and don't forget to pack treats (for both you and Fido) for the road.
Loews Coronado Bay Resort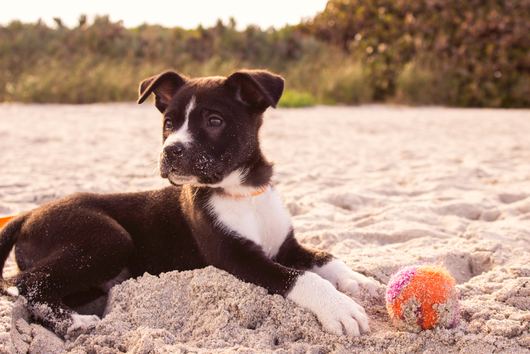 Travelers seeking a tranquil, luxurious escape along the shimmering San Diego coast should look no further than Loews Coronado Bay Resort—especially if they plan on coming with a pet in tow. Perched on its own 15-acre peninsula, this palatial hotel boasts spectacular ocean vistas, three heated pools, a hot tub spa, a gorgeous seafood-focused restaurant, and opulent guestrooms. The secluded spot will please humans and four-legged critters alike as soon as they step inside the gleaming lobby: You can take in the grand staircase framing sweeping San Diego Bay views while the hotel staff greets Fido with treats, a dog bowl, and a shiny new name tag. While there's a $150 pet fee, the resort certainly lives up to its claim that "Loews Loves Pets"; there's a reason why it was featured in National Geographic's "The Dog Lover's Guide to Travel". In addition to kicking off your pup's stay with a goodie bag, Loews offers specialized bedding and leashes, walking services, and an exclusive room-service menu (featuring meals made by the in-house, award-winning chef) for pups. Owners also receive a brochure detailing local dog-friendly trails, veterinarians, pet shops, and groomers.
Need to know: Two pets (up to 40 pounds each) can join you at the hotel for an additional fee of $150 per stay.
Kimpton Solamar Hotel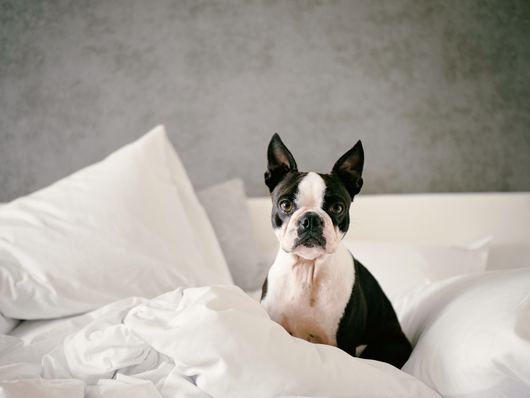 Named one of the best hotels in San Diego by U.S. News & World Report and the second best hotel in Southern California by Condé Nast Traveler, the Kimpton Solamar Hotel serves as a posh retreat for both you and your pup. The stylish, Spanish-inspired haven offers a rooftop pool with breathtaking skyline views, an acclaimed on-site eatery, and sumptuous suites complete with whirlpool tubs and plush designer beds. Plus, its prime location in San Diego's buzzy Gaslamp District means guests are merely steps away from numerous entertainment venues, cultural attractions, and dining destinations. Bonus: The hotel takes in all pets—even feathered and scaly critters—for no extra charge and breaks out the welcome mat (literally), water bowl, and dog bed for four-legged friends. Fido can even accompany you to the nightly happy hour and receive goodies of his own.
Need to know: There are no breed or weight restrictions, and—best of all—no additional fees!
Manchester Grand Hyatt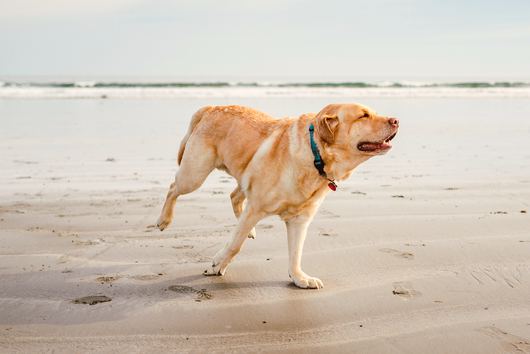 This towering, high-end hotel is situated along the waterfront, surrounded by the shops and restaurants of downtown San Diego as well as numerous area attractions. Inside the Manchester Grand Hyatt, you'll find a rooftop lounge, multiple pools, a world-class spa, numerous dining options, and upscale guestrooms. You're bound to be impressed as soon as you arrive at the luxe hotel, with its regal lobby featuring shiny marble floors, chandeliers, and mahogany accents. Fido is bound to be thrilled, too. Here, pups aren't just greeted with ear scratches and belly rubs, but also with a goodie bag loaded with gourmet treats—plus a dog bowl, a comfy bed, and a squeak toy. The hotel even has an on-site restaurant that welcomes furry friends on the patio and allows them to eat an indulgent meal with you. At Sally's, your pup can chow down on such delectable fare as Doggie Sliders (beef, cheese, and bacon atop bibb lettuce), the Surf and Turf (a medley of salmon, grilled chicken, rice, and bacon), and Howl and Oats (a sweet treat of banana, peanut butter, yogurt chips, oatmeal, and honey). After enjoying your meal and spending the day exploring the city, head to your room and snuggle up with your pup on the couch, where you can gaze out at the sweeping coastal views from your floor-to-ceiling window.
Need to know: Two pets (50-pound maximum) can join you for an extra fee of $100 for stays between one and five nights. There is an additional fee of $100 for each night thereafter.
Hotel Republic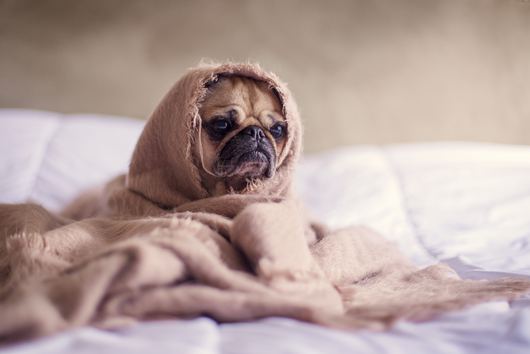 Located in the heart of downtown, the prestigious yet unpretentious Hotel Republic serves as an ideal home base for discovering San Diego. Whether you're taking a dip in the rooftop pool, relaxing in your coastal-inspired room, or savoring impeccable cuisine in one of the dining areas, it's easy to immerse yourself in the city's laid-back ethos. The best part? Fido can join you during your stay and enjoy a special bed, cozy blanket, chew toy, two bowls, animal-friendly food offerings, and locally sourced treats. And when you book the "Pups and Paws" package, the hotel will waive your cleaning fee and pet deposit—meaning you have more cash to spend at one of the nearby dog boutiques or grooming salons. If you stay here during the week, make sure to take your furry friend to the Thursday night "Yappy Hour", where four-legged guests are given all the free food (dog biscuits) and beverages (house-made broth) they desire.
Need to know: Two pets (50-pound maximum) are allowed per room. A fee of $100 per stay applies for each room, and there are breed restrictions.
Paradise Point Resort & Spa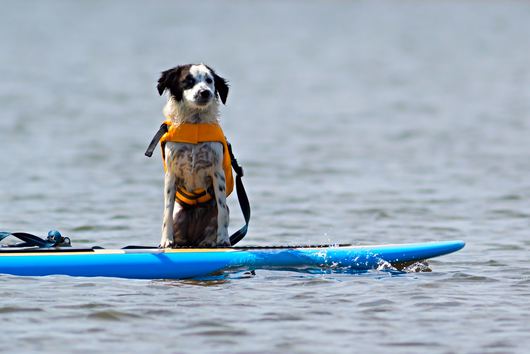 Nestled against the calm waters of Mission Bay, Paradise Point Resort & Spa is a secluded oasis covering a lush, 44-acre expanse in the heart of San Diego. Guests can easily wile away the day here between all of the available amenities: five swimming pools, an award-winning spa, an 18-hole golf course, sports courts, and numerous oceanfront restaurants and dining venues. Your pup can romp around the resort with you, too, whether it's playing fetch on the private beach, joining you atop a stand-up paddleboard in the marina, or walking beside you on the pathways that traverse the sprawling property. Bring along some complimentary dog treats, a water bowl, and (if needed) a life vest from the hotel, and embark on your day of adventure. Afterward, relax in your California-style bungalow amidst tropical gardens and tranquil lagoons, or grab a seat by the beachside fire pit and watch the gorgeous sunset with Fido by your side.
Need to know: One pet of any size is welcome for an additional fee of $150 per stay.