Growing a garden can be much more difficult than it looks. From creating an inviting outdoor living area, to choosing the ideal landscaping to maximize your space, to selecting the right plants that will flourish in your region, to picking a gardener who will know how to tend to your hard work, a garden is a seemingly endless responsibility. With proper care, however, a simple yard turns into a springtime oasis bursting with beauty and blooms—making it fully worth the effort put in.
With proper care ... a simple yard turns into a springtime oasis bursting with beauty and blooms.
There are two major steps in creating the outdoor environment of your dreams: designing your garden and maintaining it. While landscapers and gardeners are great resources, you may want to take care of the creative process yourself and learn how to tend to certain areas of the yard, as it is a point of pride in the household and a valuable skill to know. Whether you are growing solely flowers or bushels of fresh produce, these tips will help your green thumb blossom and enable you to make the most of your garden.
Creating the Landscape and Designing
the Garden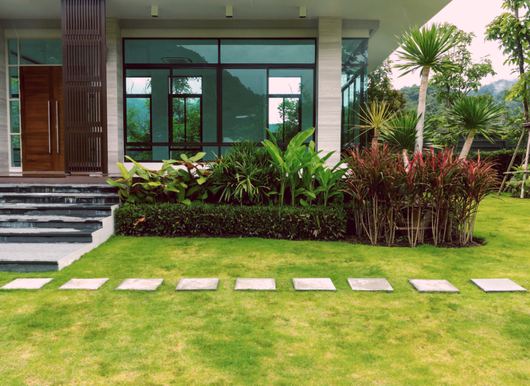 1. Choose Plants Wisely
Picking drought-tolerant plants can drastically improve the life of your California garden. While a traditional desert garden full of succulents may not be your style, make sure to intersperse a smaller lawn with some less-needy plants for a balanced landscape. Plants like the white Matilija poppy, purple lavender, and maroon kangaroo paw are drought-resistant, ideal for dry climates, and help attract bees—which are vital for pollination.
2. Start With the Front Yard
The front yard sets the tone for the entire landscape, adding to the curb appeal of your home and the overall vibe you are trying to achieve. This area often has a lot less to work with, but you can still create visual stimulation by incorporating curved gravel paths, edged rosebeds, and mulch-surrounded succulents. These types of additions can make the front area look bigger and draw attention to particularly stunning portions of the house.
3. Enhance the Curb Appeal
A focal feature (like a fountain) can complement a green lawn perfectly and make the home appear more welcoming. While the entire yard should not be made up of only lawn, it is important to feature at least some sod for a classic, inviting setting. It is also beneficial to choose plants that are easy to maintain; since the front yard is the first thing people see, the area must be carefully tended. To brighten up the space, add some pops of color by planting roses or lavender, frame important characteristics like the address on the curb, or flank the entrance with flowers for a particularly enticing walkway.
4. Treat the Patio Like a Living Room
The backyard is meant to be a relaxing area that serves as a continuation of the indoor living space. There are many ways to create an intimate outdoor retreat, including the use of weather-resistant shades on a gazebo, an overhang with a table and chair set underneath, or strategically placed small trees that form a cozy alcove. Blocking portions of the garden from sight gives the illusion that it continues beyond the fence line 20 feet away.
You can also create separate spaces in your yard; a grilling area could be off to the left, a dining area could lie beneath a pagoda on the lawn, and a seating area could be on the right. By having this sort of separation, the outside mimics the inside of the house and creates a natural flow.
5. Dress Up Ordinary Spaces
Make everyday items look fancy by incorporating small yet impactful features, such as a vine-covered archway, a stone pathway leading to a sculpture, or a solar light–lined gravel walkway. These extra details encourage the eye to wander to each of the spaces individually, creating the appearance of grandeur.
6. Meld the Inside with the Outside
Whether you adorn both spaces with a common color scheme or freshly cut flowers, joining the indoor and outdoor areas can make your property appear larger. And with so many sunny days throughout the year in California, indoor-outdoor spaces are highly coveted, so making your home more inviting can lead to a higher price tag when you get ready to sell.
Tip: If you opt to use flowers from your garden to tie the spaces together, choose your blooms first thing in the morning. The longer you wait, the warmer the temperature gets, and the faster the floral arrangement will wither.
7. Create Areas to Admire Your Work
Adding a bench or two throughout the garden gives you the ability to sit back and enjoy all of the hard work that has gone into creating it. A nice alcove amongst the rose beds, for instance, provides a great relaxation area where you can enjoy a cup of tea and the beautiful California weather.
8. Find Your Signature
Sticking with a signature plant (like a rose bush) or color allows the garden to feel cohesive even when there are several different styles and distinct areas throughout the space. This also helps to tie the entire home together and create a better flow from one end of the property to the next.
9. Repetition is Key
A recurring feature—such as pathways, sculptures, furniture, painted accents, and fences—works in a similar way to a signature detail. This repetitive element should be cohesive with your signature, as the consistent presence of multiple pieces brings pizzaz—much like beautiful interior design, good dance choreography, and a polished outfit.
10. Create a Sense of Depth
Layering plants and decorative elements throughout the landscape creates the illusion of having a larger yard and provides visual interest. By breaking up the yard into winding pathways and forming layers with a variety of plants, the area seems to be deeper than it truly is, culminating in an expansive wonderland where you can escape the stresses of everyday life.
11. Select Appropriate Plants for Your Climate
If you are used to growing indoor plants, it is particularly important to remember that not all plants are suited for every environment. While houseplants are quite forgiving and are able to find comfort in homes across the state, the soil and environmental factors present in your area will determine which outdoor species will thrive and which will not.
Drought-resistant plants are great for California gardens since the state experiences an abundance of sunny days year-round. Similarly, planting varietals that attract bees helps to preserve the ecosystem, so load up on lavender, poppies, and marigolds. While a lawn serves as a nice accent, it should not take up the entirety of the yard because it requires a ton of water and does not add dimension, which in turn creates the illusion of a smaller outdoor space.
12. Make the Most of the Space You Have
Rather than focusing on what you don't have, whether it be a pool or a larger yard, try to remain focused on what you do have. Maximizing space becomes very important when working with small plots, especially in large cities where gardens are limited at best. Hiring a landscaper and a gardener can help you realize your vision and craft a smaller-scale grandiose garden fit for a palace.
Choosing smaller furniture and accent pieces like fountains can also create the appearance of a bigger garden. Form a focal point by placing tiered flower beds along the fence, picking out a more compact patio set, and adding climbing roses and ivy to fill out an unused space—and see how your tiny area transforms.
Maintaining the Garden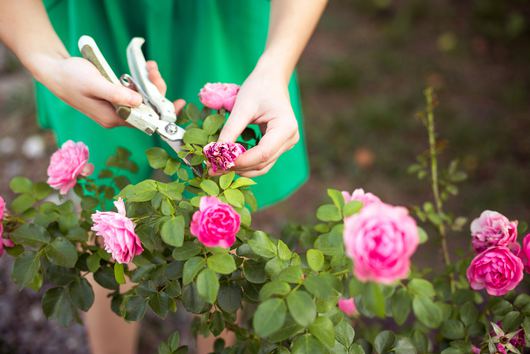 13. Pruning
Make sure to prune spring-flowering plants (such as climbing roses) and shrubs (like lilacs) as soon as the flowers fade and the petals begin to fall off. Waiting until the fall or winter will harm the plant by ridding it of next spring's flower buds and decreasing the overall yield for the following year. This also allows the plant to put all its energy into the roots and foliage rather than into the struggling flowers that have seen better days.
14. Perennials
Be patient with perennials. Unlike annuals, these plants will come back year after year, which means it might take longer to see the fruits of your labor. In general, it takes three years for perennials to mature, so plan ahead or purchase more mature plants if they are needed to complete your vision.
15. Deadheading
While this sounds like a terrible thing to do to a plant, deadheading is a common practice for maintaining both perennials and annuals. Deadheading is essentially removing the old flowers that have faded, making the plant appear healthier and more beautiful. Ridding the plant of old blooms also acts as a signal for annuals to produce more flowers and allows the plants to use their resources to strengthen their leaves and root systems.
16. Sunlight
Make sure to read the instructions on each of your plants (or consult your gardener) for specific questions regarding sun exposure. While many plants prefer full sun, others grow best in indirect sunlight, and some love the shade.
If you are planting vegetables in your garden, be aware of their placement, as most need at least eight hours of direct light for optimal growth. If you have some shady areas in your garden, opt for fall crops—like radishes, cabbage, spinach, and lettuce—and reserve the sunny spots for tomatoes, peppers, and other spring and summer veggies.
17. Weeding
Be gentle when weeding, and do it often for the best results. Hand-weeding and light hoeing is preferable to cultivating, as these more delicate approaches avoid tilling up the soil and bringing the weed's seeds to the surface, which can proliferate the problem. If you weed your garden regularly, weeds will not have time to develop and disperse seeds, making your job much easier.
To help prevent the development of annual weeds, lay down mulch around your plants; this natural barrier smothers any potential invaders and prevents them from popping up. Mulch is also especially useful when growing food crops, serving as a great alternative to harmful pesticides and chemicals, which can make their way into your food and, eventually, your body.
18. Planting Bulbs
While many types of flowers can be planted at the beginning of spring and still produce their blooms, bulbs are a special case. Tulips and daffodils are a few of the spring-blooming flowers that should be planted in the fall, prior to the first freeze, in order to sprout. Here's how to do it: Dig a hole about three times as deep as the bulb itself, place the bulb in the hole, cover it with rich soil, and wait for the warmer months to come. Since bulbs are planted before the rainy months, it is likely that they will naturally receive all the water they need, making them the perfect type of flower for novice gardeners.
19. Caring for Bulbs
Unlike annuals and perennials, the fading foliage on spring bulbs should be left alone until it turns brown and can be removed with a gentle pull. This part of the plant holds nutrients that help the bulb bloom the following year, so getting rid of it too early can hinder the bulb's future growth.
20. Soil
Maintaining the quality of the soil is more important than using fertilizer for plant growth. In most regions of California, it is best to replace the top soil every couple of years, but in drier desert climates, it is necessary to exchange it every year. This enables you to maintain a nutrient-rich, workable soil with which to plant the year's crops.
Fertilizing can help to an extent, but it is much less effective and can introduce chemicals into the soil, depending on which fertilizers are used. Adding naturally composed materials into the soil can restore its quality and balance its pH level; however, be careful not to change the soil's composition too much with coffee grounds or other acidic nutrients if the plants prefer a more basic environment. Talk to your landscaper or gardener before making these drastic changes so you avoid killing the plants that were so carefully selected and maintained.
21. Water
Though it can be tempting to water your garden a little bit every day, most in-ground plants prefer a single, deep watering of one or two inches per week. When watered lightly every day, the top soil benefits from the moisture, but the roots suffer and start moving up toward the soil—rather than growing deeper—in search of water. This is particularly bad news for tall plants and trees, which run the risk of toppling over under these stressful conditions.
22. Planting During the Dry Season
Since most plants are placed in the ground either in the fall prior to the first freeze or in the spring after it rains, it is fairly easy to work the planting around dry soil conditions; however, irrigation systems can moisten the ground during these in-between times. In order to maintain the structure of the soil, it is imperative that you wait until the easily soil crumbles in your hand, though the ground doesn't need to be bone-dry to begin planting. Working with wet soil can damage the plant and hinder its growth, and it may create the need to replace the soil more quickly.
23. Rotating Crops
It is best to rotate crops from one year to the next. This not only maintains the soil's natural nutrients, but also reduces the likelihood of disease overtaking the garden and enables the soil to stay in good condition for a longer period of time. If you are cultivating several types of plants every year and wish to grow the same varieties all the time, simply change where they are planted in the garden. Raised beds are a great way to know exactly where each species was planted; just remember to keep the sunlight and soil conditions fairly stable to ensure the success of your garden.
Now that you have a well-designed, perfectly tended outdoor living space, you are ready to grab a cup of coffee, kick up your feet, and soak up the sunshine from the comfort of your own home.