Most California regions experience moderate weather nearly year-round, making it possible to dine, lounge, and gather alfresco regardless of the month. A patio can completely transform a backyard and extend the square footage of a home into a much larger indoor-outdoor living space. Similar to the inside, the outside can be separated into sections with specific uses and can be decorated in a way that complements the rest of the home. If you have some unused space in your yard, read on for easy ways to make the most of it.
Dine on the Patio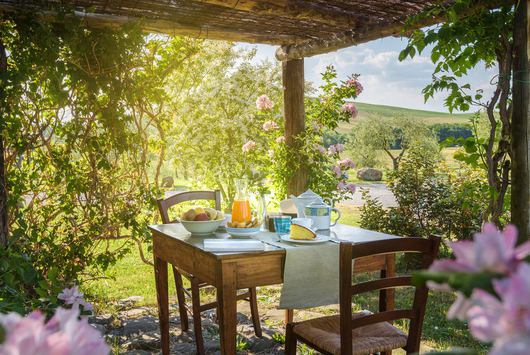 Family dinners, birthday celebrations, holiday gatherings, and barbecues are even better when there is an outdoor dining area where you can enjoy the sunshine or the stars. Whether entertaining is a weekly or a monthly tradition, having a patio with a dining table can illuminate dozens of possibilities.
Creating an alfresco dining room is an easy task, especially if a pergola is already standing in the backyard. If not, building one is fairly quick and simple, and the placement is entirely up to you. Placing a patio area next to the house can allow for electricity without too much fuss; meanwhile, constructing a detached patio might require hiring an electrician or handyman, but it will also create a sense of intimacy and a garden party ambience.
If you are looking for a whimsical, laid-back vibe, try repurposing an old barn door (or other reclaimed wood) that can serve as the dining table, using a mix of chairs rather than a set, and hanging mason jar lights at varying lengths.
If you are wanting a more sophisticated look, paint the pergola a solid color; pick up a set of chairs in the same color as the pergola; get a sealed, live edge wood table; hang a chandelier above the table; and plant flowering vines along the pergola posts so they grow up and around to create an elegant canopy over time.
Entertain Alfresco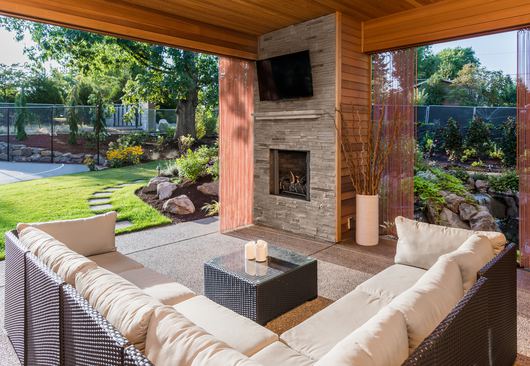 Outdoor entertaining areas are the easiest to create because they can feel intentional with just about any level of detail. Putting a few benches around a firepit, for instance, creates an intimate vibe, while building a full fireplace into the patio makes a space feel more luxurious. The important things to keep in mind when designing an alfresco entertaining space are to keep it confined to a certain section of the yard, to have plenty of seats, and to place those seats in clusters so it is incredibly easy to have a conversation.
Give Outdoor Cooking an Upgrade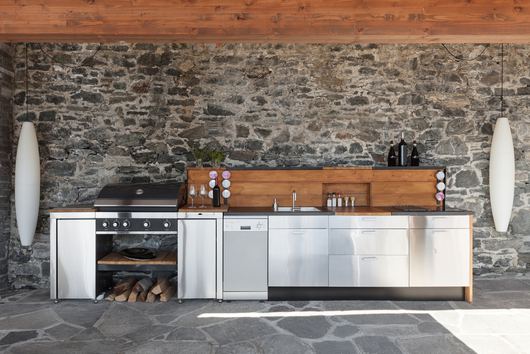 Having an outdoor kitchen can entirely change how you entertain your friends during a big bash or how you host your family for a weeknight dinner. There is something special about dining under the sun, and even basic cooking can feel less monotonous in a new environment.
Whether you have ample room on the patio for a stove and a smoker, or only enough space for a grill and a small countertop, confining the cooking area to its own space makes it feel fancier and more intentional than putting a simple barbecue set on the lawn.
Make sure to leave enough room for the whole family to get involved in the cooking process, and keep safety in mind when deciding where to place an open flame. Summer picnics and parties will never be the same!
Create an Outdoor Bedroom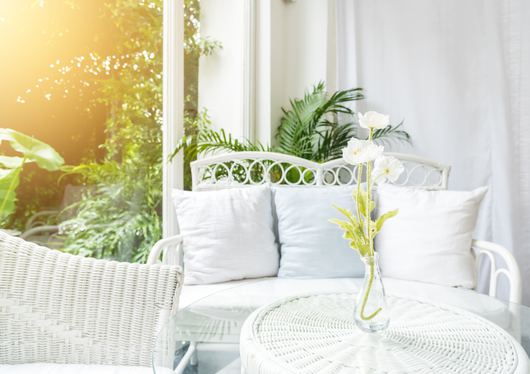 What better way to enjoy an outdoor space than by lounging and napping in it? There is nothing like lying down with a good book as the sun's warm rays shine down or as the rain cascades in a soothing rhythm. When it comes to outdoor bedrooms, it is best to keep them close to the home and underneath a patio overhang or protective gazebo so they do not get damaged.
Soft fabrics, comfortable pillows, fluffy blankets, string lights, hammocks, and daybeds are the ultimate design elements for an outdoor bedroom. Consider placing potted plants and candles on a side table in this area, too, for an added touch of the indoors. A waterproof storage container is also incredibly useful for safely stowing away certain items when they are not in use.
Extend the Living Room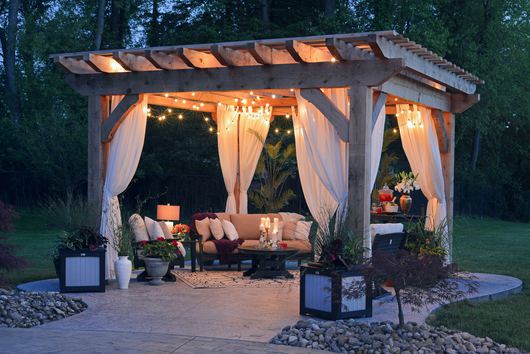 The biggest problem people face when creating an outdoor living room is making it feel inviting. To achieve a homey vibe, try configuring a sofa or loveseat and a few chairs around a central table on the patio to mimic an indoor living space. Just make sure you purchase items made with fabrics that are weather-friendly or waterproof, as most furniture ages very quickly when placed out in the elements.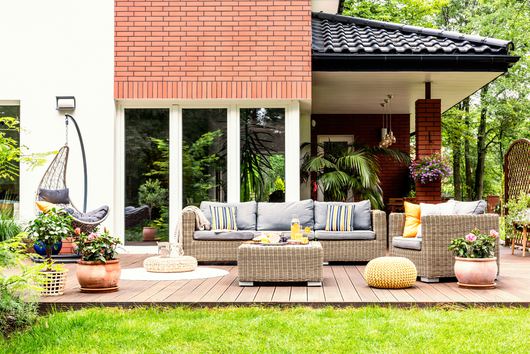 Sectioning off this part of the home can also present a huge challenge, especially when there is a dining room in the yard as well. But you can quickly solve this dilemma by choosing separate flooring for each space, which helps to visually define them as two distinctly different areas. Consider placing river rocks in a zigzag or diamond pattern and pouring concrete to fill in the negative space. This will create the same appearance as a rug would in an indoor living room, making the outdoor space instantly feel cozier. Sand, wood, and brick are great choices, too, as long as each type of room has its own unique flooring.