By

California.com
February 03, 2021
As California mitigates health risks during the COVID-19 pandemic, some travel restrictions may remain in certain communities. Call the local and regional tourism offices to learn more about the restrictions in your intended destination. Thank you for reading, and stay safe.
Welcome to one of the world's most enchanting stretches of coastline: Julia Pfeiffer Burns State Park. With striking turquoise waters, white and purple sands, tree-covered cliffs, and clear blue skies, this is quite simply a place you want to be. Discover hidden coves, hike through the lush forest, watch the crashing ocean waves, and prepare to be speechless more than once—Julia Pfeiffer Burns State Park is an underrated California state park that's definitely worth visiting on your weekend getaway to Big Sur.

Everything you need to know about Julia Pfeiffer Burns State Park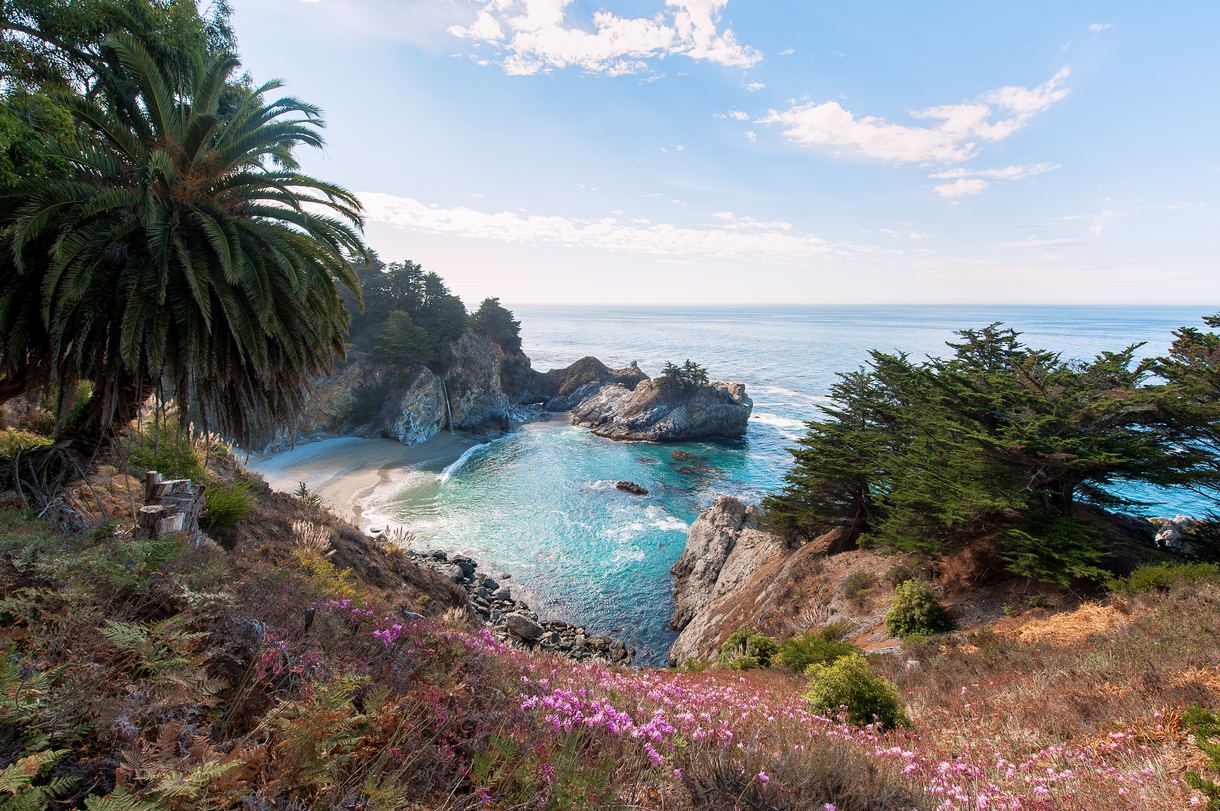 Julia Pfeiffer Burns State Park is named after the well-respected lifelong Big Sur resident and rancher Julia Pfeiffer Burns. She was such an inspiration and force-of-nature that when her land was acquired in 1924 by a New York congressman, his wife insisted the park be named in Burns' memory.
Extending from the Big Sur coastline into nearby 3,000-foot ridges, Julia Pfeiffer Burns State Park features various trees—including redwoods, tanoaks, madrones, chaparrals—and the famous 80-foot McWay Falls that cascades from granite cliffs directly into the ocean. The can't-miss California state park is abundant with sweeping views, great hiking trails for every level, and plenty of other opportunities for outdoor recreation.

Stay at Julia Pfeiffer Burns Campground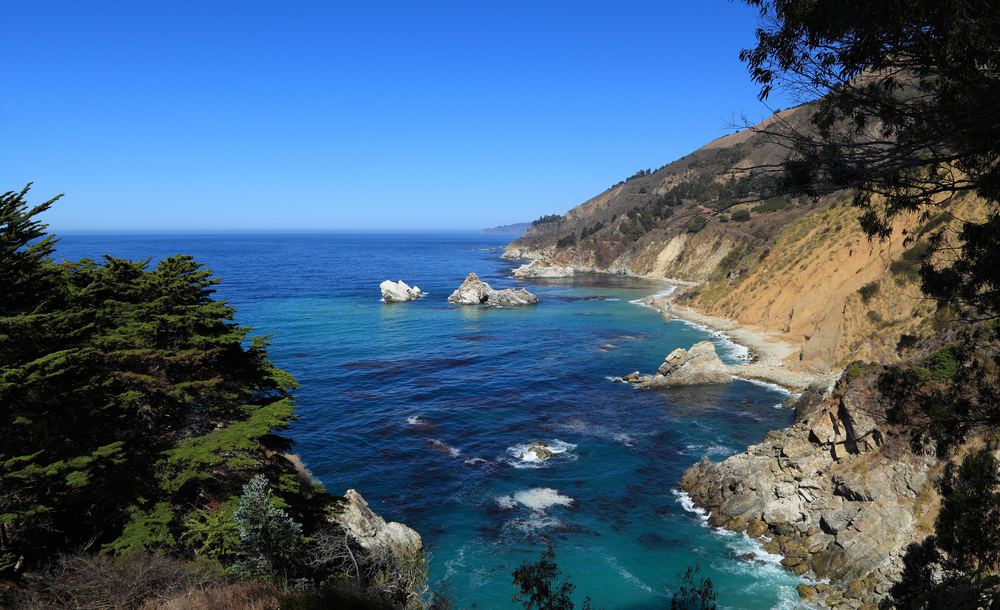 Location: 52801 California State Route 1, Big Sur
Amenities: Restrooms, picnic tables, fire rings
Activities: Hiking, wildlife watching
Fees: $30 per night
Number of sites: 2 campgrounds with 9 sites each
Dogs allowed: No
Reservation required: Yes
Even though it only has two campgrounds, Julia Pfeiffer Burns State Park is still one of the best state parks in California for camping. Both campgrounds are walk-in only, meaning no vehicle access is permitted, so be prepared to carry in all of your gear on foot. With a limit of up to eight people per site, the Julia Pfeiffer Burns campgrounds fill up quickly; make sure you reserve a spot through Reserve California before hitting the road.
If you're looking for a secluded campground with unbeatable views of the Big Sur coastline, this is the spot for you. Get ready to be enchanted by the sounds of the crashing waves, and don't forget to look out for whales, dolphins, and sea lions during your stay.

Visit Julia Pfeiffer Burns State Park's McWay Falls
Yes, McWay Falls is just as beautiful in real life as it is in pictures. We'd even go so far as to say it is even more impressive in person. And as much as we want to run our hands through the cascading waterfall, we know it's not safe to get up close. Luckily, there is a scenic trail that gives visitors access to prime panoramic views of the falls, sans the danger. Get your camera and put on your hiking shoes—McWay Falls at Julia Pfeiffer Burns State Park is only a short hike away.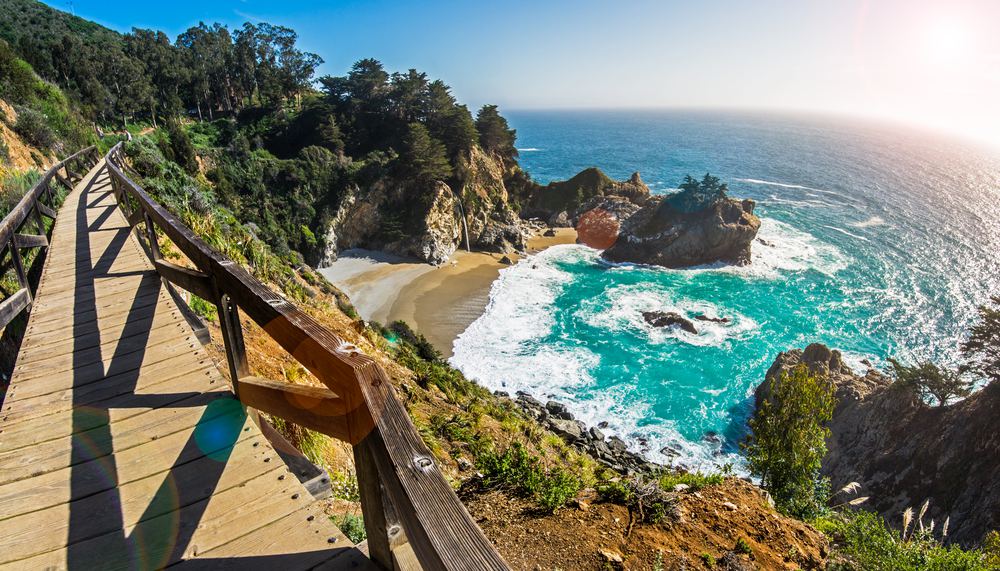 Overlook Trail to McWay Falls
Length: 1.2 miles
Route: Out and back
Level of difficulty: Easy
For the least amount of effort, you'll get some of the most stunning views in all of Big Sur by hiking this short and easy trail. You can access this path either from the stairs near the entrance kiosk or from the south parking lot. At the vista point, you can see McWay Falls dropping down onto the sandy beach below in McWay Cove. If you visit during the right season, you'll also be able to see migrating whales passing by.
Note that due to nearby erosion and dangerous conditions, the Overlook Trail is currently only partially open. McWay Falls can still be seen from the portion of the trail that is open for exploration. It is advisable to check for the latest updates before embarking on this hike.

Julia Pfeiffer Burns State Park Trails
Julia Pfeiffer Burns State Park offers plenty of spectacular hiking trails fit for every skill level. Here some other routes to traverse once you've snapped your photos of the famed McWay Falls on the Overlook Trail.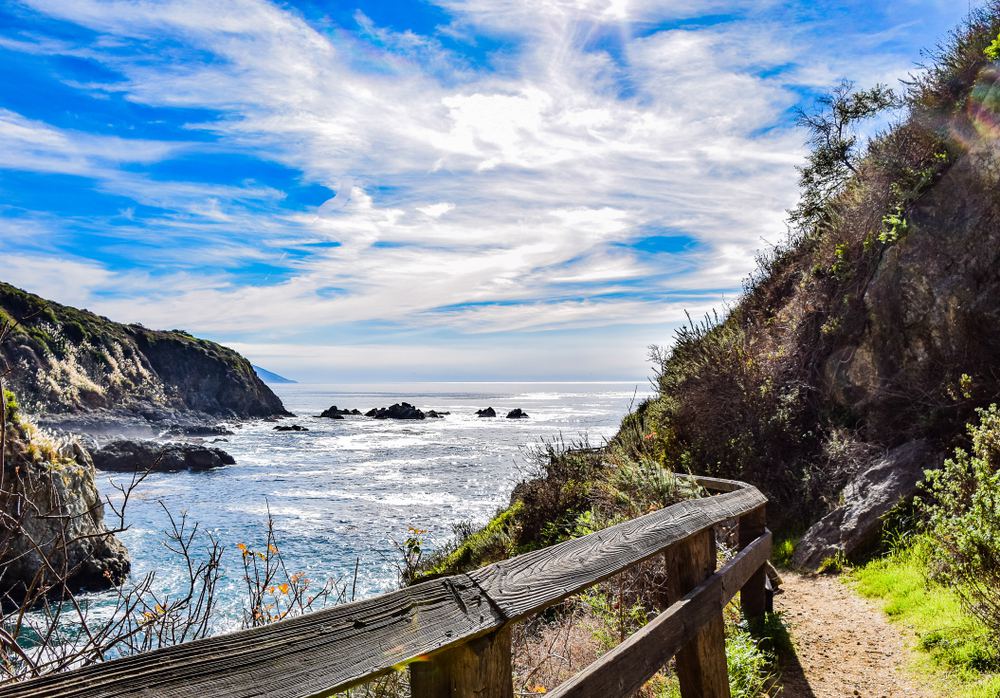 Partington Cove Trail
Length: 1.1 miles
Route: Out and back
Level of difficulty: Moderate
This peaceful and secluded trail is a must-do while at Julia Pfeiffer Burns State Park. You'll go down a steep road, over a wooden bridge, and through a tunnel before reaching the final destination of the protected Partington Cove. Even though this hike is relatively short, it still packs plenty of views. Expect to pass by the ocean, small falls, and a river on this trail.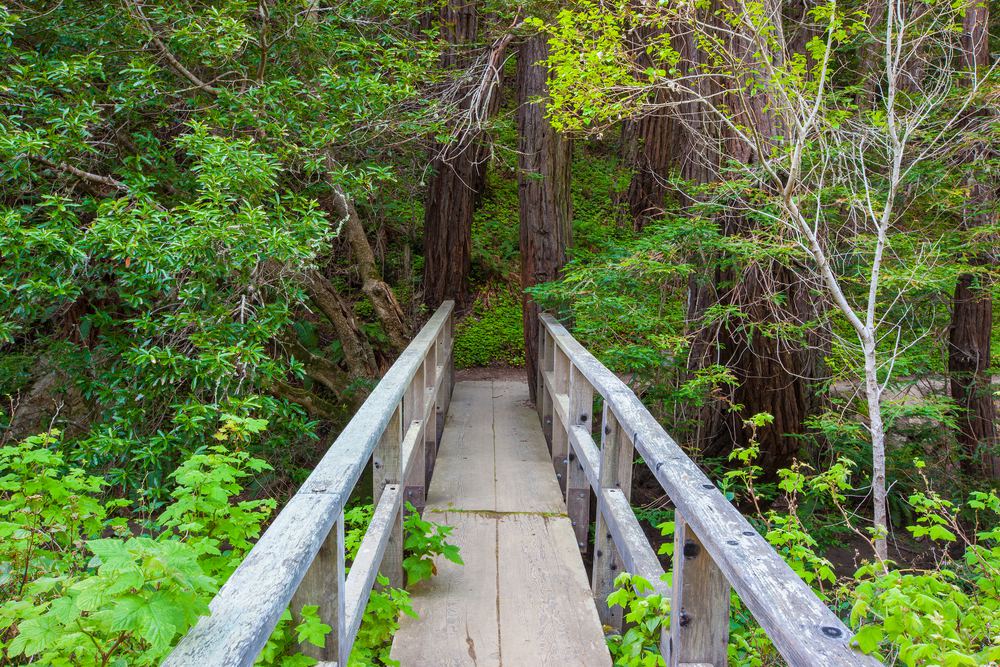 Tanbark Trail and Tin House
Length: 6 miles
Route type: Loop
Level of difficulty: Challenging
This strenuous trail (temporarily closed due to the Dolan Fire) is a favorite among hikers looking for an exciting but challenging excursion in Big Sur. The route first leads you through redwood and oak forests along the side of a creek, then climbs up to the Tin House. Here, the trees start to dwindle, leaving you with unrestricted panoramic views across the canyon and the shoreline below. If you decide to tackle the Tanbark Trail, you'll find that the vistas and natural wonders you encounter on the way are well worth the effort that this trek demands.

Relax at Julia Pfeiffer Beach
Julia Pfeiffer Burns State Park is home to some of the must-see California state beaches: Saddle Rock and McWay Falls. Unfortunately, they are completely off-limits because the areas are extremely dangerous; however, you can still enjoy this stretch of rugged coastline.
If you're into scuba diving (and have obtained a special permit), head over to the Julia Pfeiffer Burns Underwater Area for fun underwater exploration. Established in 1970, this advanced diving site between Partington Point and McWay Creek is heaven for experienced divers.

Even though the beaches at Julia Pfeiffer Burns State Park are not publicly accessible, you can still lay on the sand and soak in the sun by taking a 20-minute drive to Pfeiffer Beach in Los Padres National Forest. This Big Sur destination is one of California's best beaches to visit, even when it's cold outside.
Beautifully crashing waves, marine-rich tide pools, purple sands, and gorgeous sunsets—the secluded beach in California will take your breath away. The focal point of the Pfeiffer Beach is Keyhole Arch, a striking formation with a natural hole carved into the rocks from the crashing waves. If you time your visit just right, you may catch the last rays of daylight shining through it.