By

California.com
January 08, 2021
As California mitigates health risks during the COVID-19 pandemic, some travel restrictions may remain in certain communities. Call the local and regional tourism offices to learn more about the restrictions in your intended destination. Thank you for reading, and stay safe.
Tall primeval trees, imposing mountains, diverse terrain, and unparalleled natural wonders—California's state parks are unmatched in the world. As one-of-a-kind destinations, the state parks are abundant with national treasures, lush redwood forests, and miles of hiking trails. Whether you're an adventurous soul seeking new experiences or a city girl hoping to escape the hustle and bustle, there are more than enough state parks to suit your needs.
California State Parks Pass
You'll never run out of state park adventures to experience, so the best thing to do is get a California State Parks pass. There are several passes to choose from. The most popular option is the California Explorer Vehicle Day Use Annual Pass, which costs $195. This California State Parks pass offers the most value—aside from gaining access to state parks throughout California, you also get access to well-known SoCal beaches along the San Diego, Orange County, and L.A. coastlines.
The Golden Poppy Vehicle Day Use Annual Pass, which costs $125, includes many of the prime destination parks within the redwood region as well as most of the state reservoirs. Other options include the Tahoe Regional Vehicle Day Use Annual Pass, Off-Highway Motor Vehicle Day Use Annual Pass, and Historian Passport Day Use Admission Annual Pass.
Top California State Parks
The best California state parks are the ones offering plenty of exciting outdoor activities: hiking, camping, fishing, kayaking, scuba diving, horseback riding, and more. Here, in the heart of nature, you'll never get bored. Each park has its own distinct character; some California state parks are stark stretches of desert, while others are lush coastal oases waiting to be explored. Describing the state parks doesn't do them justice—you have to see them for yourself. Here are 11 state parks to add to your California bucket list.
Northern California State Parks

1. McArthur-Burney Falls Memorial State Park
McArthur-Burney Falls Memorial State Park is the second oldest state park in the California State Parks system. Located in Shasta County, the state park is famous for its 129-foot-tall and 250-foot-wide waterfall, Burney Falls—President Theodore Roosevelt even called it "the Eighth Wonder of the World."
When visiting this California state park, make sure you get an up-close look at the breathtaking cascade by going on a scenic waterfall hike. A Burney Falls camping experience is also a must. The McArthur-Burney Falls Memorial State Park Campground has over 100 campsites, with several sites being ADA accessible.

2. Calaveras Big Trees State Park
There's a reason why the author and naturalist John Muir singled out Calaveras Big Trees State Park—this California state park is truly mesmerizing. Calaveras Big Trees consists of two groves: North and South. The South Grove has around 1,000 trees, whereas the North Grove has about 100 mature trees.
Unfortunately, history hasn't been so kind to the North Grove. Once home to the largest tree ever discovered, the grove is now simply the location of the stump where the tree once stood. Visitors continue coming to this underrated state park to witness the big trees in California.

3. Point Lobos State Natural Reserve
Everyone should visit Point Lobos State Natural Reserve at least once in their lifetime. Considered the "crown jewel" of the California State Park System, Point Lobos is a favorite place to wander and explore. The area boasts bold headlands, rolling meadows, and alluring coves.
Visitors flock to Point Lobos in California to discover rare plant communities, threatened archeological sites, and exceptional geological formations. The activity at Point Lobos State Natural Reserve is watching whales offshore during migration season.

4. Humboldt Redwoods State Park
Home to the world's largest remaining contiguous old-growth coastal redwood forest, Humboldt Redwoods State Park is as picturesque as it gets. Drive along the 32-mile-long Avenue of the Giants to view the Immortal Tree—a 950-year-old redwood that stands tall at 250 feet.
Humboldt Redwoods State Park has one of the coolest camping sites in California, too. You can choose from over 250 campsites across three different campgrounds. Visitors also have access to more than 100 miles of trails.

5. Julia Pfeiffer Burns State Park
Leave it to Julia Pfeiffer Burns State Park to take your breath away. Stretching from the Big Sur coastline into 3,000-foot ridges, the California state park features redwoods, tanoaks, Pacific madrones, and chaparral. But Julia Pfeiffer Burns State Park is most famous for its 80-foot waterfall—McWay Falls—that becomes a tide fall during high tide. Dropping from granite cliffs into the Pacific Ocean, McWay Falls is Big Sur's most scenic location.
Julia Pfeiffer Burns State Park is one of the top California state parks for camping. With two environmental campgrounds, each campsite is equipped with fire rings and picnic tables; however, there is no potable water or firewood, so come prepared.
6. Fort Humboldt State Historic Park
Perched on a bluff overlooking Humboldt Bay, Fort Humboldt State Historic Park has a unique history. The state park was first established in 1853 as a remote military post in order to assist in conflict resolution between Native Americans—namely the Wiyot, Hoopa, and Yurok—and gold-seekers and settlers. But it didn't take long for people to abandon Fort Humboldt. It rapidly fell into decay after 1870.
Now, visitors only see the hospital building remains of the fort's original 14 structures. But there is also a Logging Museum as well as open-air displays of historic logging equipment. Make sure to stop by Fort Humboldt when spending a weekend in Eureka.

Southern California State Parks

7. Red Rock Canyon State Park
Red Rock Canyon State Park is a California desert state park that'll undoubtedly leave a lasting impression on you. Situated where the southernmost tip of the Sierra Nevada converges with the El Paso Mountains, the state park features scenic desert cliffs, desolate buttes, and grand geological formations. Red Rock Canyon is California's most unique state park—the dramatic shapes of the rocks along with their vivid colors are an unparalleled sight.
Several movies were filmed in Red Rock Canyon, including Jurassic Park, The Big Country, The Outlaw, and The Mummy. Destiny's Child's "Cater 2 U" music video was also filmed at this California state park, so you won't want to skip this one.

8. Malibu Creek State Park
Located only 25 miles from Downtown L.A., Malibu Creek State Park was once the home of Chumash Native Americans, who settled here 5,000 to 10,000 years ago. This California state park spans over 8,000 acres and offers 15 miles of streamside trail through oak-, sycamore-, and chaparral-covered landscapes.
Featuring dramatic peaks and breathtaking canyon panoramas, Malibu Creek State Park is rich in wildlife, too. Visitors may catch a glimpse of bats, raccoons, skunks, badgers, coyotes, foxes, mountain lions, rabbits, and deer. Thanks to its close proximity to Los Angeles, you can easily make spontaneous trips to this state park.

9. Anza-Borrego Desert State Park
All hail the queen of the night sky, Anza-Borrego Desert State Park. Named after Spanish explorer Juan Bautista de Anza, this desert destination boasts the state's only native palm: the California fan palm. Anza-Borrego is full of rocky hills, sandy terrain, and colorful blooms that are best viewed from February to March.
Anza-Borrego Desert State Park is also known for its quirky, large-scale desert art attractions. The area is overrun with enormous metal sculptures that seem to appear out of nowhere—behold the frightening scorpions, humongous mammoths, and daunting dinosaurs scattered around the state park.

10. Hearst San Simeon State Park
Craving a San Simeon camping experience? Hearst San Simeon State Park is the solution. This gorgeous 3,409-acre landscape is one of the oldest units of the California State Park system. Boundless wetlands and untouched native plant communities make this California state park stand out. The Santa Rosa Creek Natural Preserve, the San Simeon Natural Reserve, and the Pa-nu Cultural Preserve are all found within the state park as well.
There are two campgrounds in Hearst San Simeon State Park: Washburn and San Simeon Creek Campgrounds. The former is a more primitive campground, while the latter offers 115 sites for both tent and RV camping.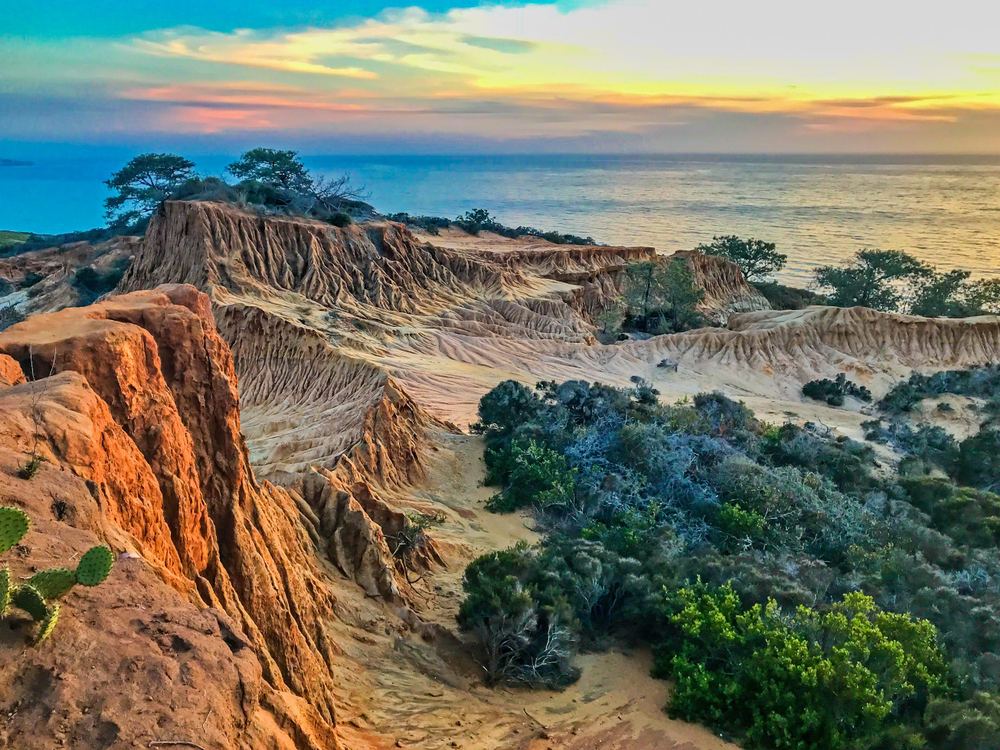 11. Torrey Pines State Natural Reserve
Discover 2,000 acres of pure coastal beauty at Torrey Pines State Natural Reserve, one of the best California state parks near San Diego. Torrey Pines is among the wildest stretches of land on the Southern California coast. The state park is bordered by Del Mar on the north and Torrey Pines Municipal Golf Course on the south.
As the name suggests, this California state park is home to the rarest pine species in the United States: Pinus torreyana, commonly known as Torrey pines. These rare trees only grow on Santa Rosa Island and Torrey Pines State Natural Reserve, so make sure to visit when spending a weekend in La Jolla.