By

California.com
January 01, 2021
As California mitigates health risks during the COVID-19 pandemic, some travel restrictions may remain in certain communities. Call the local and regional tourism offices to learn more about the restrictions in your intended destination. Thank you for reading, and stay safe.
It's no secret that California is a beach lover's paradise. The sun, sand, and surf are what everyone dreams of when thinking about the Golden State. There are more than 3,000 miles of coastline here, but beaches are among the most popular destinations, so finding a stretch of sand that you don't have to share with a crowd can get difficult—but it's not impossible. The best secluded beaches in California are waiting to be discovered.
The secluded California beaches to visit next
Whether you're looking for a romantic outdoor date spot or seeking some solitude with nothing but a beach day playlist, you can (believe it or not) find a secluded beach in the Golden State. From calm and sandy SoCal shores to wild and rocky NorCal coasts, here are the top remote beaches in California most people don't know about (yet).
Remote beaches in Northern California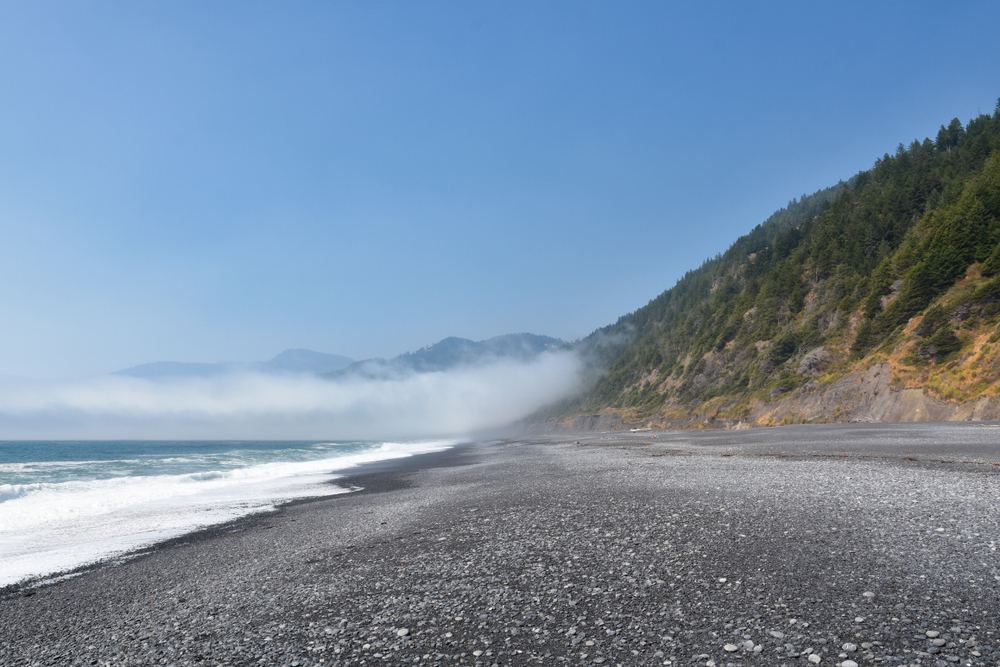 Black Sands Beach
The super Instagrammable Black Sands Beach in Humboldt County puts the S in secluded. Located at the end of the 20-mile-long Lost Coast Trail, this secret beach looks like it's straight out of a fantasy novel. Although it's a favorite among outdoor adventurers, parts of this coastal stretch are blocked at high tide, so if you're planning on backpacking or remote camping, organize accordingly to avoid facing unforeseen difficulties. Wildlife lovers will also appreciate the many native fish and bird species found along the 3.5-mile coastline—have a camera handy at all times.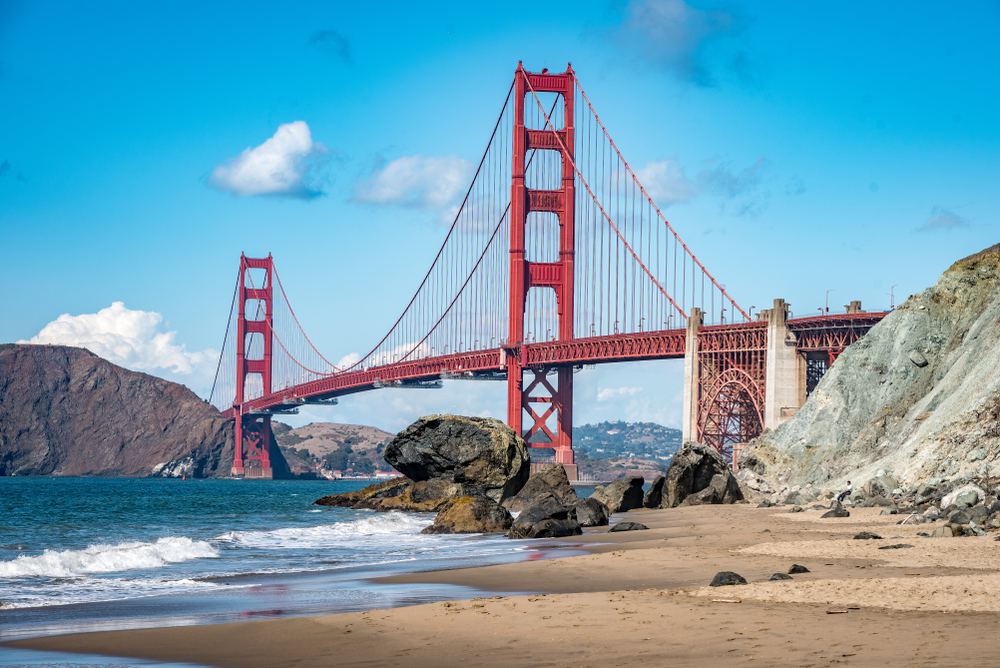 Marshall's Beach
If you thought you couldn't get beachside views of the Golden Gate Bridge without having to dodge groups of tourists, think again. Marshall's Beach in San Francisco is an incredibly photogenic stretch of coast that offers the best of both worlds—million-dollar views and no crowds. This secluded California beach is located just minutes away from the city, to the north of the mega-popular Baker Beach. Take a break from biking along NorCal's must-ride trails and watch a breathtaking sunset in a way you never have before. No need to thank us.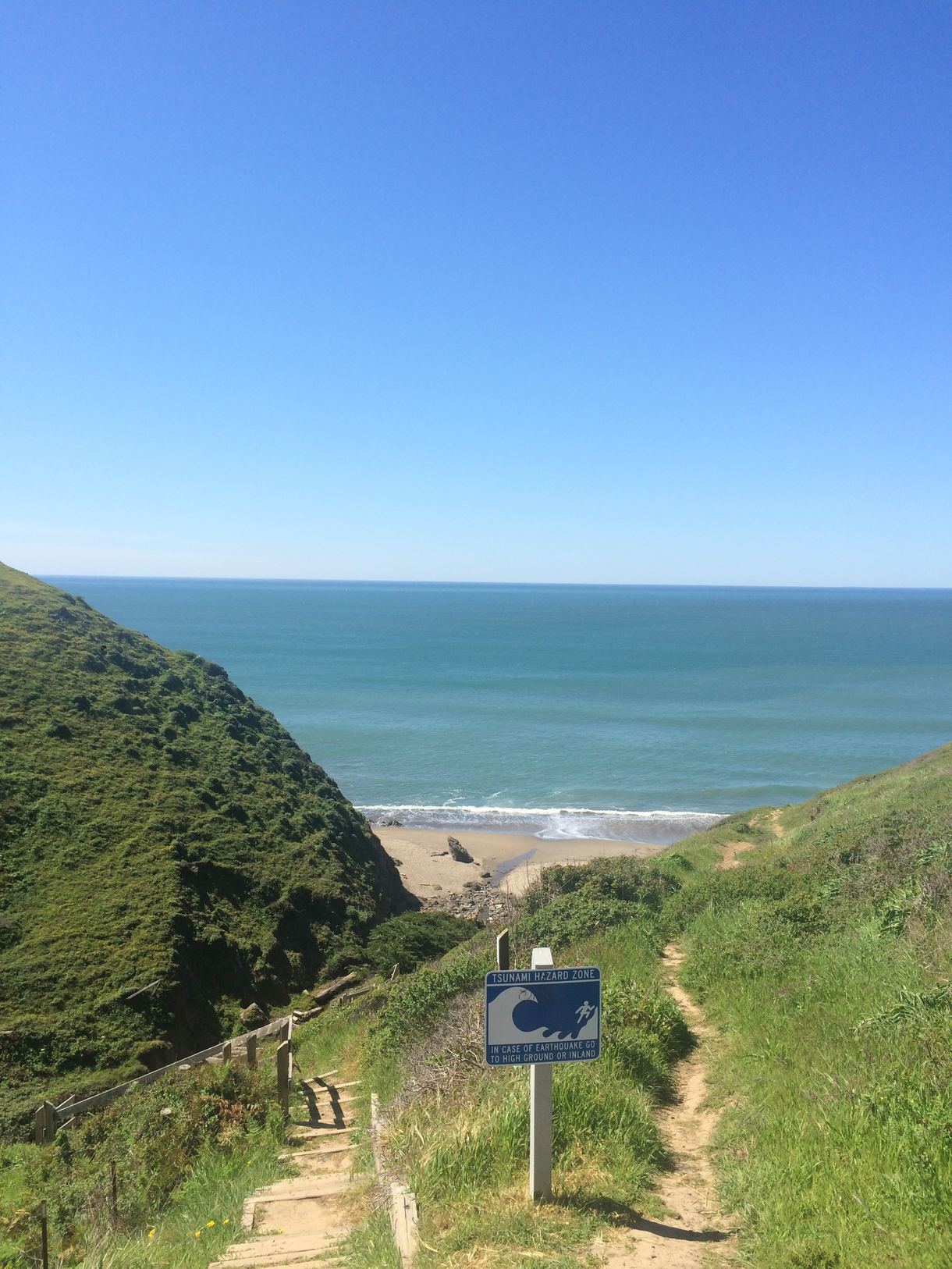 Pinnacle Gulch Beach
Looking to add a beach stop to your couple's road trip itinerary? The hidden Pinnacle Gulch Beach might be the perfect addition, especially if you want to spend some time in Bodega Bay. This is one of the best secluded beaches in California due to its cleanliness, spectacular sunsets, sandy shores, and overall remote nature.
This quarter-mile beach is best visited during low tide when it's dotted with interesting rocks, tide pools, and distinctive rock formations. Plus, the sandy section is quite narrow, so you won't have much dry space to walk on if you visit during high tide. Want to extent your trip? Glamping in Northern California will give you an experience you won't forget anytime soon.
Carmel Meadows Beach
This wide, sandy, west-facing beach in Carmel is just as beautiful but nowhere near as crowded as its more popular counterparts: Carmel River Beach and Monastery Beach. As one of the best secluded beaches in California, Carmel Meadows Beach features stunning views, peaceful hiking trails, and clear waters. For an unforgettable Central Coast getaway, visit this hidden beach and follow it up by spending a day (or three) exploring Carmel-by-the-Sea.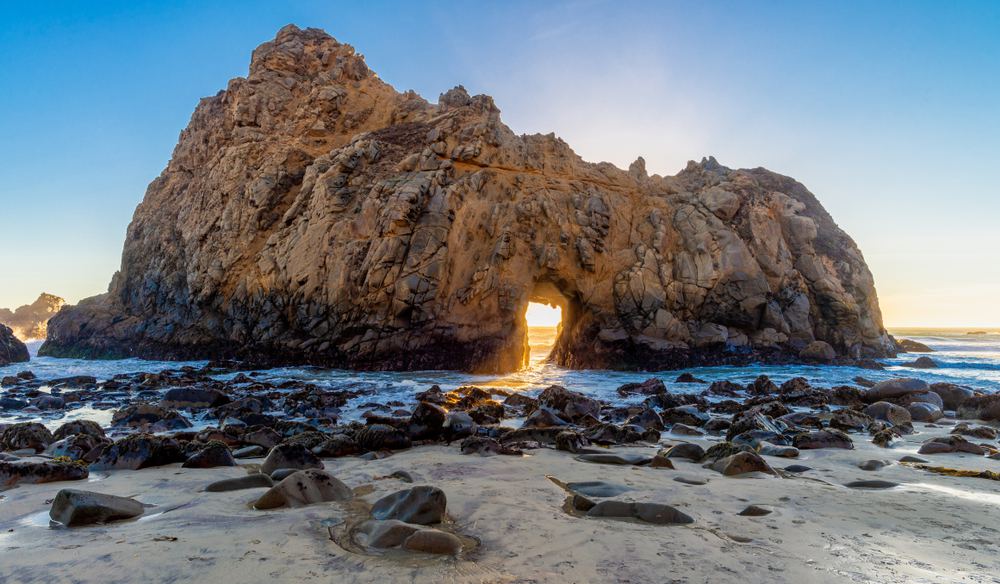 Pfeiffer Beach
This remote beach is the perfect weekend destination for people wanting to take a quick trip to Big Sur's wild coasts. The gorgeous mountain scenery and plentiful outdoor adventures make Pfeiffer Beach one of the best secluded beaches in California. You can enjoy various activities at this remote beach: Chill on the sand, explore one of the many hiking trails, snap pictures of the captivating Keyhole Arch, and more.
Head to the north end of the beach to discover the unique purple-stricken sand, which gains its unique hue from manganese garnet rocks in the cliffs. Before you embark on a trip to this beautiful hidden beach, know that clothing-optional folks are sometimes spotted on the shore here, so don't let that catch you by surprise.

Secluded beaches in Southern California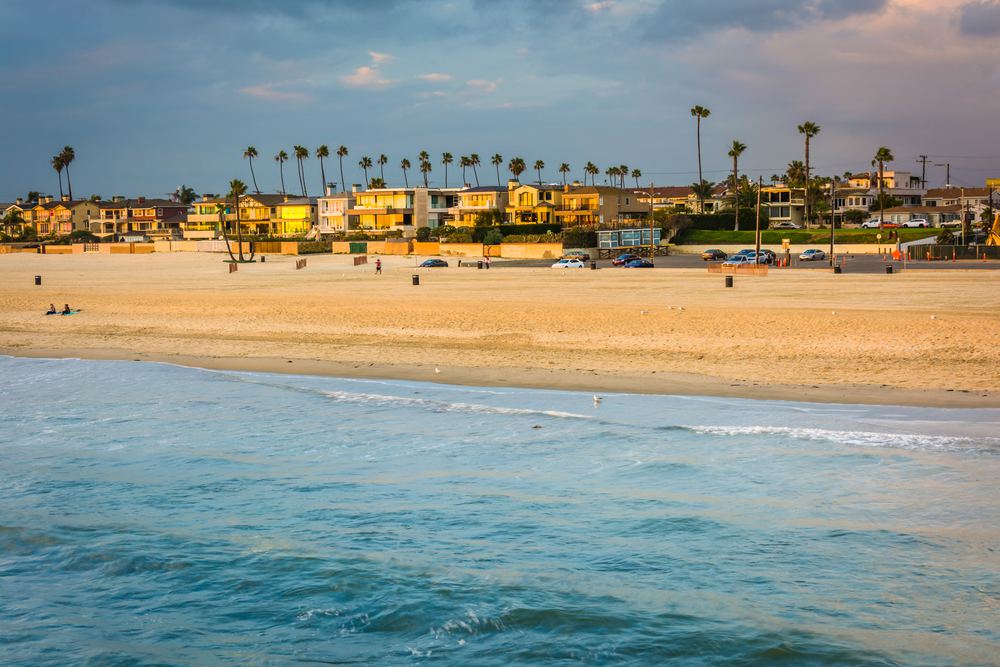 Seal Beach
Tourists often head straight to the mega-popular Laguna Beach or Long Beach when visiting Orange County; however, a much smaller number of people know of the spectacular (and fairly hidden) Seal Beach. This secluded beach in Southern California meets the needs of every O.C. visitor who's looking for white sands, surf-ready waves, and stunning seaside views—making the northernmost beach in the county a perfect spot for any type of beachgoer.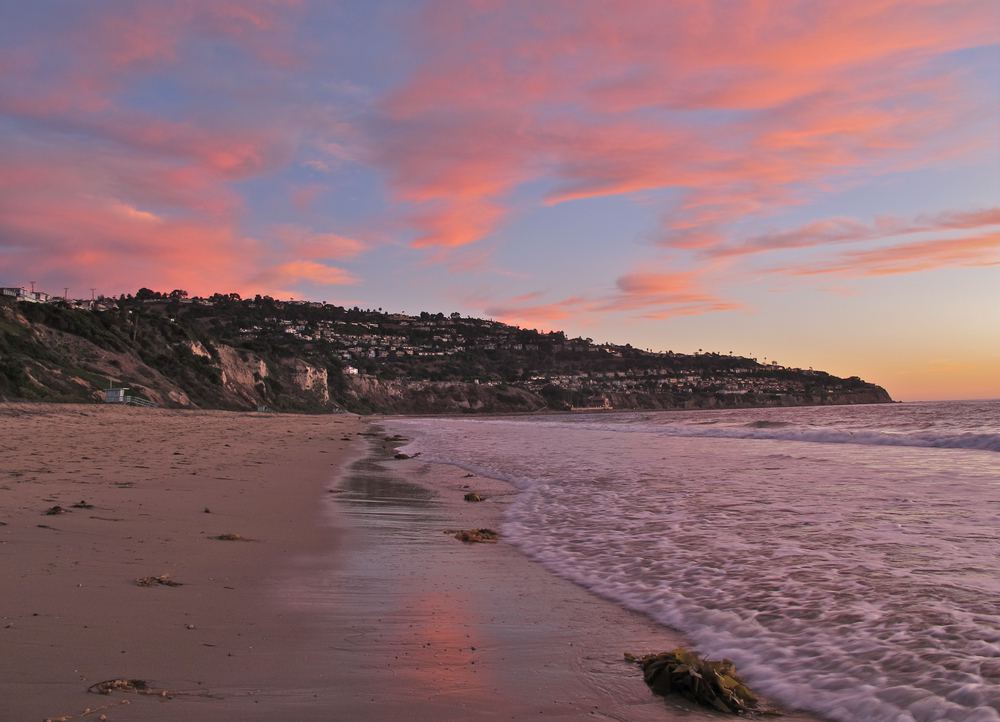 Torrance Beach
Torrance Beach is a long, sandy beach—and the only beach—in the city of Torrance. The local nickname for this beach is "RAT Beach," but fear not, because the beach itself is far more pleasant than this moniker implies. RAT (thankfully) doesn't refer to the animal; rather, is an abbreviation with various interpretations. Most people assume it stands for Right At Torrance or Right After Torrance.
Despite it being a relatively secluded beach in California, Torrance Beach boasts many amenities such as a large parking lot, lifeguards, and pathways. In the mood for a long bike ride or a stroll? Torrance is located at the very start of The Strand—a 22-mile path that borders the Pacific shoreline up to Malibu.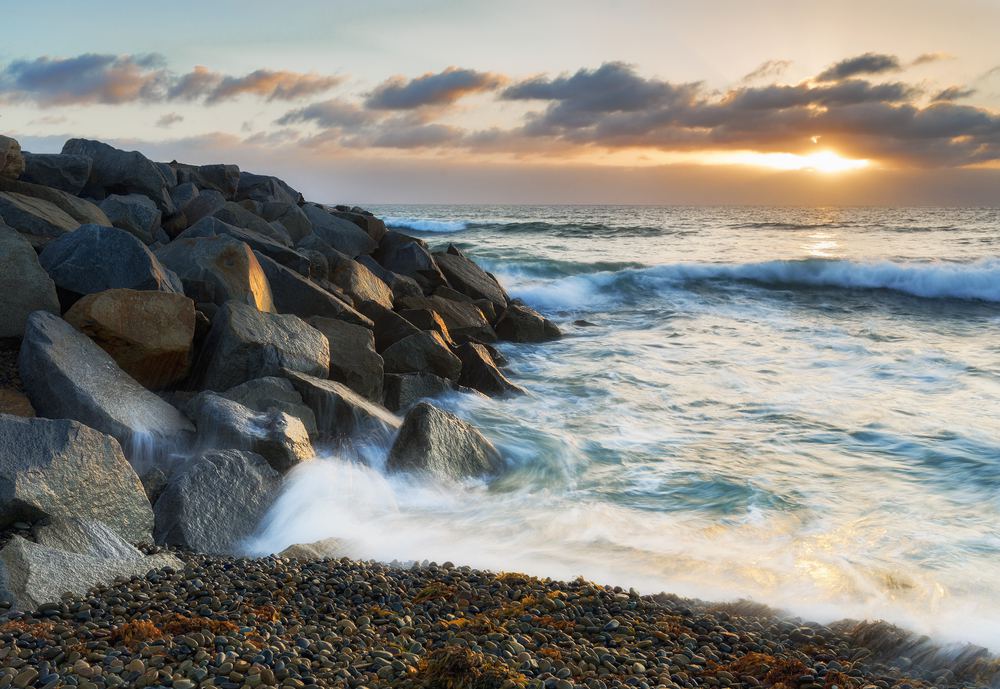 South Ponto Beach
We love visiting San Diego beaches because of the year-round perfect weather and crystal-clear waters. The secluded California beach of South Ponto is a great option that is just as lovely as its more frequented counterparts but nowhere near as crowded. Located a mere 35 miles north of San Diego, on the border of Carlsbad and Encinitas, South Ponto Beach is one of the wildest, most underrated beaches in SoCal.
Boasting plenty of space for picnics, volleyball, and other activities, South Ponto Beach guarantees a good time for families and groups of friends looking to spend some time outdoors. Any time is a good time to hit up the San Diego coast, so visit with the kids or treat yourself this season and embark on the solo road trip you've been dying to do.