By

California.com
December 06, 2020
Having trouble catching some zzz's? You're not alone. Over 70 million Americans toss and turn in their beds and suffer from wakefulness. No matter what sleep apps and products we use or new self-care routines we try, sometimes it's just not enough, and it can wreak havoc: Not getting the proper amount of sleep negatively affects your memory, concentration, and mood. But we're not giving up just yet. There are a number of natural sleep remedies that'll help us snooze. The next time you want to get some shut-eye, stop loading up on caffeine and make use of these home remedies for a good night's sleep.
The Sleep Remedies To Try Next

1. Chamomile Tea
Chamomile tea is a superfood beverage that has a long list of benefits. Not only is it a natural sleep remedy, but it also reduces menstrual pain, lowers blood sugar, and prevents osteoporosis. Although chamomile has been used in alternative medicine for a very long time, it's important to note that chamomile isn't a substitute for proven medical treatments. You should also avoid giving the tea to infants (as it may be contaminated with botulism spores) and to people who have severe allergies to pollen.
As for the rest of the insomniacs, simply heat water to a boil and pour it onto the chamomile flowers that you bought from Legacy Teas and Spices. Let the tea infuse for about 10 minutes. If necessary, add a sweetener of your choice and enjoy sipping on this home remedy sleep aid.

2. Banana Smoothie
Little did we know that the best sleep remedies include bananas. The sleep-promoting yellow fruit is rich in potassium, magnesium, vitamin C, vitamin B6, and fiber. Bananas relax your muscles, reduce nighttime cramps, lower your stress and anxiety levels, and increase serotonin and melatonin production.
What better way to boost your potassium levels and relax your body than by having a fresh banana smoothie? Blend a single banana with a little bit of Greek yogurt, plant-based milk, and a splash of vanilla extract to indulge in one of the most delicious sleep remedies you'll ever prepare. If you're too lazy to do it yourself, head over to Jamba Juice (or let them come to you) for the perfect sleep-inducing smoothie. This will quickly become a part of your bedtime ritual to help you wind down.

3. Lavender Milk Tea
When searching for home remedies to help you sleep, you'll find that lavender is almost on every list. Lavender's benefits are endless—it helps you get a good night's sleep, treats skin blemishes, reduces blood pressure, relieves asthma symptoms, and lessens hot flashes. This purple plant is known for its distinctive floral scent that positively impacts your mood by lowering stress, anxiety, and depression.
Stop looking for natural ways to help you sleep because lavender milk tea is here to save the day. Combine water with black tea, honey, and the dried lavender you got from Temecula Lavender Co., and bring to a boil. Let it cool for 10 minutes, then add a bit of milk of your choice, and boil again. Voila, you now have an herbal sleep aid that'll stop you from tossing and turning. Drinking lavender milk tea and doing stress-relieving yoga poses is the ideal combination for relaxation and rest.

4. Tart Cherry Juice
Who would've thought that cherries were sleep-inducing foods? The tasty fruit happens to be the only edible source of melatonin, the sleep hormone. Indulge in a small bowl of cherries or sip on a glass of tart cherry juice; you'll find yourself dozing off in no time.
Don't hesitate to make your very own home remedy for insomnia. Take four pounds of tart cherries, and remove their stems. After washing the cherries, boil them (with the pits) with eight cups of water for at least 20 minutes. Use a fine-mesh strainer to drain the juice—press the fruit to release as much juice as possible. For a little bit of sweetness, pour the drained juice back into the pot, add sugar or any sweetener of your choice, and boil for 10 more minutes (or until the sweetener has dissolved). If this entire process isn't exactly your cup of tea, purchase tart cherry lemonade from Califia Farms.

5. Valerian Tea
Valerian isn't so different from chamomile—the root of the flowering plant is used as a natural remedy for sleeplessness and relaxation. The herbal sleep aid can be brewed as a tea or taken as a supplement. Valerian is assumed to affect one's gamma-aminobutyric acid levels, a.k.a. the calming neurotransmitters in the body; that's what makes you sleep more soundly at night. Additionally, valerian helps to relieve muscle spasms and possibly ease menstrual pain.
Making valerian tea before dozing off is one of the best natural sleep remedies. Boil a teaspoon of the dried root (buy it from Moonrise Herbs) with water and let it steep for 10 minutes, then strain and drink. For better results, drink the tea 30 to 60 minutes before going to bed. You won't be using California sleep apps and products anymore to establish a good sleep cycle.
If you're using valerian for short-term use, there's no harm in it. However, if you're planning on including valerian in your long-term bedtime routine, it's best to let your doctor know. Don't give valerian to children, pregnant women, nursing mothers, heavy drinkers, and people with liver diseases.

6. Whole-Grain Crackers
Not going to lie—we've definitely felt like we needed a nap after munching on whole-grain crackers. Now we know why. Carb-heavy meals cause your blood sugar level to increase, which plays a role in your body's sleep cycle. Obviously, this doesn't mean you should have an entire bowl of macaroni and cheese in the middle of the night; a few whole-grain crackers will do the job. Instead of sneaking to the kitchen to snack on delicious Christmas cookies, opt for these simple treats to help you get some shut-eye. Here's a recipe for one of the best home remedies for good sleep.
Ingredients
1¼ cup whole-wheat flour
½ cup toasted sesame seeds
5 tablespoons sesame oil or California extra virgin olive oil
½ teaspoon salt
4–5 tablespoons water, as needed

Directions
1. Preheat the oven to 350 degrees with an oven rack placed in the middle position. Line a baking sheet with parchment paper.
2. In a stand-up mixer on medium speed, combine flour with sesame seeds. Gradually add sesame oil.
3. Pour in salt and water, and continue mixing on medium speed until it forms a dough.
4. Dust your kitchen surface with a bit of flour to roll out the dough. (You can also roll the dough between pieces of parchment paper.)
5. Use a cookie cutter or your hands to cut out shapes and arrange them on the baking sheet. Make sure the pieces don't touch each other.
6. Bake the home remedy sleep aid for 15 to 20 minutes, or until lightly browned. Once ready, allow to cool on the rack.
7. Indulge before bedtime for a good night's sleep.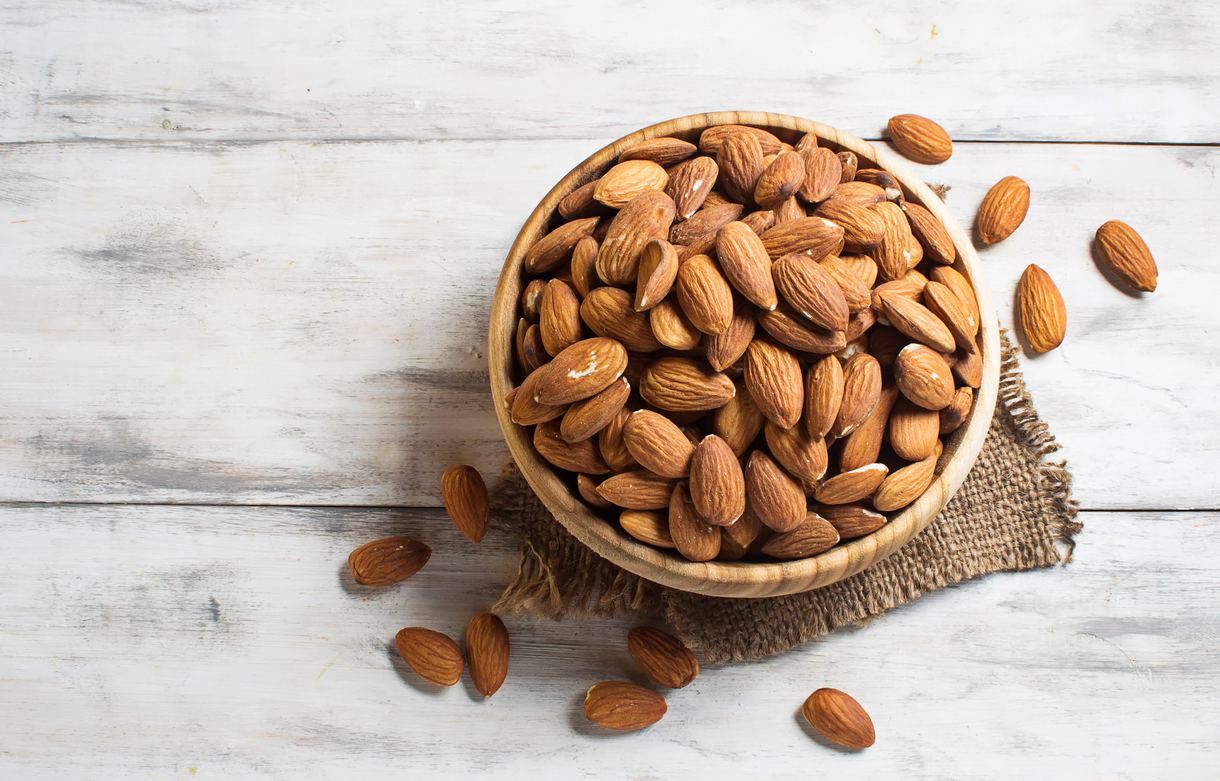 7. Roasted Almonds
You can end your search for natural sleep remedies because we have the answer: Almonds are your means of achieving quality sleep. The crunchy nuts contain magnesium and tryptophan, so they help to naturally decrease muscle and nerve function. Furthermore, almonds are packed with protein—your body will maintain a balanced blood sugar level while you're dreaming. You can eat them as they are, or you can try this delicious and natural remedy to help you sleep.
Ingredients
1 tablespoon fresh rosemary, finely chopped
1 tablespoon extra virgin olive oil
1 teaspoon chile powder (optional)
¾ teaspoon kosher salt
A dash of ground red pepper
2 cups whole almonds from RY Ranches

Directions
1. Preheat the oven to 325 degrees. Line a baking sheet with foil.
2. In a medium bowl, combine all ingredients and toss to coat.
3. Place nuts in a single layer on the prepared baking sheet.
4. Bake for 20 minutes, or until lightly toasted.
5. Snack on the tasty home remedy for insomnia to doze off in no time.