By

Mackenzie Hutson
September 22, 2019
While we have been spoiled with pumpkin spice lattes as we anxiously await the arrival of fall, the beloved season is very nearly upon us. For some, autumn is marked by end-of-summer parties that mourn the season's passing, while for others, the season is embraced with open arms, cozy blankets, and as many pumpkin products as humanly possible. I am comfortably settled in the latter group, planning out my fall rituals, sipping on warm chai tea, and hanging up my sweaters—all the while knowing I won't actually have the chance to wear them until November, when the 70- and 80-degree weather finally gives way to chilly breezes. (We are in California, after all.)
Regardless of the temperatures outside, the fall equinox marks the official start of autumn. The phenomenon occurs when the sun moves directly above the equator, making the day and night equally long. And, if you really want to get into specifics, this year's equinox takes place on September 23 at about 12:50 a.m. (California time, of course). That doesn't give us much time to gather autumnal inspiration, but lucky for us, fall's Pantone colors have already been determined. So, whether you're looking to upgrade your work wardrobe, revamp your room with updated wallpaper, or find a color palette for your bestie's bachelorette party, Pantone's fall color guide is a good place to start.
Based on the Pantone Fashion Color Trend Report, the fall season will be spotted with red, green, brown, and orange hues—exactly the colors you would expect to see with the incoming fall foliage. While "guacamole green", "evening blue", "vanilla custard", and "paloma gray" round out the autumn 2019 through winter 2020 Pantone hues, it wouldn't be California without some pops of color, so get ready for vibrant reds and oranges, too.
Read on to get the lowdown on the fashion and home decor colors that will take over the fall season.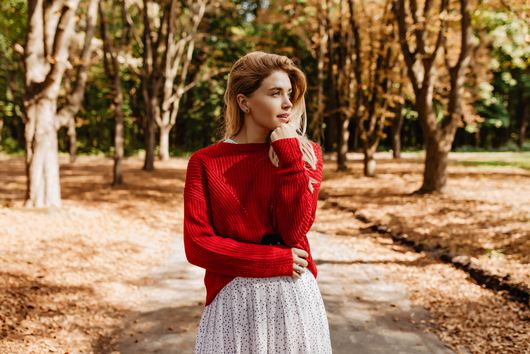 Pantone Fashion Colors
Spruce up your wardrobe by adding a few bright accents, whether it's with a "chili-pepper red" patch for your jean jacket; a pink "fruit dove" sweater to complement your crème de pêche skirt; or an "orange tiger" button-up cardigan to go along with your wide-legged trousers.
For a more subdued version of these trending colors, opt for "biking red", "peach pink", and "dark cheddar", and you'll surely stand out for all the right reasons. "Living coral"—the color of the year—can also spice things up.
Add a splash of "Eden green", "rocky road" brown, "galaxy blue", and "sugar almond caramel" to balance out the vivid hues and show off your fall style.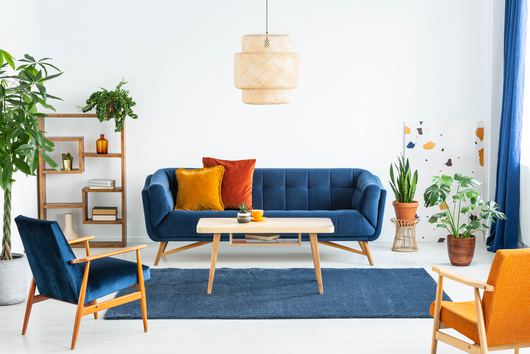 Interior Design Autumn Palette
Half the fun of changing seasons is switching up your home decor. But before you automatically jump to carved pumpkins, Halloween ghosts, or Thanksgiving turkeys, consider a more subtle approach that harnesses the colors of the California coastline and the forests of Big Sur.
This palette includes "bottle green" and "sky blue"—which are perfect for sprucing up your wallpaper—along with "toadstool purple" and "chai tea" yellow, which make for excellent home decor accents. These subdued colors represent the earthy tones of fall and are sure to elevate your space. Obsessed with the chai tea hue in your home? Don't be afraid to incorporate it into your wardrobe as well; innovation is what California style is all about.
What Pantone colors will you rock on the first day of fall 2019?