Picking out bathroom tiles can seem like a simple task until you walk into a showroom and face the sea of options that await you. Since you have to consider everything from what the tiles are made of, to how they are placed on the floor, to the elements they interact with, choosing a flooring option can prove to be nearly impossible. Weighing your options before walking into the store can guide your decision-making and make the process less overwhelming. Check out these 15 tips to aid you in your bathroom-tile search and allow your vision to come to life.
Types of Tile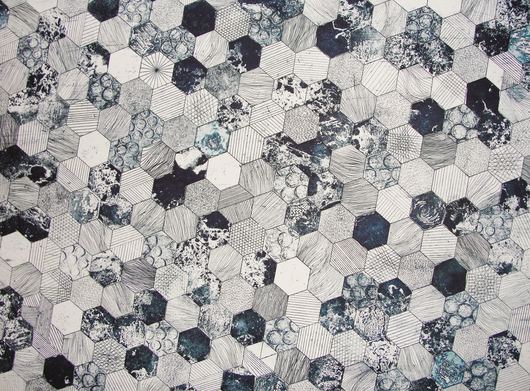 Porcelain and Ceramic Tiles
Ceramic and porcelain tiles come in a wide array of colors and patterns, ranging from tiny, honeycomb-shaped tiles to stone or wood imitations. Ceramic tiles are durable; waterproof; and stain-, odor-, and bacteria-resistant. They are typically pretty simple to install and just as easy to clean; however, they can be less comfortable than softer materials to walk on barefoot, and the slip-resistant versions are highly recommended since these tiles are naturally slick. Porcelain tiles are harder than their ceramic counterparts and are often more expensive, but they come with the additional benefit of having a single color, which makes it way easier to cover up a chip than with clay tiles.
Plastic Laminate Tiles
Available in a more limited selection and typically meant to look like wood planks, plastic laminate tiles are a great option if you are looking for flooring with a similar height to the existing material. These tiles are durable and easy to clean like porcelain and ceramic, but they are less resistant to water. Moisture can cause the fiberboard to expand over time, making it essential to thoroughly caulk around appliances and walls.
Stone Tiles
Stone tiles have gained popularity in the past few years and provide a touch of elegance that other materials cannot provide. While they offer the great benefit of natural slip resistance because of their varied textures, they also require more maintenance than other types of tiles. The pores hold onto the grime and dirt more than other flooring options, so they require cleaning and sealing fairly frequently. Stone tiles are often more expensive than their counterparts, too, but are available in an impressive assortment of colors and textures, allowing you to make your space incredibly unique.
Glass Tiles
Much like ceramic and porcelain tiles, glass tiles can be slick, so textured tiles or small tiles with large grout sections are recommended to avoid falls. But given their wide-ranging styles and colors, the way they reflect light, and their ability to create depth in a small space, glass tiles have carved out their place in the market and are one of the most popular bathroom tiles out there. Glass tiles tend to be more expensive than other types of tiles because they are difficult to install, but once they are in, they will last for years to come.
Tile Style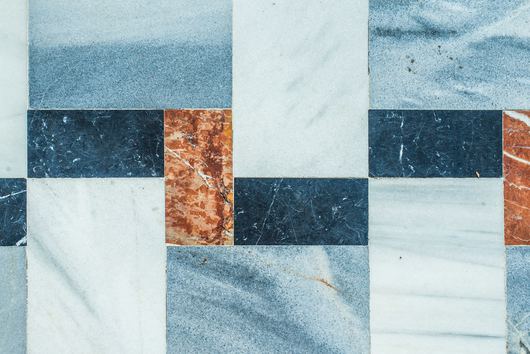 One Size Doesn't Fit All
While thinking about bathroom tiles may sound boring initially, it definitely doesn't have to be. Mixing and matching different tile sizes can create visual interest and help to draw attention to other areas of the bathroom that you want to show off. Tiles in one color but different sizes can be used to lead up the side of a bathtub, for example, or multiple tile sizes can be used in a flooring design that complements the vanity. Bear in mind that small tiles can reduce the risk of slipping, since there is a tinier surface area and more grout; this presents a great opportunity to use smaller tiles around wet areas and have them cascade outwards into larger tiles.
Define the Space
Tiles create the opportunity to define regularly used spaces with a different color or size of tile. By incorporating slip-resistant tiles into the design, for instance, it is possible to create a standing area next to the sink or a splash zone by the tub without needing to purchase additional rugs. By separating the space into different areas, a small room can seem larger and more organized.
Heat it Up
If there is one place in the home to put heated floors, the bathroom is it. Not only do heated floors increase the future resale value of your home, but they also make every space appear more luxurious and desirable. There is little more defeating in a self-care routine than stepping out of the shower and getting struck with goosebumps from a cold floor. Heated floors can take care of this problem and allow moisture to dissipate faster, helping to prevent mold from forming in the dark, moist environment.
Keep in Mind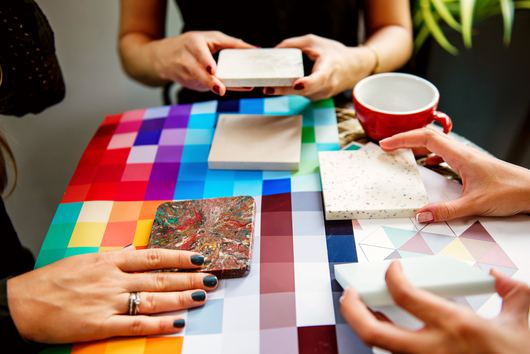 Size Matters
Yes, it really does matter, so make an intentional decision when choosing tile sizes. Though large tiles can make a small bathroom look bigger, they can also make the space more of a slipping hazard. Meanwhile, smaller tiles can feel busier but also help to make the surface more slip-resistant, and they can provide a classic look with white hexagonal shapes. Consider mixing and matching the tiles to accommodate both needs, or use larger tiles in half baths or powder rooms where slipping is less of a concern. Large stone tiles are another great option, as they will provide the desired continuity while also adding the texture needed to make the flooring safe.
Three is the Magic Number
Variety may be the spice of life, but adding too many different types of tiles in a single, small space can create visual clutter. Pick out a maximum of three shapes and colors to maintain the sense of cohesion while also adding personality to the room. If you are having a hard time deciding which ones to use or how much of them to get, determine which specific tile is your favorite and go from there. If it is an expensive choice, think about your budget and how much you can realistically afford before making any other decisions about tile placement.
When in Doubt, Neutral it Out
Picking neutral colors for the floor and ceiling can make a room appear larger and provide a sense of serenity to the space. Whether it is stark white porcelain tiles or plastic laminate tiles, there is something incredibly soothing about neutrals. They also allow more colorful accents to pop instead of blending in with a busy flooring pattern. When combined with heated floors, a neutral color can create a spa-like environment that you will want to seek out as soon as you get home.
coordinate the Color Palette
If you have a specific color palette or theme in mind, allow that to influence your flooring choice. While neutrals are a great option, selecting a vibrant tile can help tie everything together for you. Choosing light blue tiles that undulate with tan tiles to create a beach-like effect can pull your nautical theme to shore, while orange and white tiles can be arranged to look like a California poppy field, making a nature-themed bathroom bloom to life.
Texture is Everything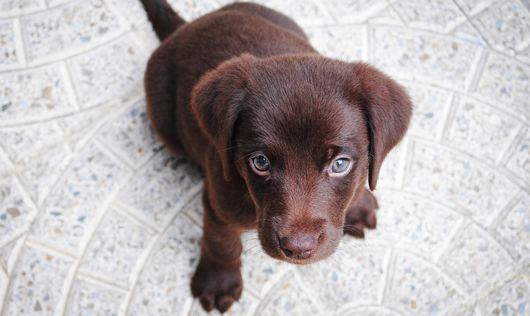 Not only do textured tiles increase the safety and warmth of a bathroom, but they also elevate the level of sophistication. Texture can compensate for a lack of color in a space, too, by creating visually appealing elements. Incorporating slick elements like marble or glass with more textured elements like wood or rough stone adds depth to the space and brings the whole room together.
Line It Up
Uneven tile placement is enough to drive a sane person mad and to cause a perfectionist to have a full-blown panic attack. Using tiles that are multiples of each other can allow different-sized tiles to line up properly; three 4x4 tiles will line up along the edge of one 12x12 tile, for instance, to create a pleasing illusion rather than a sense of chaos. Similarly, ensuring each tile is straight can help to prevent any slanted edges at the sides—which will be glaringly apparent once grout is placed between the tiles—so if you are installing the tiles yourself, consider starting at the top or bottom and working you way across before moving up so that everything lines up perfectly.
Grout It Out
While often overlooked, grout is possibly the most important element to consider when selecting tiles. You can either choose light grout to match light tiles or dark grout to complement the tiles; just keep in mind that light grout requires a lot more maintenance than dark grout to avoid the appearance of dingy floors. Colored grout is also a possibility, so do not limit yourself to traditional colors, but make sure that the end effect you are looking for supports your grout decision. In addition to creating a stylistic opportunity, grout keeps tiles in place and prevents breakage along the corners, so when in doubt, choose more grout rather than less.
Lighten Up
Lighter colors can make a space seem larger, so for small bathrooms with little natural light, white and tan tiles are ideal (you can visually increase the size of the space without paying for the cost of a full remodel!). Glass tiles create the same effect because of the way they reflect light, so consider the size of the room when picking out the type and color of bathroom tiles.