By

California.com
May 08, 2020
As communities across the world and in California mitigate health risks during the COVID-19 pandemic, we are shifting our content focus and not encouraging any travel or social activities during this time. We will, however, continue to shine a light on and celebrate the many beautiful aspects of our State with the intention of being a source of inspiration and joy during this difficult period. Click here to learn more about Contra Costa County's regulations regarding outdoor activities during this time. Thank you for reading, and stay safe!
San Francisco's East Bay Area is known for its suburban vibe and moderate temperatures as well as its proximity to metropolitan areas and natural wonders. Composed of nearly two-dozen cities, the East Bay is a sprawling oasis of rolling hills, stunning vistas, and endless possibilities.
Since the region is incredibly family-friendly, it comes as no surprise that there are many East Bay parks to choose from for every activity. From running or playing basketball, to hiking nearby trails and visiting dog parks, anything is possible in these beloved public spaces. But with so many cities and even more parks to explore, figuring out where to go first is the biggest challenge—until now.
While every East Bay park has something different to offer, we have an affinity for a few that are absolutely worth visiting. Read on to discover some of the best gems in the area.
Briones Regional Park

Location: Lafayette, Martinez, Pleasant Hill
Acres: 6,255
Hours*:
January 1–31, 8 a.m. to 5 p.m.

February 1–March 13, 8 a.m. to 6 p.m.

March 14 –April 10, 8 a.m. to 7 p.m.

April 11 –September 5, 8 a.m. to 8 p.m.

September 6–November 6, 8 a.m. to 7 p.m.

November 7–December 31, 8 a.m. to 5 p.m.

Fees: Parking – $3 per vehicle (when kiosk is attended). Dogs – $2 per dog (does not apply to guide or service dogs).
Briones Regional Park is conveniently tucked between five of the Bay Area's eastern cities—Concord, Lafayette, Martinez, Pleasant Hill, and Walnut Creek—making it an ideal stop any day of the week. Filled with lush rolling hills, active grasslands, and shady oak trees, the park's 6,255 acres bring the joy of nature to life.
Take a hike, go for a run, have a picnic, watch birds, fly a kite, or ride horseback through the valleys to take advantage of the wide-open space. But whatever you do, make sure to keep an eye out for the brilliant wildflowers, black-tailed deer, coyotes, squirrels, red-tailed hawks, and turkey vultures that call the park home.
Diablo Foothills Regional Park

Location: Concord
Acres: 1,060
Hours*:
November 1–February 28, 7:30 a.m. to 7 p.m.

March 1–May 31, 7:30 a.m. to 8 p.m.

June 1–October 31, 7:30 a.m. to 9 p.m.

Fees: None
Leading into Mount Diablo State Park, one of the best hiking destinations in Contra Costa County, Diablo Foothills Regional Park is the perfect place to enjoy some peace and quiet alongside panoramic vistas. With views stretching across the Bay Area, interesting geological formations, beautiful wildflowers, and a diverse array of wildlife, there's always something new to see.
Whether you're looking for a place to go hiking, biking, or horseback riding, the Diablo Foothills have you covered, but this spot is particularly interesting for wildlife enthusiasts. Look out for bobcats, coyotes, gray foxes, long-tailed weasels, mule deer, northern mockingbirds, quails, raccoons, rabbits, tree frogs, Western fence lizards, and a host of other creatures along the way. Stop by the Pine Creek perennial pools to catch a glimpse of green sunfish and largemouth bass, too.
Heather Farm Park

Location: Walnut Creek
Acres: 102
Hours*: Dawn to dusk
Fees: None
When it comes to amenities at East Bay parks, it's hard to beat Heather Farm Park. Featuring everything from tennis courts and baseball fields to a skate park and fishing ponds, this expanse has something for everyone. Sidestep the geese as you stroll along the pathways, relax beneath the shade of the trees, and wander around the rose garden to see one of the most picturesque locations in the charming city of Walnut Creek.
Heather Farm Park has become a regional favorite thanks to its family-oriented activities and its serene location about a mile from the heart of downtown. Aside from the walkways and sports facilities, the park is also equipped with extensive playgrounds and grassy areas where the whole family can run free.
Sibley Volcanic Regional Preserve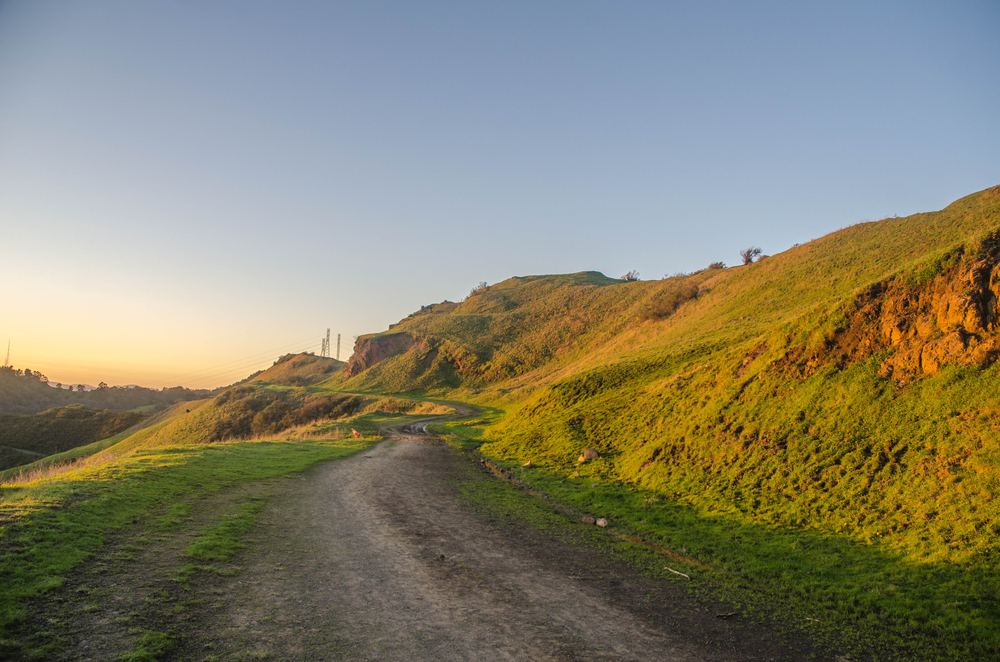 Location: Berkeley, Oakland, Orinda
Acres: 928
Hours*:
November–February, 7 a.m. to 6 p.m.

March–October, 7 a.m. to 10 p.m.

Fees: None
Though it's hard to believe, there's a volcano nestled in the Oakland Hills, and you can find it inside Sibley Volcanic Regional Preserve. Formed 10 million years ago, the volcano is named Round Top and is composed of lava and volcanic debris. The formation has surprisingly been tilted on its side by the movement of the Hayward and Moraga fault lines, so even for those of us without geology degrees, it's easy to see why this landmark is worth a visit.
Accessible from Orinda, Oakland, and Berkeley, Sibley Volcanic Regional Preserve is primarily set aside for hikers, horseback riders, and dog walkers—the narrow trails don't allow for bicycle use. While you might assume the busy location close to highly trafficked freeways would deter wildlife, it's not uncommon to find black-tailed deer, skunks, California newts, gray foxes, and brush rabbits hopping and slinking about.
Looking for even more family fun in the East Bay? Hop on the Iron Horse Regional Trail in the quaint town of Danville, or check out some of the East Bay's best cycling destinations.
Did your favorite East Bay park make the cut? Let us know in the comments below.
*Please note that park hours may vary and that some areas of the parks, including parking lots, may be closed due to COVID–19.